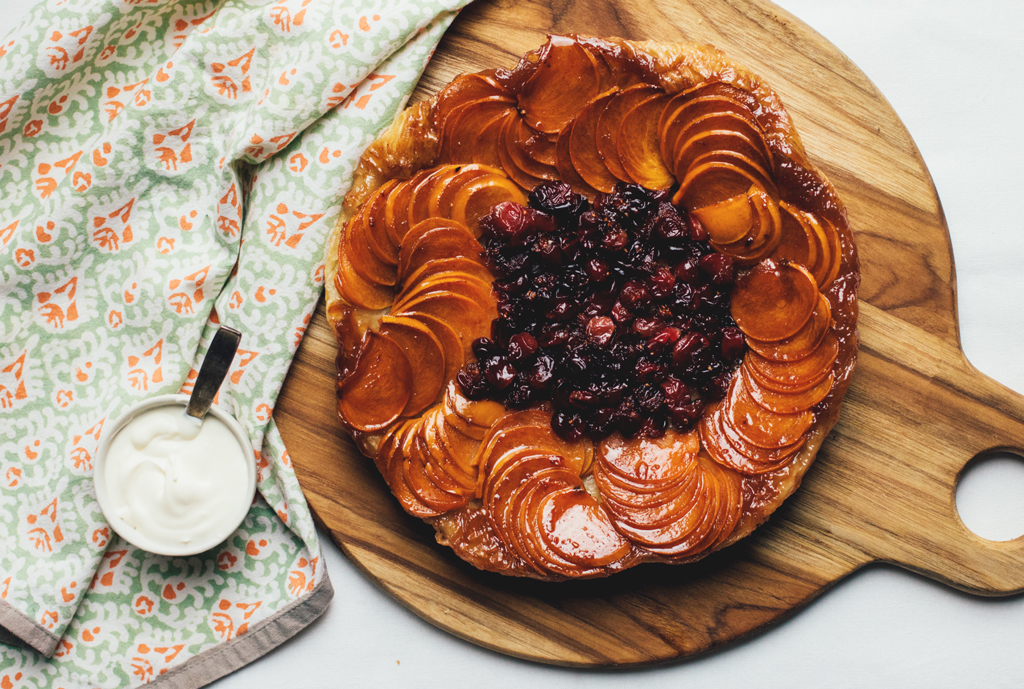 Almost a decade ago my very first cast iron skillet was initiated with a tarte tatin. Actually, let's back up. Almost a decade ago I bought my first cast iron skillet just so that I can make tarte tatin, having seen it in a food magazine, being totally smitten with the buttery caramelized apples, a light flaky pastry, and the fact that there were only 4 ingredients – butter, sugar, apples, and puff pastry. It was one of my most sophisticated adult desserts at the time and I was super proud to finally extend my reach beyond cookies and brownies.
Puff pastry = 1 ingredient? Certainly not, but the truth is that I haven't mastered home-made laminated dough just yet. It's a fascinating, time-consuming, and intimidating process, one in which you set out to create 729 layers of butter and dough. Yes, that's right – 729 delicious flaky layers. So I turn to the freezer section of my grocery store for puff pastry. They have the one made with 100% butter if I'm lucky.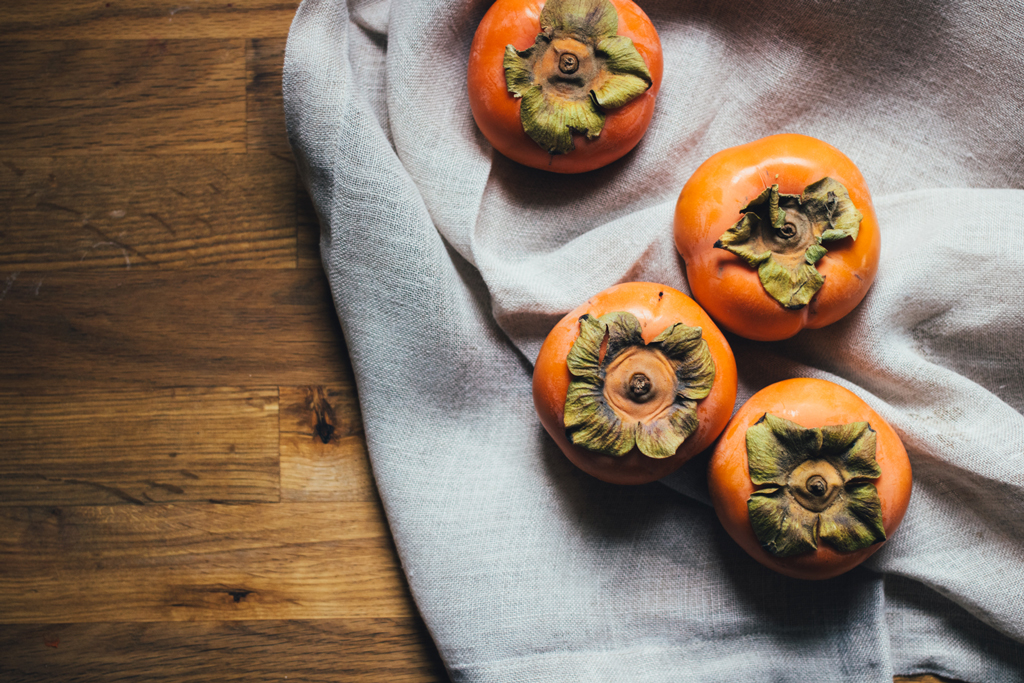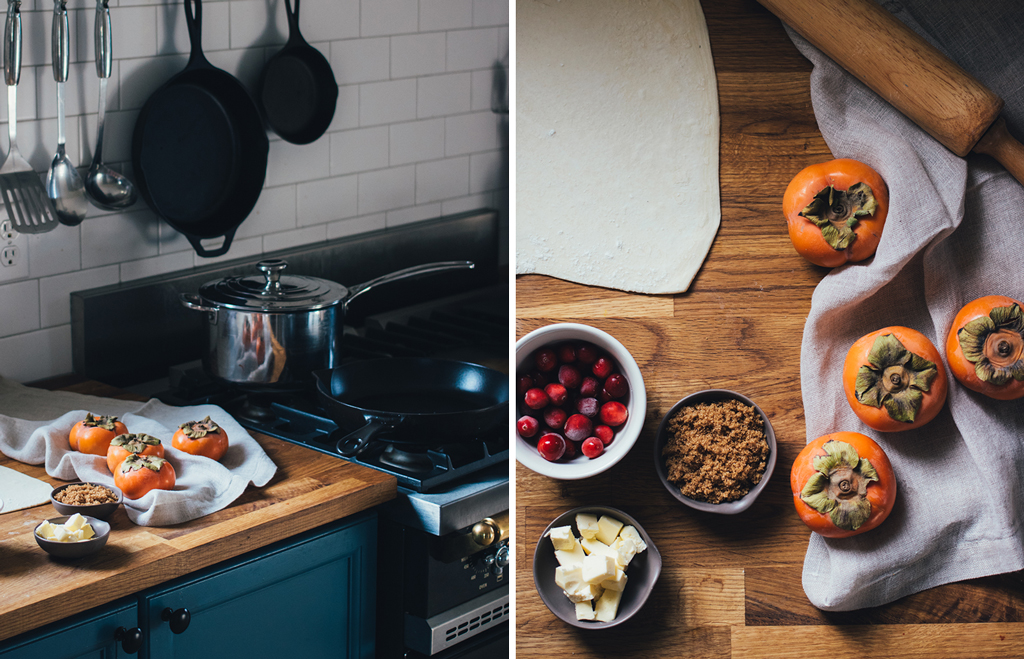 To make up for my dirty frozen pastry cheat, I decided to get just a little bit more elaborate with the fruit. Instead of apples, I'm featuring two of my other fall favourites: persimmons and cranberries. The flavours compliment each other perfectly and simulate the tart and sweet qualities of apples.
Regardless of the fruit being used, making tarte tatin look as good as it tastes is not easy. While decade-ago me was super proud of making anything with a fancy French name (Pillsbury croissant didn't count), regardless of how it looked, 2016 me is putting in a little extra effort to make it look pretty.
To get a nice arrangement of fruit, I didn't pre-cook the persimmons on the stove. Instead, they were sliced really thinly, carefully arranged on the skillet, and then cooked along with the pastry in the oven. Even with the fancy fruit arrangement, this dessert came together super quickly. Make it in a advance and warm it up in the oven before serving it at your holiday table, with some lightly sweetened creme fraiche or vanilla ice cream.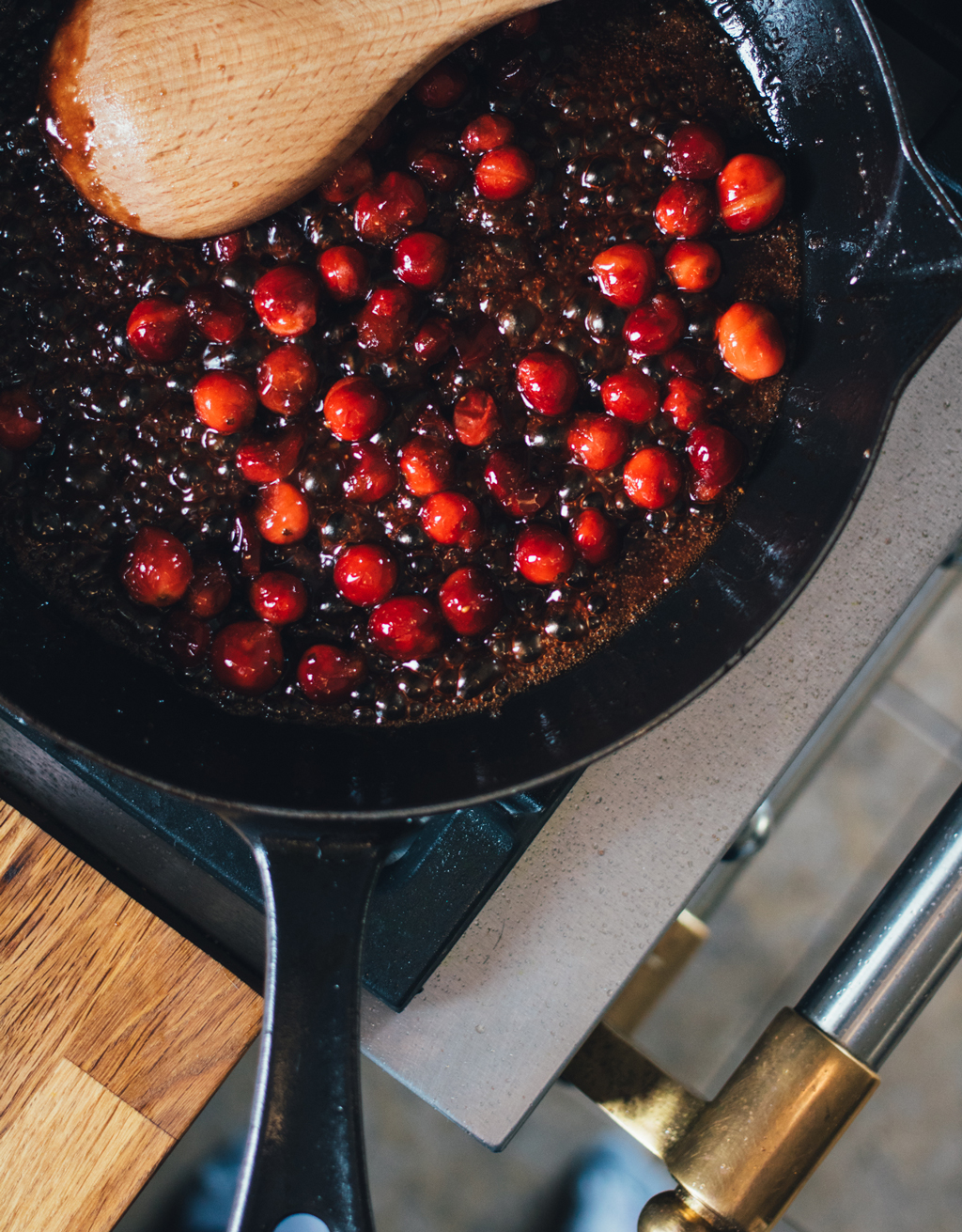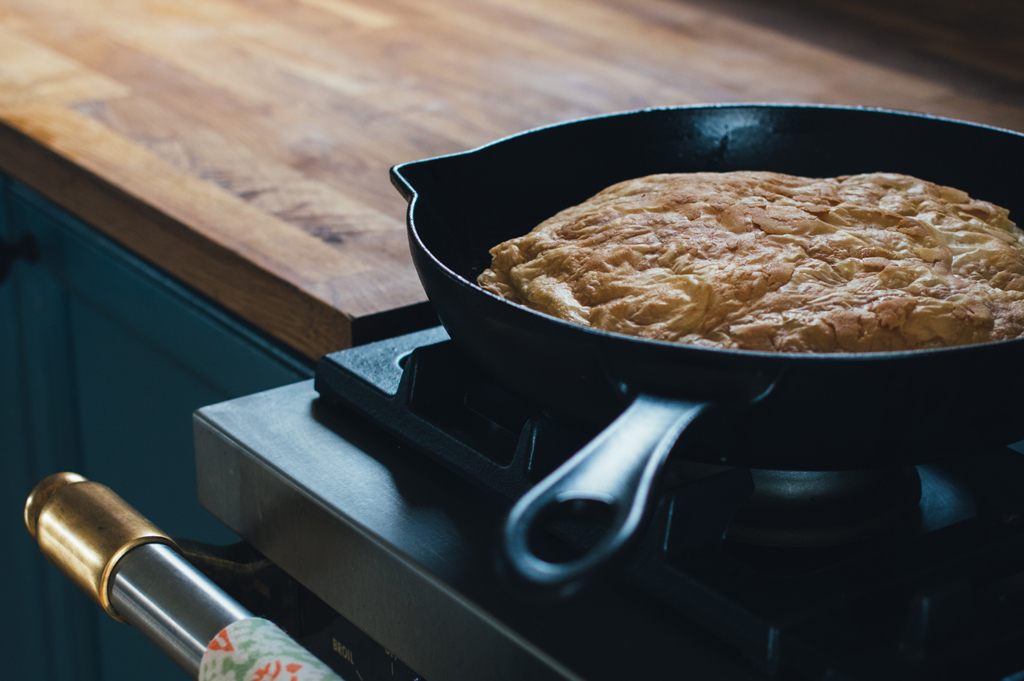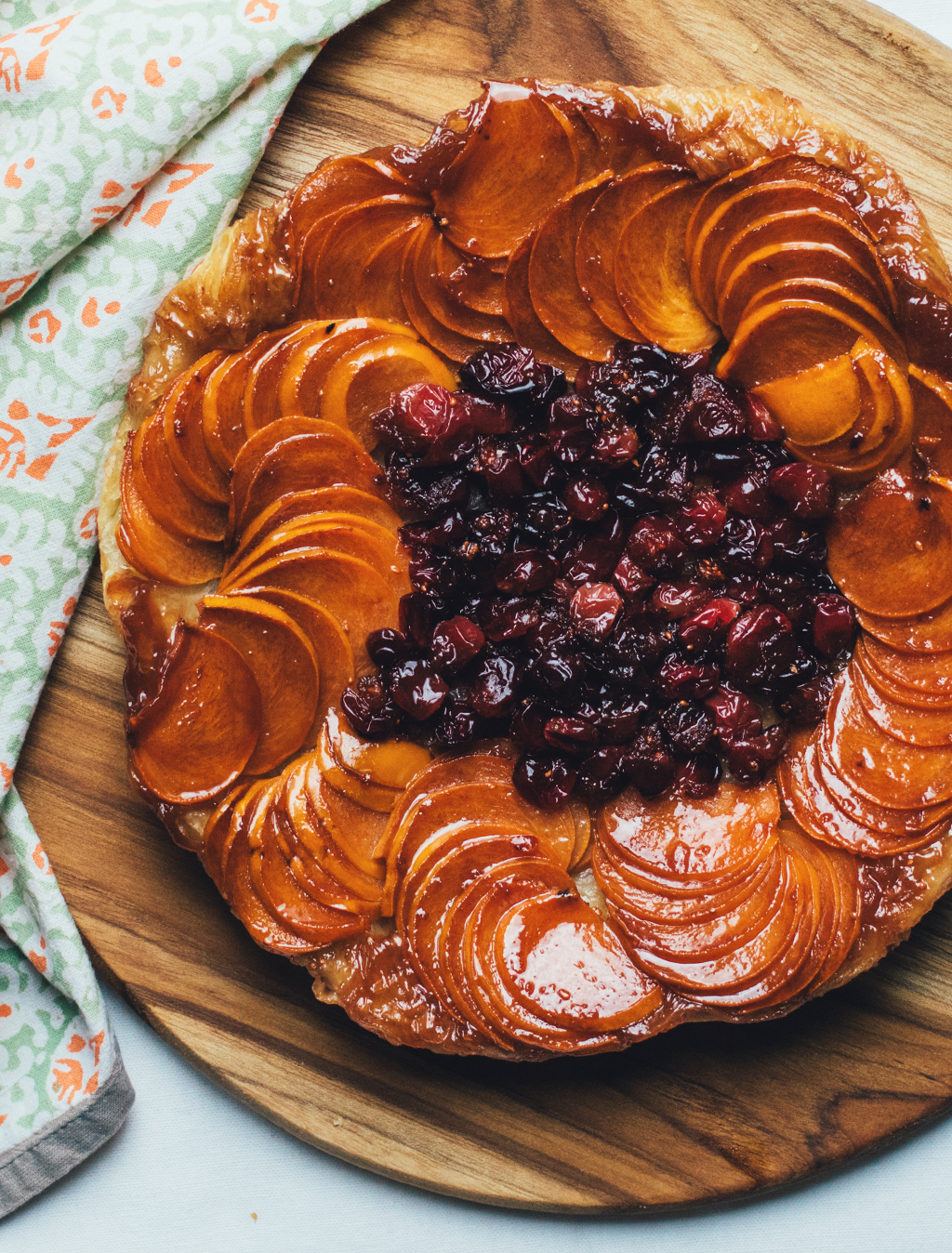 Ingredients
~250g puff pastry (1/2 a package in my case)
2 Tbsp. butter
1/3 cup brown sugar
2 Fuyu persimmons
1 cup fresh or frozen cranberries
lightly sweetened crème fraîche or vanilla ice cream, to serve
Directions
Preheat the oven to 350°F.
On a floured surface, roll out your puff pastry just large enough to fit into your cast iron skillet. Set it on a plate and into the freezer to chill, until ready to bake.
Halve and thinly slice the persimmons. Don't separate the slices.
In a cast iron skillet (one anywhere from 10 - 12" should be fine), melt the butter over low heat and add the brown sugar.
Cook for about a minute, stirring constantly to prevent the sugar from burning.
Add the cranberries and cover with a lid. Cook them for about a minute (or two, if frozen), just until they burst and start releasing their juices.
Remove the lid and continue cooking, stirring constantly, until the cranberry juice blends with the butter sugar mixture and the liquid in the pan is syrupy. Turn off the heat and let the pan cool for few minutes before adding the persimmons.
Push the cranberries to the middle of the skillet, making room for the persimmons.
Fan out the slices and arrange them around the cranberries, making sure that the base of the skillet is covered in fruit.
Place the chilled puff pastry dough on top, tucking in the corners if necessary.
Bake for 30 - 35 minutes, until the pastry is puffy and golden.
Remove the tarte tatin the oven and let it cool for a few minutes.
Place a plate or round cutting board over the skillet and using oven mitts (be careful, cast iron stays hot for a long time), hold them together as you flip the skillet over the plate to release the tarte.
Replace any fruit that got left behind in the skillet and serve warm with crème fraîche or ice cream.
https://french-barn.com/blog/food-wine/desserts/persimmon-cranberry-tarte-tatin
The French Barn - Blog