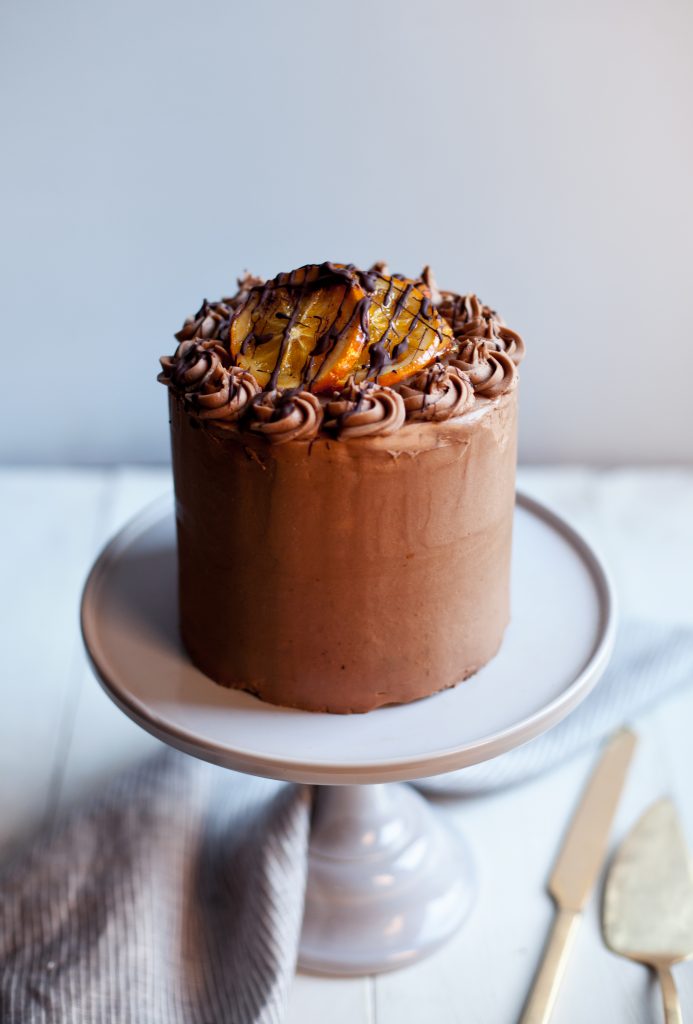 Every year for Christmas I find myself with a chocolate orange in hand (among many other varieties of chocolate, of course). Something about the combination of chocolate & orange flavours reminds me of the winter season. The flavour combination inspired me to make this gorgeous cake for the upcoming holiday season!  I utilized my classic chocolate cake recipe, but infused it with freshly squeezed orange juice & orange zest. The frosting is a rich chocolate buttercream with a touch of orange zest.  To give it that final orange flair, this cake is topped with homemade candied orange slices. The orange flavour is not meant to be overpowering, but rather a subtle complement to the classic taste of chocolate.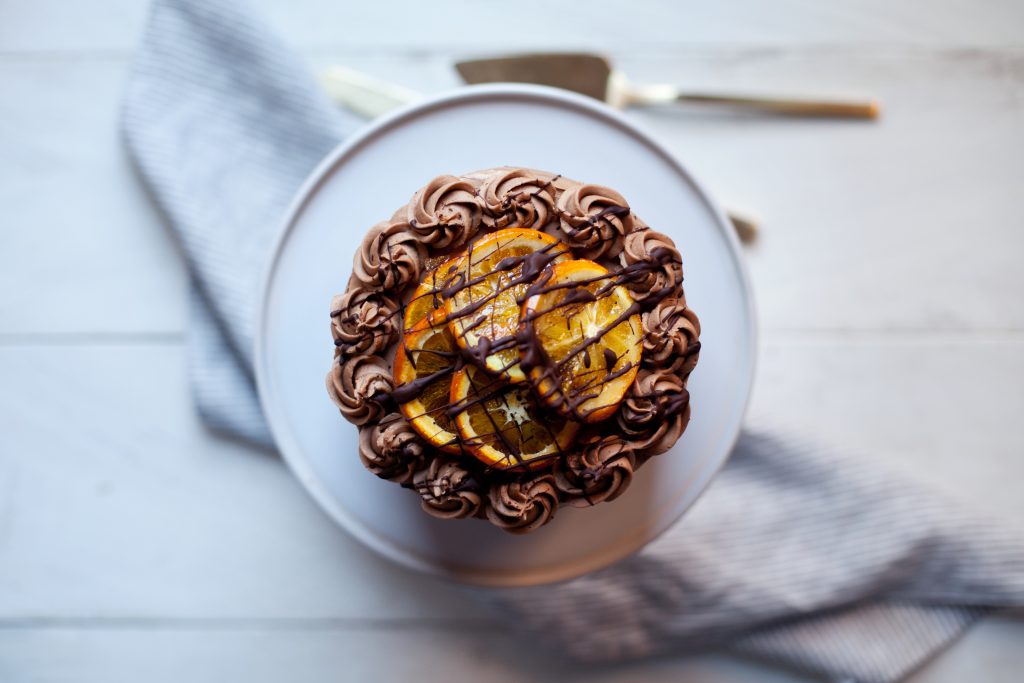 One of the advantages of this dessert is that it can be prepared in advance, eliminating some holiday stress on the day of your party! The cake layers can be frozen for up to two weeks when wrapped well in cling wrap. Regardless of time, I always freeze my cakes prior to frosting them because it is much easier to get a smooth buttercream finish & avoid any crumbs coming through. The cake can be frosted one to two days in advance & refrigerated until ready to serve.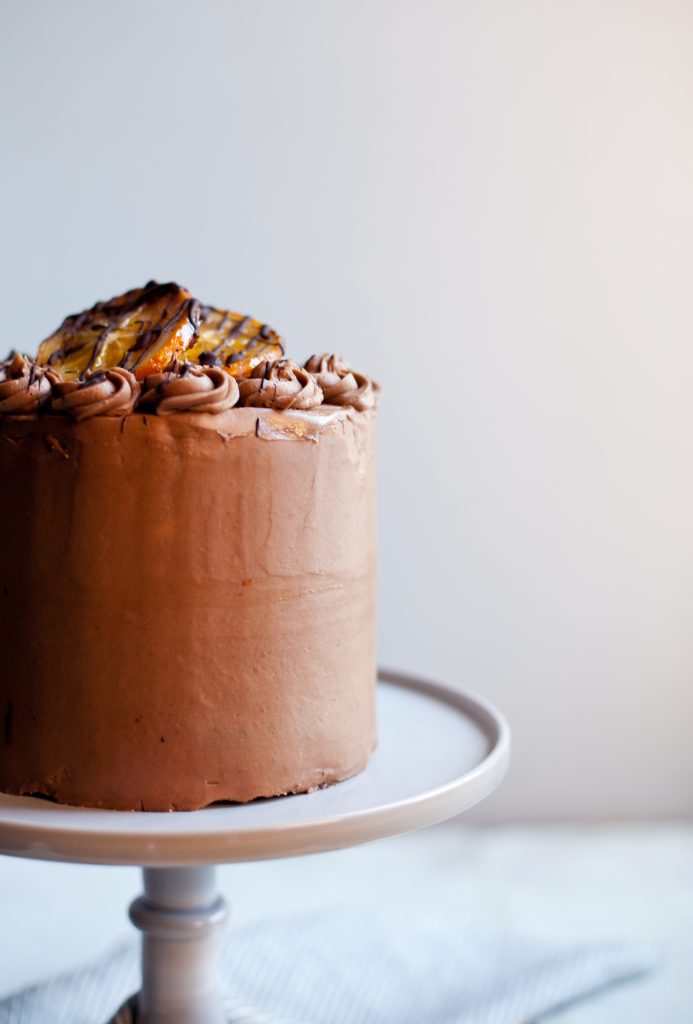 So if you really want to present a show stopping dessert this Christmas, this is your golden ticket! Happy Holidays! xo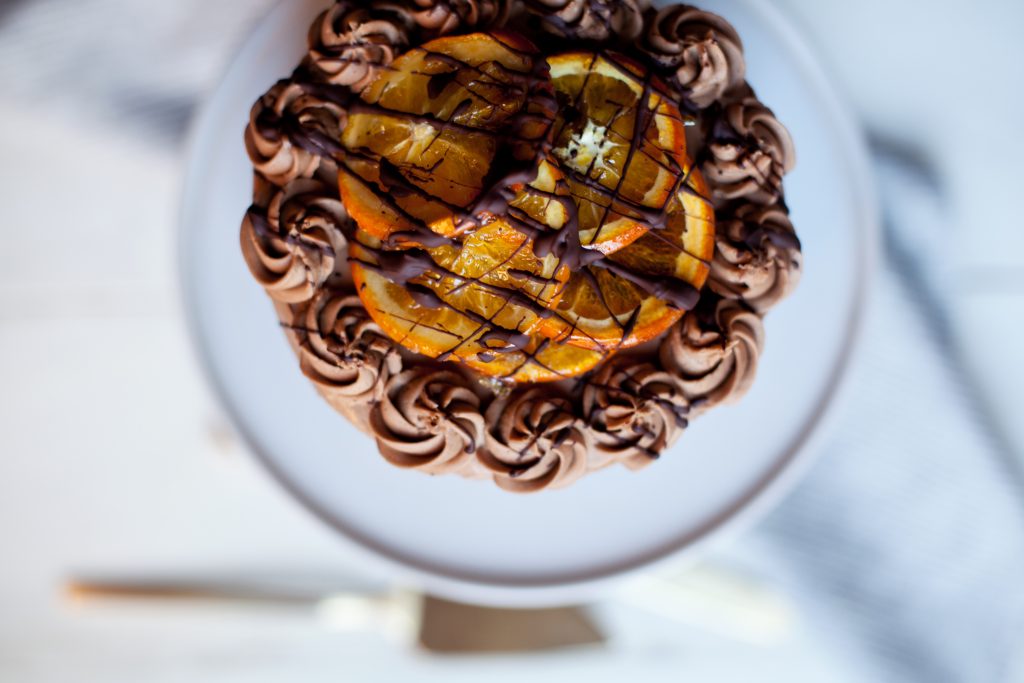 Ingredients
For the chocolate orange cake:

2 cups raw sugar
1 cup vegetable oil
1 teaspoon vanilla extract
3/4 cup dutch dark cocoa powder
2 eggs
1 cup heavy cream
2 cups all purpose flour
2 teaspoons baking soda
1 teaspoon salt
1 teaspoon orange zest
1 cup freshly squeezed orange juice

For the chocolate orange buttercream:

2 cups unsalted butter, room temperature
3-4 cups powdered sugar, or to taste
1/3 cup cocoa powder
2 oz dark chocolate, melted & cooled
1 teaspoon pure vanilla extract
1 teaspoon orange zest
3 tablespoons whipping cream

For the candied oranges:

1 orange, thinly sliced
1 1/2 cups water
1 cup granulated sugar
Directions
For the chocolate orange cake:

Preheat your oven to 350 degrees.
In a mixing bowl stir raw sugar, oil & vanilla until combined.
Whisk in eggs until light & fluffy. Add heavy cream until smooth.
Sift in the cocoa powder, flour, salt, baking soda & orange zest until just combined.
Slowly add in the orange juice until batter is silky smooth.
Divide amongst three six inch cake pans or two eight inch cake pans. Grease & flour cake pans.
Bake for 20-25 minutes, or until a toothpick inserted comes out clean.
Let cool completely before removing from cake pans & frosting.

For the chocolate orange buttercream:

In the bowl of a stand mixer with the paddle attachment add the butter, sugar & cocoa powder until fluffy (about 8 minutes).
Add in the melted chocolate, vanilla, orange zest & whipping cream. Beat for an additional 60 seconds.
Frost cake as desired.

For the candied oranges:

In a sauce pan over medium heat add the water & sugar. Stir until dissolved.
Let come to a boil (do not stir at this point) & add the orange slices.
Simmer for 10 minutes on each side. Remove from pan & let dry out on a cooling rack.
Top frosted cake as desired.
https://french-barn.com/blog/food-wine/desserts/chocolate-orange-layer-cake
The French Barn - Blog