With the weather cooling down & the sun setting early, I can't think of anything more comforting that diving into a bowl of french onion soup. The fresh bread, the gooey cheese & the rich beef stock make for comfort food at its finest! This is such a simple & minimal ingredient dish to put together, all you need is patience & time. Perfectly caramelized onions cannot be rushed & since they are the main ingredient here, it is important to caramelize them properly.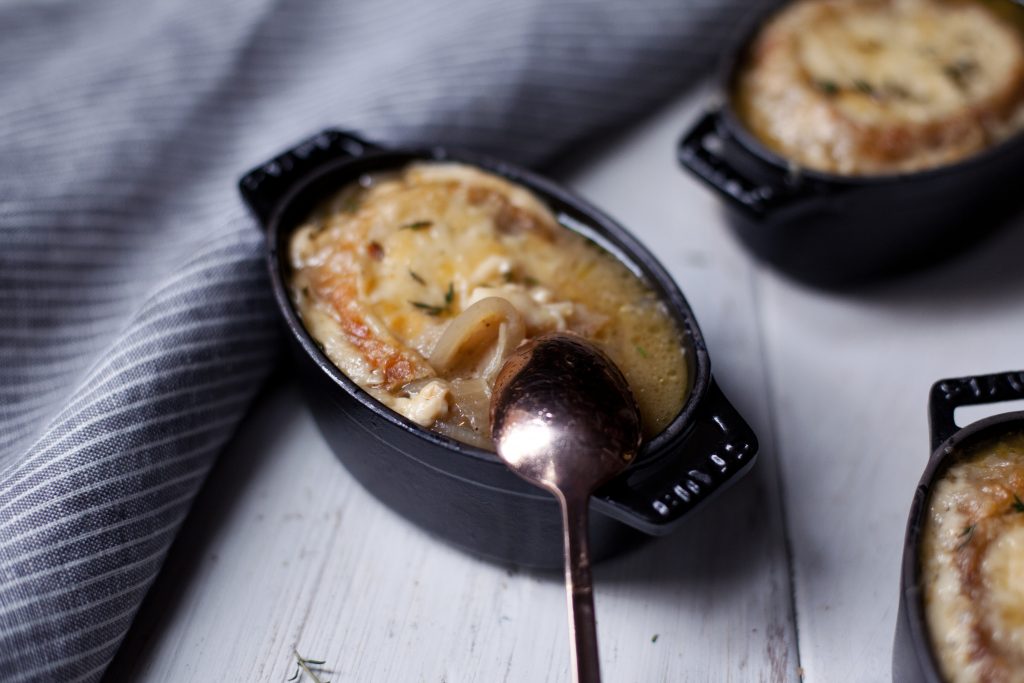 Topping the soup with any type of swiss cheese will work, but nothing beats the nutty flavour that the melted gruyere cheese brings. While this recipe calls for toasting the sliced baguette first, sometimes I like to skip this step so the bread gets all soggy & really soaks up the rich beef stock. I think that is a personal preference! This dish is one of my sister's favourites, probably because bread & cheese are her two main food groups.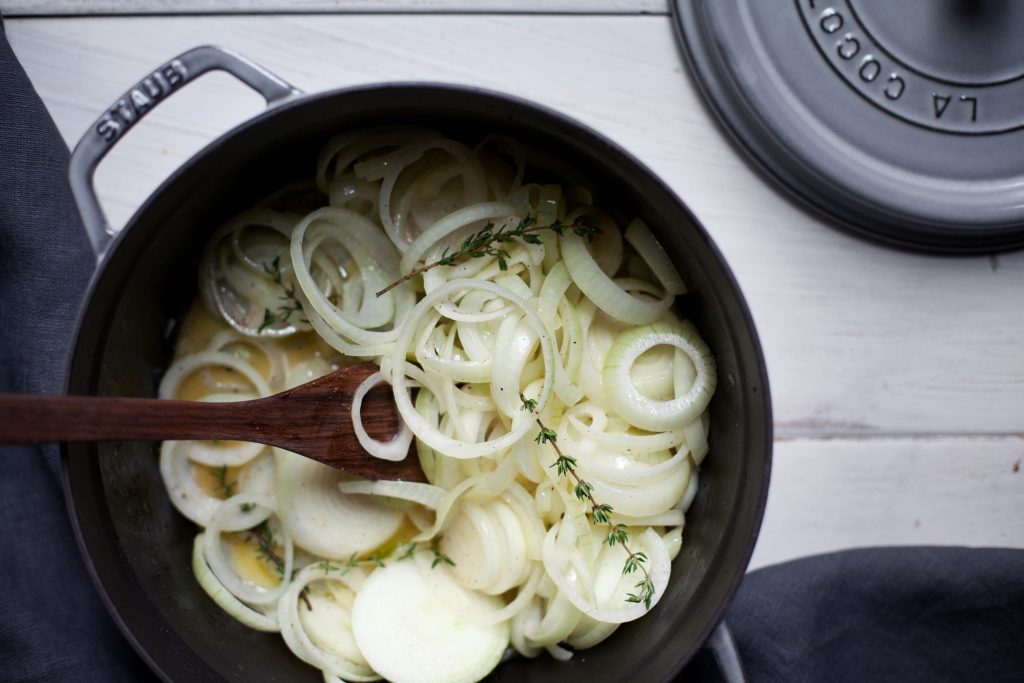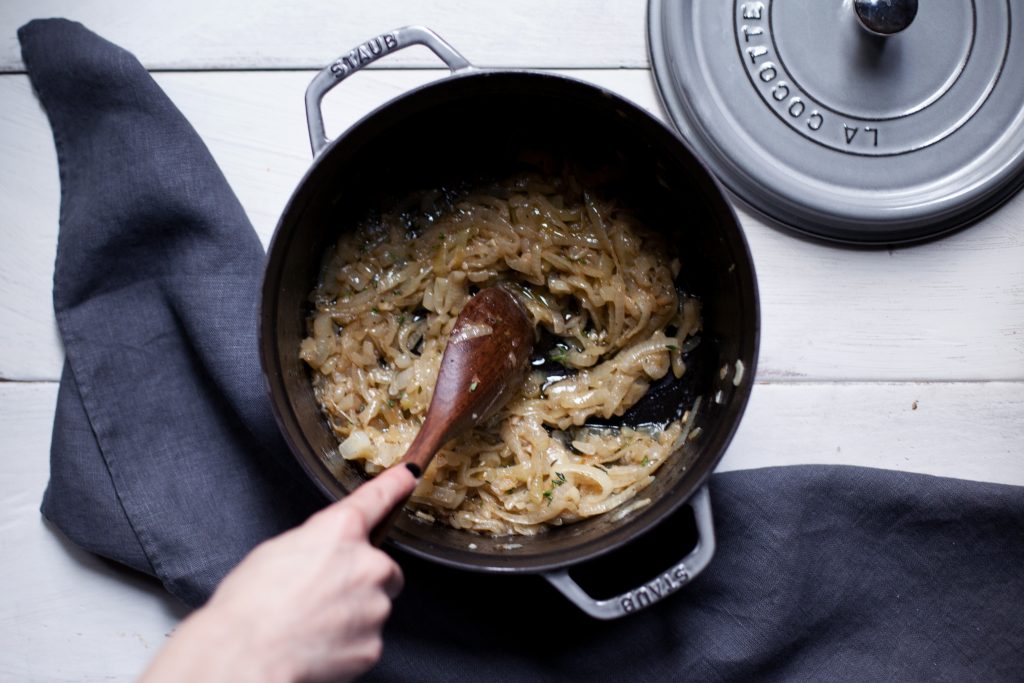 This recipe is also the perfect appetizer or starter to make for a dinner party or holiday gathering because everything can be prepared days ahead of time. Simply have the base of the soup prepped then top it with the bread & cheese when ready to serve. It presents well when it is individually portioned in cute little white ramekins or cocottes. Happy holidays! Stay cozy.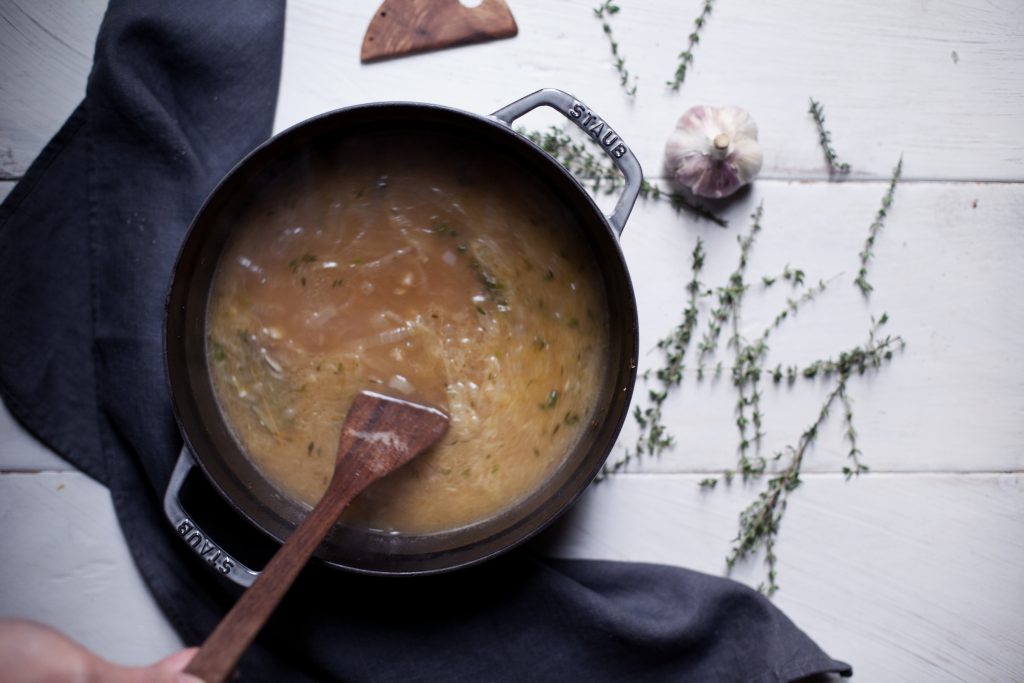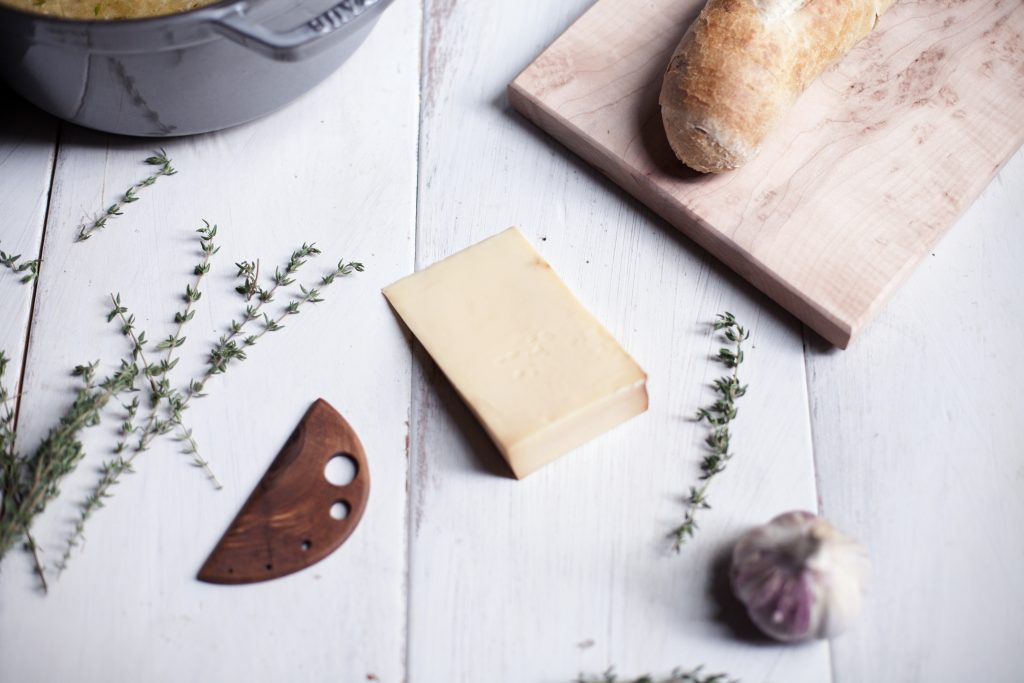 Ingredients
6 tablespoons unsalted butter
2 cloves garlic, minced
2 1/2 pounds yellow onions, sliced
3-4 sprigs of fresh thyme
salt & pepper, to taste
1 cup light beer or dry white wine
6 cups homemade beef stock
1 bay leaf
1 tablespoon fresh thyme leaves
1 french baguette, sliced
1 pound gruyere cheese, grated
Directions
In a large pot over low heat add the butter & garlic. When the butter is fully melted add the sliced onions, sprigs of thyme, salt & pepper. Toss to coat.
Cook the onions for 30 minutes or until they become soft & translucent.
Turn the heat up to medium & cook for another 15 minutes or until the onions have fully caramelized. Stir often to ensure the onions do not burn.
Add the wine or beer to the pot followed by the beef stock, bay leaf, additional thyme. Season with salt & pepper. Simmer for 30 minutes.
While the soup simmers, toast the sliced baguette croutons.
Distribute soup amongst oven safe bowls or mini cocottes. Top with a crouton & freshly grated cheese.
Broil for 2-3 minutes, or until the cheese is melted & bubbly.
Garnish with fresh thyme.
https://french-barn.com/blog/food-wine/classics/french-onion-soup
The French Barn - Blog