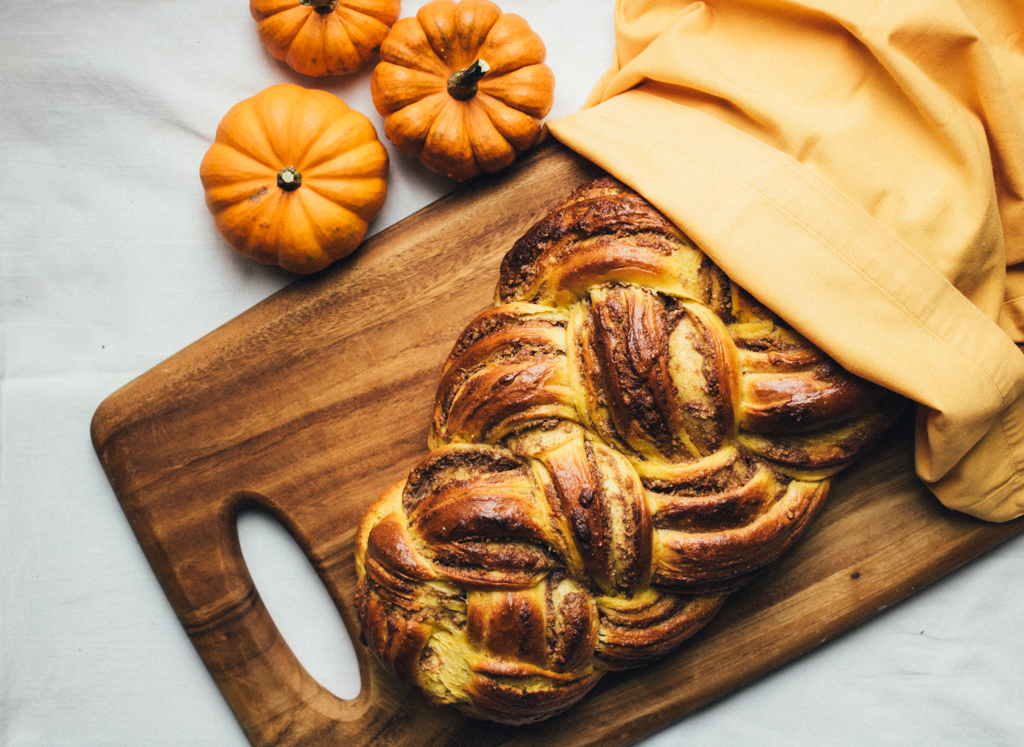 If you were to draw a Venn diagram of classic brioche, a loaf of challah, and pumpkin cinnamon buns, the bull's eye would lie right here, with this braided pumpkin walnut brioche.
I started experimenting with yeast-based egg breads after a string of failed sourdough attempts (I wasn't even able to get past making the starter). I know they're two completely different worlds, but I was desperate to restore my baking confidence and I really wanted an easy and delicious loaf of home made bread. It started with my most familiar bread – a loaf of challah, but then I realized that tweaking a few ingredients opens up a whole world of other breads and that the dough was really happy to take on some fillings.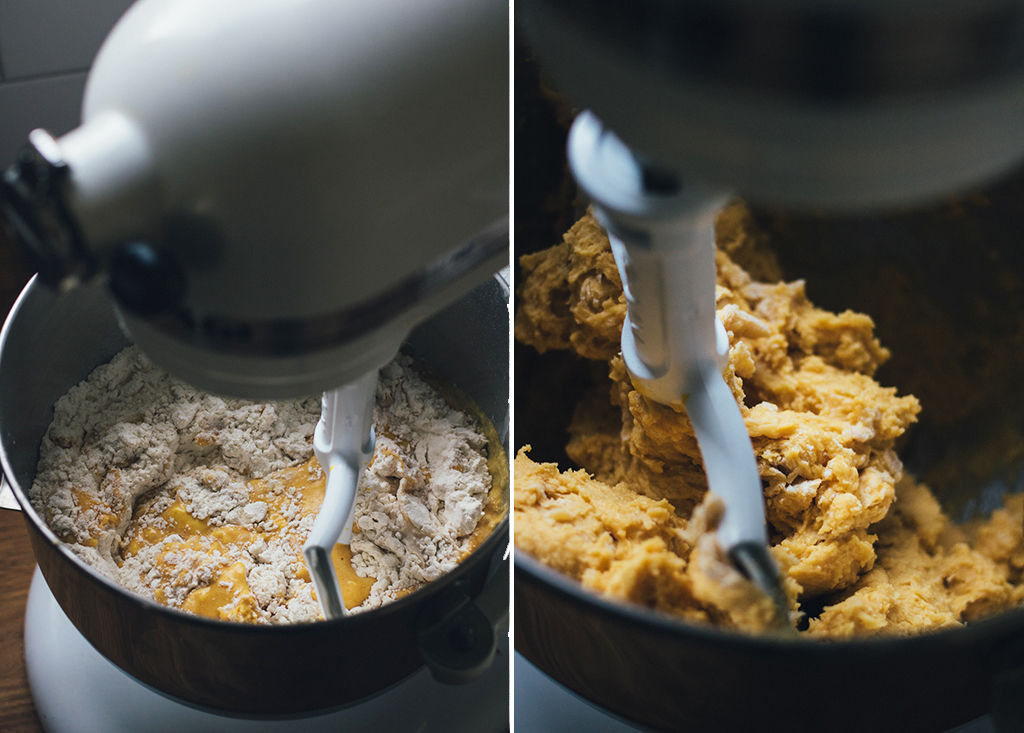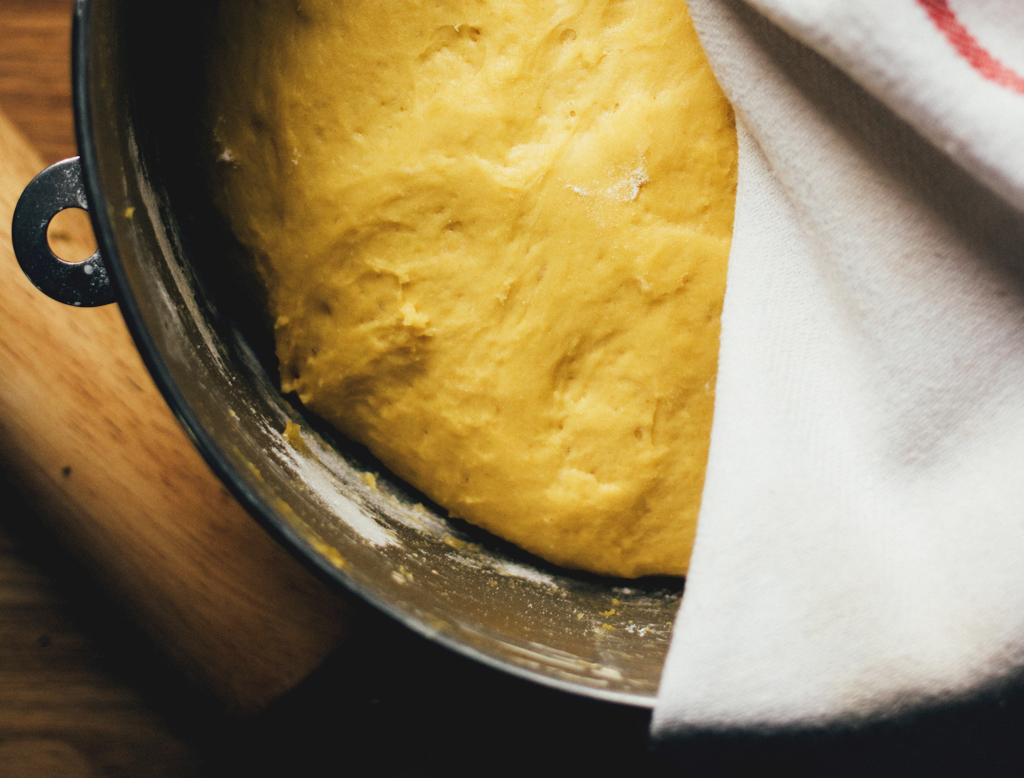 The main difference between challah and brioche is a generous use of butter in brioche vs. a small amount of vegetable oil in challah. Challah is great for a multi-purpose savoury loaf, but that extra bit of indulgence lies with the brioche. They're both adaptable for dessert breads, but the higher fat content and use of butter definitely wins in my kitchen when it comes to dessert.
What about the pumpkin? Well, friends, t'is the season. To be completely honest with you, you can't really taste it. Maybe if you did a side-by-side comparison, it would come through, but you wouldn't even know it otherwise. Why bother? I personally love the bright orange colour and festive fall vibes that the pumpkin brings, and maybe the ability to justify a few extra slices because pumpkin is a vegetable after all 🙂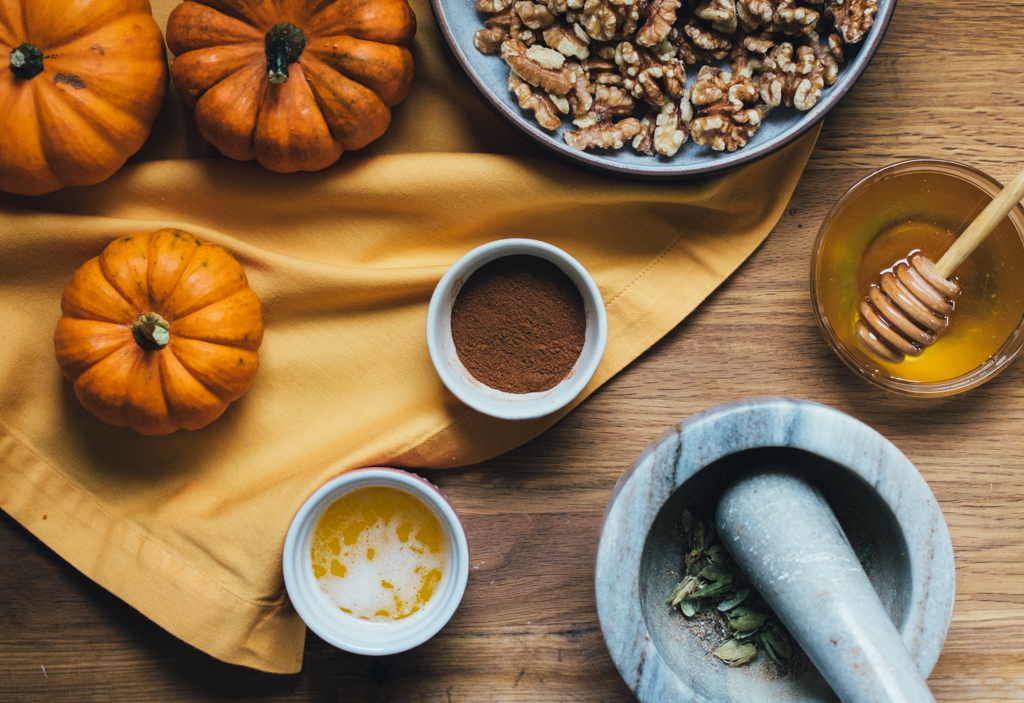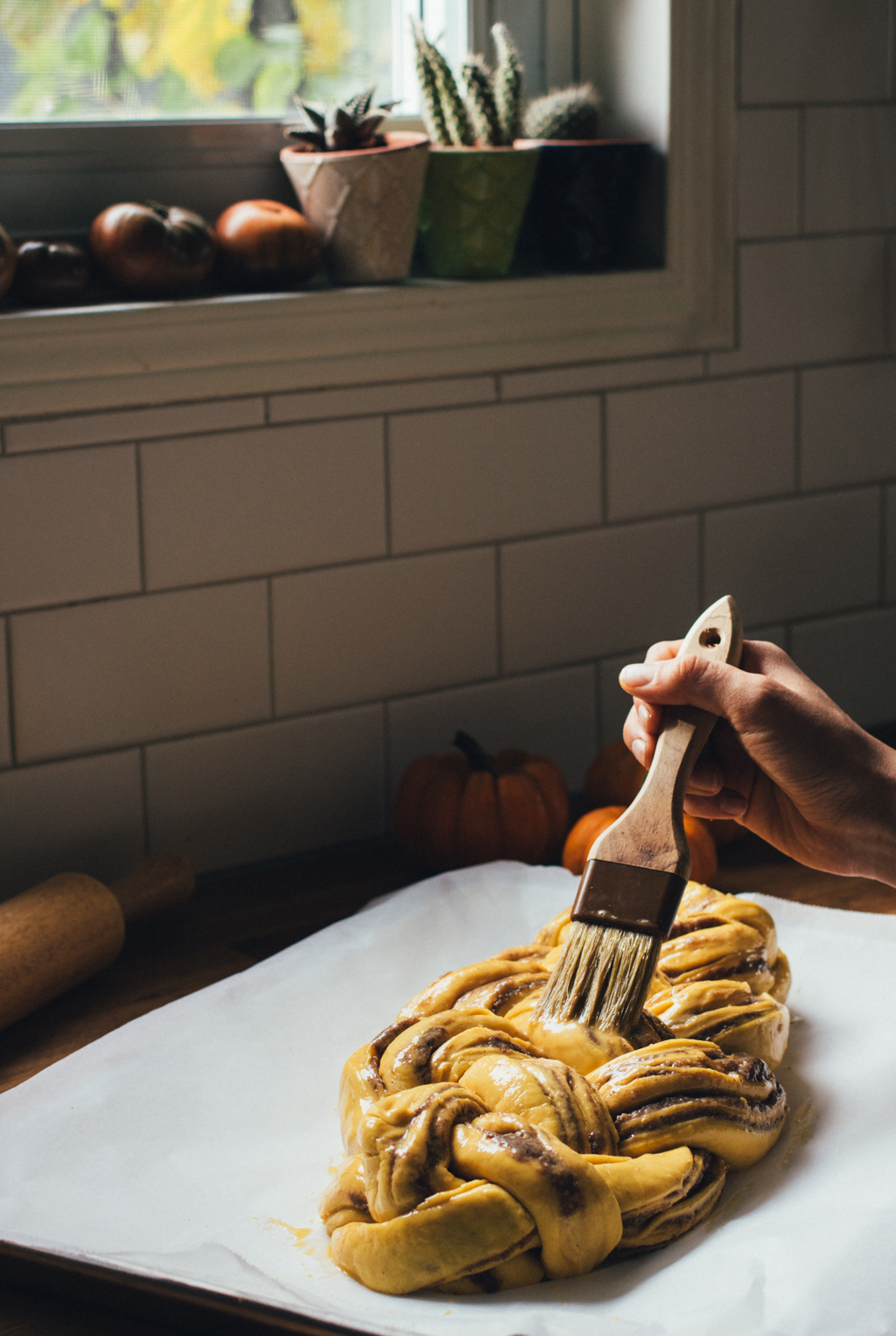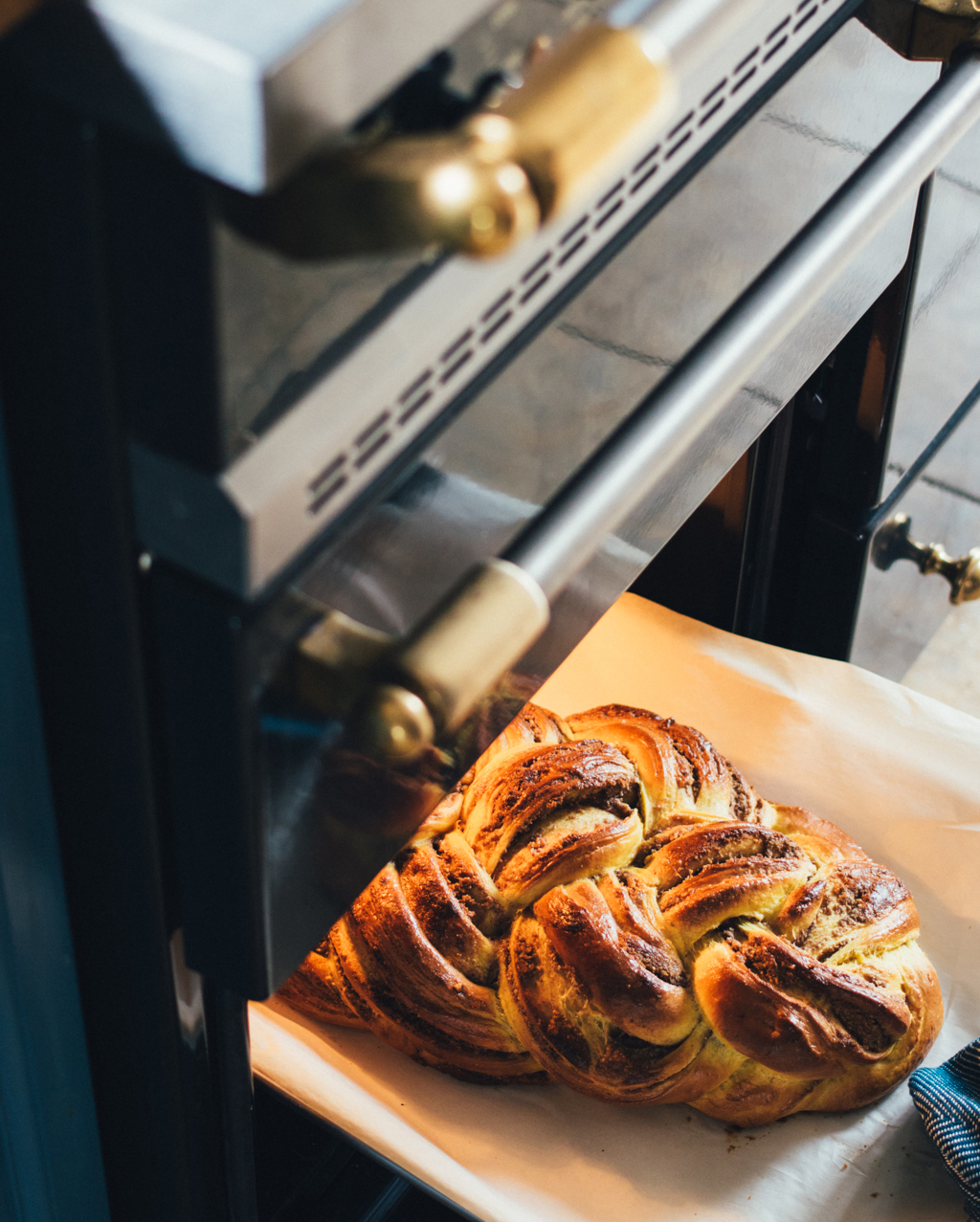 So I hope this hodge podge of a recipe will inspire you to try it in your own kitchen. The effort is minimal and a fresh brioche out of the oven is simply amazing! It also makes excellent French Toast.
Ingredients
Brioche

1 Tbsp. active dry yeast
1/3 cup of warm water
4.5 cups of flour
4 eggs + 1 (for the egg wash)
2/3 cup melted butter
1/3 cup sugar
2 tsp. salt
1 cup pumpkin puree

Spiced walnut filling

2 cups walnuts
1 Tbsp. cinnamon
1/2 tsp. cardamom
a pinch of salt
1/4 cup butter
1/4 cup honey
Directions
In a small bowl stir together the yeast and water and set aside for about 5 minutes.
Place 4 cups of the flour in the large bowl of a stand mixer
Blend together the remaining ingredients (eggs, butter, sugar, salt, and pumpkin) until smooth.
Once the yeast mixture is completely dissolved and foamy, add it to the flour, along with the rest of the blended ingredients.
Using a paddle attachment, mix on low speed until the flour is incorporated (20 - 30 seconds)
Switch the paddle attachment for a bread hook and add the remaining 1/2 cup of flour.
Knead the tough for a few minutes, until it's smooth and comes away from the sides of the mixer (a few minutes). If it seems too moist, sprinkle in a little bit more flour. It should be sticky, but dry enough to handle.
Cover the bowl with a tea towel and set aside to rise for about an hour and a half. It should double in volume. If you're in a cold space and the dough is not rising, give it some extra time, as needed.
In the meantime, start preparing the filling. Combine the walnuts, salt, and spices in a food processor and process until finely ground. Add the butter and honey and pulse a few times until the liquid is incorporated and the mixture resembles a coarse paste.
Once the dough has risen, empty it out onto a well-floured surface and cut it in half.
Roll out the first half into a large rectangle (about 10 x 20 inches), flouring the surface below, as needed.
Spread half of the walnut paste over the surface of the rectangle, leaving about an inch of dough around the perimeter uncovered (don't worry if it's not super even).
Tightly roll the dough along the long side (the roll should be about 20" long).
Repeat steps 11 - 13 with the other half and refrigerate the rolls for about 30 minutes. If you're in a rush, you can skip this step, but refrigerating them makes them easier to handle for the braiding of the brioche.
Once slightly chilled and firm, slice each roll in half lengthwise. You should have 4 strands ready for braiding.
To braid the brioche, number the strands from 1 - 4 (left to right) and do the following: Collect all the strands at the top, then bring strand 4 over strand 3 (right over left), bring strand 2 over strand 1 (right over left). Bring the strand that is now in position 2 (previously 1) over the strand that is now in position 3 (previously 4)(left over right). Renumber the strands and repeat the process until the loaf is braided. Tuck the ends underneath and cover with a tea towel to rise for about 30 minutes. This video is great! Skip to 1:10 for the 4-strand version.
Preheat the oven to 375F.
Check on the dough after 30 minutes. It won't rise significantly, but it should look puffy (if not, give it a little more time)
When ready to bake, beat the remaining egg and brush it on the surface of the brioche.
Bake for 25 - 30 minutes, until golden and cooked through.
Let it cool to room temperature before slicing, or pick apart the loaf with your hands while it's warm.
https://french-barn.com/blog/food-wine/desserts/pumpkin-walnut-brioche
The French Barn - Blog