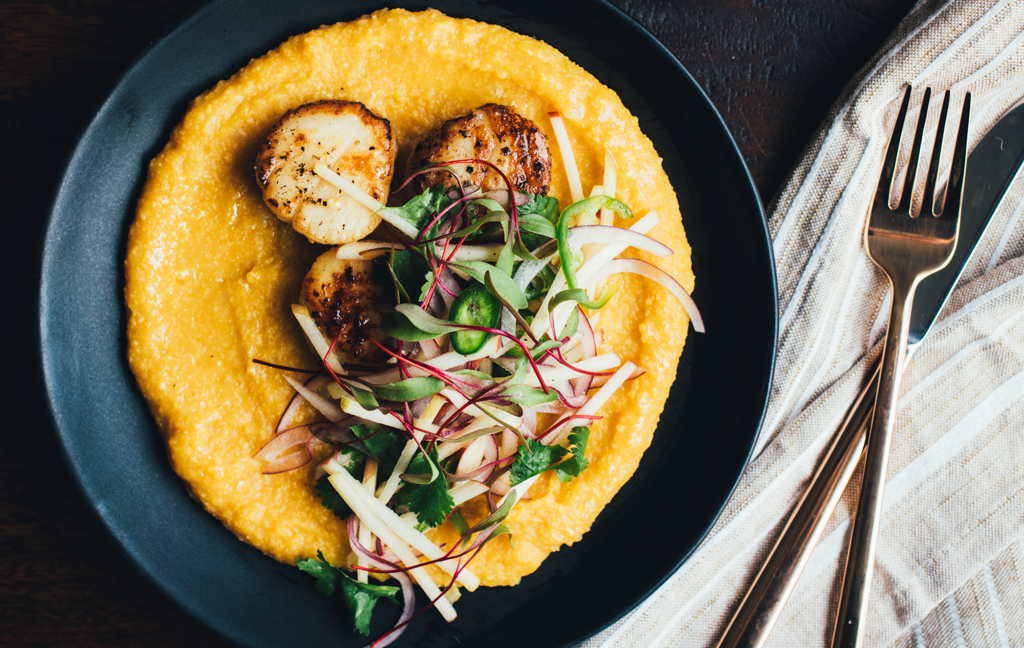 It was only recently that I realized how incredibly simple and satisfying it is to enjoy scallops at home. They need not be reserved for restaurant meals or special occasions. All it takes is some fresh scallops (though frozen ones are still quite good), a really hot pan, and 5 minutes of your time.
Contrary to what I've read in the past, I've been finding that scallops are pretty forgiving and they don't turn into rubber the second that they're overcooked. The pressure of having to cook something very precisely often makes me turn away from it in the kitchen, so I was really happy to discover that scallops are no longer in that category. I agree that they need a good sear and a generous seasoning of salt and pepper, but I've been finding it difficult to mess them up.
The best part, besides the "they take 5-minutes" thing, is that they're incredibly versatile, pairing nicely with anything from simple tomato-based pasta to this slightly elaborated and spiced up polenta that I'm sharing with you today. The flavour and texture combinations are a little bit unusual (my brain does funny things with food), but they ended up working, and even my husband, who's pretty cautious with these things, agreed that it was delicious!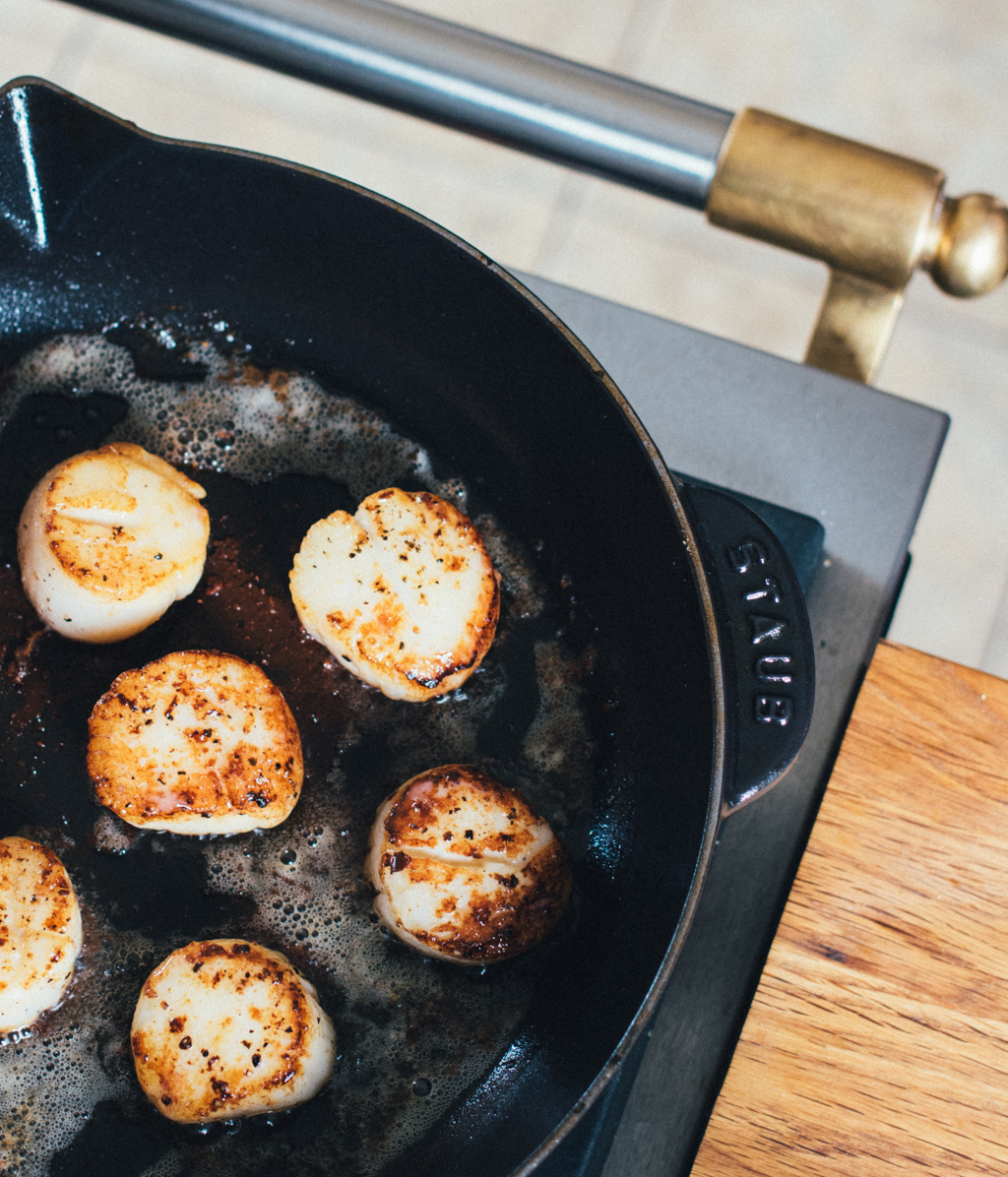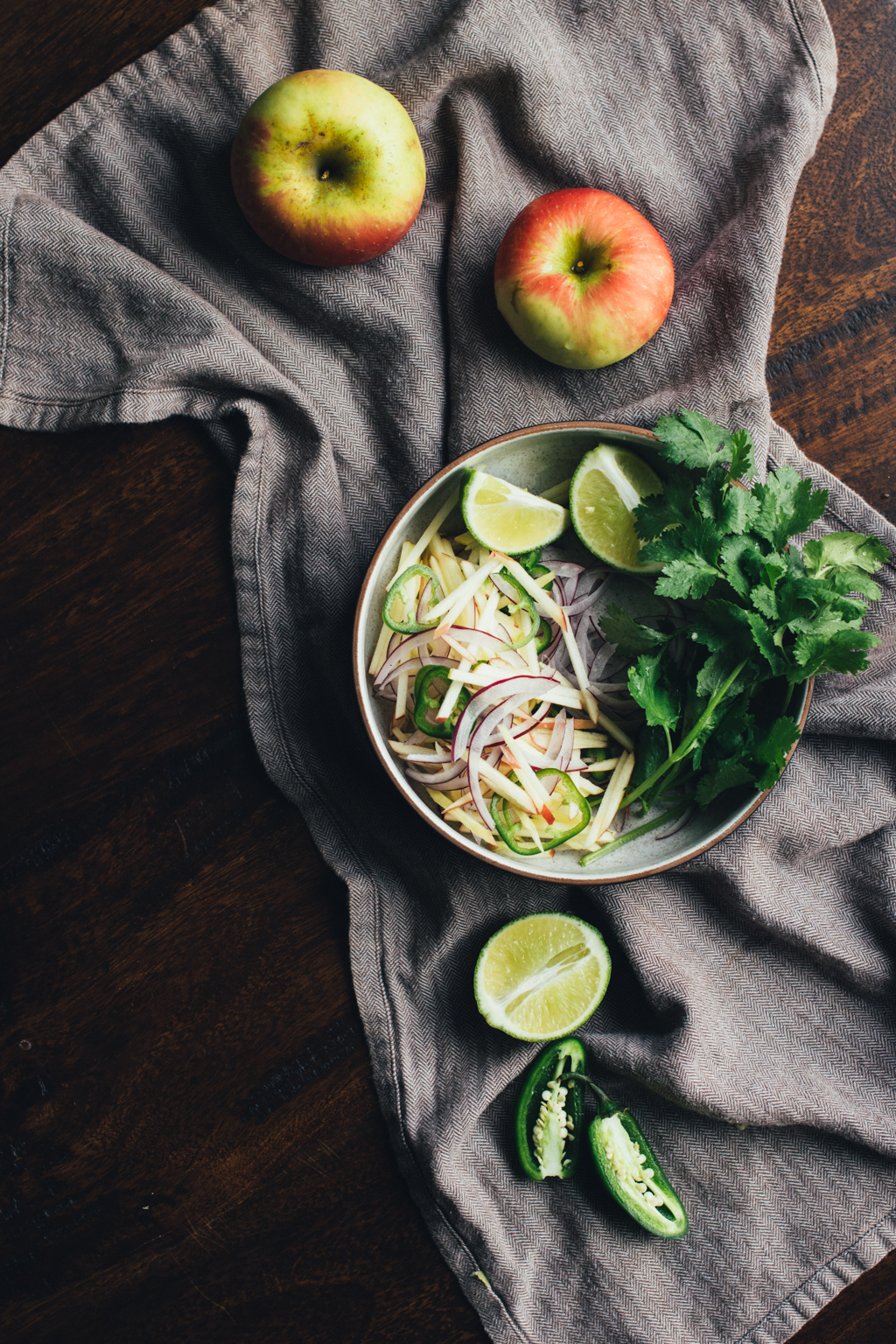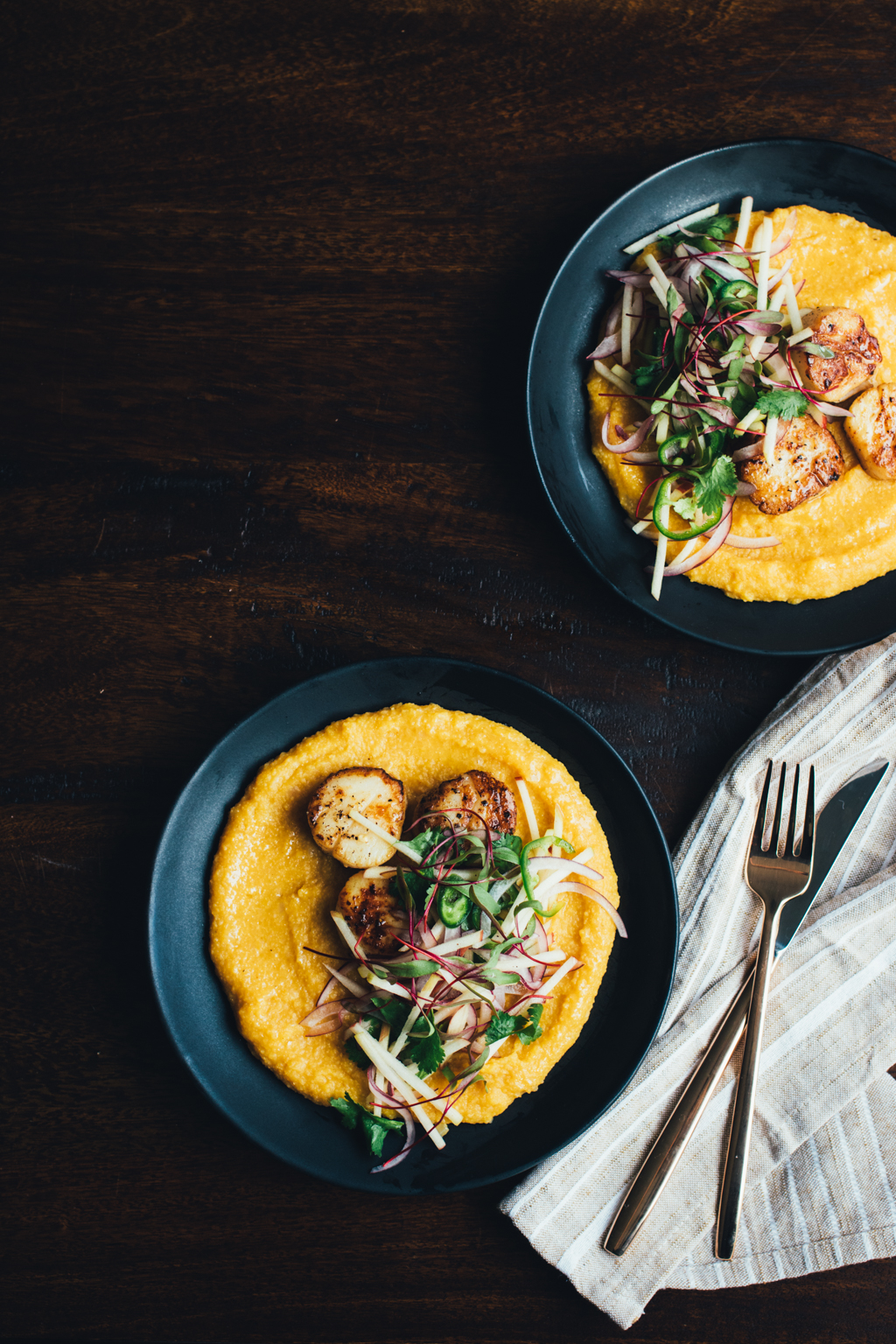 Early fall is my favourite time to cook. The markets in my area are brimming with fresh fruits and vegetables and we can make all the warm and cozy dishes with the freshest of ingredients. Today's recipe fits snuggly into those first few weeks of fall (though it still feels like summer in my 'hood). The squash lends vibrant colour and subtle sweetness to the polenta and the apple jalapeño slaw adds a sweet and spicy crunch to the otherwise warm and creamy dish. If you like things hot, you're in the right place (the chipotle and jalapeño flavours are going strong here), but I won't be offended if you choose to tone it down (suggestions are in the recipe notes).
Happy fall and enjoy!
Ingredients
Smoky Squash Polenta

4 tablespoons of butter, divided
1 small/medium cooking onion, finely diced
1/2 tsp. chipotle powder (you can sub. smoked paprika for a milder polenta)
1 cup of butternut squash puree (see note for how to make your own)
1 L (4 cups) of water or vegetable stock
1 tsp. salt (+ more, to taste)
3/4 cup cornmeal

Apple Jalapeño Slaw

1 medium sweet crisp apple (Honey Crisp or Fuji are great)
1 jalapeño (remove seeds if you would like a milder slaw)
1/4 cup thinly sliced red onion
1/2 a lime
a pinch of salt
a small handful of torn cilantro leaves

The rest of it

12 large scallops
butter or oil for searing (see note)
salt and pepper, to taste
beet sprouts, for garnish, optional
Directions
Melt 2 Tbsp. of butter in a medium pot over low-medium heat and sauté the onion with a few pinches of salt for about 4-5 minutes, until soft and translucent.
Add the chipotle powder and sauté for another minute.
Add the squash puree, followed by water or stock, a little bit at a time, to incorporate all the squash puree. Increase the heat to high to bring the liquid to a boil.
Reduce the heat to low, then slowly pour in the polenta, whisking continuously to prevent clumps.
Once all the polenta is added, it will thicken quickly. Whisk vigorously for about a minute to prevent it from sticking to the bottom of the pot. Turn off the heat, stir in the remaining 2 Tbsp. of butter, and cover.
Prepare all of the slaw ingredients and toss them with lime juice. Set aside until ready to serve.
Preheat a medium cast iron or stainless steel skillet over medium heat until it's really hot. This is key to getting a good sear on the scallops.
Pat the scallops completely dry and season generously with salt and pepper.
When the skillet is hot, add enough butter or oil to lightly coat the bottom of the skillet, and immediately add the scallops. The first scallop should sizzle right away. If not, remove it and increase the heat and/or wait until the skillet gets hotter. Sear the scallops in batches, if necessary, to avoid over-crowding.
Sear for about 1 - 2 minutes on each side. Time will depend on the size of your scallops, how hot your skillet is, and how well cooked you like them. They should release from the pan easily an have a nice brown crust.
Whisk the polenta, adding a little bit of hot water, if necessary, until it's creamy. Adjust the salt/heat if necessary. Divide the polenta between 4 plates, add 3 scallops per plate, and top with the apple slaw and sprouts. Serve immediately.
Notes
To make your own squash puree: Cut your squash in half and bake, flesh side down, at 375°F , for about an hour. Once it's soft and easily pieces with a knife, scoop out and discard the seeds. Scoop the flesh into a food processor and process until smooth. Refrigerate until ready to use.
Oil for Searing: I've tried both butter and grapeseed oil. I often see olive oil in recipes as well, but in my opinion, the heat is way to high for olive oil (it smokes) and you're better off with butter or vegetable oil. Go a little easier on the heat if using butter.
https://french-barn.com/blog/food-wine/seared-scallops-smoky-squash-puree-apple-jalapeno-slaw
The French Barn - Blog