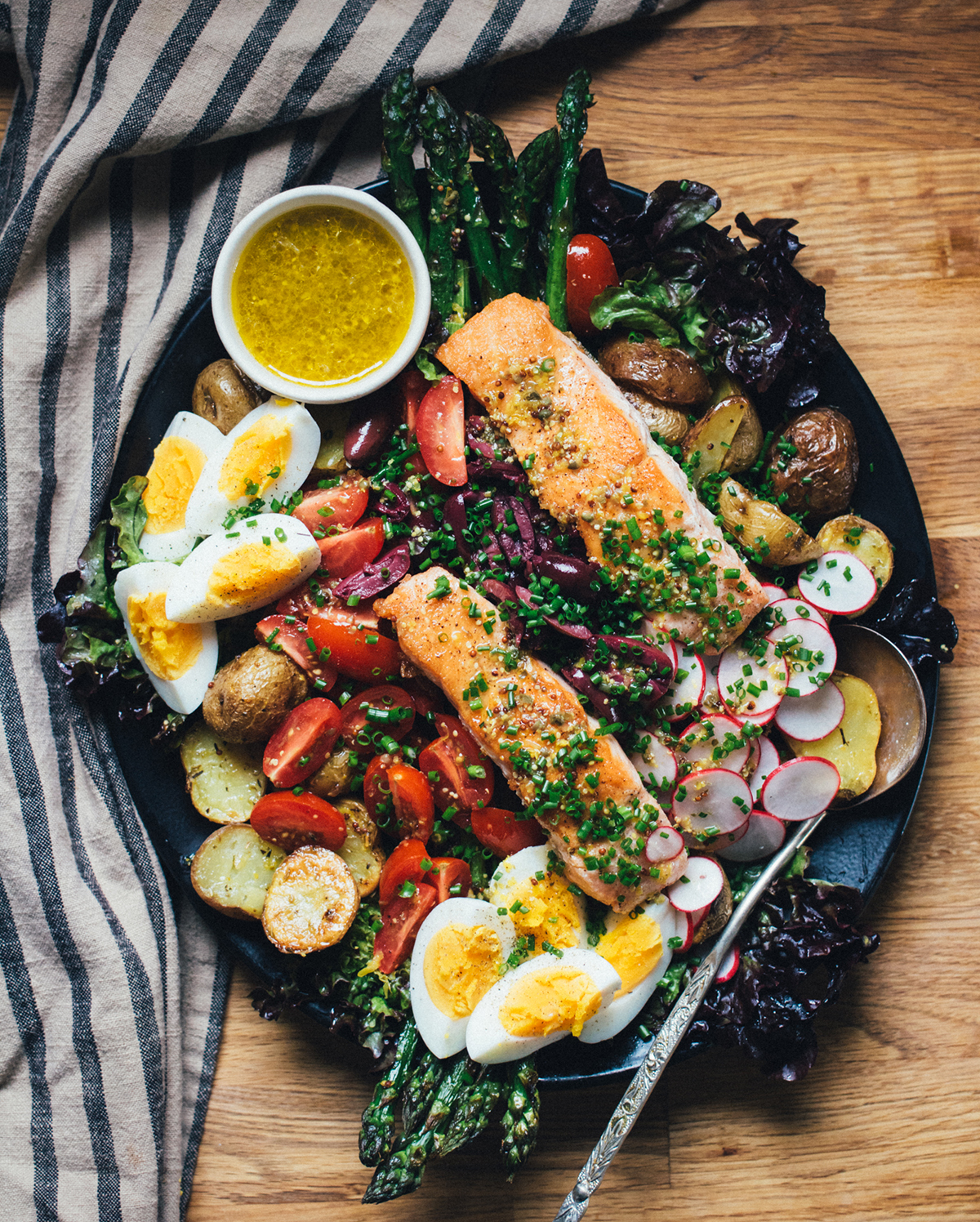 Niçoise is one of my favourite spring/summer salads. It originated in Nice as a simple composed tomato, anchovy, and olive oil salad. While it's come a far far way, many will still argue that there are very specific ingredients that Niçoise should (and shouldn't) have. I'm a free spirit when it comes to cooking and like to give myself a little bit of flexibility with the ingredients that I use in this salad, taking advantage of fresh seasonal produce and experimenting with different types of fish as well.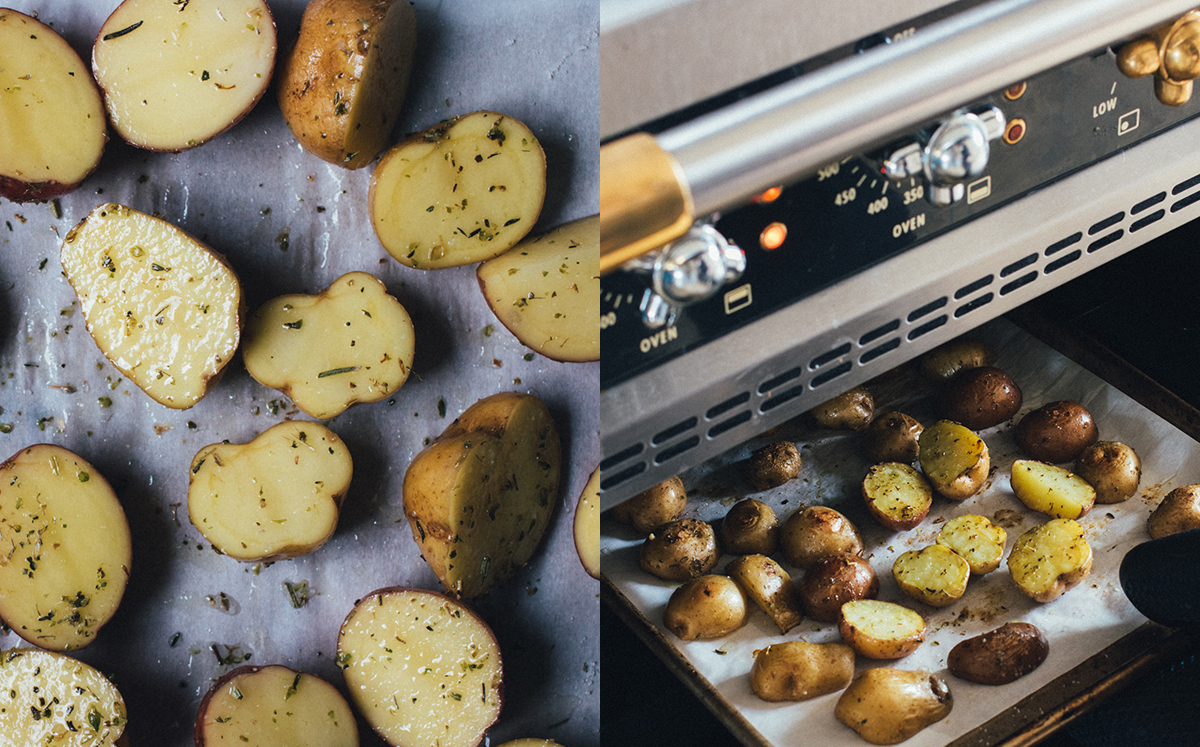 For today's version, I roasted up some baby potatoes and asparagus for the base, because it's SPRINGGGG! Then added hard-boiled eggs, olives, cherry tomatoes (not quite seasonal, but i felt that the salad needed a juicy ingredient), and finally I topped it with thinly sliced radishes and finely chopped chives. While tuna is typically found in Niçoise, I promise you that the seared salmon that I'm using today will not disappoint. Any fatty and full-flavoured fish will be delicious, even canned fish, which is often overlooked. If you have access to marinated anchovies (not the salt-packed ones), I encourage you to try those as well. They're a little bit harder to get, and perhaps an acquired taste, but totally worth trying in this salad.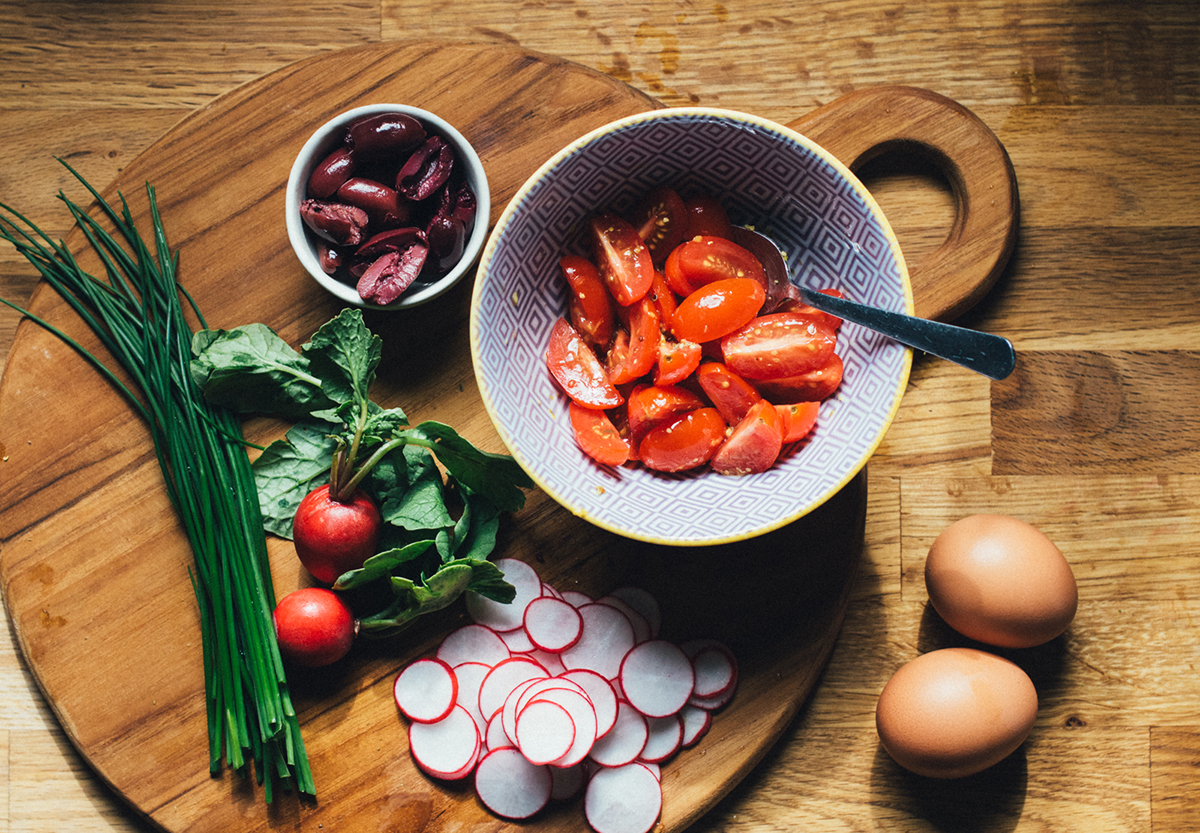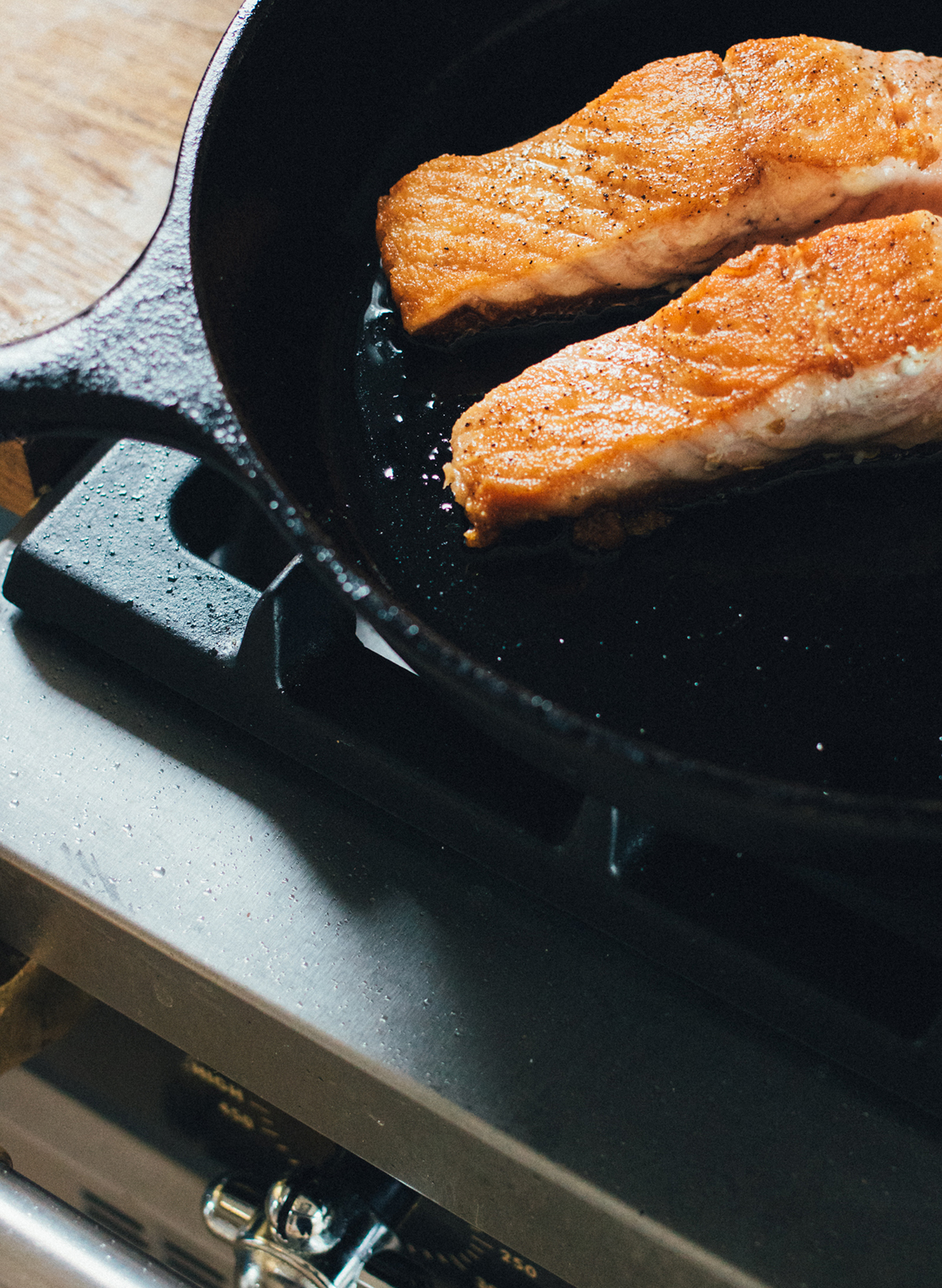 Niçoise can be made as either a tossed or composed salad. If I'm making it just for myself, I would toss everything in a bowl, mix up the dressing, and be on my way. Serving it to a group of people is a little bit different. I prefer the composed version, as it's much better looking and people can be selective with what ingredients they're putting on their plate. They key to a good composed salad (Niçoise, or otherwise) is making sure that all of the components are properly seasoned. Pouring the dressing on top doesn't always get into all of the nooks and crannies, so make sure that you dress each component as you go, and then you'll know that all parts of the salad are seasoned and delicious.
Ingredients
Seared Salmon Niçoise

1 lb baby or fingerling potatoes, halved
salt and herbs de provence
1 lb asparagus spears, trimmed
2 - 4oz pieces of fresh salmon
a handful of cherry tomatoes, halved or quartered
3 radishes, thinly sliced
2 eggs, hard boiled
1/4 cup chopped kalamata olives
a small bunch of chives, finely chopped
neutral tasting cooking oil
6 curly lettuce leaves, torn into large pieces

Lemon Mustard Dressing

juice and zest from 1 small lemon
2 tsp. grainy mustard
1 tsp. capers, finely chopped
2 Tbsp. extra virgin olive oil
1/4 tsp. salt
freshly cracked black pepper
Directions
Preheat the oven to 400°F.
Drizzle the potatoes with a little bit of oil and season with salt and dried herbs. Arrange them on a parchment-lined baking sheet and bake for 25 - 30 minutes, until cooked through.
While the potatoes are cooking, make the dressing by whisking together all the dressing ingredients in a small bowl, and prepare the remaining ingredients.
Turn on the broiler and arrange the asparagus spears on the same cookie sheet (remove parchment paper - it may catch on fire), or place them in a baking dish. Broil them on the top rack for a few minutes, roll them over, and broil for another minute or two. Keep a close eye on them. You want slight charred bits, but don't overcook or burn the asparagus. Toss the asparagus in the dressing.
Season the salmon with salt. Preheat a cast iron skillet on medium heat and add enough oil to very lightly coat the bottom of the skillet. When the oil is shimmering, place the salmon (skin-side down, if there's skin on it) on the skillet and sear for about 4 - 5 minutes. When it easily releases from the skillet and has a nice golden crust, flip it over and sear it on the other side until it just starts to turn opaque near the middle of the fillet. Remove it from the skillet and set aside.
Starting with the potatoes and asparagus, arrange the vegetables on a large platter. Dress the lettuce leaves and tomatoes. Tuck the lettuce leaves under and around the potatoes, top with tomatoes, then with the eggs, radishes, and olives. Drizzle dressing as you go to make sure that all of the elements are dressed. Finally, add the salmon fillets on top and garnish with chives.
Serve warm with any remaining dressing on the side.
https://french-barn.com/blog/food-wine/seared-salmon-nicoise
The French Barn - Blog