If you have some ricotta, a few pantry staples, and a few minutes in the kitchen, you're on your way to some killer home-made gnudi. If the idea of making home-made pasta seems like a mission, especially in the summer (yes!), but you want some fresh pasta-like goodness to go with those summer tomatoes, try gnudi! They're little dumplings, much like gnocchi, but way faster and easier to make. Grab a fork and mash together 5 ingredients – ricotta, flour (or semolina), egg yolk, grated parmesan, and salt. Dust your counter with flour and roll out two logs, then cut them diagonally into dumplings (like I did in the picture below). Toss them in boiling water for about 5 minutes, and voila – home made gnudi in no time!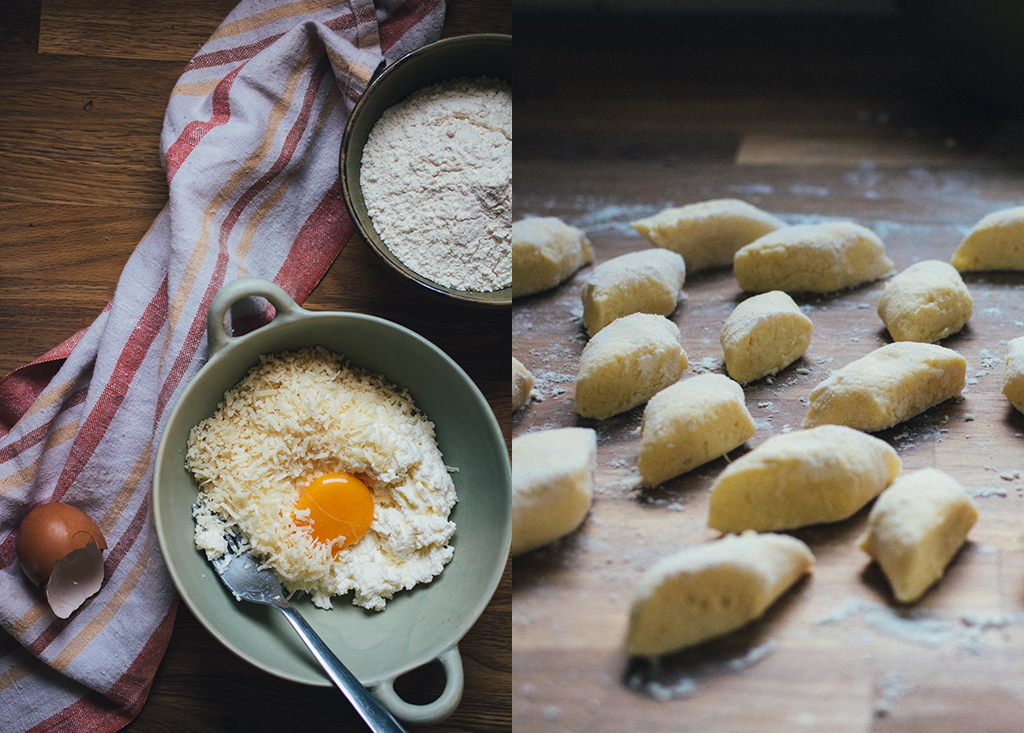 Tomato season has finally arrived! Top priority, of course, is eating them fresh, sliced and topped with basil, salt, and good olive oil. There's no better way to treat a good tomato. But they're also super delicious cooked. For the past few years I've been roasting them in the oven with smashed garlic, torn basil, a very generous amount of olive oil, and some salt and chilli flakes (inspired by this lovely recipe from Emilie @ The Clever Carrot). Prep time is kept to a minimum (a few minutes, just to toss everything together), then in 30-40 minutes of passive oven time, you have a delicious sauce made with the season's best tomatoes. I used a mix of small-medium tomatoes – some cherry varieties from my garden and a mix of larger heirlooms from the market. You can probably sneak in a few mediocre tomatoes if you really have to, but the sweeter and juicier they are, the more delicious the sauce will be, so save a few good ones for the sauce once you get your fresh tomato fix.
The oven-roasted sauce is a perfect match for ricotta gnudi, so today I'll leave you with just that. Enjoy!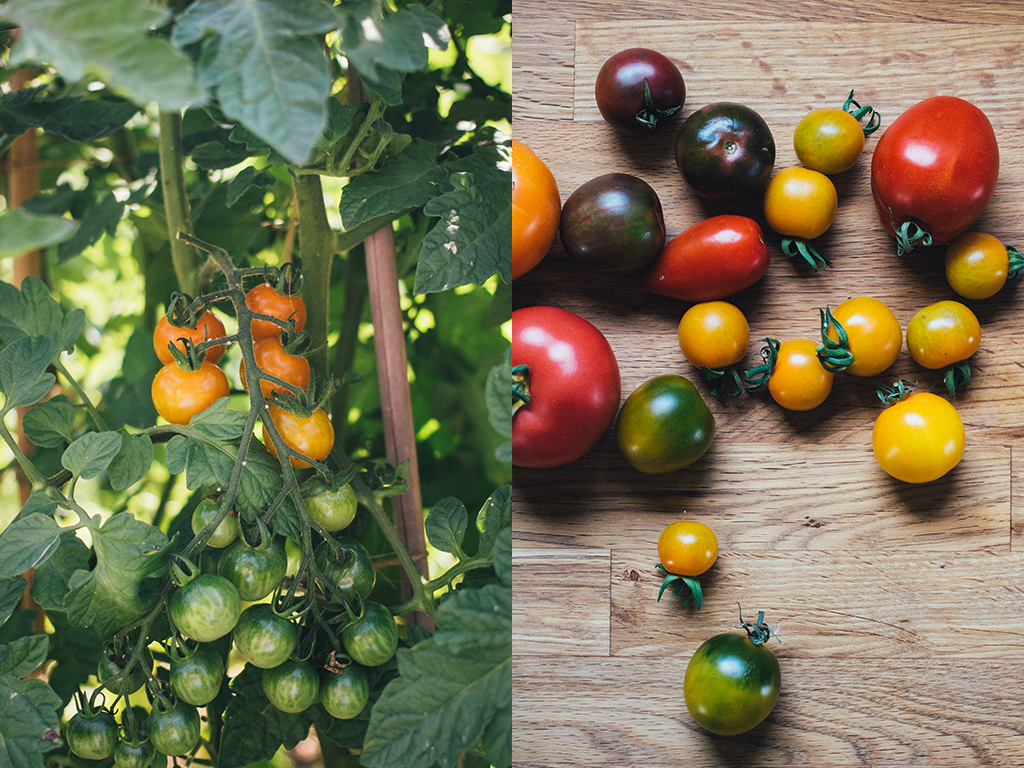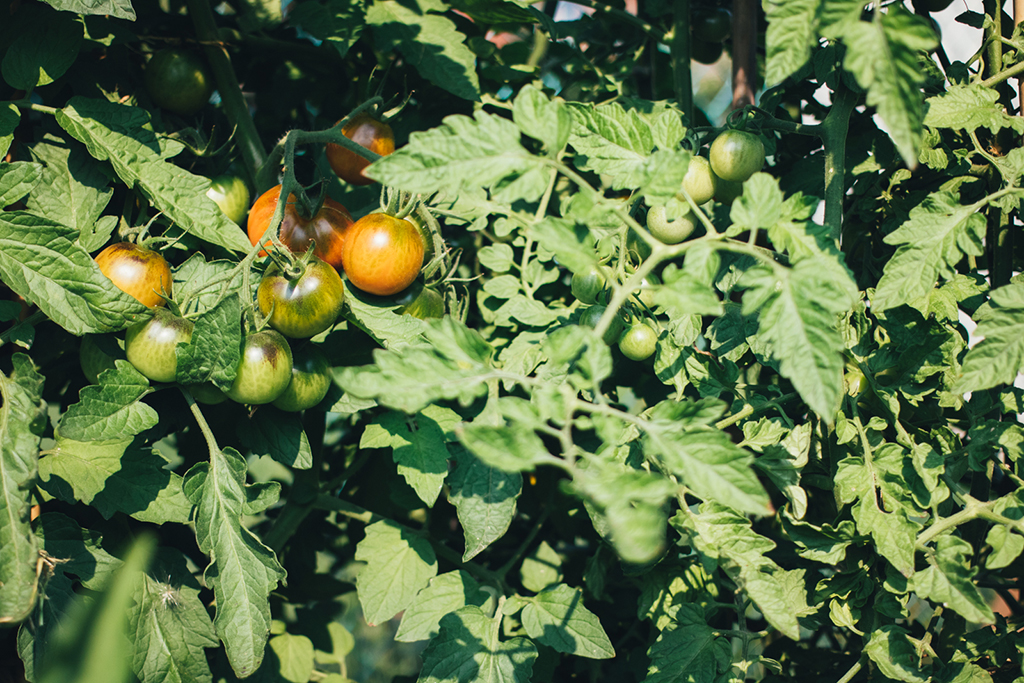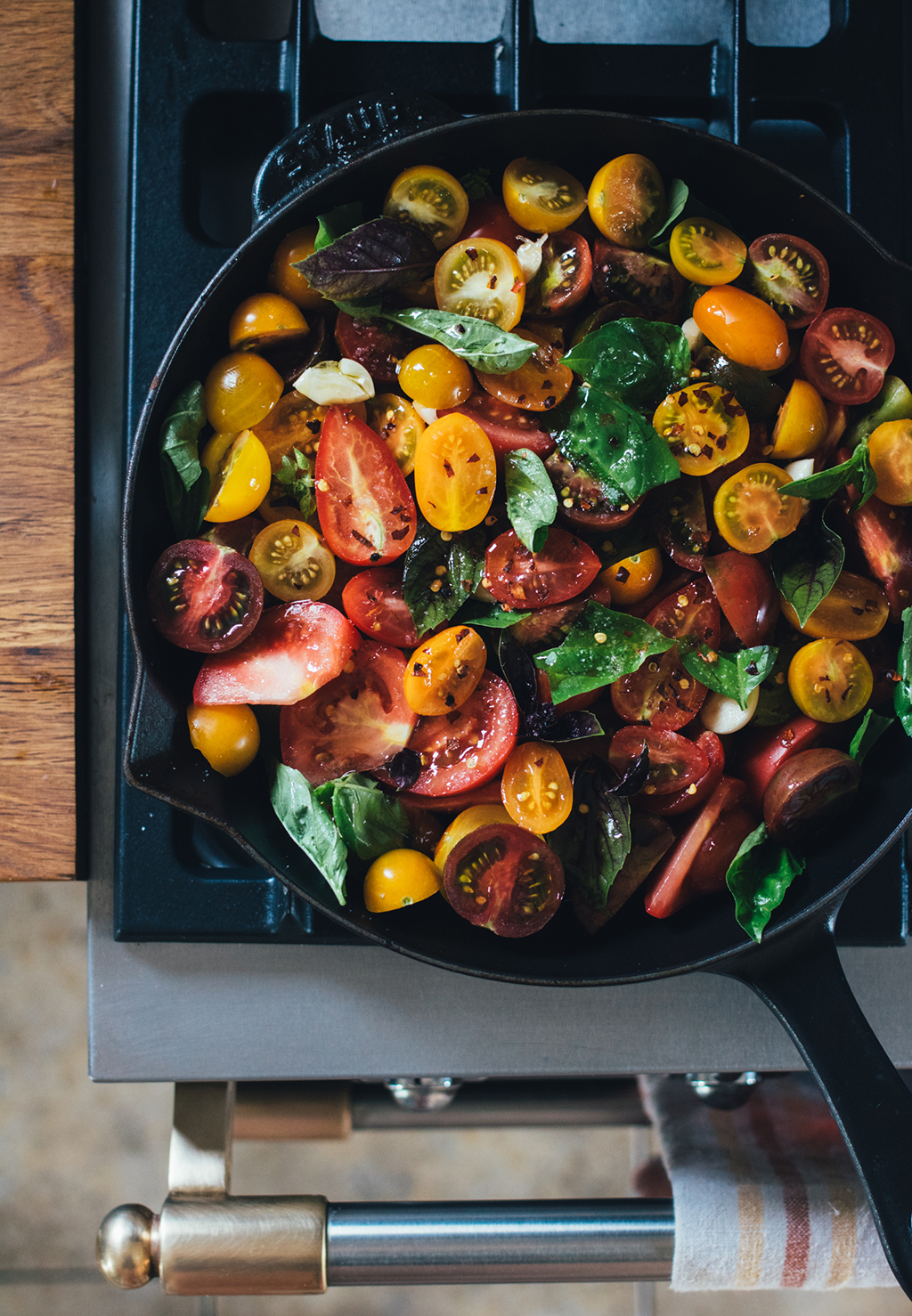 Ingredients
Gnudi

1 cup (~250g) ricotta
1 large egg yolk
1/3 cup Parmigiano Reggiano or Grana Padano, finely grated
1/4 tsp. salt
6 Tbsp. flour + more for dusting and adjusting the dough consistency

Oven-roasted tomatoes

2 lb mixed tomatoes (larger ones cut into halves or wedges)
6 small cloves of garlic, peeled and smashed
a handful of basil leaves, torn into large pieces
salt, chili flakes
very generous drizzle of olive oil

To serve

baby arugula, tossed with a pinch of salt and a few drops of olive oil, to serve
Directions
Preheat oven to 400°F.
Toss tomatoes, garlic, and basil in a baking dish or oven-proof skillet. Drizzle generously with olive oil and season with salt and chilli flakes, to taste.
Roast for 30 - 40 minutes, or until the juices are released and slightly reduced (cook longer if you want a thicker sauce)
In the meantime, start making the gnudi. If you're planning on serving them immediately, boil a large pot of water.
Combine all of the gnudi ingredients in a bowl and mash with a fork until combined. Add more flour, a few teaspoons at a time, if the dough is too sticky (may be necessary if you have an extra large egg yolk or runnier ricotta). It should be somewhat sticky, but firm enough to handle.
On a well-floured surface, shape the dough into two logs about 1" thick, and slice diagonally into dumplings.
Refrigerate the uncooked dumplings on a floured plate while the tomatoes are roasting, or covered for up to a day. When you're almost ready to serve them, add gnudi to the boiling water. Lower the temperature to a simmer and wait until they float to the top. Once floating, cook for another 2-3 minutes, then strain the water and set aside.
When the tomatoes are ready, divide them into bowls, and add the gnudi, spooning some sauce over them. Top with arugula and serve right away.
https://french-barn.com/blog/food-wine/ricotta-gnudi-oven-roasted-tomatoes
The French Barn - Blog