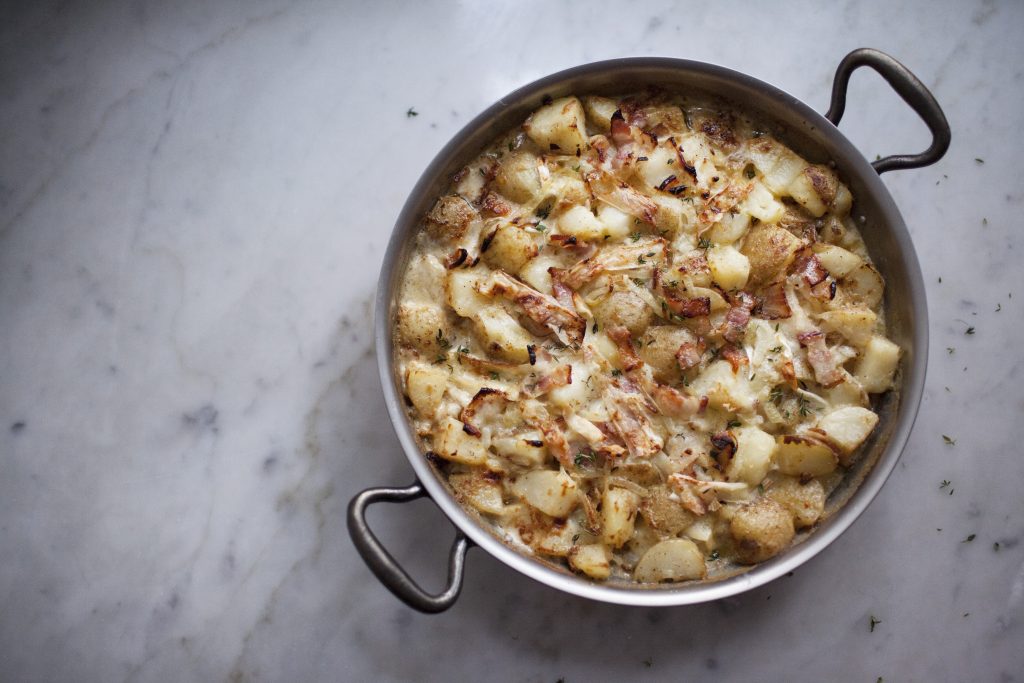 Fall. It is finally here. Time to crank up the oven & start making all our favourite cold weather comfort foods again. This summer we added a little (ok, big) addition to our kitchen; a Lacanche range. The Cormatin fits perfectly in the existing space. With the white beveled backsplash, white shaker cabinets & marble counters we decided to go a bit bold on the colour. The delft blue is my favourite shade of blue. I dream of my old wooden front door to be painted in the same colour as this range. The Lacanche range is a practical piece of art & I believe it should stand out. It has become the focal point of the kitchen with its gorgeous, shiny brass knobs.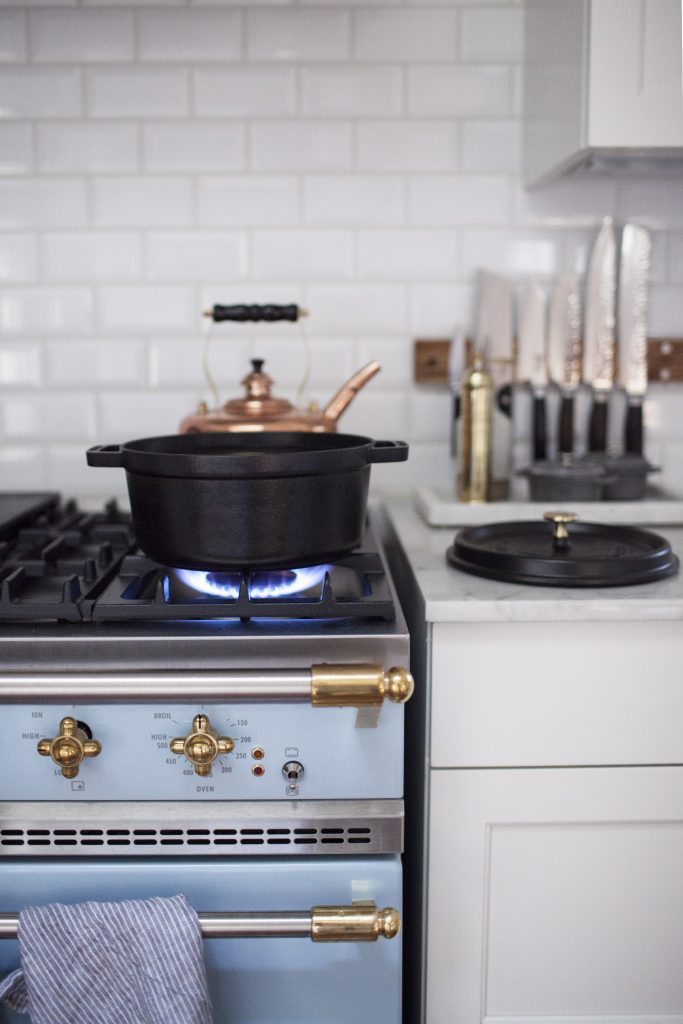 I am so excited to share this tartiflette recipe with you today! The first recipe on my shiny new range (I clean it every night to keep it looking as shiny as the day it arrived). The tartiflette is creamy, cheesy & oh so comforting. Justin is a huge fan of scalloped potatoes but after trying this dish I think he found his new favourite potato recipe.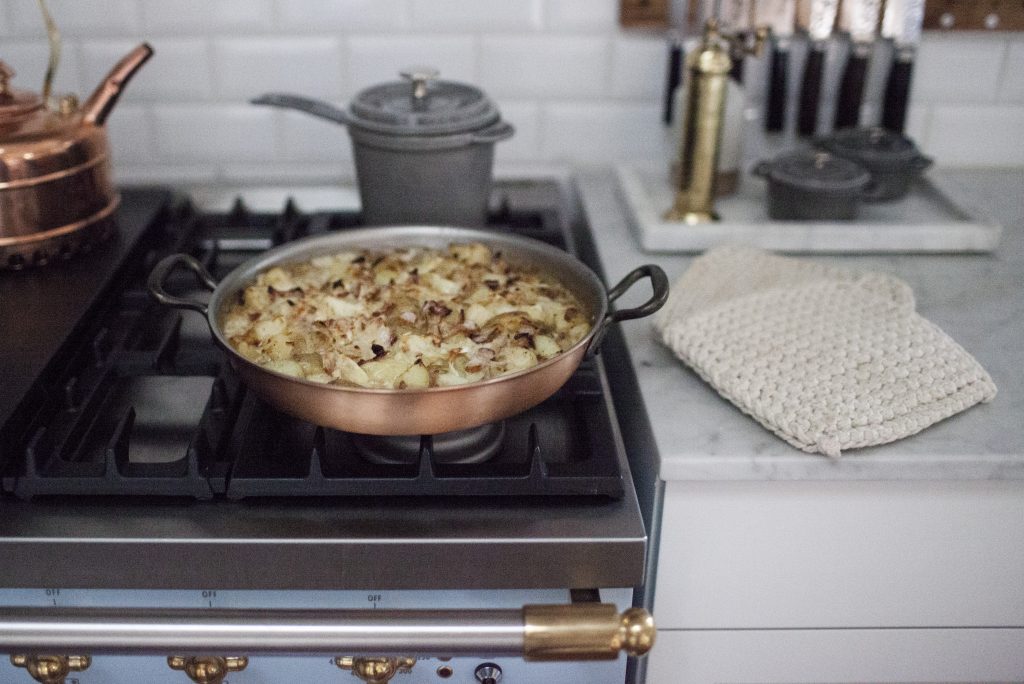 The bacon lardons gives it so much flavour. I promise it will keep you cozy & warm on the coldest of fall/winter days ahead. It is also a very simple dish to make & uses very minimal ingredients. Because of this, each ingredient plays a very distinctive role.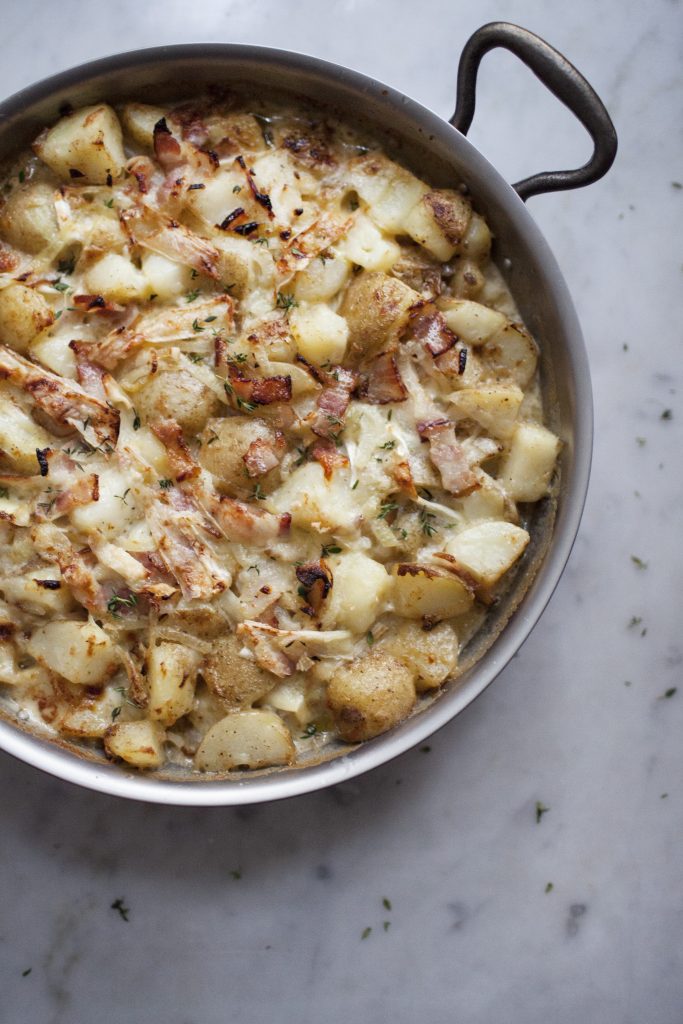 I simmer the onions & lardons in a generous splash of white wine for an extra little kick of flavour, but a splash of chicken stock would work well too. Cooking with white wine is just one of my favourite secret ingredients to add to savoury dishes & this one is no exception.
Ingredients
2 pounds new potatoes
1/4 cup + 1/4 cup unsalted better
1 clove of garlic, minced
1 large onion, thinly sliced
1/2 pound bacon lardons
1/4 teaspoon nutmeg
1/4 cup chardonnay
1 cup heavy cream
1 pound reblochon, thinly sliced
salt & pepper, to taste
1 teaspoon thyme, to garnish
Directions
Preheat oven to 400 degrees.
In a large pot of salted water over high heat add the whole potatoes. Cook until fork tender, about 10-12 minutes. Strain and set aside to cool.
In a skillet over medium heat melt a 1/4 cup of butter. Once melted add the garlic, onions, bacon lardons & nutmeg. Cook until the onions are fully cooked and the lardons are browned. Add the wine and simmer until the liquid has cooked down. Remove from heat and stir in the cream. Set aside until ready to assemble.
Slice the potatoes into quaters. In a separate skillet over medium heat melt the remaining butter. Toss the potatoes to coat and season with salt and pepper.
In a 10 inch round or 9x12 baking dish begin to layer ingredients starting with the potatoes, followed by the lardon mixture and topped with thin slices of the reblochon cheese. Repeat.
Bake for 20-25 minutes, or until the top is golden brown. Garnish with thyme & serve immediately.
https://french-barn.com/blog/food-wine/classics/tartiflette
The French Barn - Blog