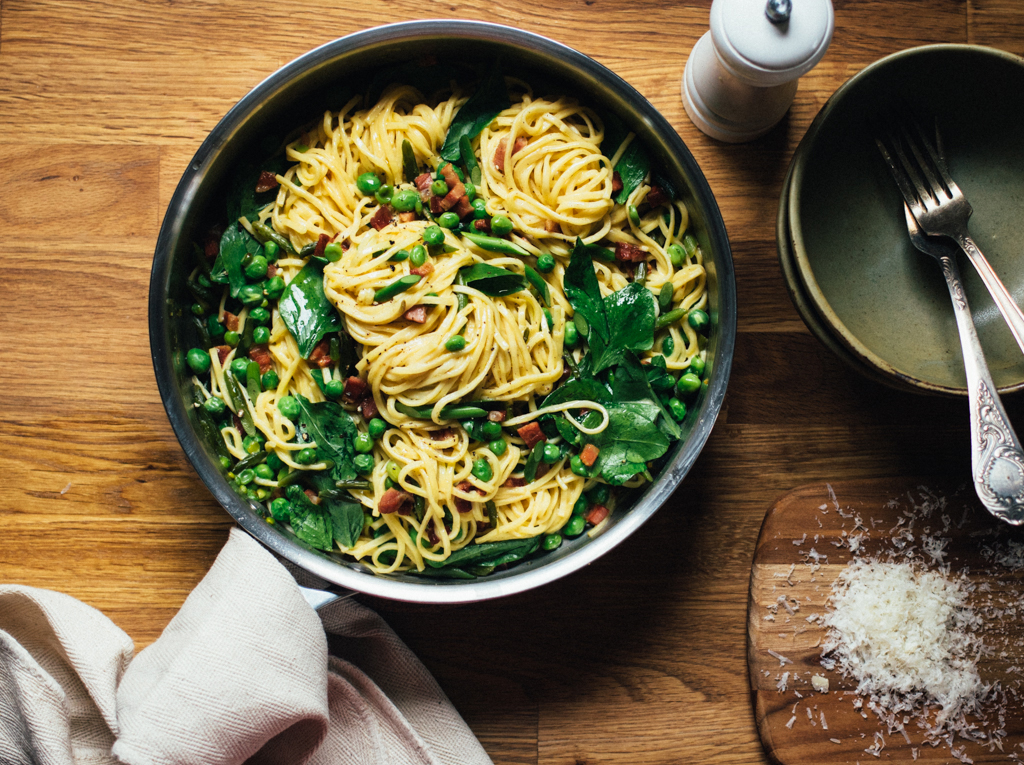 There are a few weeks in early summer, during which we can briefly indulge in fresh shelling peas. It's not that I have anything against the frozen kind, I just want to remind you to keep an eye on when they arrive, fill a big bag of them, and enjoy the sweet and tender morsels. They're an ephemeral pleasure of summer that just shouldn't be missed.
There are 3 different pea varieties growing in our garden, and it wasn't until we started growing them, that I learned a few new things about peas. There are couple of days in a shelling pea pod's life when it's mature enough for the peas to be plump and juicy, but young enough for them to be sweet and tender. Catching a pod during those few days is like striking gold. The shelling peas at the stores and markets, as delicious as they are, are usually a little bit past that prime. Even garden peas get lost in their own leafy jungle all the time, and what you end up with are larger peas that almost entirely fill their pod, which are no longer as sweet or juicy as they were just a few days earlier. Those ones are perfect when lightly sautéed, as the heat warms them up and brings back some of that tenderness.
Another thing that I learned is that the leaves and flowers of the pea plant are edible as well. Pea shoots and young tendrils are popular at the farmer's markets early in the season, but leaves of mature plants are also delicious and have a mild sweet pea flavour, lovely as a salad green or lightly sautéed.
Today's carbonara recipe is pretty close to the classic, made with pancetta, Grana Padano and egg yolks. To celebrate the beginning of summer, I added fresh peas and leaves, along with garlic scapes (flower buds) instead of cloves. I hesitated adding the pea leaves to the recipe, as they're probably hard to find unless you grow your own peas, but decided to leave them in since they can be easily swapped or omitted. There's just something really fun about having multiple parts of a plant come together in a recipe that I couldn't leave behind. Talk about a wild idea of "fun"!
In case you're reading this later in the season or simply don't have access to fresh peas and garlic scapes, I've offered up some alternatives, so don't hesitate to give it a try!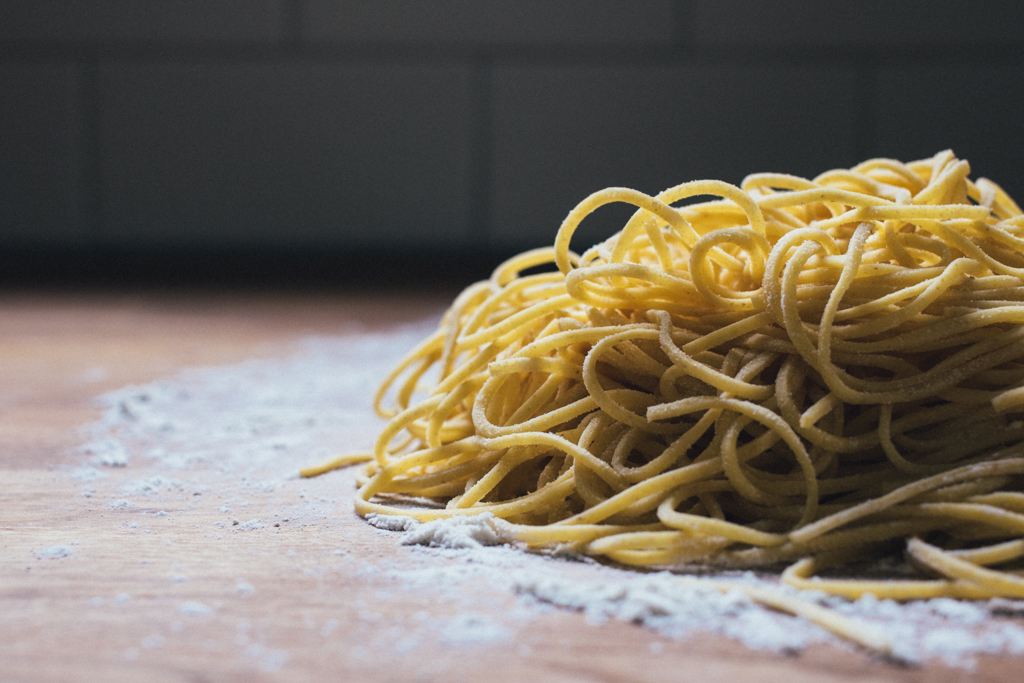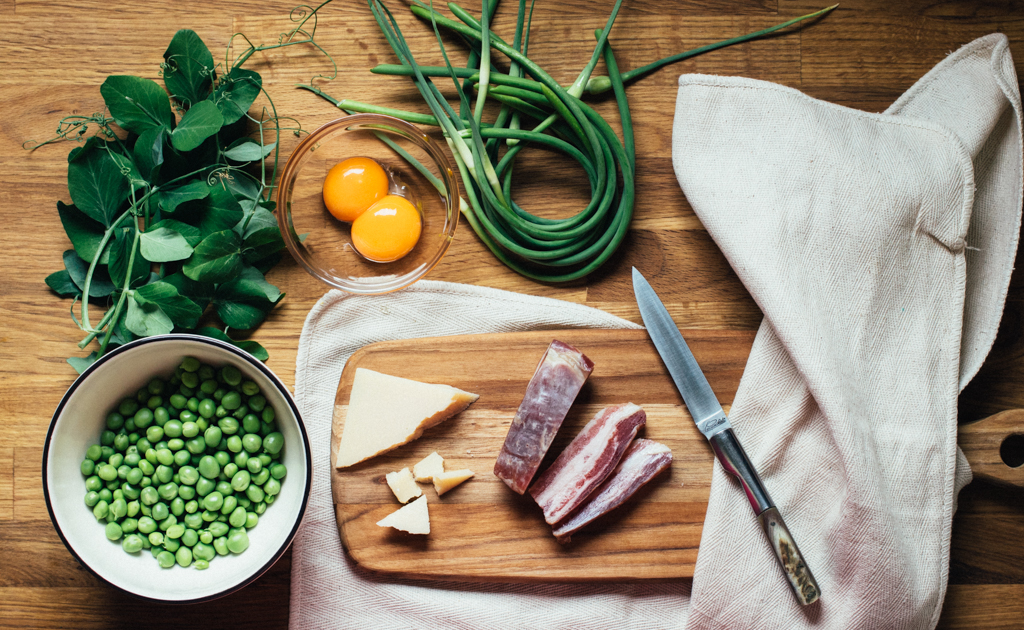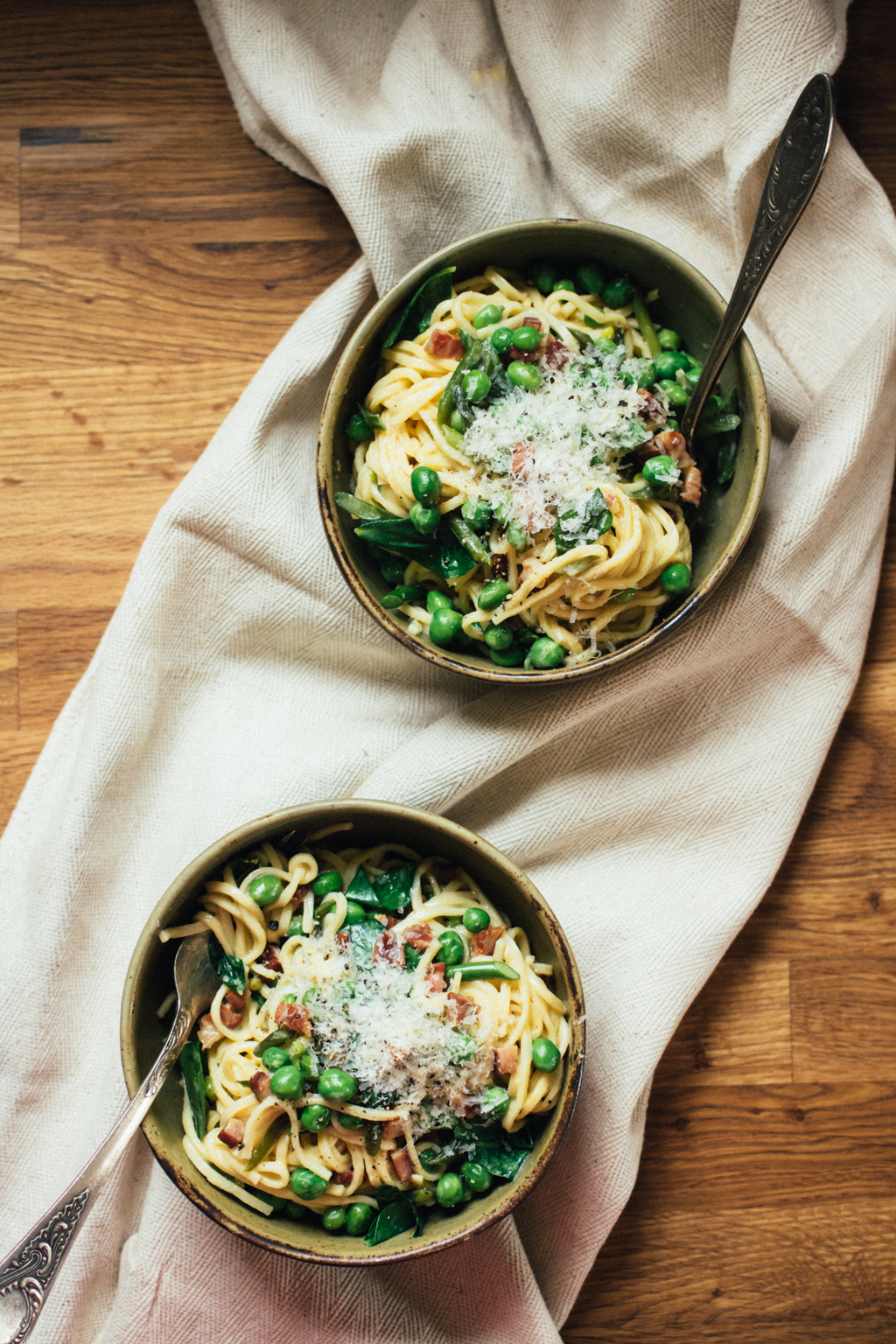 Ingredients
220g fresh or 150g dried spaghetti
1 Tbsp. butter
85g (1/2 cup) finely diced pancetta (sub. bacon)
1/3 cup of roughly chopped garlic scapes or 3 large cloves of garlic, finely chopped
1 cup fresh shelled peas (sub. 1 cup of frozen peas, thawed)
2 large egg yolks
30g Grana Padano (or Parmigiano), grated (~1/2 cup) + more for garnish
a few handfuls of fresh pea leaves (avoid the stems unless they've very young and tender) or baby spinach
salt and black pepper, to taste (see note about seasoning)
Directions
Bring a large pot of water to a boil and season generously with salt. Cook the pasta al dente (it'll continue cooking in the sauce), drain and reserve the pasta water.
While the water is being boiled/pasta is cooking, start preparing the sauce.
In a small bowl, lightly whisk the egg yolks and set aside.
Melt 1 Tbsp. of butter in a large pan and add diced pancetta. Cook over low heat to render some of the fat, until the pancetta is starting to get crispy, but take care not to burn it.
Depending on how much fat you've rendered, you may want to drain some of it, but make sure there's enough left to lightly cover the bottom of the pan.
Add the garlic scapes and sauté for about 20 seconds.
Add the shelled peas and sauté them for about a minute, just until they are starting to swell and soften. Don't overcook the peas, as they'll readily turn mushy. Turn the burner off if the pasta's not ready yet.
Once the elements are ready to combine, temper the egg yolks by gradually adding 2 Tbsp. of the hot pasta water to the eggs, whisking constantly (this will help prevent the eggs from scrambling when added to the pasta). Add the grated cheese to the egg mixture and set aside.
Turn the burner back on (if idle) and add the pasta, along with 1/2 a cup of the hot pasta water, stirring to combine all of the ingredients. Cook for about a minute to finish cooking the pasta and meld the flavours.
Turn the burner off and slowly add the egg/cheese mixture, tossing the pasta constantly to prevent the eggs from cooking too quickly and scrambling (see note about cooking egg yolks). Taste for salt (see note about seasoning) and add more pasta water (or regular water) a few tablespoons at a time, to get the sauce to a desired consistency (it should be creamy and smooth, almost like a cream sauce). I usually end up adding about 1/2 a cup at the end, but that'll depend on the type of pasta that you're using, how much fat is in the sauce, and whether you're using fresh or previously frozen peas.
Finally, add the pea leaves and toss with the hot pasta, just to wilt them and mix them in.
Season with black pepper and serve with grated cheese on top.
Notes
Seasoning: The salt in the recipe comes from the pasta water, pancetta, and cheese, making it a little bit tricky to season since a lot of it depends on that initial seasoning. Taste the sauce after you've added the egg and if it needs more, add some salt along with the remaining pasta water, and if it seems a little too salty, continue thinning with warm unseasoned water instead of the remaining pasta water.
Egg yolks: Ideally the yolks should cook from the residual pasta heat and thicken the sauce. If you're nervous about the possibility of raw egg yolks, turn the burner to low heat after combining the eggs with the pasta and gently sauté for a couple of additional minutes.
https://french-barn.com/blog/food-wine/entrees/sweet-pea-carbonara
The French Barn - Blog