Eggs Benedict are a very special breakfast in our home, a breakfast that my husband and I make for each other on our birthdays. It started with mine a few years ago. He asked what I wanted on my special day and I wanted nothing more than to challenge him with something that I thought he couldn't pull off. I requested smoked salmon Eggs Benedict over latkes. So not only did he have to poach eggs, make hollandaise, and have it all come together at the same time, he also had to make latkes from scratch first thing in the morning. Happy birthday to me!
I had to rescue him on the last minute hollandaise sauce, but his efforts were really impressive, especially for someone that's never made Eggs Benedict before. We now make them together, regardless of whose birthday it is. I don't get to watch him struggle, but the results have been getting better and better. Eggs Benedict take a little practice and patience, but it's a very special breakfast that's worth getting right.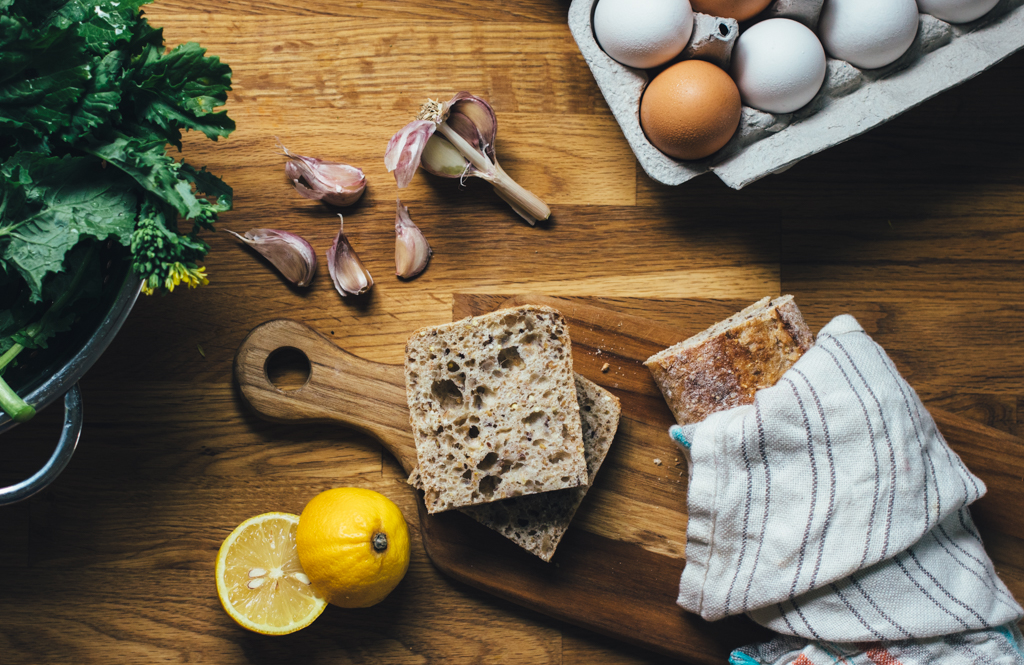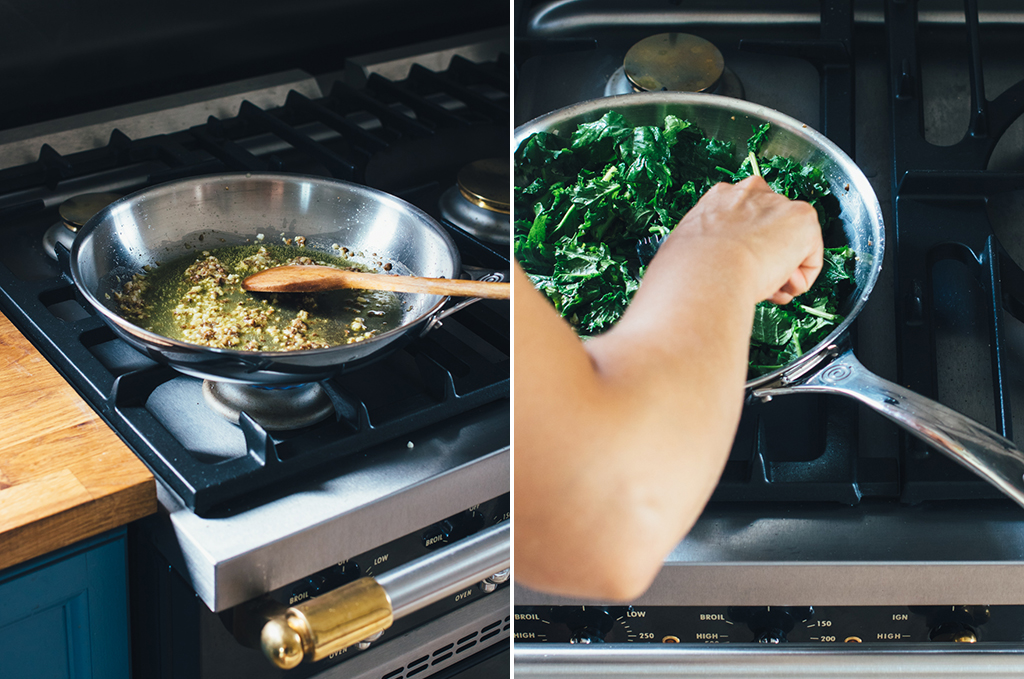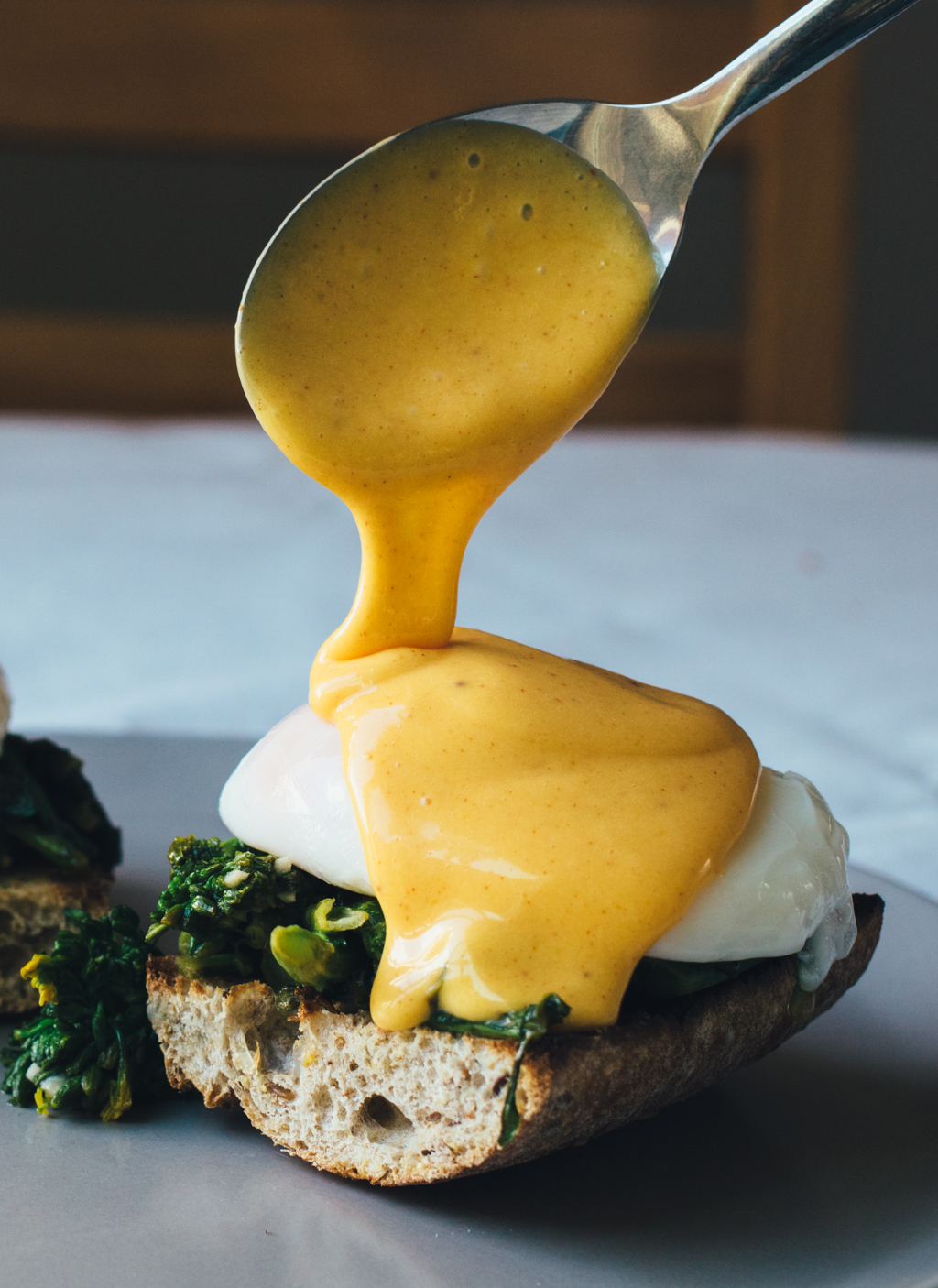 Today's Eggs Benedict with Garlic Rapini recipe a little simpler and adds a bonus dose of greens to your breakfast. How many of you are rapini fans? I personally love the bitter taste and pungent flavour, but if you're not into rapini (a.k.a flowering broccoli or broccoli rabe), some garlic-sautéed spinach or kale will work just as well. The bitterness of rapini will vary, with younger rapini harvested earlier in the season being milder. The bunch that I had already started to flower, which wasn't ideal, but I liked the extra bitterness and full flavour. Keep an eye out for bunches with bright green leaves, tender stems, and tightly bunched florets, especially if you're new to rapini or prefer it a little bit milder.
The first time I discovered my love for rapini was in Italy, where it's blanched and sautéed with a generous amount of olive oil, garlic, chili flakes, and anchovies. It's delicious with nothing more than a slice of crusty bread, but today I'm kicking it up a notch by adding a poached egg and some of that delicious hollandaise sauce on top. The anchovies won't be detectable as fish, but add a flavour dimension that's worth trying (just like in Caesar salad dressing). If you're not a fan, leave them out and add a little bit of crumbled sausage or extra salt to the sautéed rapini instead.
What's your favourite version of Eggs Benedict?
Ingredients
Garlic Rapini

2 Tbsp. olive oil
4 cloves of garlic, peeled and finely chopped
1/2 lb trimmed rapini, coarsley chopped
6 small anchovy fillets, minced
a pinch of chilli flakes, to taste
a pinch salt, to taste

Hollandaise Sauce

3 egg yolks
1 Tbsp. lemon juice
1/4 tsp. salt
1/3 cup of butter, melted
pinch of cayenne or smoked paprika

Eggs Benedict

8 slices of multi-grain toast or ciabatta
8 eggs
finely chopped chives, for garnish
Directions
Before you begin cooking, make sure all of the ingredients are prepared and ready to go (i.e. everything chopped, butter melted, eggs separated, etc..) and prepare a large bowl of ice water.
Bring three pots of water up to a simmer (one small and two medium/large). Turn off and cover the small and one of the medium pots. In the other medium pot, blanch the rapini for about 30 seconds, then use a slotted spoon to transfer it to a bowl of ice water. Drain and set aside.
For the hollandaise, combine the yolks, lemon juice, salt, and cayenne in a small/medium bowl. Make sure that the small bowl can fit over the small pot without the bottom of it touching the water.
Warm up the olive oil in a large pan over low heat and sauté the garlic and minced anchovies for about a minute, until soft and fragrant.
Add the blanched rapini and sauté for a few minutes, until it softens to your desired tenderness. I like to leave a little bit of crunch in the stems, but that's a matter of personal preference. Turn off the heat and keep warm.
It's time to poach the eggs. If you haven't tried it before, this video from Serious Eats is almost exactly how I do it (the video is much better than any explanation that I can give). Bring the medium/large pot of water back up to a simmer, poach the eggs, and set them aside.
Toast the bread and heat up the melted butter until it starts to bubble.
Bring the small pot of water back up to a simmer. Place the bowl of yolks over the small simmering pot of water and whisk vigorously, until they're light and frothy. Slowly drizzle in the melted butter. Once all the butter is incorporated, the sauce should resemble a perfect hollandaise. If it's too runny, keep whisking it over the hot pot, until thickened. If its too thick, whisk in some of the hot water in the pot until it reaches a good consistency. Taste and adjust with more salt, lemon juice or cayenne if necessary.
To assemble the Eggs Benedict, divide the sautéed rapini between the slices of toast. Place a poached egg on each piece of toast, and top with hollandaise and chives. Serve immediately.
https://french-barn.com/blog/food-wine/classics/eggs-benedict-garlic-rapini
The French Barn - Blog