I wait for tomatoes all year, abstaining from the store-bought ones for a few months before the new season brings us a local harvest, building anticipation for that first juicy slice. Recipes are pinned, cookbooks are dog-eared, and experiments are conducted (the only exception to buying store-bought in those early summer months) in preparation for what's to come.
The first tomatoes get eaten fresh, with little (if any) adornments, sliced and maybe sprinkled with flaky sea salt.
As the season progresses, we start mixing it up. Mid-season tomatoes get layered with fresh mozzarella and basil and drizzled with olive oil, tomato wedges get tucked into salads, and slices of the meaty ones top open-faced sandwiches and avocado toast.
Towards the end of tomato season, when the fruit arrives cracked and blemished, is when I turn to the recipes that I've been saving and creating all year.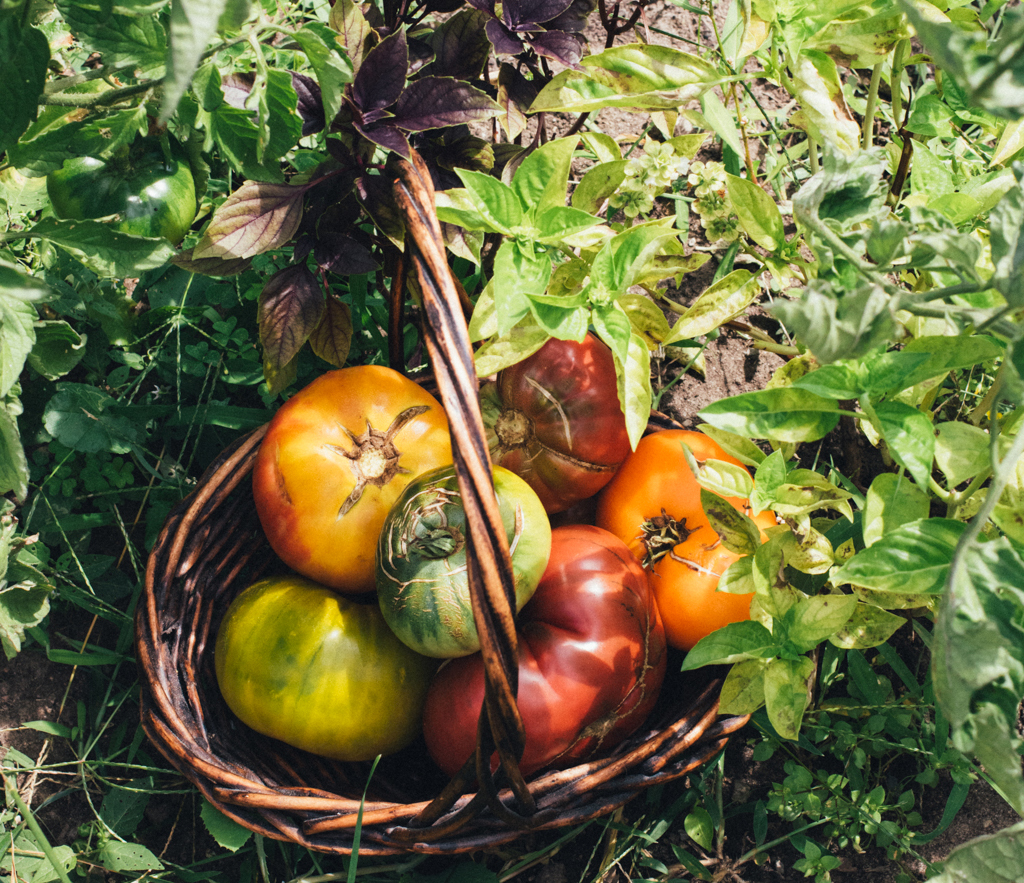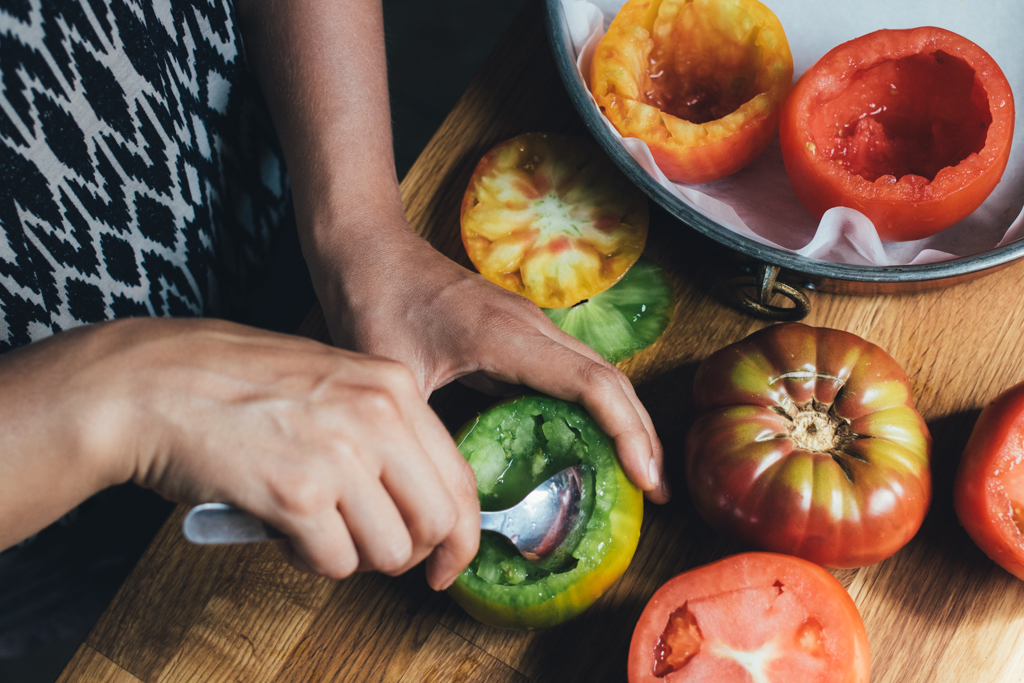 There were two stand out recipes this year.
The first was barely a recipe, a super simple roasted tomato pasta sauce. Small tomatoes (or chopped up large ones) are tossed in a baking dish with chopped garlic, a very generous drizzle of good tasting olive oil, and a few good pinches of salt. They're roasted in the oven until they collapse and slightly reduce, transforming into the best tomato sauce ever.
The second highlight were these stuffed tomatoes! These are based on a recipe that I've always made with bell peppers and I was curious to see how the tomatoes would fare in their place.
Spoiler alert: they did really well!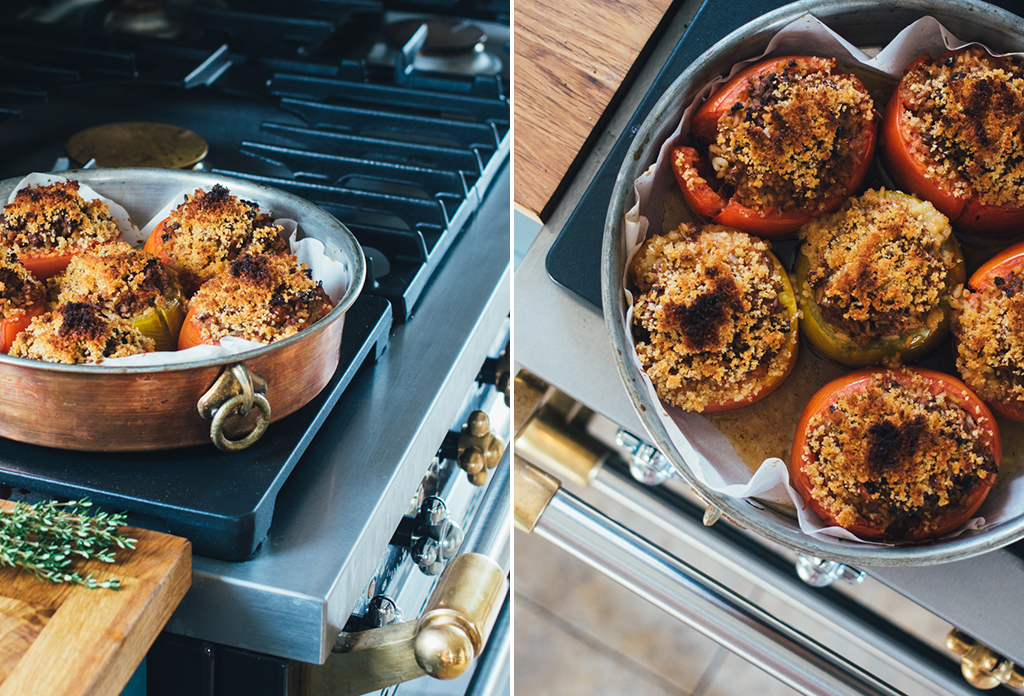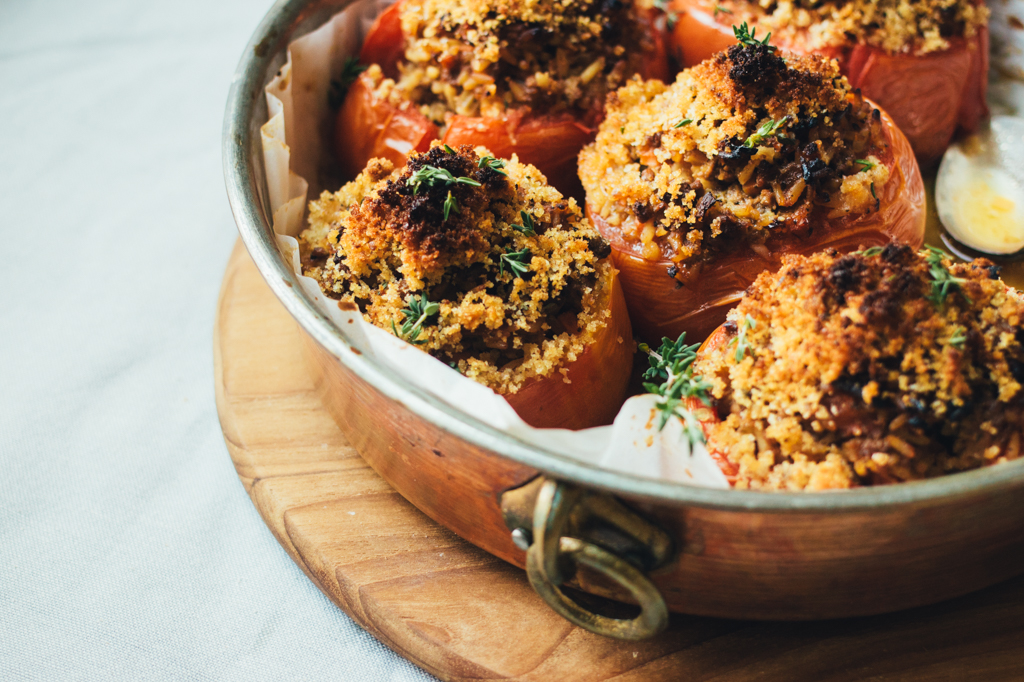 What I love most about this recipe is that the tomato parts that get scooped out, all that delicious juice and flesh, are blended up and added to the stuffing. The flavours in the stuffing are simple, yet distinctively present, and that tomato sauce adds just enough body and acidity to bring it all together. Enjoy!
Ingredients
6 large tomatoes

Rice and Beef Stuffing

2 Tbsp. olive oil
1 large onion, finely diced
2 cloves of garlic, minced
1 small carrot, finely diced (~1/2 cup)
1/2 a celery stalk, finely diced (~1/2 cup)
1 Tbsp. molasses or dark brown sugar
3/4 lb lean ground beef
1 tsp. of salt
1/4 tsp. chilli flakes
1 tsp. Herbs de Provence (a dried Italian herb blend will work as well)
3/4 cup parboiled rice, rinsed and drained

Bread crumb topping

2 Tbsp. butter
1/4 cup bread crumbs
a pinch of salt
a pinch of Herbs de Provence
Directions
Preheat the oven to 375°F.
Heat the olive oil in a large sauté pan over low heat.
Cook the onions and garlic with a pinch of salt, until soft and translucent.
Add the carrots and celery and cook, stirring occasionally, for another 5 minutes or so, until the vegetables soften.
Add the ground beef, season with salt, chilli flakes, and dried herbs. Continue sautéing until the beef is well-browned.
In the meantime prepare the tomatoes. Slice off the top/shoulders of each tomato, then use a sharp paring knife to score a circle on the inside. Take care not to cut all the way through the tomato and then carefully use a tablespoon to remove the juice and flesh, placing it directly into the food processor. Fit the hollow tomatoes snugly in a baking dish or round cake pan lined with parchment paper.
Add the molasses or sugar to the tomato juices in the food processor, then process, until almost smooth. A few tomato pieces are okay and will add texture to the stuffing.
Add the pureed tomatoes and rice to the vegetable/beef mix, slightly increase the heat, and simmer for 5 - 10 minutes, until reduced and slightly thickened to a bolognese consistency. The rice should be partially cooked and will finish cooking (and absorb a little bit more liquid) in the oven with the tomatoes.
In the meantime, melt the butter in a small saucepan over low heat and add the bread crumbs, salt, and herbs. Stir until the butter has been absorbed, then set aside
Spoon the stuffing into each tomato and top with bread crumb mixture.
Bake for about 45 minutes, until the tomatoes are cooked and the bread crumb topping looks toasted.
https://french-barn.com/blog/food-wine/entrees/beef-rice-stuffed-tomatoes
The French Barn - Blog