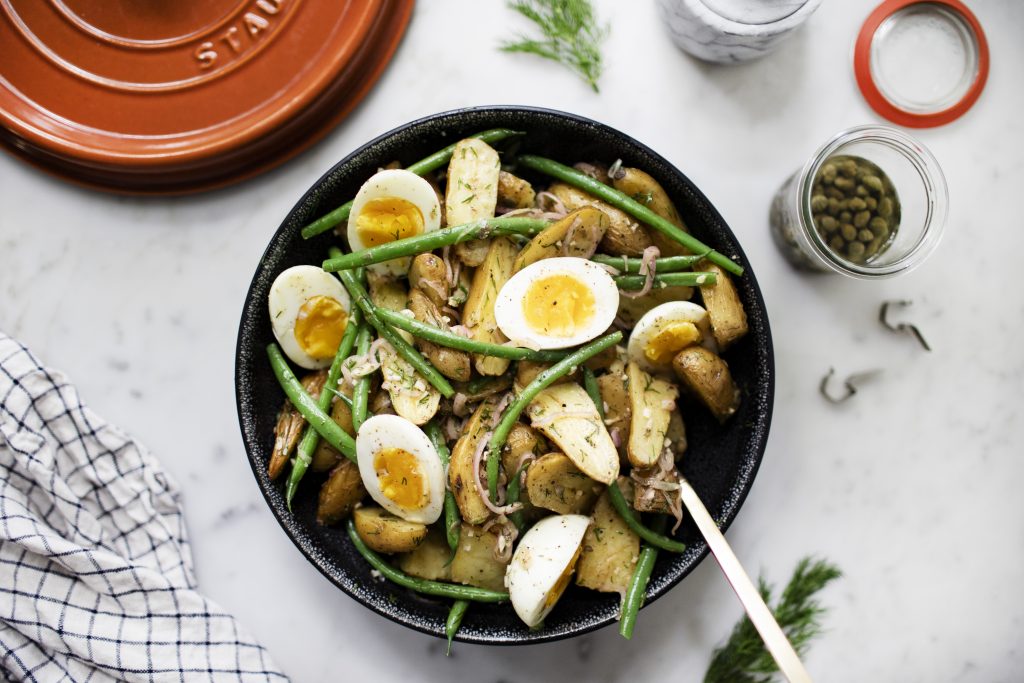 Summer is officially here & I couldn't be more excited! The season of spontaneous road trips, endless fresh local produce & the best outdoor gatherings. The nights become longer & everyone seems more relaxed than ever. Between attending & hosting parties all season long, I love preparing traditional barbecue side dishes with a little fancy twist. Make this upscale potato salad for your next party!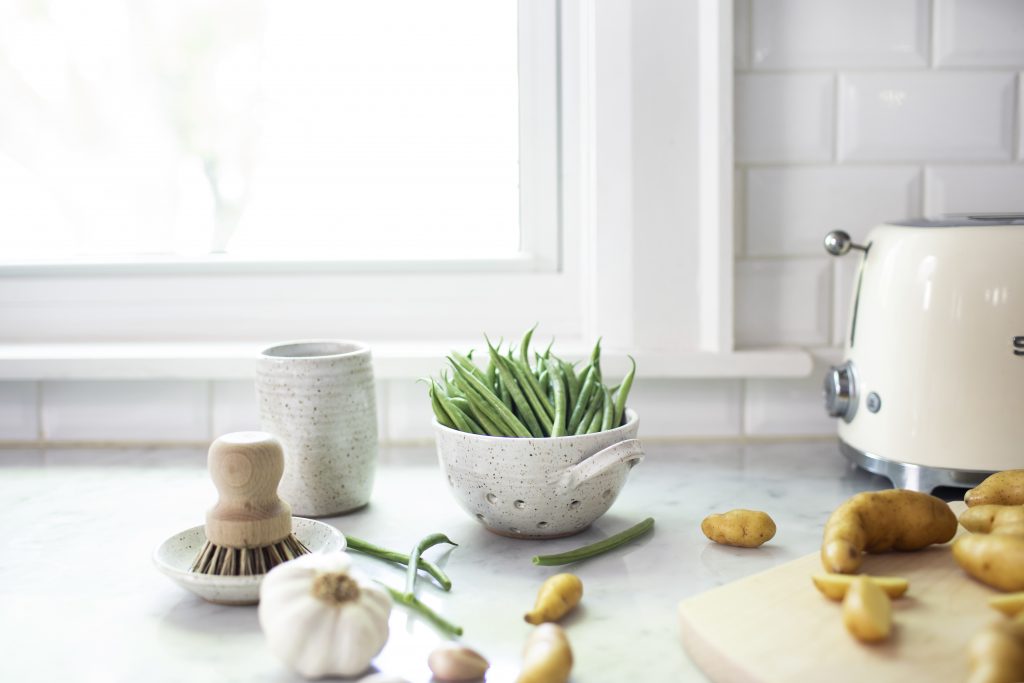 It is not your traditional potato salad loaded with hard boiled eggs, celery & mayonnaise. It is a fresh & flavourful take on the classic dish featuring a dijon vinaigrette base. The haricots verts, also known as "French beans" add a refreshing crisp bite to the salad. A cross between a green bean salad & a potato salad. For those unfamiliar with French green beans, they are a thinner style bean with a more tender bite. However, if you are unable to find this variety a standard green bean will do the trick! Just be sure to cook them a little longer during the blanching process.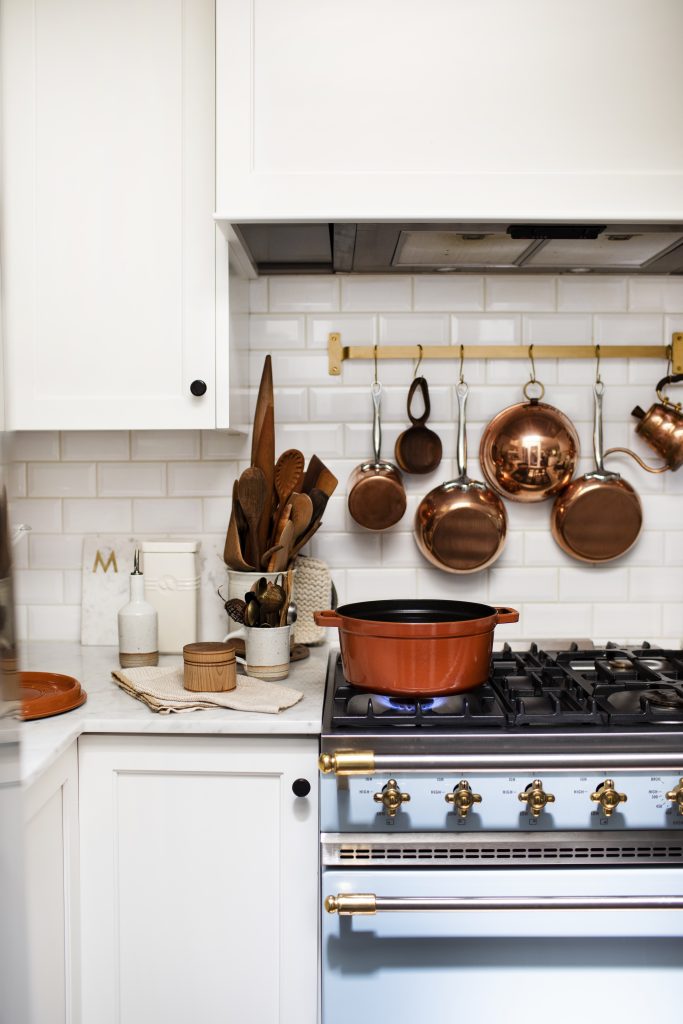 What really sets this salad apart from the others is the additional step of the roasting the fingerling potatoes. It adds so much more flavour then a boiled potato & makes a big impact. The fingerling potatoes bring a nutty, earthy flavour with a firm texture & make for a beautiful presentation.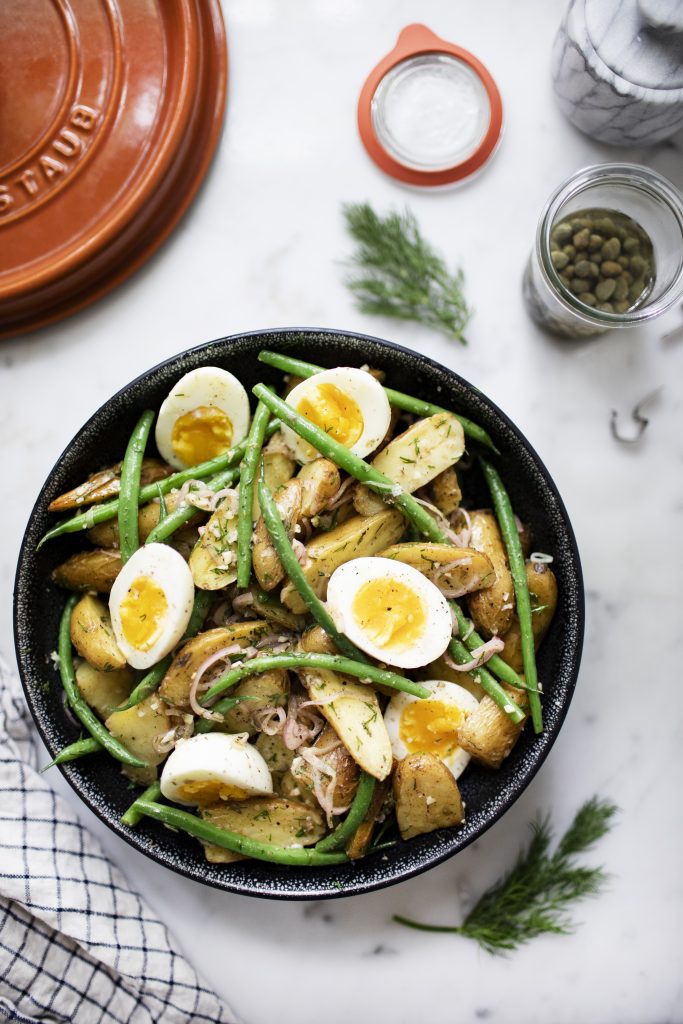 So next time you are looking for a summer side dish to bring to an outdoor barbecue, change things up with this not so traditional green bean & potato salad! It might just be the most popular dish at the gathering. Happy summer!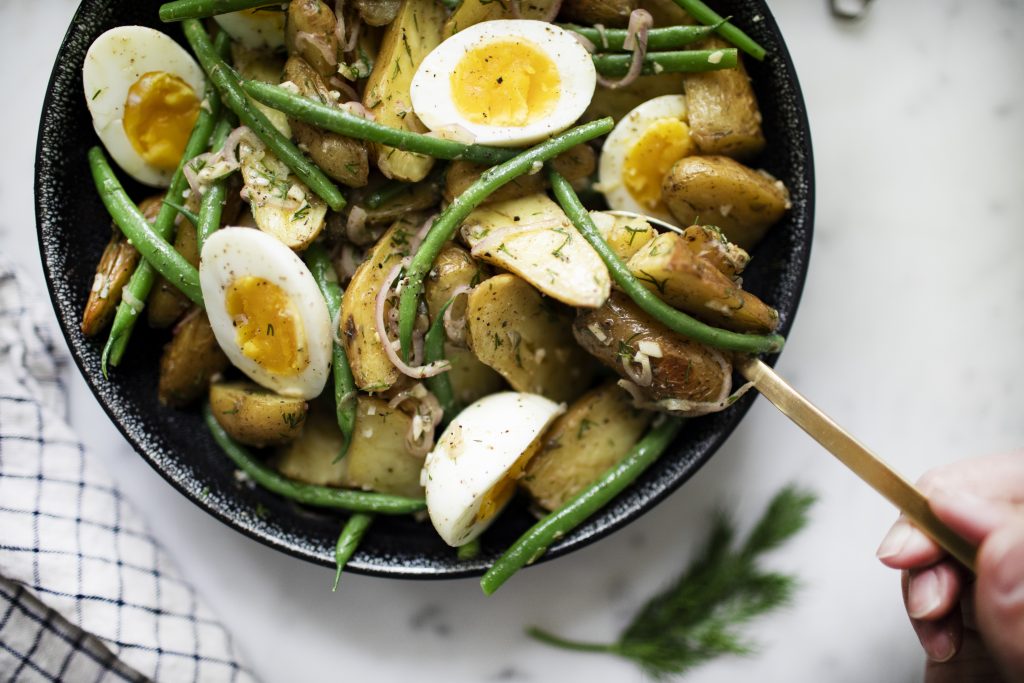 Warm French Green Bean & Fingerling Potato Salad
Ingredients:
2 pounds fingerling potatoes, halved lengthwise
1/4 cup + 1/3 cup extra virgin olive oil
salt & cracked black pepper, to taste
1/2 pound haricots verts, blanched *
2 shallots, thinly sliced
2 cloves of garlic, minced
1 tablespoon capers, roughly chopped
1 tablespoon dijon mustard
1/2 cup fresh dill, roughly chopped
1 teaspoon honey
1/4 cup apple cider vinegar
4 large soft boiled eggs, halved (optional)
Directions:
1. Preheat oven to 375 degrees. Line a baking sheet with parchment paper.
2. Fill a large pot with cold water. Add potatoes & a generous pinch of salt. Bring water to a boil & cook for 8 minutes. Strain potatoes.
3. Transfer potatoes to prepared baking sheet. Toss with 1/4 cup of olive oil, salt & pepper. Roast for 20-25 minutes, or until the potatoes are crispy & golden at the edges.
4. As the potatoes roast prepare the dressing. In a small mixing bowl whisk together the shallots, garlic, capers, dijon, dill, honey, vinegar & remaining olive oil.
5. In a large serving bowl add the green beans, roasted potatoes, dressing & eggs (optional). Toss to coat & serve warm!
*NOTE: To blanch the green beans, bring a large pot of salted water to a boil. Add the beans & cook for 2 minutes. Drain immediately & shock in a bowl of ice water to stop the cooking process. Strain & set aside until ready to use. This will produce a vibrant green bean with a crisp bite.