I think it is safe to say we are all ready for warmer spring days. As the winter slowly comes to an end, I start craving more fresh fruits & vegetables again. This crepe recipe takes advantage of the fresh berries that will soon be popping up at your local markets. Crepes are the perfect Sunday morning breakfast dish to make & are a staple in my house. With a few minor tweaks, this recipe even work as a dessert too!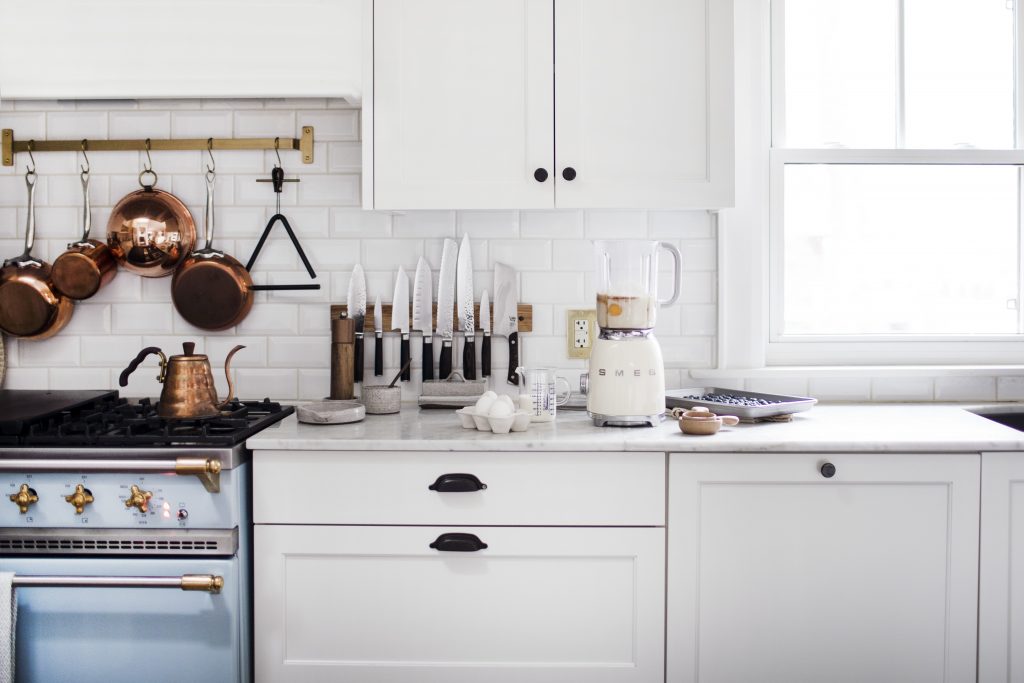 The roasted maple blueberry sauce is so good & simple to make. It is perfectly sweet, without being *too* sweet & you can prepare it while the crepe batter rests. I love doubling (or tripling) this roasted berry sauce, so I can spoon the leftovers onto pancakes or vanilla ice cream. This recipe works well with any fresh berry too; strawberries, blackberries, raspberries & so on.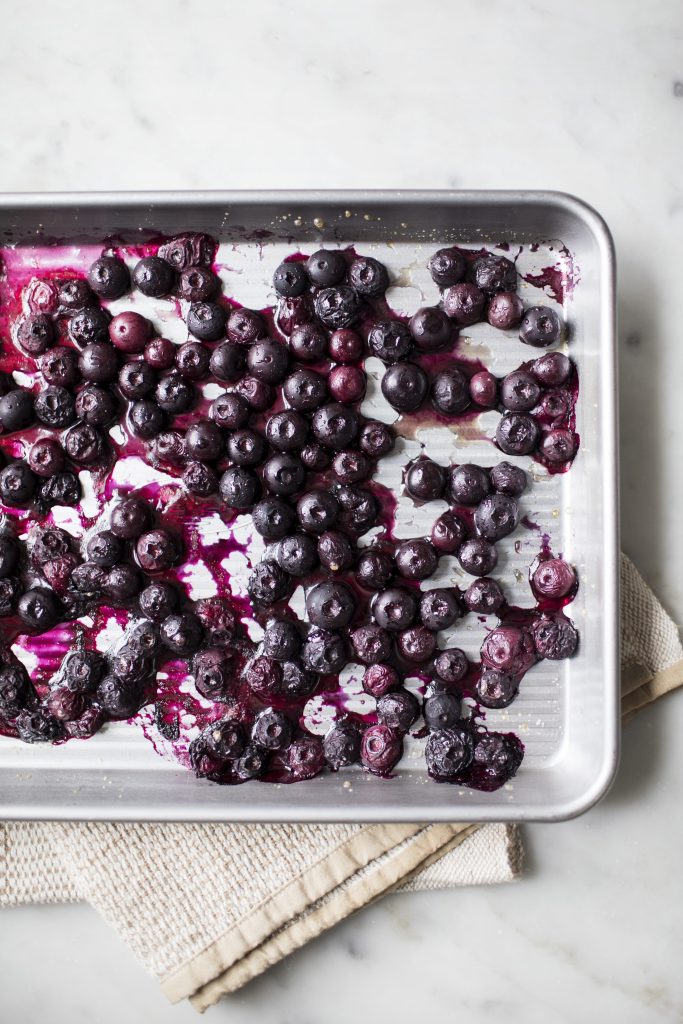 For the crepes itself, use a crepe pan or non-stick frying pan. Always add a little touch of unsalted butter to the pan between each crepe to ensure it is easy to flip! The butter also provides additional flavour to the cooked crepes.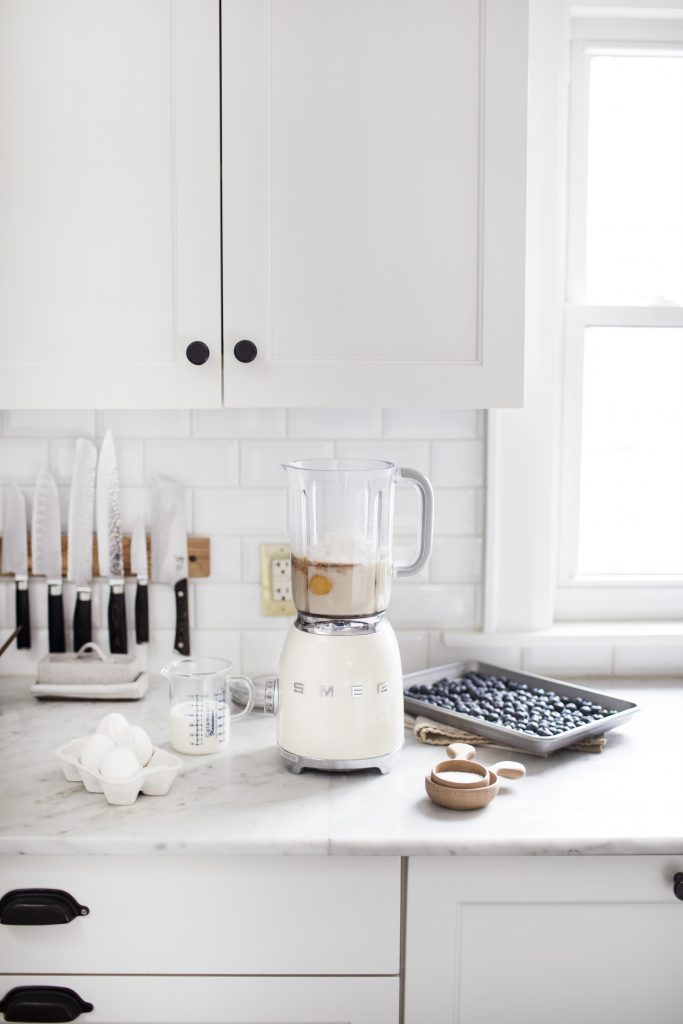 To turn this recipe from a breakfast crepe to a dessert crepe, try adding a spoonful of vanilla bean ice cream or a drizzle of white chocolate sauce! It adds a touch of extra sweetness, which wouldn't be ideal for the morning. Lastly, use freshly whipped cream as it provides a richer flavour & texture than store bought. Plus, you can control the amount of sweetness being added. Happy early Spring friends!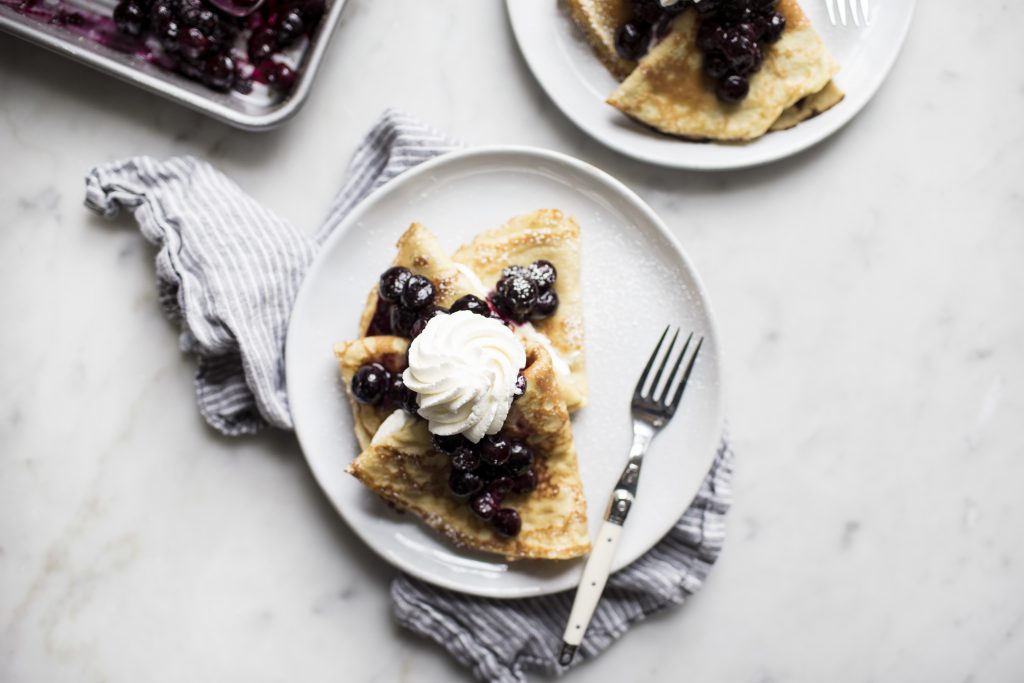 Roasted Blueberry Crepes
Ingredients
For the crepes:
1 cup all purpose flour, sifted
1 tablespoon sugar
1/4 teaspoon fine salt
1/4 teaspoon cinnamon
1 teaspoon pure vanilla extract
1 1/2 cups whole milk
4 large eggs, room temperature
1/4 cup unsalted butter, melted & cooled
fresh sweetened whipped cream, for serving
roasted blueberries (see recipe below)
powdered sugar, for serving
For the maple roasted blueberries:
1 pint fresh blueberries
1 tablespoon sugar
1 tablespoon maple syrup
1 tablespoon pure vanilla extract
Directions
For the crepes:
In a blender add the flour, sugar, salt, cinnamon, vanilla, milk, eggs & butter. Blend until a smooth batter is formed. Let the batter rest for 30 minutes at room temperature.
Once the batter has rested, heat a non-stick skillet over medium heat. Adding a 1/4 teaspoon of butter per crepe & pour 1/3 cup of batter onto the pan. Swirl batter around the pan until a very thin pancake is formed. Cook for 1-2 minutes per side. Repeat this until no batter remains.
Fold crepe in half & fill with a dollop of whipped cream. Fold over again & top with the roasted blueberries. Dust with powdered sugar & additional whipped cream if desired. Serve immediately.
For the roasted blueberries:
Preheat oven to 400 degrees.
In a mixing bowl toss together the blueberries, sugar, maple syrup & vanilla extract. Transfer to a baking sheet & roast for 15 minutes.
Set aside until ready to use. Store the leftovers in a sealed glass jar for up to a week.