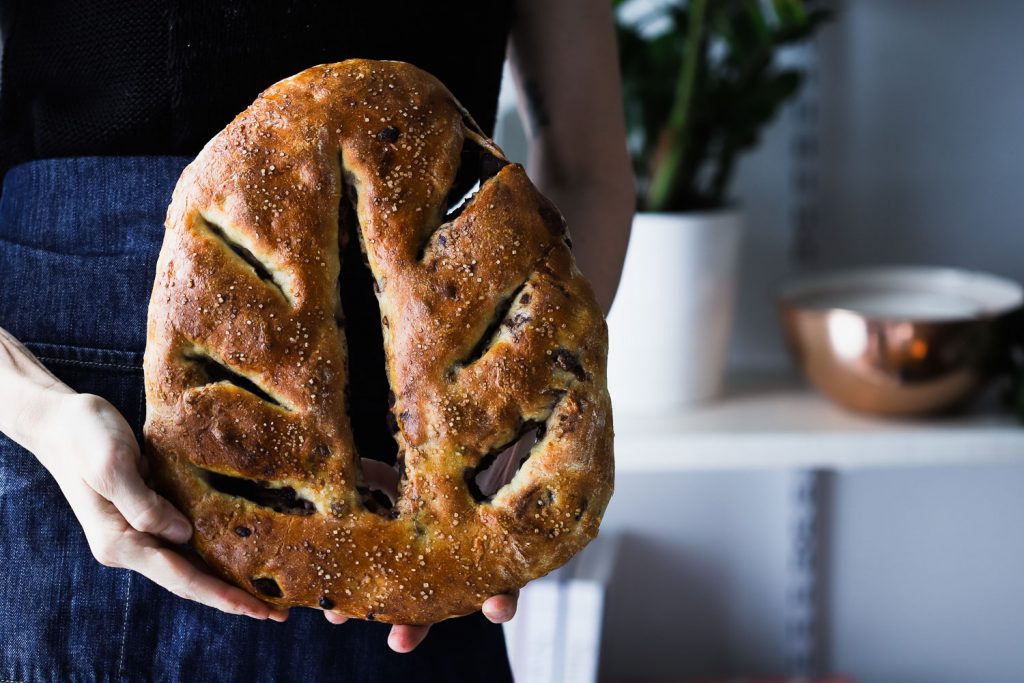 When I was a wee one, I would have my mom cut off the crusts of my bread. Like most children, I wouldn't even consider taking a bite of my lunch if any remnants of brown remained around the edge of my sandwich, I'd discard the fat ends of pizza, and wouldn't come within 15 feet of a piece of pie. Fortunately, as I grew older, my palate developed and I grew to love crust. Now, each morning when I cut my daughter's toast, I relish eating from the discard pile, gleefully enjoying each crispy bite. I happily scavenge the pizza ends off both her and my partner's plate. And, I now seek out pie for any and every special occasion. Birthday pie for me, please! Forever and always.
Fougasse is a bread made for crust-lovers! So you can imagine my excitement when I discovered how easy it was to make at home. While it's not an ultra-beginner bread recipe, it sits neatly in the beginner to moderate designation. So if you're eager to make a beautiful, treat-like, and fancy-as-heck loaf of bread, this is the recipe for you.
Chocolate Cherry Sourdough Fougasse: The flavour profile is slightly sweet with hints of subtle sourdough tang. Structurally, it has a high crust to crumb ratio; the crust, golden and crispy, the crumb tender and airy.
Most fougasse recipes are savoury and adorned with things like olives, herbs, garlic, sun dried tomatoes, and cheese. But I focussed on that flavour-profile last time, so wanted to take advantage of the ripe summer produce. Fruit is bountiful (and cheap) this time of year, so I opted for ripe juicy cherries juxtaposed with shards of bitter, dark chocolate. It makes a beautiful breakfast bread on its own–the sweetness is so minimal. But if you want to give it a little extra je ne sais quoi, it also does well warmed and brushed with fresh, salted butter and drizzled with a slick of honey.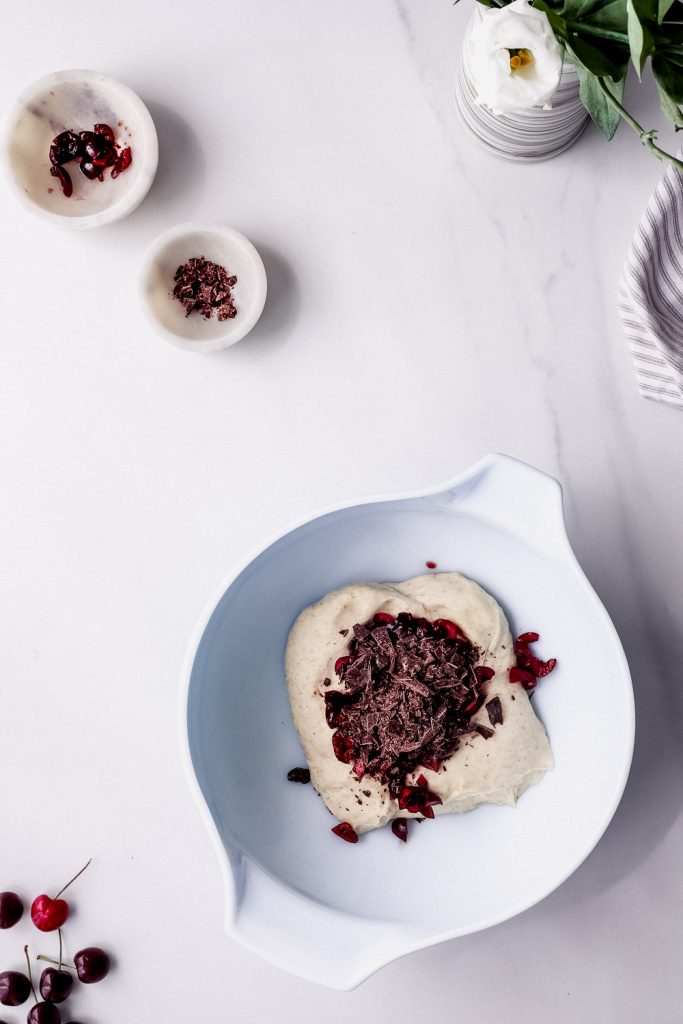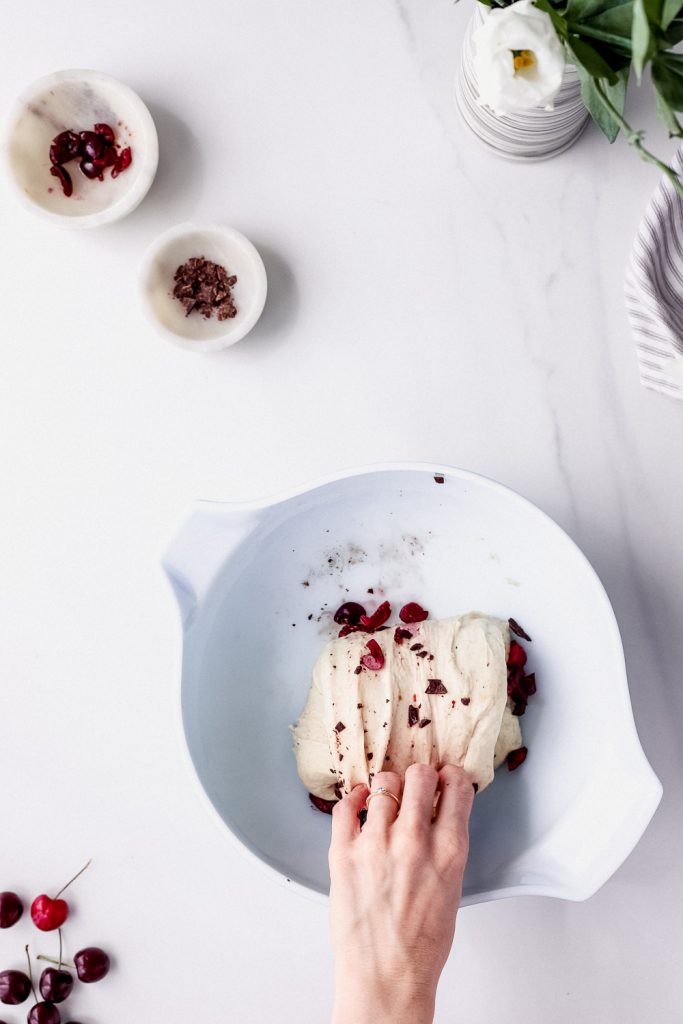 The dough itself is quite easy to pull together. On its own, it could probably be a no-knead loaf, but with the addition of the chocolate and cherries, the stretch and folds help give it shape and incorporate the treasures. Now, if you're new to bread baking, I already know that the shaping might be intimidating to you. So let me break it down: After the bulk rise, the bread is turned out on a sheet pan lined with parchment paper and dusted with flour. Let it rest for a few minutes on the pan. Easy so far, right? Then, it's dusted with flour and gently coaxed into a leaf or oval shape–it's supposed to look rustic, so try not to get caught up in the imperfections. The dough is then given a series of cuts, traditionally to resemble an ear of wheat. The cuts are also stretched out a bit with your fingers and the dough is set aside again to proof. The multiple openings in the finished bread not only look gorgeous, they help it to bake more quickly. So after all that waiting time for your dough to develop, your bread will be ready in under half an hour!
I've also included a quick video to help illustrate the shaping process below. Make sure you are on the parchment paper and not on a countertop (like I was in this video). The transfer to a pan is challenging once it's scored!
If you've never made sourdough, now's a good time to start. You can learn how to (easily) make a starter here. And I promise, if you jump in and practice, you will learn. Baking bread, even fancy bread, is something everyone can do. You just have to trust yourself enough to practice. And remember, when the end result is fresh, homemade bread–that you've made by yourself in your own home kitchen–you will already feel like you've won.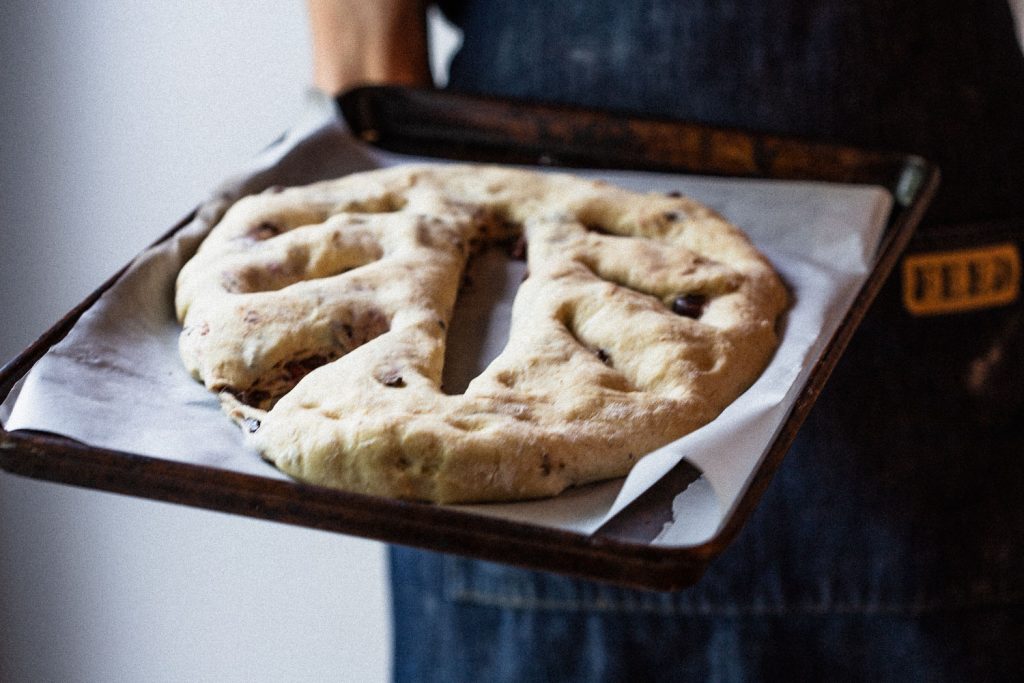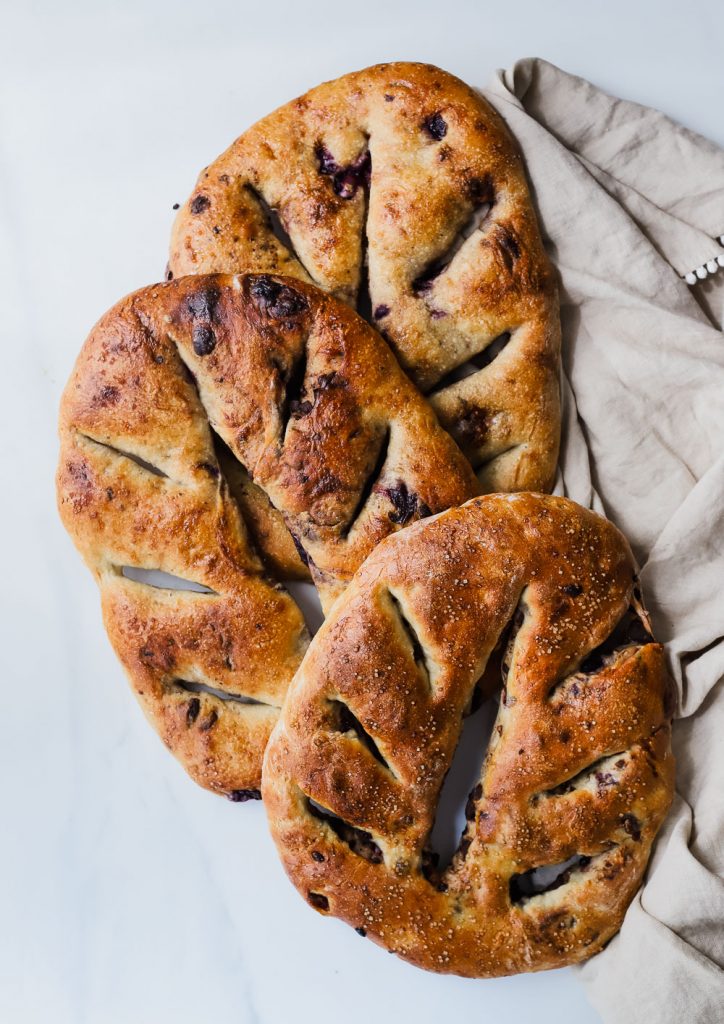 Chocolate Cherry Sourdough Fougasse
Makes: 1 large fougasse
RECIPE NOTES:
I've provided volume measurements, but please weigh the ingredients for this. You'll have MUCH more success making good bread!
The bread is best eaten the day it's made. It doesn't last well into day two without getting a bit stale. So eat it fresh from the oven!
For bread that's ready to bake in the morning, start your dough around lunchtime the day prior.
Ingredients
50g (¼ cup) active, bubbly starter
240g (1 cup) warm water
28g (2 tbsp) melted, unsalted butter
18g (1 tbsp) honey
380g (~2¾ cups) bread flour
60g (½ cup) whole wheat flour
3g (1 tsp) kosher salt
75g (½ cup) chopped, pitted cherries
34g (¼ cup) chopped, dark or semi-sweet chocolate
1 egg
1 tsp water
Turbinado sugar, for sprinkling
Method
Dough Preparation
1. Whisk starter, water, butter, and honey together in a large bowl.
2. Add flours and salt and mix to form a rough, shaggy dough. You may need to finish this off with your hands. Cover with a damp cloth and set aside for 45 minutes.
3. Perform a set of 4-5 of stretch and folds. For the next two hours, repeat the stretch and folds every 30 minutes (4 stretch and folds total). At the third set of stretch and folds, gently press the dough down a little to create more surface area and add the chopped cherries and chocolate. Continue with the stretch and folds to incorporate the add-ins (2 more).
Bulk Rise
4. Cover and let the dough rest at room temperature until doubled in size, about 4-5 hours, depending on the temperature. In the winter, this could take longer.
Shape
5. Line a sheet pan with parchment paper and generously dust it with flour. Turn the dough out onto the pan and let it rest for 20 minutes.
6. Sprinkle more flour on top and gently brush your hand overtop to ensure the dough is lightly coated in a dusting of flour.
7. With light fingertips (so as not to disrupt the air bubble that have developed), gently coax the dough into a leaf shape.
Score
8. To score in a leaf-shaped pattern: Using the long end of a silicon dough scraper (the best tool for the job), make a long vertical cut down the centre, leaving a small border at the top and bottom. Then, with the short end of the dough scraper, make 2-4 diagonal cuts along either side. Use floured hands to gently stretch the cuts open to ensure they don't seal back together during baking.
Second Rise
9. For best flavour, cover with plastic wrap and place in the fridge overnight. Return to room temperature before baking, about 30-60 minutes. In the morning, preheat oven to 425 (218) degrees and position rack in centre. Alternatively, if you want to bake on the same day, cover and let it rise until puffy, about an 60-90 minutes before baking.
Bake
10. Beat egg and water together to make a glaze. Brush fougasse lightly with egg glaze and sprinkle with about a teaspoon of raw sugar.
11. Bake on the centre rack for 20-25 minutes, or until lightly golden.