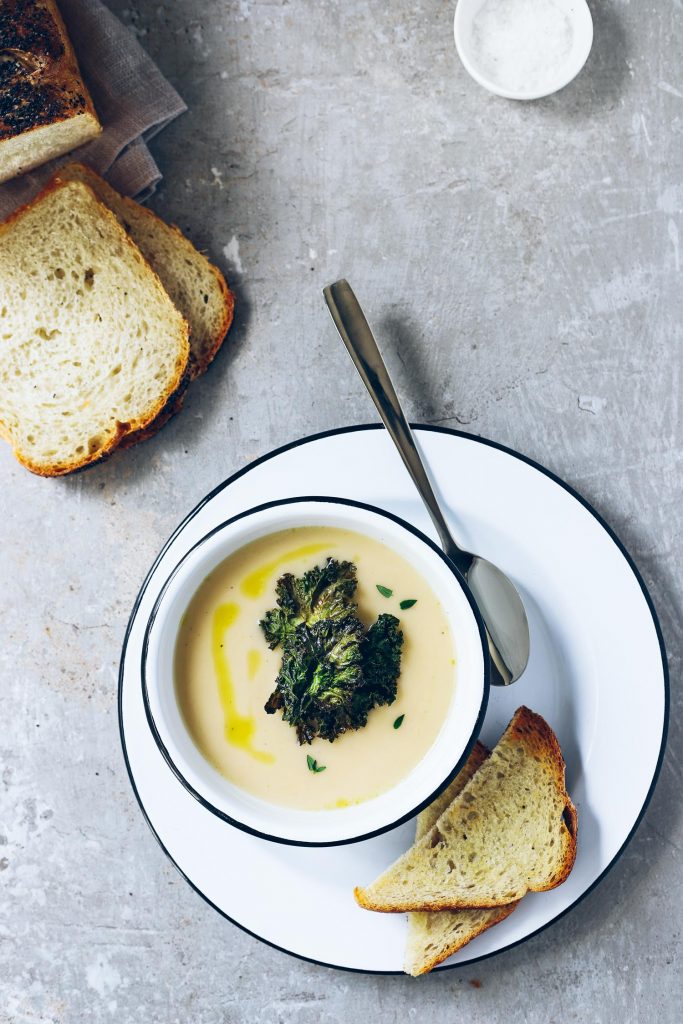 When the thermometer dips, it means soup season is upon us. It's the perfect time to have a pot of something delicious simmering away on the stove — nothing's more satisfying, except maybe a beautiful loaf of bread.
Potato leek soup, known in France as potage Parmentier, is a classic recipe made with just a few simple ingredients. Blended until silky smooth, the whole is far greater than the sum of its parts. Swapping milk for the traditional cream, as I've done here, yields a soup that's creamy but light, with a deep, savoury sweetness from the slowly cooked mix of alliums.
To give this winter warmer a pop of exciting flavour and texture, I've added a crispy salt-and-vinegar kale topper. As addictive as its cousin, the salt-and-vinegar potato chip, this deep green garnish makes the soup taste supremely special. (And, bonus to all the parents out there: The kids in my house can't get enough of kale "chips," so maybe you'll have the same luck.)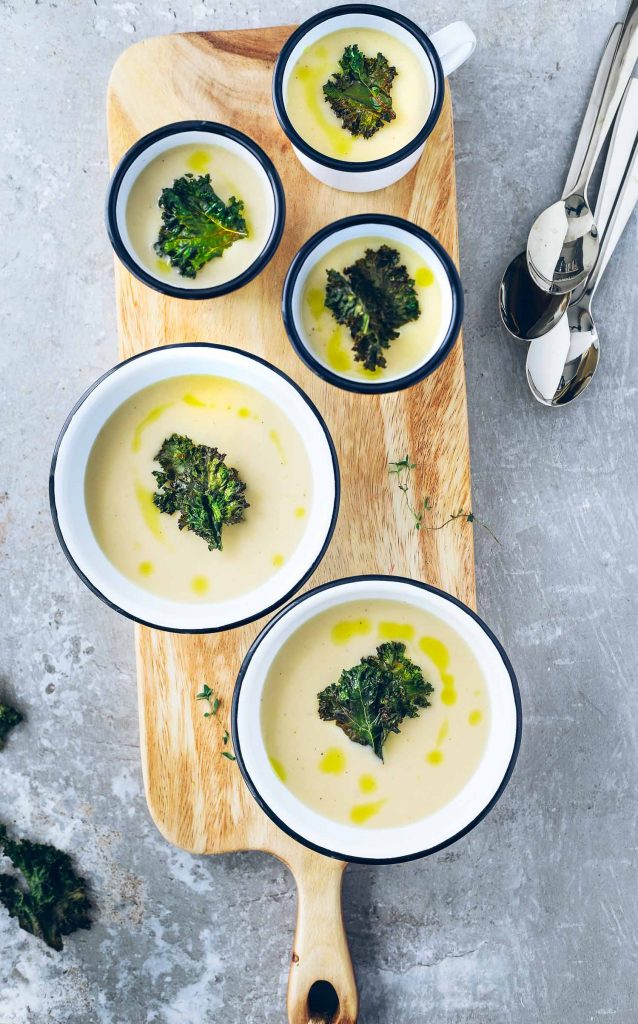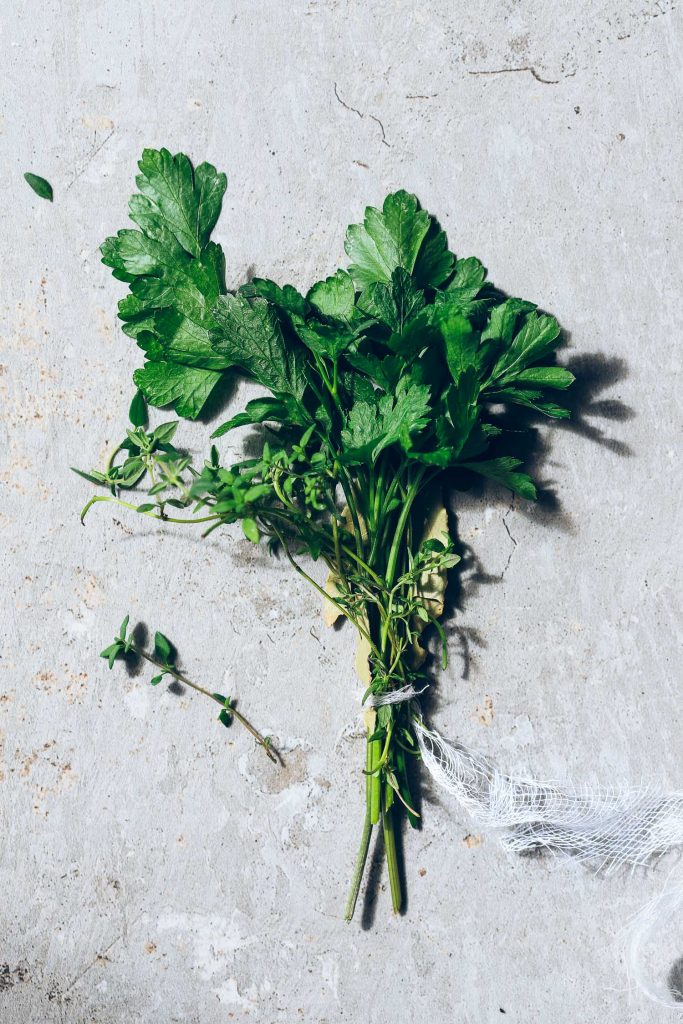 Potato Leek Soup with Salt-and-Vinegar Crispy Kale
Serves: 4
Easy to prepare, hearty and nutritious, this soup is one you'll make again and again. Change up the toppings any time you want a fresh twist: Crown it with croutons, grilled halloumi, fresh herbs, crispy bacon, fried leeks or whatever else your heart desires. Or serve the soup chilled during the summer and call it vichyssoise. Either way, it's a winning combination.
Ingredients
Bouquet Garni (see note, below)
5 sprigs fresh parsley
3 sprigs fresh thyme
1 bay leaf
Soup
2 tbsp (18 g) salted butter
3 leeks (about 180 g), washed and trimmed, halved vertically and thinly sliced into half-moons (white and light green parts only)
½ medium onion, diced
1 clove garlic, minced
1½ lb (680 g) Yukon Gold potatoes, peeled and chopped in ½-inch pieces
5 cups sodium-reduced chicken broth (see tips)
1 tsp sea salt, divided
A few grinds of freshly ground black pepper
1 cup full-fat milk
Crispy Kale Chips
8 kale leaves, stemmed and torn into bite-size pieces
2 tsp olive oil
1 to 2 tsp apple cider vinegar
¼ tsp sea salt
Method
Bouquet Garni: Gather together parsley stems, thyme stems and bay leaf. Tie with kitchen string or a thin strip of cheesecloth to form a bundle, leaving a long tail on 1 end. Set aside.
Soup: In a large pot over medium heat, melt butter. Add leeks and onion; cook, stirring often, until soft and translucent, about 8 minutes. Do not let the leeks take on any colour.
Add garlic and cook until soft and fragrant, about 1 minute. Stir in potatoes, broth, salt and pepper. Tie tail end of bouquet garni to pot handle (for easy removal) and submerge herb bundle in soup.
Bring to a boil. Reduce heat to medium-low, cover and simmer until potatoes are very soft, 15 to 20 minutes. Discard bouquet garni.
In a standard or high-speed blender, in batches, purée soup until smooth and creamy (see tips). If you prefer a chunkier consistency, purée half of the soup with a hand-held immersion blender until desired consistency. Transfer soup to a clean pot.
Stir in milk until blended. Taste and season with more salt and pepper, if desired. If soup is too thick, add more broth; if it's too thin, simmer gently until thickened.
Crispy Kale Chips: Meanwhile, preheat oven to 350°F (170°C). In a medium bowl, using your hands, toss together kale, oil, 1 tsp of the vinegar, and salt until well coated. Taste and add remaining 1 tsp vinegar, if desired.
Arrange kale on a baking sheet, leaving space between leaves to keep them from steaming. Bake in preheated oven until crispy and edges are light golden, 7 to 10 minutes.
Ladle soup into serving bowls. Top with crispy kale chips.
Tips
If you're using a standard or high-speed blender, don't fill the jug more than halfway. Leave the hole in the lid ajar and cover it loosely with a clean towel to let heat escape.
To make this dish vegetarian, substitute vegetable broth for the chicken broth.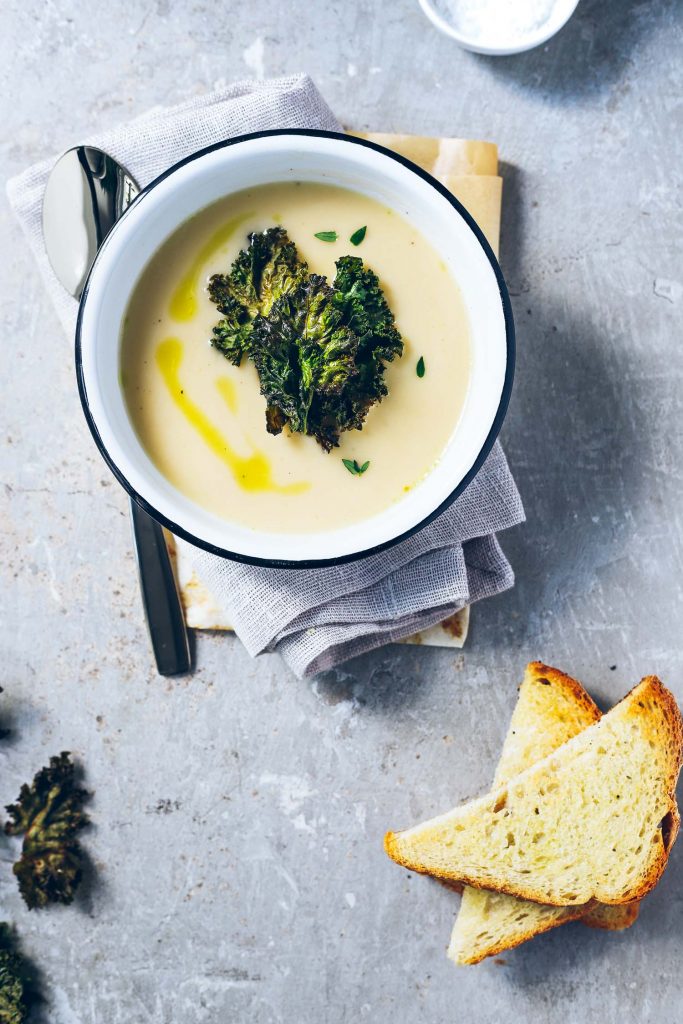 What's a Bouquet Garni and Why Should I Make One?
A bouquet garni is a bundle of herbs tied together with kitchen string that's used to flavour liquids or braised dishes, such as soups, broths and stews. You simply steep or simmer the bundle alongside the other ingredients in the recipe.
The parsley, thyme and bay leaves I've used here are typical components, but many different herbs, spices, vegetable ends and other ingredients can work, depending on the type of soup you're making.
Pro tips: Tying the tail of the string or cheesecloth to the pot handle makes removing the herb bundle easier when cooking time is over. You can also enclose the herbs in a sachet or cheesecloth pouch to keep them contained. This approach also works well for seasonings that can't be tied together, such as peppercorns, whole cloves or chilies — it's much easier than fishing them out individually from the finished soup.