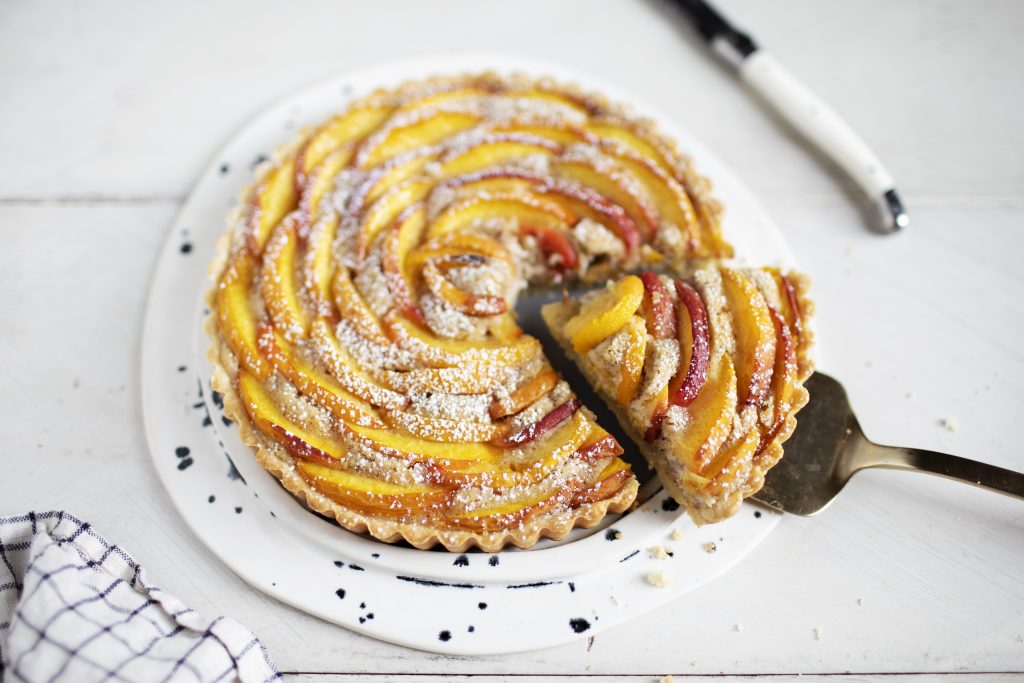 I know many of us are sad that summer is quickly coming to an end, but there is something to look forward to towards the end of the season… peaches! Ontario (Niagara especially) is home to some of the best peach orchards in the country. We are so lucky to have these farms grace our backyards.
I grew up a stones throw away from a peach orchard & every August we would visit the farm stock up. Aside from bringing home bushels of peaches to eat, we baked endless pies & canned the leftovers for the winter months. Biting into a juicy homegrown peach is like biting into summer.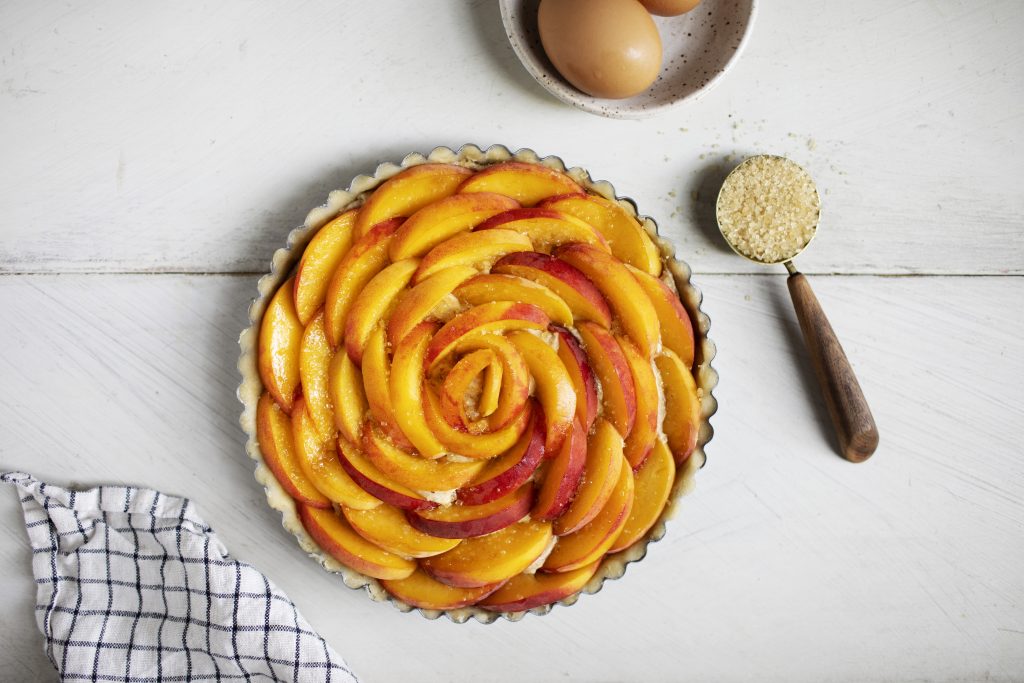 But enough about my love for peaches! Let's talk about this tart because it is more then just beautiful to look at. It features a sweet tart dough made with butter & a hazelnut frangipane filling. Frangipane is traditionally made with ground almonds & the taste resembles marzipan, but the hazelnuts yield a distinctive flavour twist. If you have trouble finding hazelnut flour, simply make your own by grinding fresh hazelnuts to a finely ground consistency.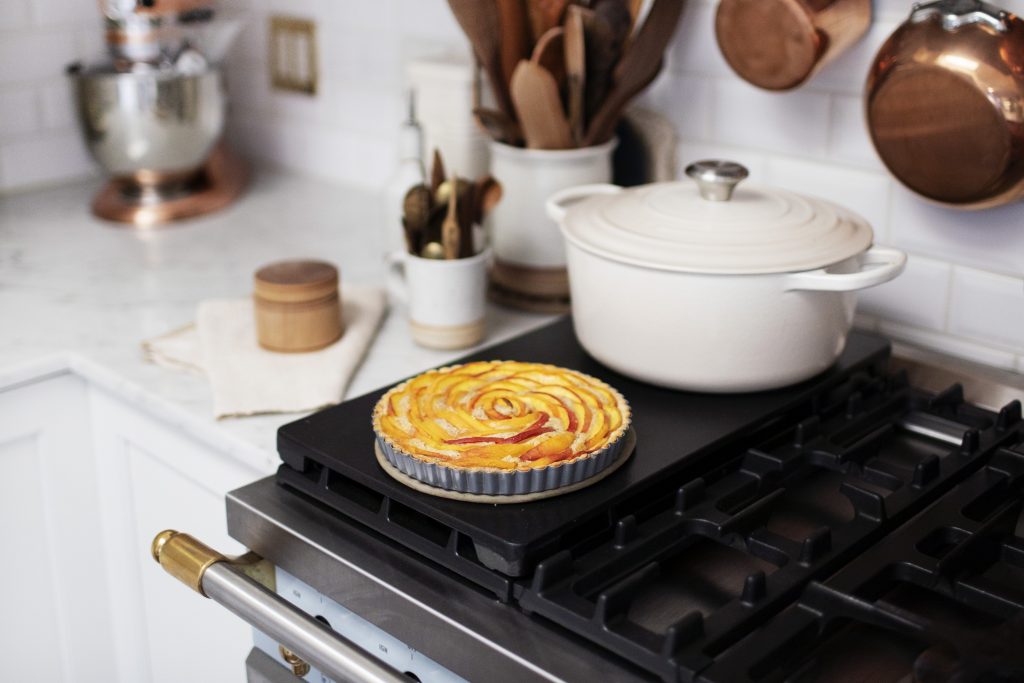 For topping this tart, it is important to use the ripest peaches you can get your hands on as it provides a natural sweetness. Don't worry about peeling the peaches, the flesh & skins soften up in the oven. Plus the skins yields a vibrant colour to the final dish. Enjoy!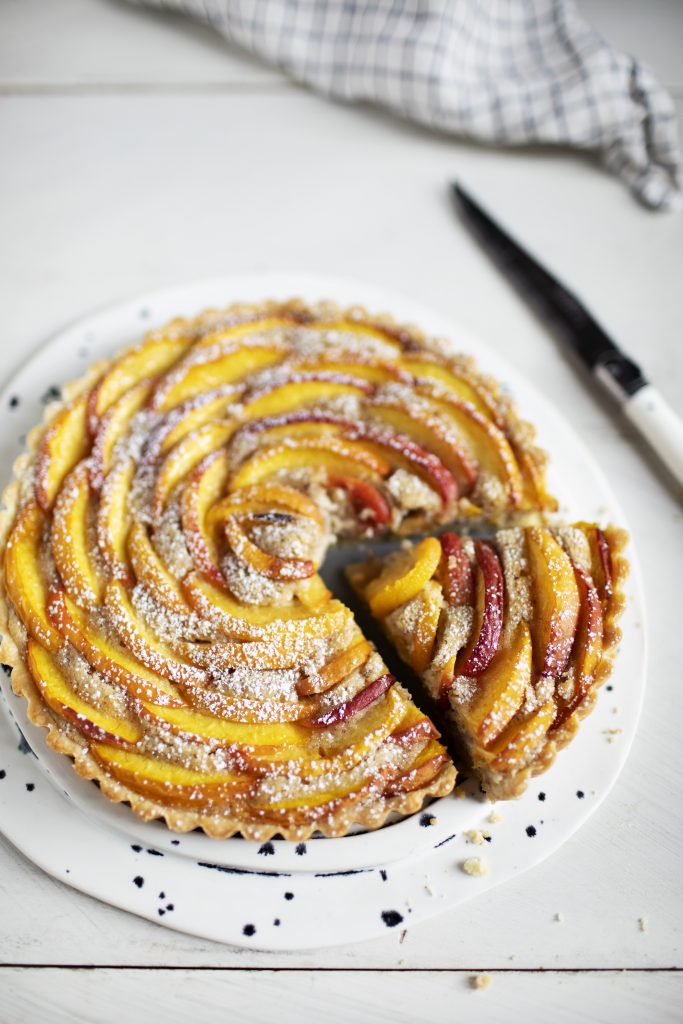 Peach + Hazelnut Frangipane Tart
Ingredients
For the tart crust:
1 1/4 cups all purpose flour
1/2 cup unsalted butter, cold & cubed
1 teaspoon pure vanilla extract
For the tart filling:
1/2 cup unsalted butter, softened
1 teaspoon pure vanilla extract
1 teaspoon pure hazelnut extract
1 cup finely ground hazelnut flour
1/4 cup all purpose flour
5 large peaches, thinly sliced
Directions
For the tart crust:
In a large mixing bowl whisk together the flour, sugar & salt until combined.
Add the butter & work into the flour using your hands until a crumbly mixture is formed.
Mix in the egg yolk, water & vanilla until dough comes together.
Shape dough into a disk & wrap in plastic wrap. Refrigerate for a minimum of two hours.
Roll chilled dough out to a 1/4 inch thickness. Gently lift & transfer to a 9-inch tart pan (or two 6-inch tart pans) with removable bottom. Press in to shape & trim edges.
Using a fork, poke holes in dough & place back in the refrigerator while you prepare the filling.
For the tart filling:
Preheat oven to 350 degrees.
In a large mixing bowl cream together butter & sugar. Add the eggs one at a time, followed by the extracts. Beat until incorporated.
Fold in the flours & stir until mixture is smooth. Transfer mixture to the prepared tart shell.
In a circular pattern (working your way from the outside to the centre) line tart with peach slices. Sprinkle with raw sugar.
Bake for 30 to 40 minutes, until a toothpick inserted in the centre comes out clean. Let cool to room temperature before serving.