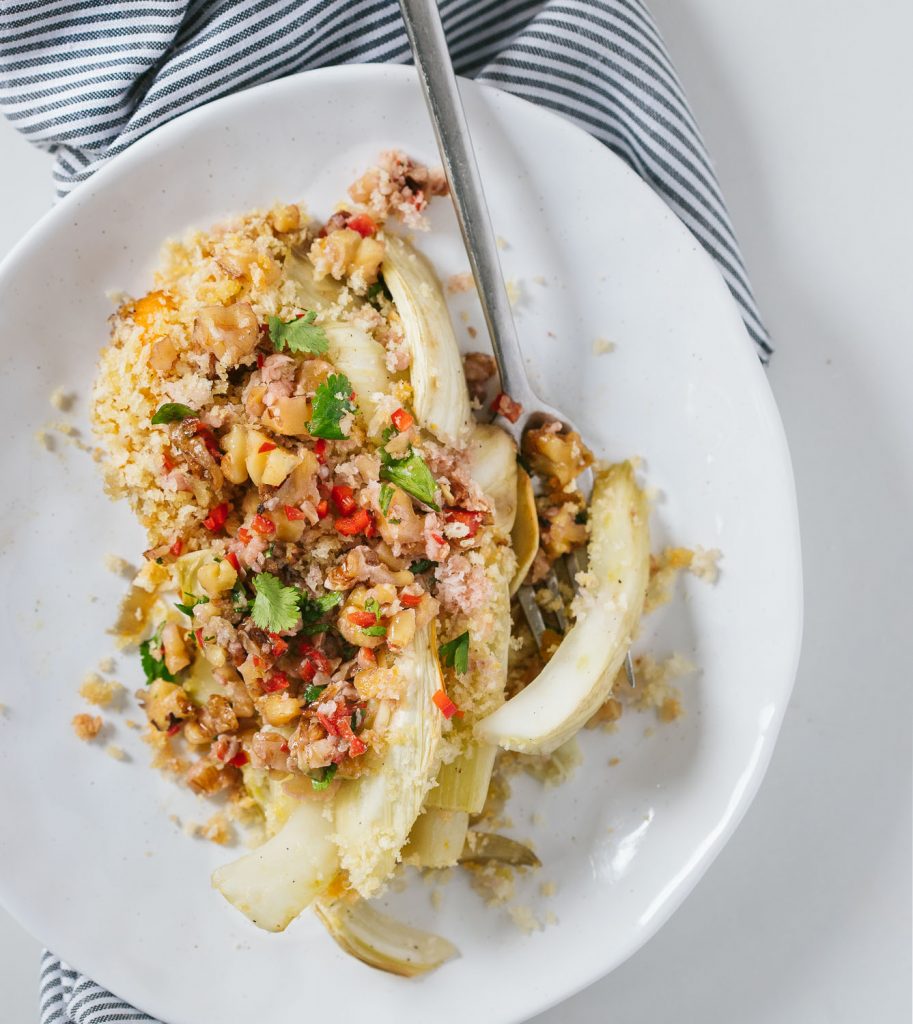 A tian, technically speaking, is any casserole cooked in an earthenware vessel by the same name. But the term is more commonly used these days to describe a layered vegetable dish that's been browned on top (gratinéed). In the summer months, you'll often see tians made with eggplant, tomato, zucchini and other types of summer squash. But the technique of layering the vegetables together in a compact space works incredibly well (I'd say, even better!) with sturdier fall and winter vegetables, as long as they are well-seasoned and thoughtfully-flavoured.
I used kabocha squash, otherwise known as buttercup squash, but any similar style squash will do. Its counterpart, fennel, though bright and perfumy when raw, loses much of its intense anise flavour when cooked. As it softens and caramelizes, it becomes much sweeter, like a very mild licorice candy. The combination works incredibly well together. In fact, if you're the type of person who thinks that you don't like fennel (I once was!), I encourage you to try this recipe anyway. It's an excellent gateway into the subtleties of flavour it can transform into.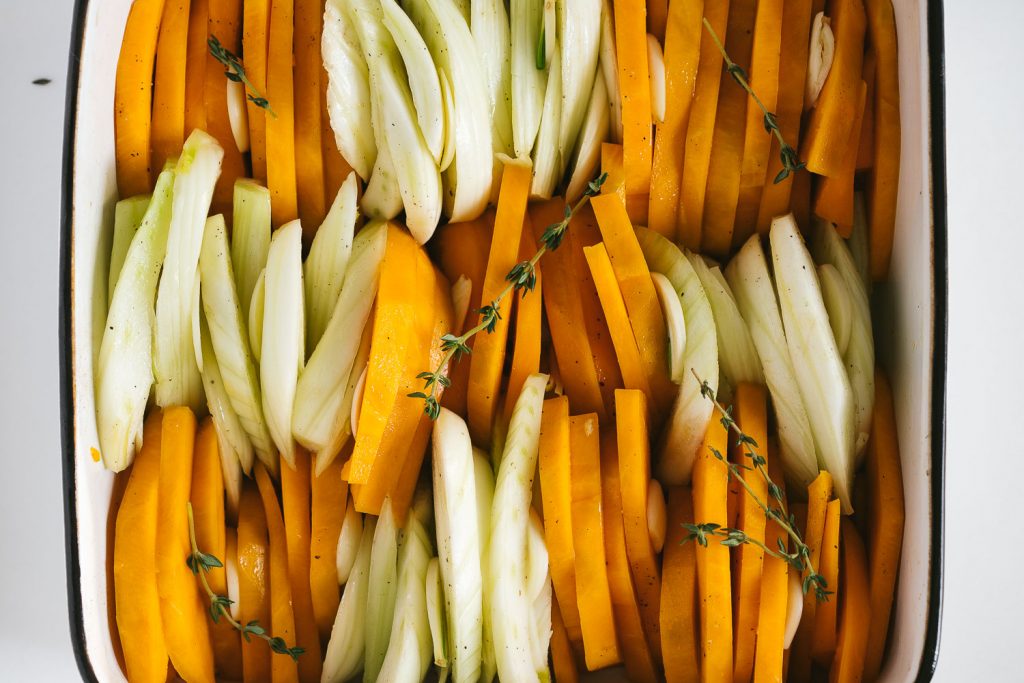 When seasoned and compactly stacked overtop sweet, soft onions and then covered with tin foil, the vegetables steam to gently begin the cooking process. Once the tinfoil is removed, the vegetables continue to get soft throughout, but with slightly golden crispy-edged tops. Topping with a generous coating of breadcrumbs is a crowd-pleaser, as they offset and balance the soft, sweet vegetables with texture, crunch, and a perfect hint of salt.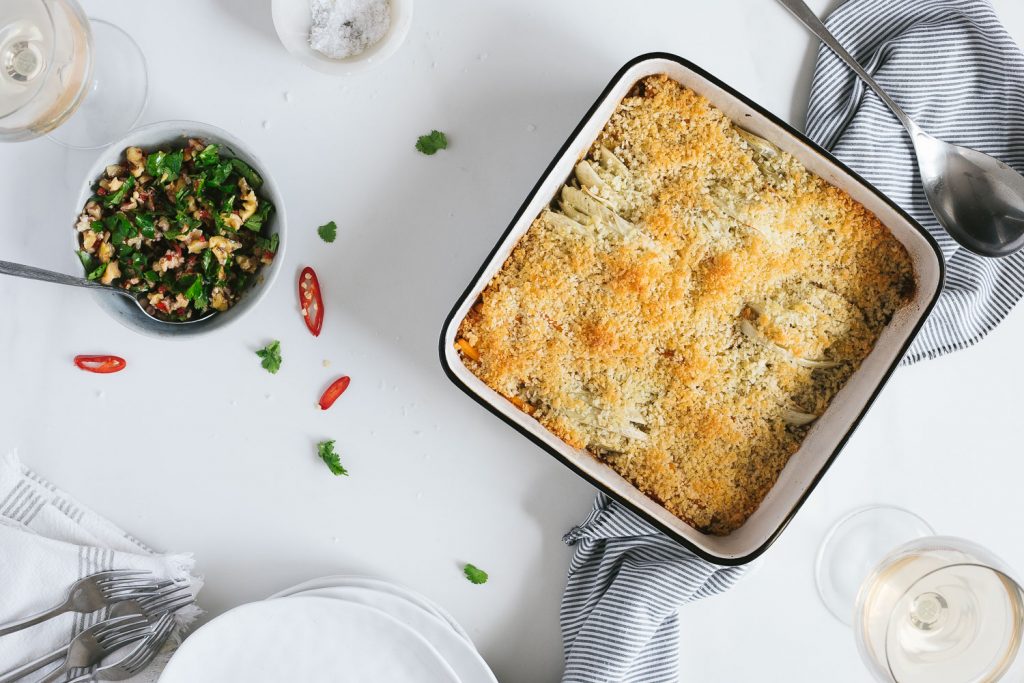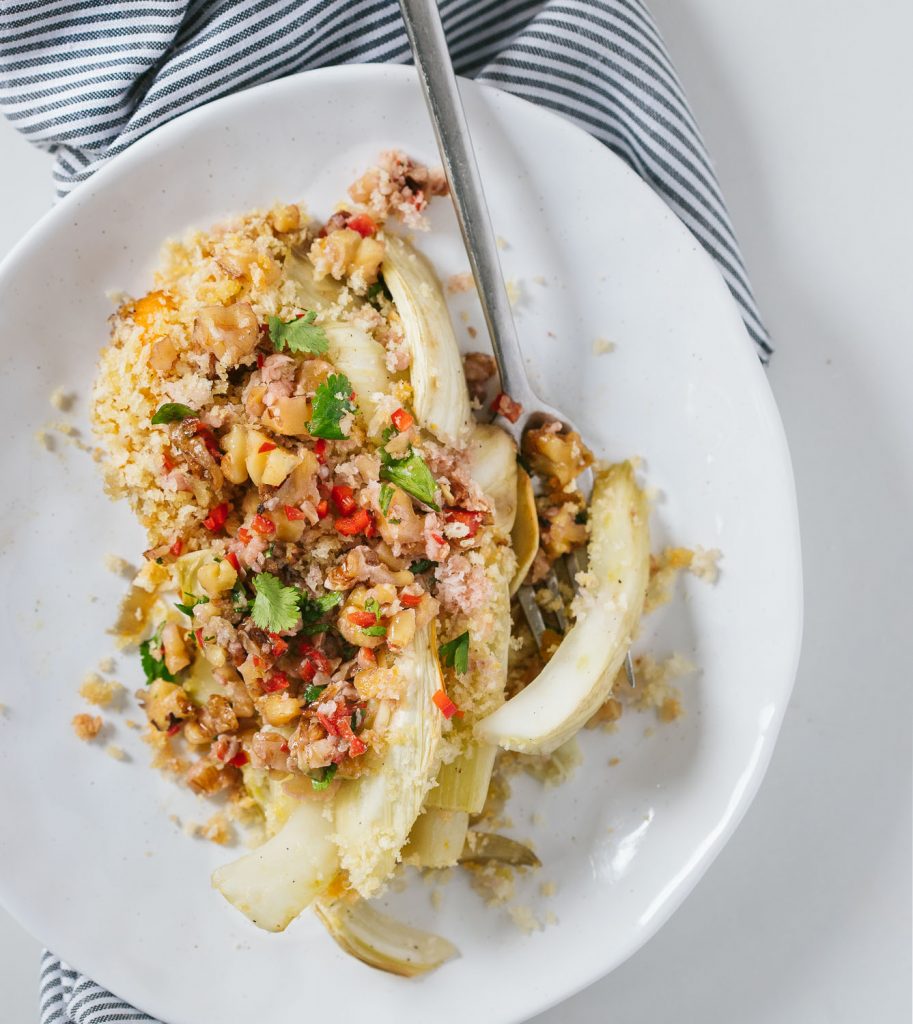 The walnut salsa with cilantro and chili is the pièce de résistance. Acidity from the red wine vinegar and heat from the chili add a welcome freshness and are the final pieces required to balance the commonly desired cooking quartet: salt, fat, acid, and heat. Enjoy!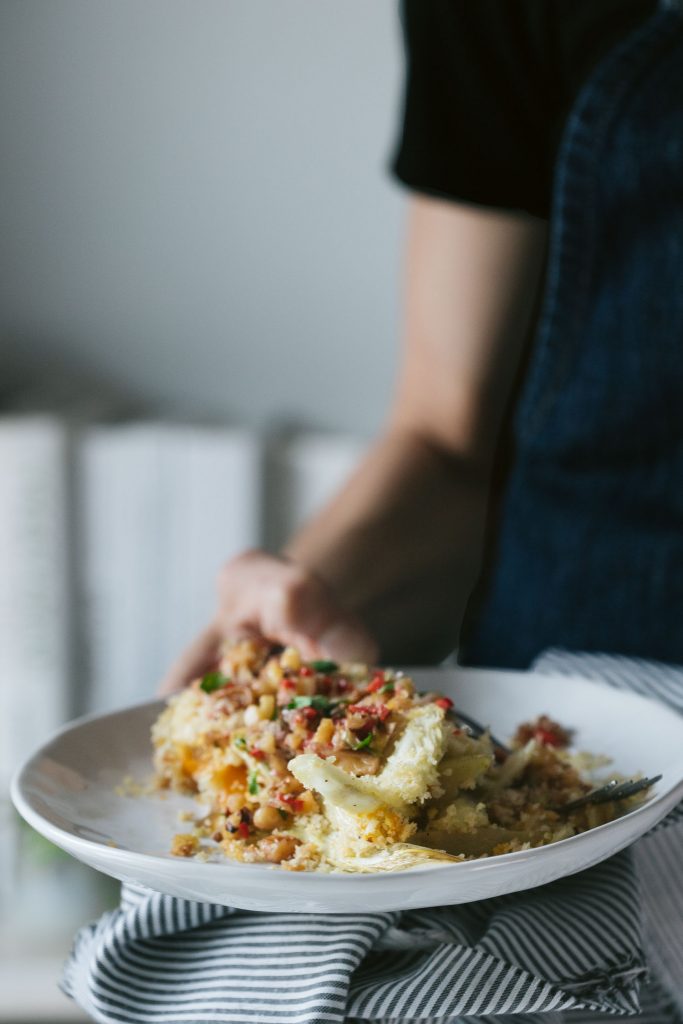 Winter Vegetable Tian with Walnut Salsa
Servings: 4
RECIPE NOTES:
Halve your squash horizontally, scoop out the seeds, cut each half in half again, peel each quarter, then finally cut those quarters into 1/4" slices.
You will likely have a bit of squash left over. They will roast up nicely in the oven alongside the dish, or can be easily tossed into soups, stews, and curries and cooked in about 10 minutes.
Ingredients:
Tian
2-1/2 tbsp olive oil, divided. Plus more for greasing the pan
1 medium red onion, halved and thinly sliced
1 tsp sea salt, divided
1 small kabocha (buttercup) squash 1.5 – 2lbs (peeled, seeded, and cut into 1/4" slices (see notes for detailed preparation)
1 large fennel, halved, cored, and sliced into a similar shape and size as squash
3 cloves garlic, thinly sliced
A few sprigs of thyme for roasting the vegetables, optional
Ground pepper, for seasoning
1 cup panko breadcrumbs
Walnut Salsa
1/2 cup walnuts, coarsely chopped
1 Thai red chili or ½ a long red chili, seeded (if desired) and finely minced
1 clove garlic, crushed
2 tbsp red wine vinegar
1/2 tbsp olive oil
1/4 tsp sea salt
3 tbsp fresh, chopped cilantro leaves
Method:
Heat 1/2 tbsp olive oil in a large pan over medium heat. When simmering, add the onions and ¼ tsp salt. Cook, stirring occasionally, until they soften slightly and begin to brown, about 10-12  minutes.
Meanwhile, preheat oven to 425°F (218°C) and grease a 9 x 9" casserole dish with olive oil and spread the onions out over the bottom.
Toss the squash and fennel in 1 tbsp olive oil, 1/2 tsp salt, and a generous pinch of pepper. Decoratively arrange the vegetables upright and side-by-side in the dish until compact. The slices won't be perfectly shaped, so have fun with it to get the pattern you're looking for. Intersperse slices of garlic throughout, then cover with tinfoil and bake for 20 minutes.
While squash is baking, prepare the breadcrumb mixture and salsa. For the breadcrumbs: In a small bowl, stir panko, 1 tbsp olive oil, and ¼ tsp salt together until well-coated. For the salsa: In a small bowl, stir walnuts, chili, crushed garlic, vinegar, olive oil, salt, and cilantro together. Set aside. 
Remove tinfoil from tian and bake another 25 minutes. 
Remove from oven one final time and remove thyme leaves, if using. Spread breadcrumb mixture over top. Bake an additional 10 minutes until golden brown.
Serve warm with spoons of fresh salsa over top.