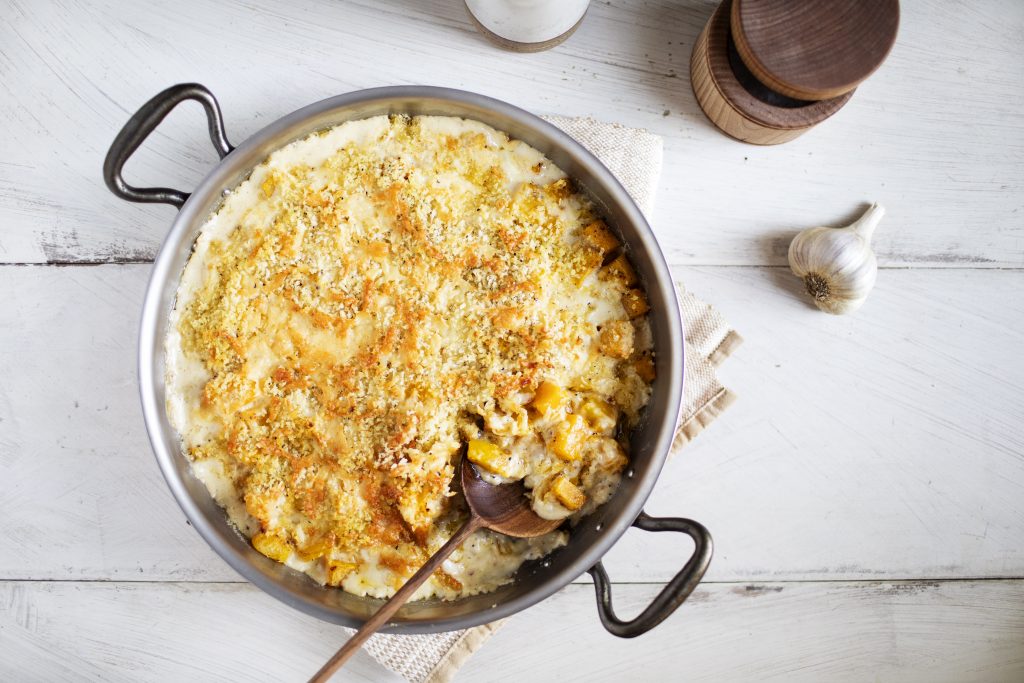 As a fall enthusiast, let the cozy crisp days of fall begin! The start of October is my favourite time of year. It is when it really begins to feel like autumn. With Canadian Thanksgiving around the corner, it is the time to get back in the kitchen & crank up those ovens. I have been buried in apples & squash, creating all sorts of new recipes. This pumpkin gratin is my fall twist on a traditional gratin.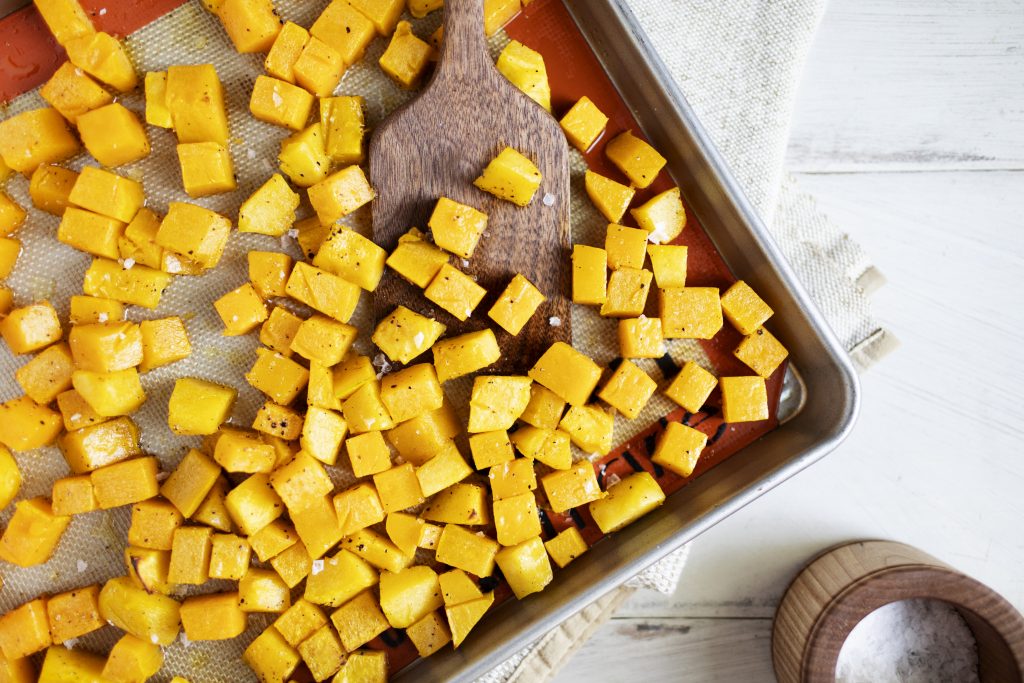 It is rich & full of seasonal produce. It makes the perfect side dish to any meal, but especially Thanksgiving dinner. Because there are so many varieties of squash available this time of year, I suggest using your favourite for this dish!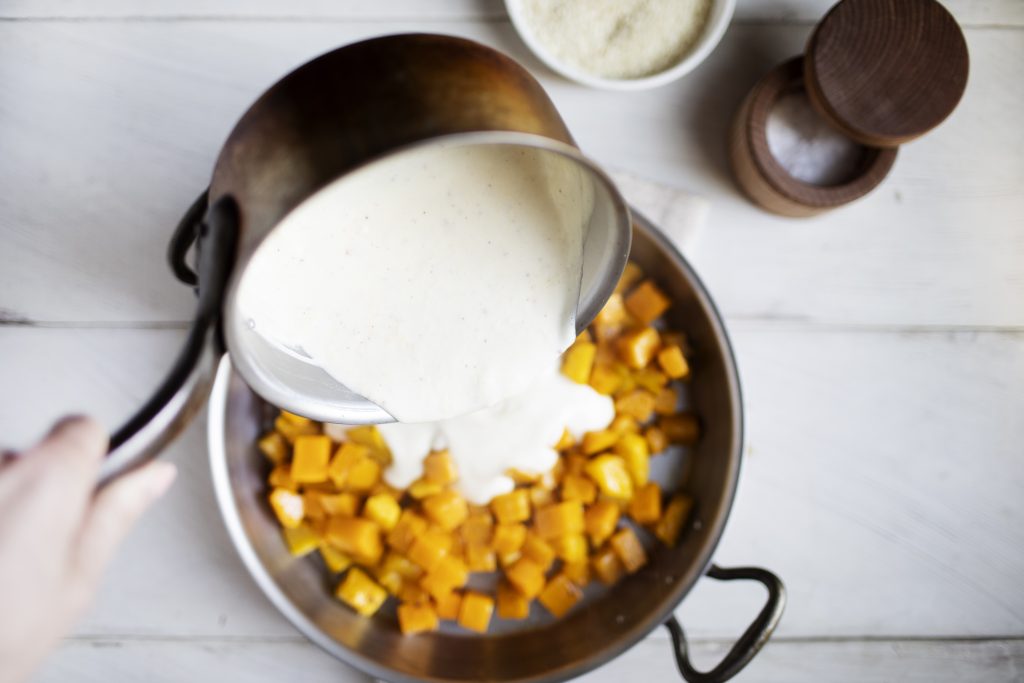 I like to pick up whichever is available at the farmers market. A few of my favourites include cheese pumpkin, sweet pumpkin, acorn squash & butternut squash. You can also use a mix of squash. Just be sure to cut everything in evenly sized cubes before roasting, so the final dish is cooked evenly.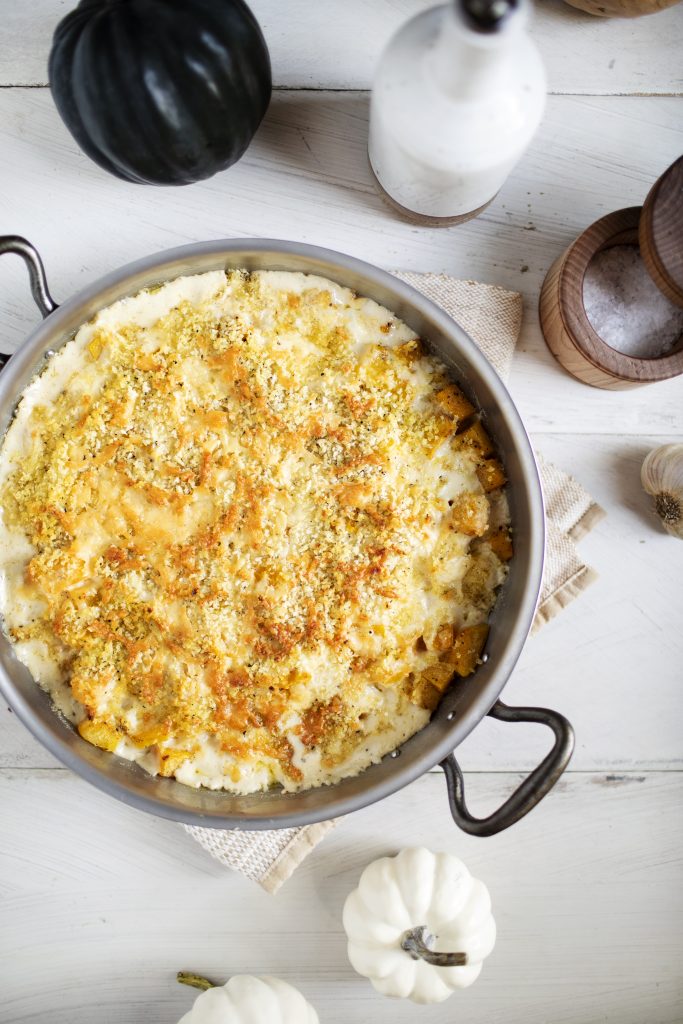 Note: Because squash is a little bit sweet, I like to add a pinch of red pepper flakes for heat. I find the flakes & nutmeg really bring all the flavours together. Happy October!
Pumpkin Squash Gratin
Prep Time: 15 Minutes
Cook Time: 30 Minutes
Serves: 4-6
Ingredients
4 pounds sweet pumpkin or butternut squash, peeled & cubed
1/4 cup extra-virgin olive oil, divided
Salt & pepper, to taste
3 tablespoons unsalted butter
3 tablespoons all-purpose flour
2 cloves of garlic, minced
1/4 teaspoon nutmeg, freshly grated
1 pinch crushed red pepper, or to taste
1 ½ cups whole milk
¾ cup heavy cream
2 cups grated Gruyere cheese, divided
¾ cup panko breadcrumbs
Preparation
Preheat oven to 375 degrees. Lightly grease a 9×12 baking dish.
Toss together the pumpkin, 2 tablespoons olive oil, salt and pepper. Transfer to prepared baking dish & roast for 15 minutes, until softened.
In a saucepan over medium heat, melt the butter. Whisk in the flour & continue to whisk until flour is cooked, about 3 minutes. Add the garlic, nutmeg, crushed red pepper, milk, heavy cream, salt & pepper. Whisk until mixture begins to thicken, about 5 minutes. Remove pan from heat and stir in 1 ½ cups of the gruyere cheese. Pour mixture over the pumpkin. 
In a small mixing bowl toss together the breadcrumbs, remaining olive oil, remaining cheese, salt & pepper. 
Evenly sprinkle over the pumpkin mixture dish & bake for an additional 20 minutes, until golden brown. Serve immediately.