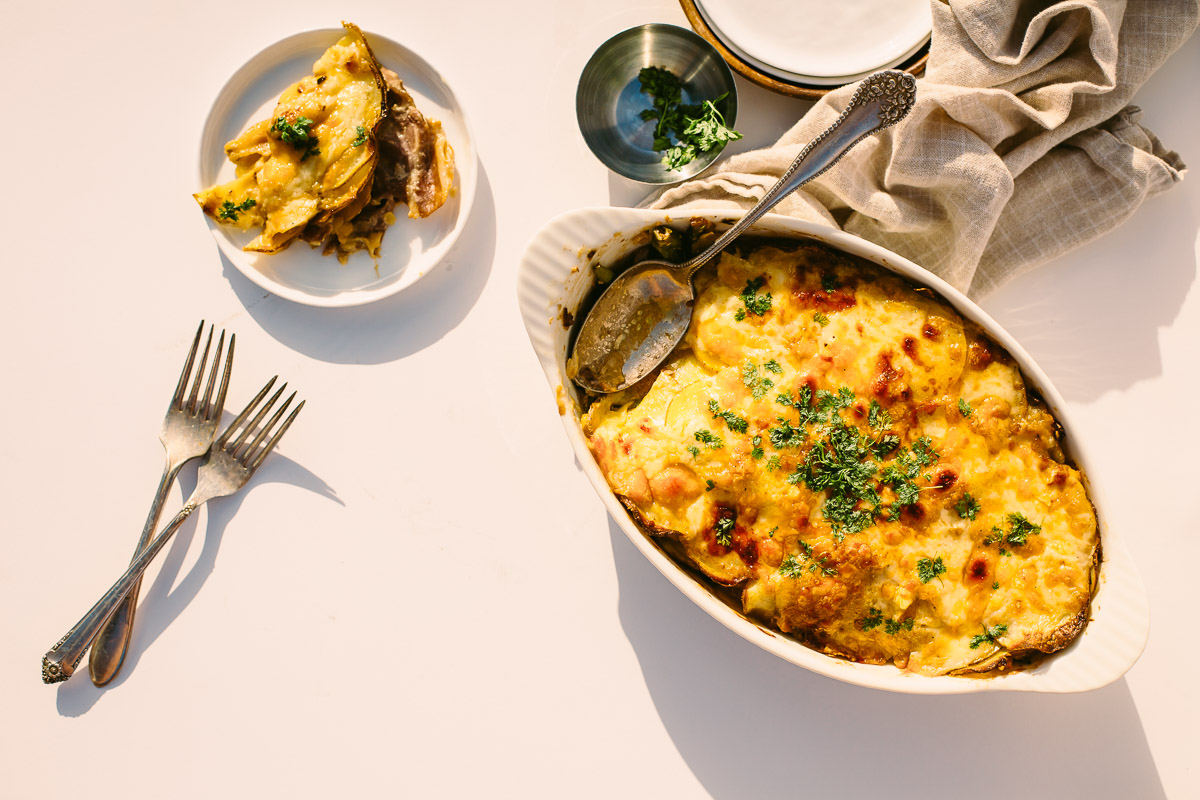 Growing up in Southern Louisiana, comfort foods were the star of my childhood. Whether we were gathering with friends over bowls full of gumbo or court-bouillon on the weekend, making red beans and rice on Mondays, or spooning my mothers' favorite weeknight-friendly green bean, ham, and potato stew, the bowl was the vessel and the warm food what got us through long days. This last dish was the kind that you could cozy up with and eat for days, simmered low and slow until the flavors melded and the potatoes were tender. It wasn't an eloquent dish, per se, but it was one that warmed the hearts of almost anyone who ate it, especially during these long end-of-winter days.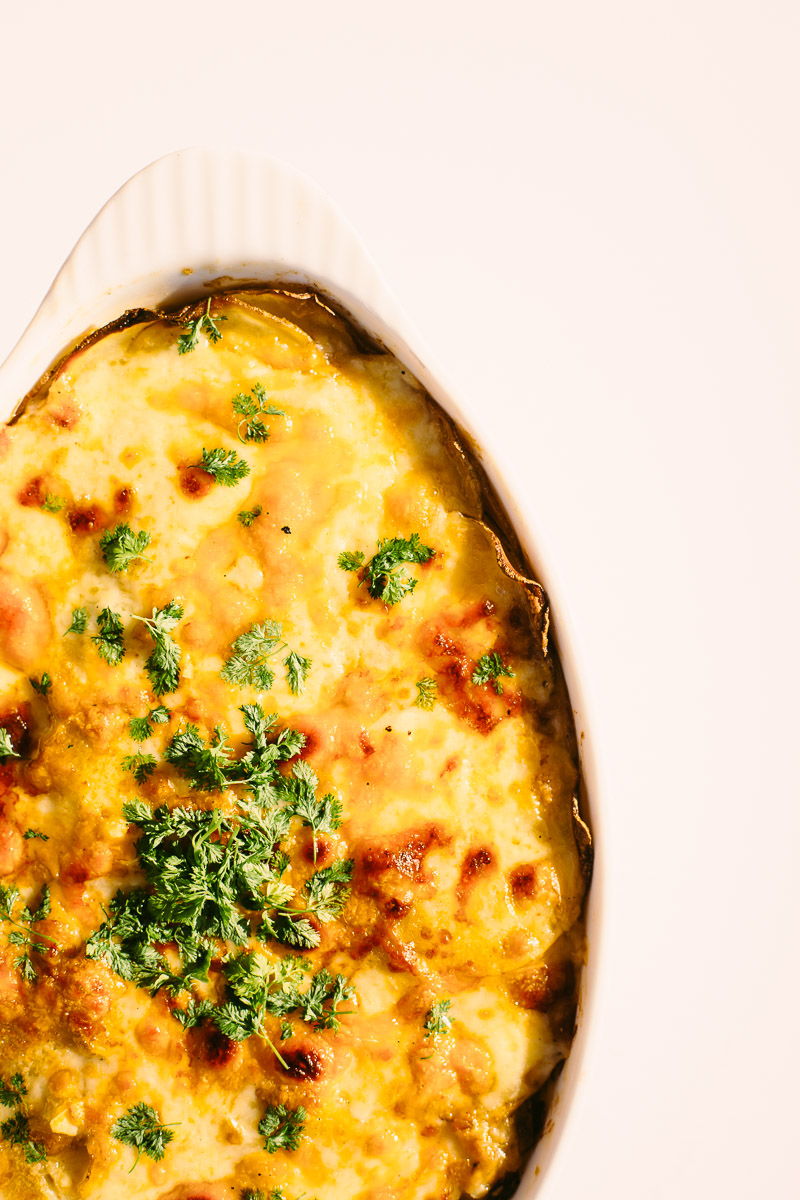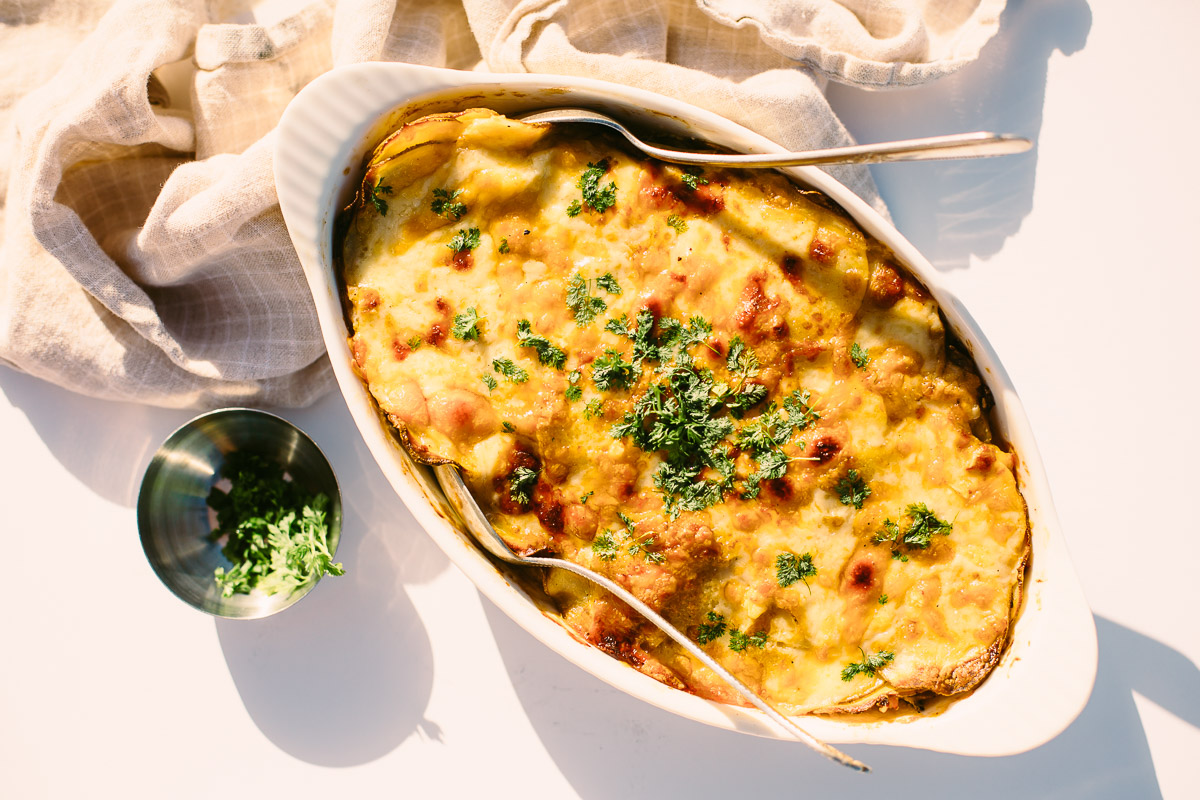 This Potatoes au Gratin pulls notes from my mother's homey stew but really deserves a class of its own. Deeply caramelized shallots cooked in a dry white wine form the base of the green beans, which are layered, almost in a lasagna-style method, along with strips of salty prosciutto, thinly sliced potatoes, and rich shredded gruyère cheese. Warming nutmeg is sprinkled in with just a dash of cayenne for heat. And it's all topped with a not-so-bashful layer of gruyère and sharp cheddar that's cooked until it just begins to bubble and turn crisp.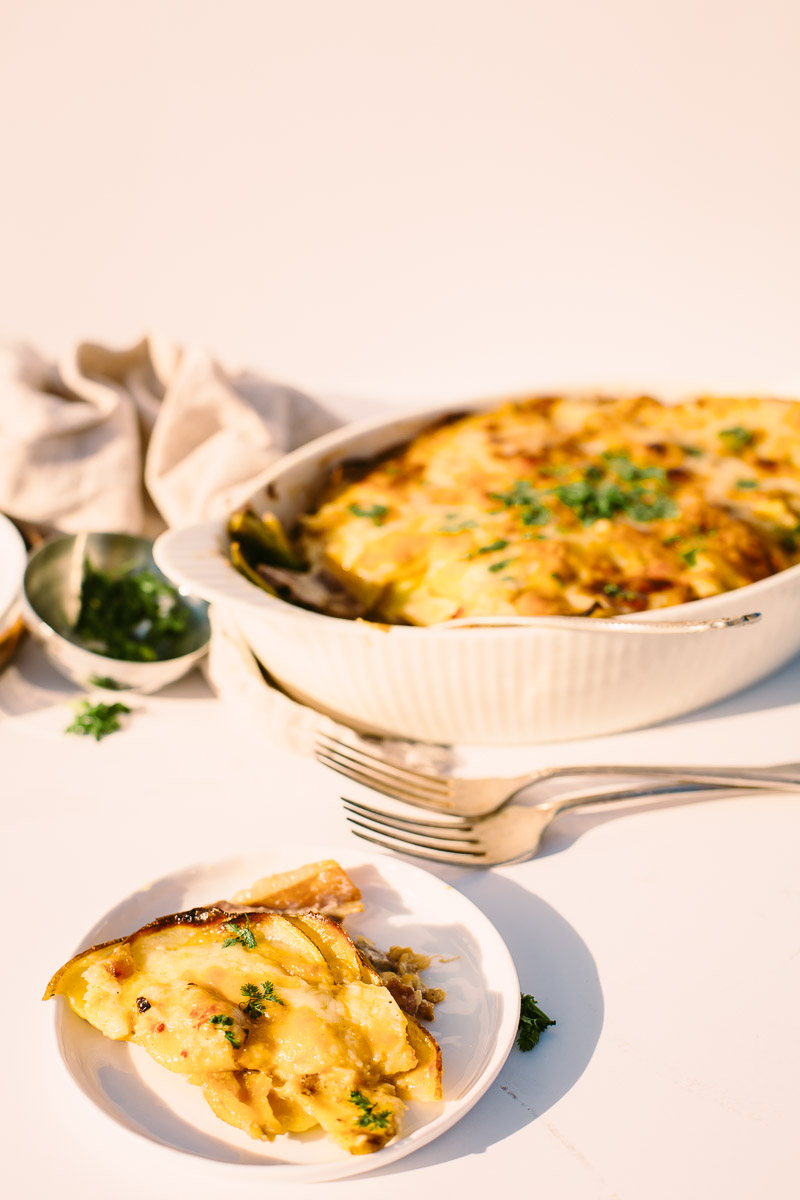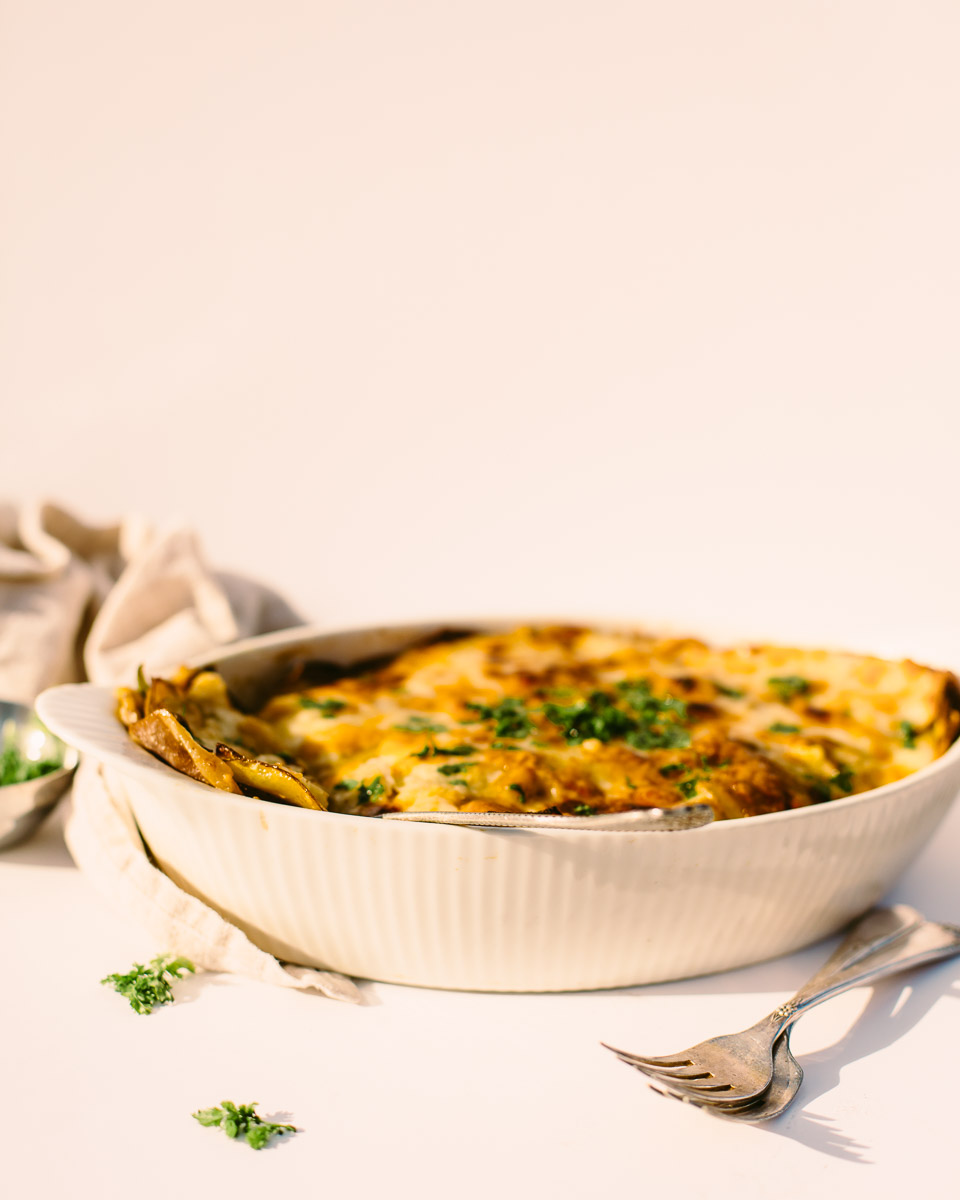 Ingredients
2 cups of half-and-half (or half cream and half milk)
2-1/4 pounds of Yukon Gold potatoes (about 8 medium-sized potatoes), sliced very thin using a mandoline or a sharp knife
½ teaspoon of nutmeg
¼ teaspoon of cayenne pepper
2 teaspoons of kosher salt, or 1 teaspoon of regular table salt, plus more to taste
4 shallots, diced finely
3 tablespoons of butter
¼ cup of dry white wine, such as sauvignon blanc
1 pound haricots verts (or green beans*), ends trimmed
6 ounces of prosciutto
2 cups of gruyère cheese (about 10 ounces), grated and divided into two equal parts
¼ cup of grated sharp cheddar cheese
Directions
Preheat oven to 350 degrees F.
Pour cream in a large mixing bowl and add nutmeg, cayenne, and salt. Add the potatoes and toss to coat. Set aside to soak while you prepare the green beans.
Heat butter in a medium-sized skillet over medium heat. Cook shallots in butter until tender and fragrant, about 7-8 minutes. Add ¼ cup of white wine and continue to cook until liquid is reduced and mostly absorbed, about 5 minutes, being careful that the shallots don't burn. Add haricots verts and toss to coat.
Place a single layer of haricots verts and shallot mixture (about 1/3 of the total green beans) in a pan or casserole dish of about 9"x13". Add a single layer of prosciutto on top of the haricots verts. Add a single layer of potatoes, arranging the potatoes as best you can so that the potato layer is no more than two rounds deep at any point. Sprinkle roughly ¼ cup of the cheese mixture over the potatoes. Repeat this layering process until haricots verts, prosciutto, and potatoes are gone and finish the layering process by pouring about half of the cream that remains in the bowl over the potatoes, being sure not to let the cream get any higher than ¼-inch from the top of your casserole dish. (You may need to do this slowly so the cream settles in to the bottom without overflowing from the top of your dish.) Finally, top the dish with the remaining (roughly 1 cup) of grated cheese and, if more cheese is desired, extra sharp cheddar cheese.
Bake at 350 degrees F for approximately 1 hour and 30 minutes*. Cheese should be just starting to turn golden on top. Check potatoes for doneness by piercing with a fork to make sure they're tender; if not, continue to cook for 10 minutes at a time until tender. Taste test and sprinkle with additional salt if desired.
Notes
You can use green beans in lieu of haricots verts, but I find they hold a bit more water than the thin haricots verts so they may leave leftover liquid in the pan.
Cooking time may vary depending on the dimensions of your pan. Begin checking the dish after 1 hour and continue checking every 10 minutes until the potatoes are cooked through and the cheese on top is turning just golden in parts.
https://french-barn.com/blog/food-wine/from-the-oven/potatoes-au-gratin-haricots-verts-prosciutto
The French Barn - Blog