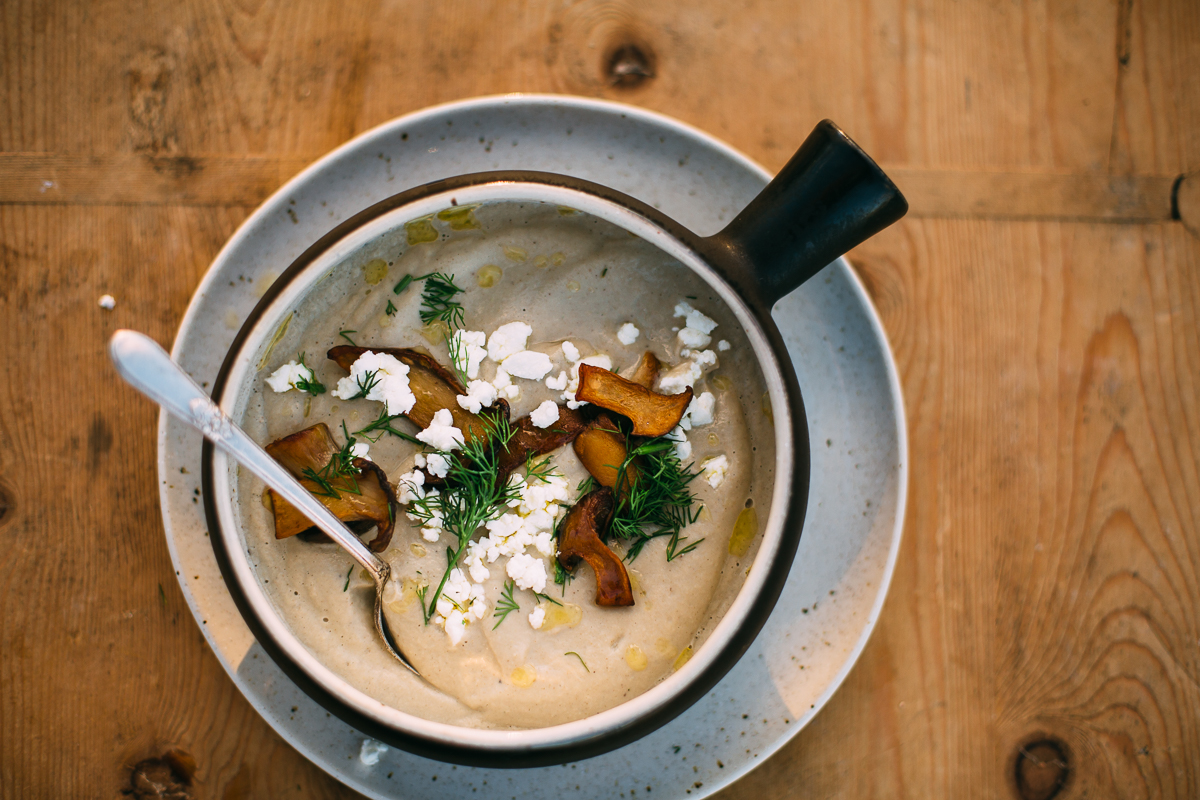 Let me start this out by saying the last few months of cooking have been fairly atypical for me. Because I haven't been in a home kitchen, I haven't even been in a land-based kitchen. I've been on the water, cooking from the galley of my 40-foot sailboat. This lifestyle of living aboard a boat is riveting but certainly not glamorous. And for the past six months, which I spent cruising in the vibrant crystal clear waters of the Bahamas, there was one thing I missed greatly: the seasons. I missed how cool spells blow in unexpectedly, bringing a bite of cold air. I missed the rustle of golden leaves. And I missed the produce that came along with it – the squash, the pumpkins, the mushrooms.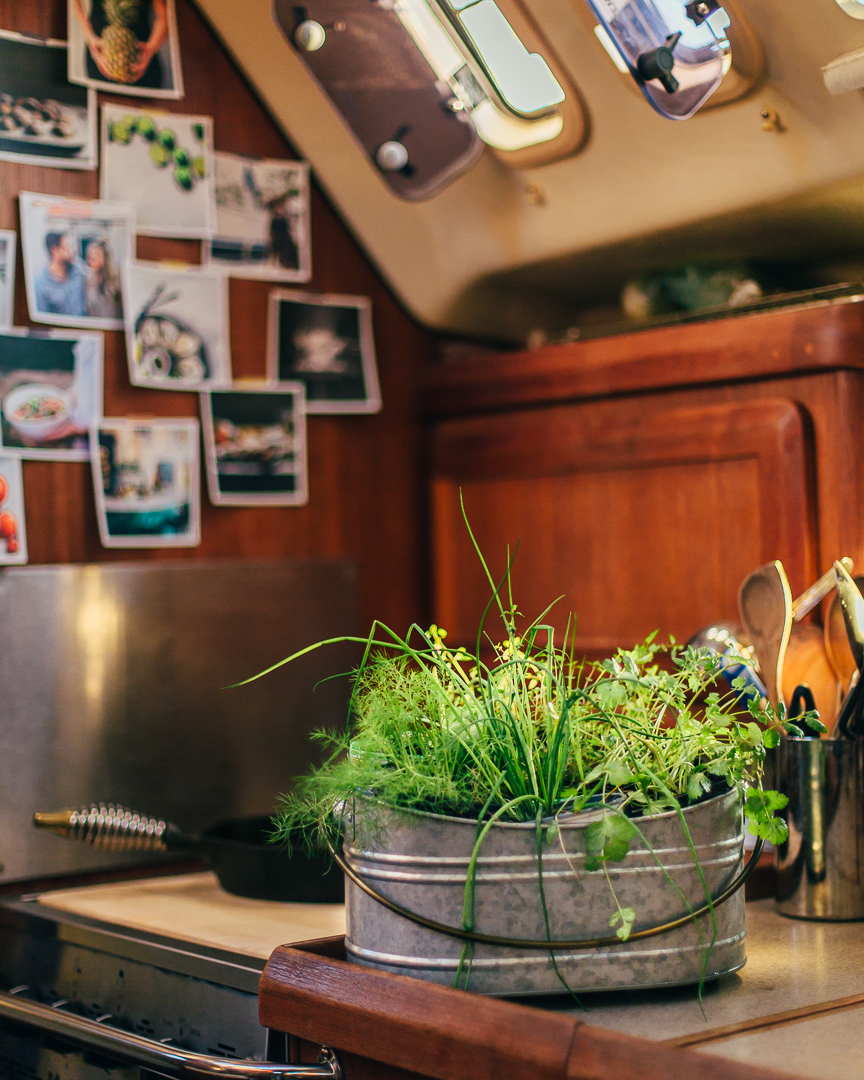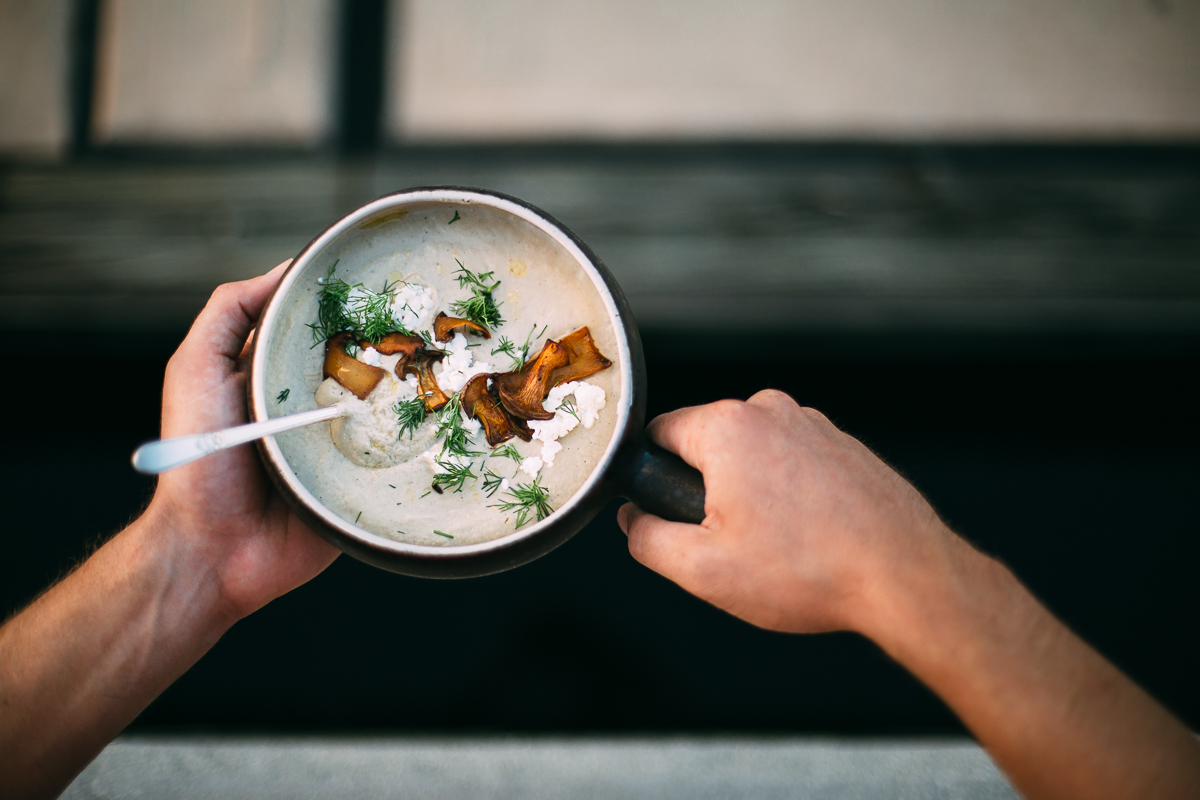 This soup, a creamy intensely earthy mushroom soup, is an ode to that now that we're back in the States. A collection of the late autumn mushrooms that pop up in stores and along the forest floor. In the recipe, I call for a variety of mushrooms, crimini, shiitake, chanterelle, and trumpet, but these are simply meant to be more of a loose guide. You could, for instance, swap out the shiitake and chanterelles for all trumpet mushrooms; or you could use a blend of shiitake and chanterelles in lieu of the crimini. The idea is only to source a variety of the freshest mushrooms you can find and cook them in a pan with a little fat over high heat until they're just caramelized and intensely flavorful.
The soup is made creamy through the addition of goat cheese, which also adds some tang to its otherwise dense flavors, and a bunch of fresh dill, which lends a noticeable brightness to the final product. It's the kind of soup that can comfort on a chilly night or bring warmth to a fall dinner party. Just don't forget a toasted baguette for serving. Whether you're on land or at sea, your guests will want to lap up every last drop.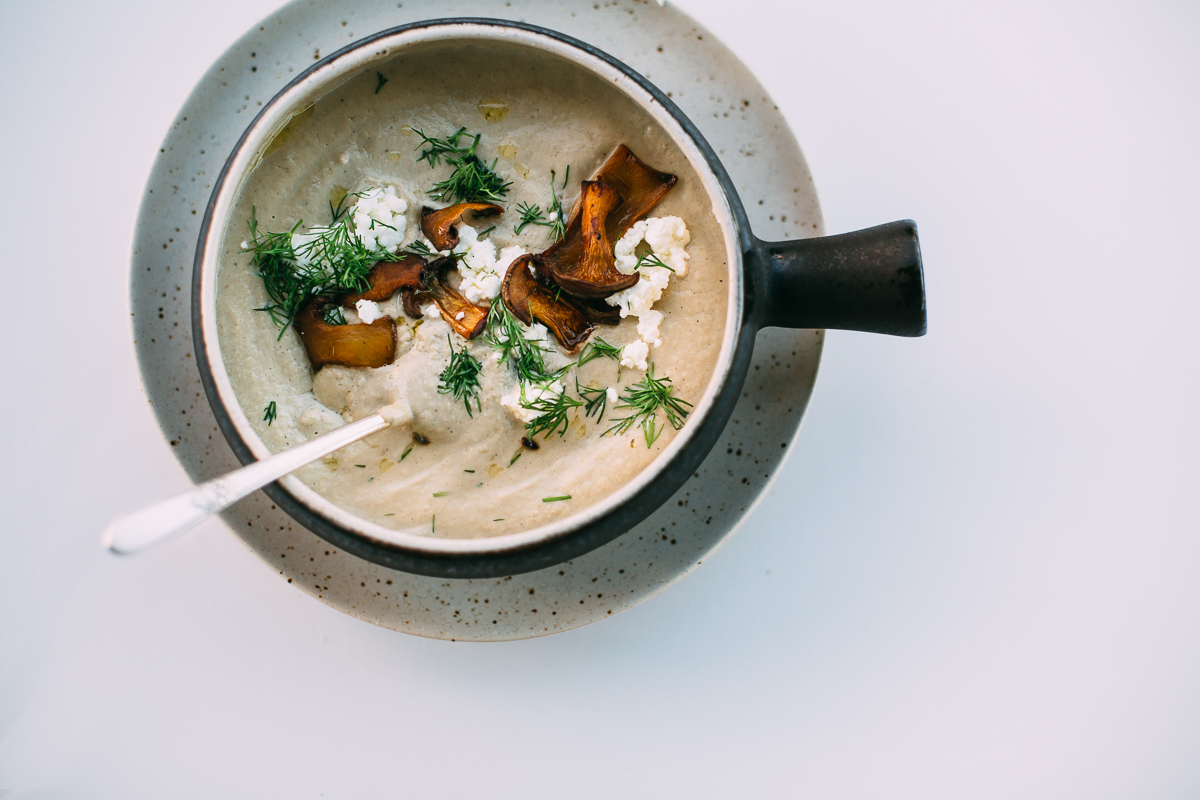 Ingredients
Special equipment: A Vitamix or other heavy duty blender or an immersion blender
Unsalted butter, 2-3 tablespoons
4 large shallots or 6 medium shallots, sliced into thin rounds
3 cloves of garlic, chopped roughly
Extra virgin olive oil, for sautéing
16 ounces of crimini mushrooms, stalks trimmed and chopped roughly
8 ounces of shiitake mushrooms, stalks trimmed and chopped roughly
8 ounces of chanterelle or trumpet mushrooms, stalks trimmed and chopped roughly*
juice of ½ lemon, plus zest for garnishing
1.5 teaspoons of kosher salt or 1 teaspoon of regular table or sea salt, plus more to taste
Freshly cracked black pepper, to taste
1-1/2 to 2 cups of vegetable (or beef) broth, plus more for thinning if desired
4 ounces of goat cheese, divided into 2 equal parts
1 tablespoon of fresh dill, plus more chopped for garnishing
Fresh baguette, for serving
Directions
Heat 2-3 tablespoons of butter in a large sauté pan over low heat. Add shallots and cook over low until they begin to turn soft, golden brown and smell just slightly sweet, about 10-15 minutes. The slower you do this, the more intense the shallot flavor will be. Of course, if in a pinch, you can cook them faster on a higher heat just be sure not to burn the butter.
Add garlic and cook until fragrant, about 2-3 minutes, being careful not to burn. Remove the cooked shallots and garlic with a slotted spoon and set aside, either into a Vitamix or other heavy-duty blender if you have one, or into a medium sized pot if you plan to use an immersion blender.
Increase heat in the sauté pan to medium-high and a glug of extra virgin olive oil. Once oil is hot, add enough mushrooms to cover the bottom and cook untouched for 4-5 minutes so they develop a goldenness on their bottom. Resist the urge to stir or agitate them. Then gently stir and cook for another 4-5 minutes, undisturbed. Do this in batches, adding more oil if the pan dries out, and use the slotted spoon to gently move them from the pan to the blender/pot as they brown. Leave roughly 8 ounces of mushrooms out of the blender/pot to use for garnish, if desired.
Reduce heat to low and let the pan cool off for a few minutes. Add the garlic to the pan and cook until fragrant, about 1-2 minutes, before adding to the blender/pot. Add lemon juice and zest, salt, pepper, broth, 2 ounces of goat cheese, and 2 teaspoons of dill to the blender/pot. Blend on high for 3-4 minutes or until soup is thick and creamy. Add more broth if a thinner consistency is desired. Taste and adjust seasonings. (Tip: If the soup tastes bland, add more salt, ½ teaspoon at a time until the flavors come to life more.)
Serve in bowls, topping each bowl with a handful of the reserved mushrooms, a tablespoon of goat cheese, and a little bit of freshly chopped dill and serve alongside a fresh baguette for dipping.
Notes
You can play with the quantities and types of mushrooms based on what you have available and what your budget is. For instance, you could substitute trumpet for shiitake or use all shiitake in lieu of chanterelles. Just make sure the amount (in ounces) of mushrooms is roughly similar to what I list here.
For an even more luxurious soup presentation, drizzle the finished product with truffle oil. (Optional.)
https://french-barn.com/blog/food-wine/caramelized-shallot-mushroom-soup-chevre
The French Barn - Blog