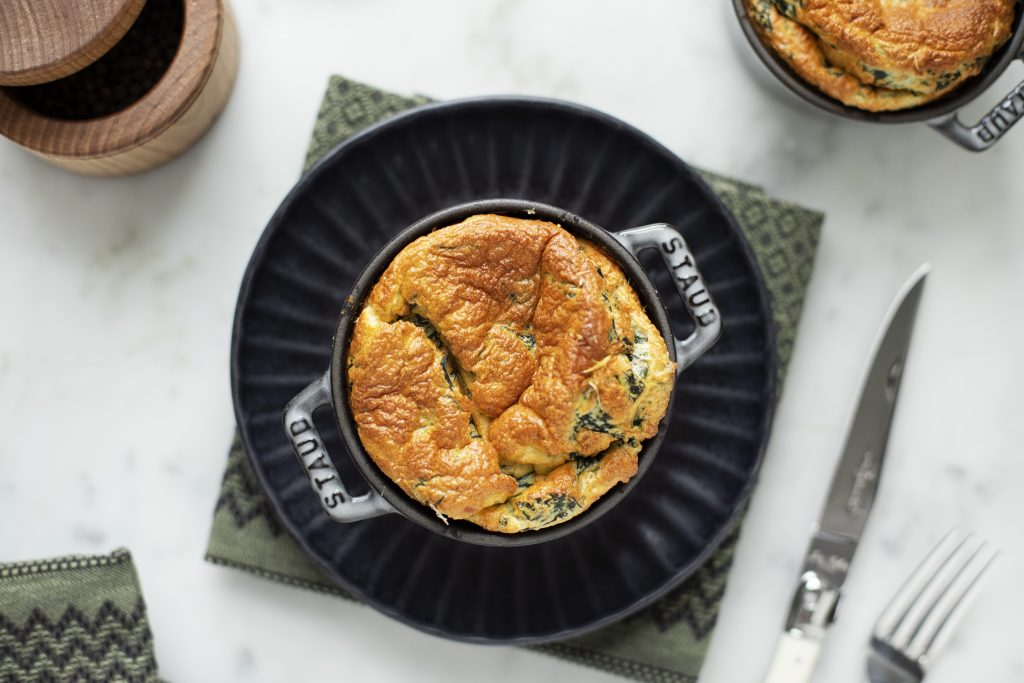 A classic French dish to celebrate the arrival of warmer days! This recipe incorporates fresh spring spinach & hearty mushrooms. Although a souffle has a reputation of being a very intimidating recipe to master, it is actually simple dish to make as long as you follow a few simple tricks.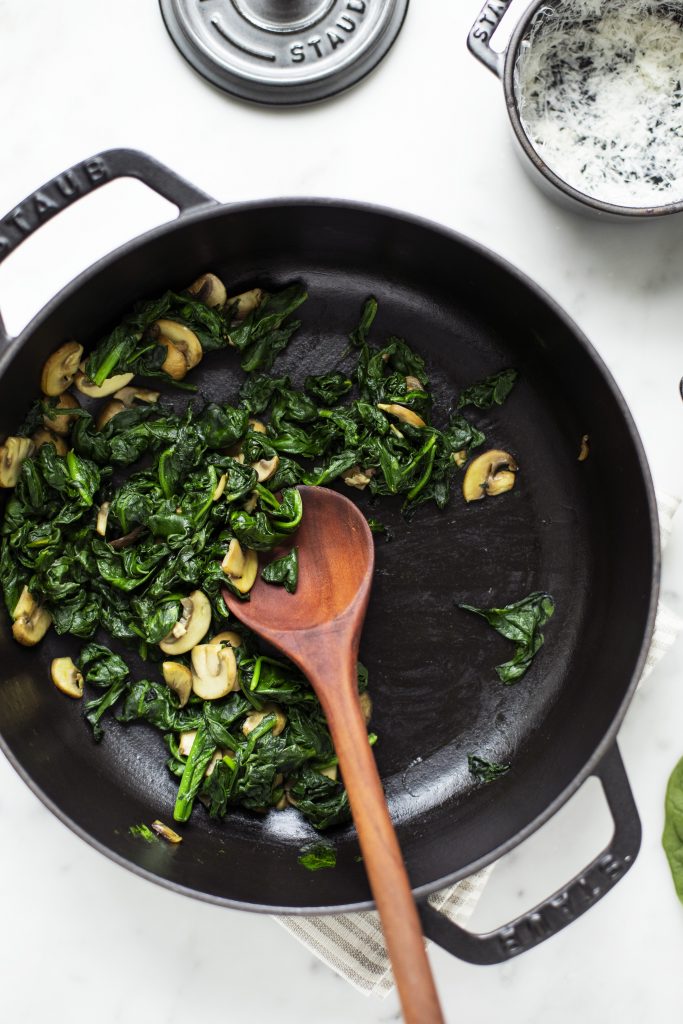 The first & most important being to properly whip the egg whites. It is important that no yolk works its way into the mixture as it will not reach stiff peaks with just the slightest hint of fat. You must also use a clean bowl with no oil or soap residue left behind. I always recommend glass mixing bowls, as they are much easier to ensure the bowl is perfectly clean.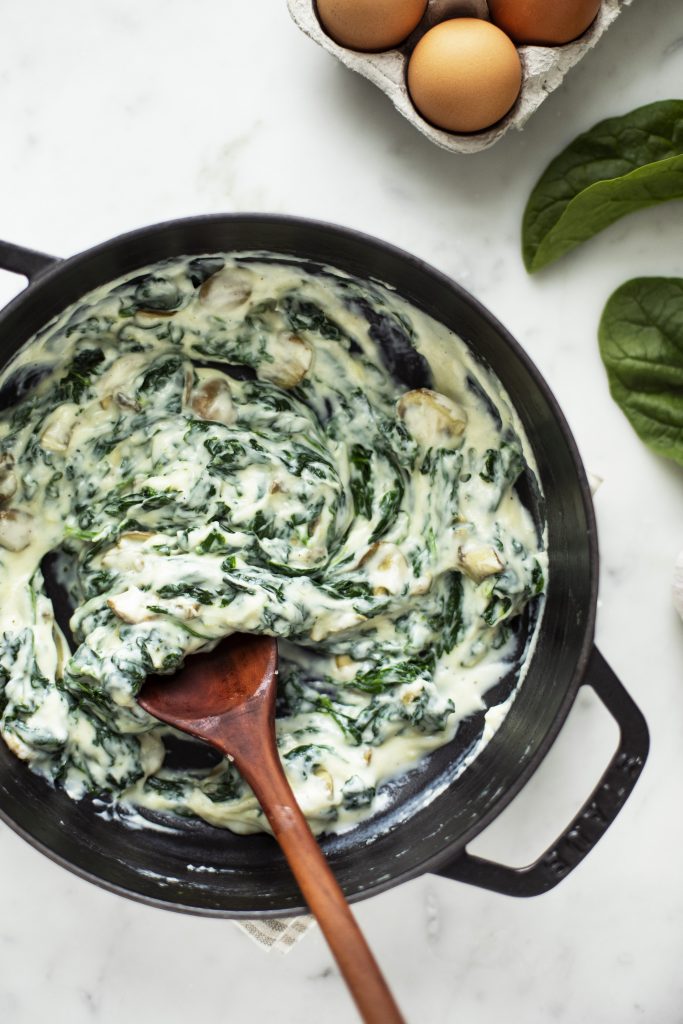 Secondly, use room temperature ingredients. This is similar to all baked goods, but when working with eggs as your main ingredient the results will be much better if all the ingredients are roughly the same temperature from the start.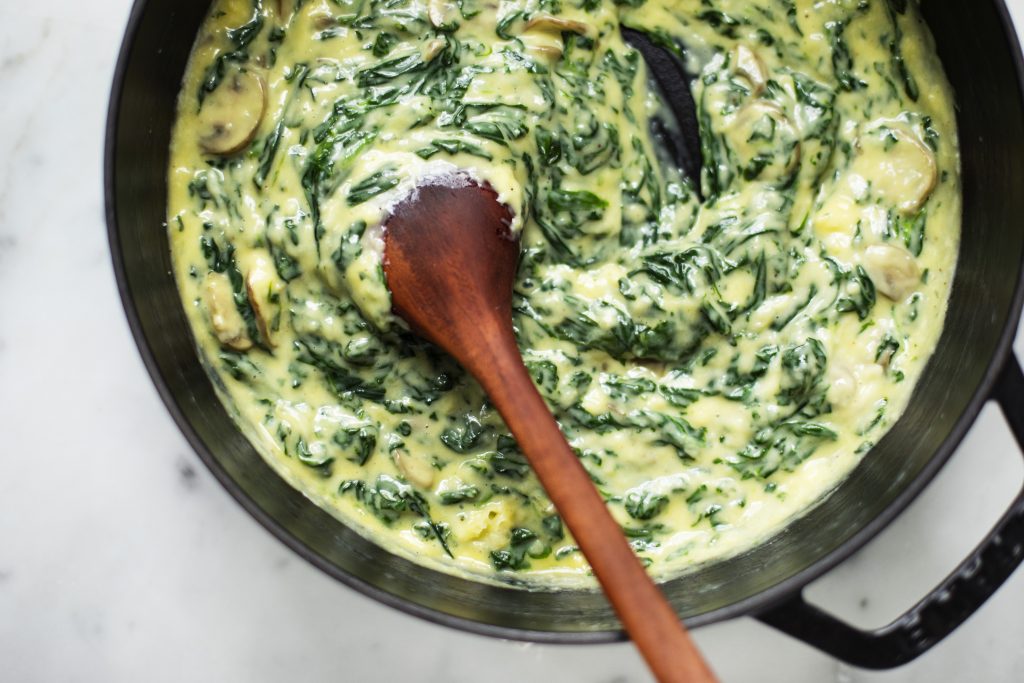 Lastly, try not to peak into the oven until you've reached the 25 minute mark. The more you open the oven door, the quicker heat will escape & you don't want to risk a temperature drop to deflate the souffles! As the souffles will naturally fall as they cool, so you want to keep the dish piping hot until ready to serve.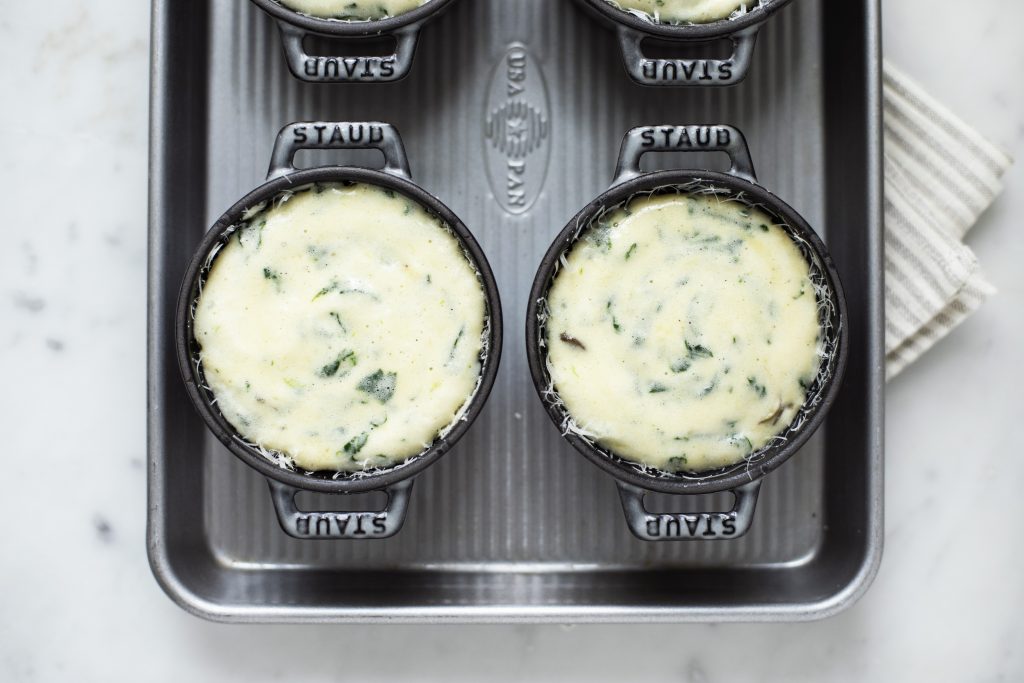 Spinach and Mushroom Soufflé
Ingredients:
3 tablespoons freshly grated parmesan cheese
16 ounces fresh spinach, stemmed & chopped 
1 cup white or cremini mushrooms, thinly sliced
3 tablespoons unsalted butter
3 tablespoons all purpose flour
1 clove of garlic, grated 
1 cup whole milk, hot 
Salt & pepper, to taste
1 pinch nutmeg, optional 
4 large eggs, separated 
1/2 cup grated swiss cheese
1 pinch cream of tartar
Directions:
1. Preheat oven to 400(f) degrees. Butter the inside of 4 large or 6 small ramekins. Sprinkle evenly with parmesan.
2. In a saucepan pan over low heat add the spinach & mushrooms. Cook until spinach is wilted & liquid has evaporated. Remove from pan & set aside.
3. Place the saucepan back over low heat & melt the butter. Whisk in the flour & garlic. Continuously whisking, cook for 2 minutes.
4. Remove from heat. Whisk in the milk, nutmeg, salt & pepper. Return to heat & continue cooking until smooth.
5. Remove from heat. Stir in the egg yolks, swiss cheese & spinach mixture.
6. Whisk the egg whites & cream of tartar to firm peaks. Add a quarter of the egg whites to the yolk filling & stir to combine. Add the remaining egg whites & gently fold in, ensuring not to deflate the whites.
7. Evenly divide the mixture amongst the prepared ramekins. Place in the middle of the oven (removing the above racks) & turn heat down to 375(f) degrees.
8. Bake for 25 to 30 minutes, until puffed & golden. Do not peak until the 25 minute mark! Serve immediately.