A Carrot Cake for Easter celebrations is a must in my family! But with gatherings being much smaller this year, my classic three layer 8-inch loaded carrot cake is a bit too much. Cue this beautifully spiralled carrot cake roll! Everything you love about carrot cake (cream cheese frosting I'm looking at you) in a much smaller scale & easier assembly.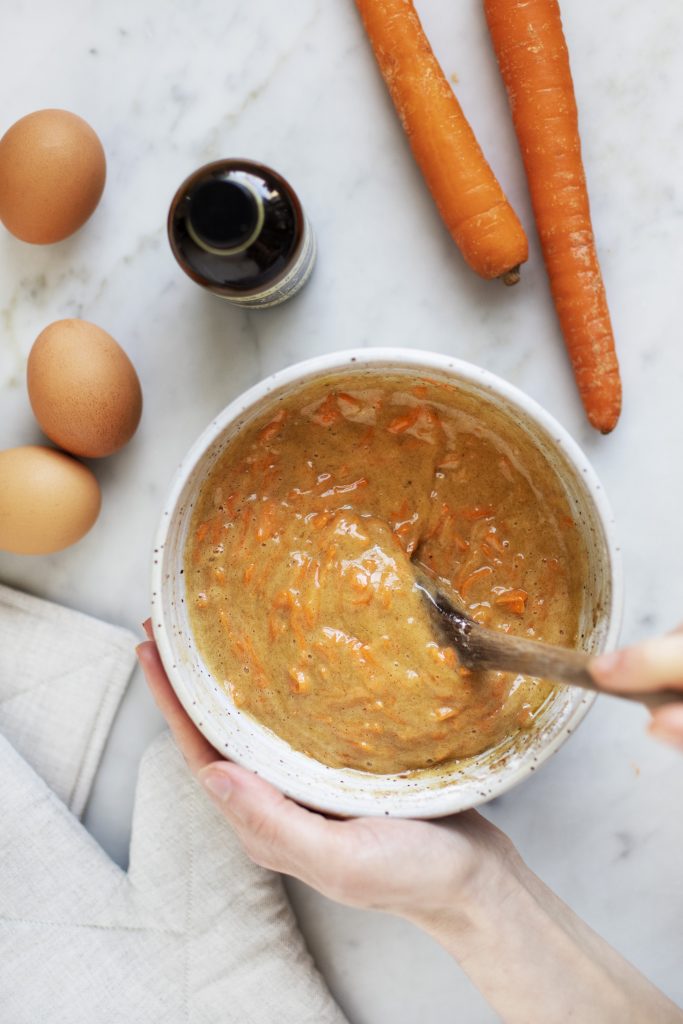 Think of this as a spring version of a classic pumpkin cake roll, perfectly spiced with all the cozy spices too. The cake batter is a simple one-bowl cake that requires just a bowl & wooden spoon! It is a thin & spongey cake, so this cake doesn't require nearly as much batter as a traditional carrot cake would yield.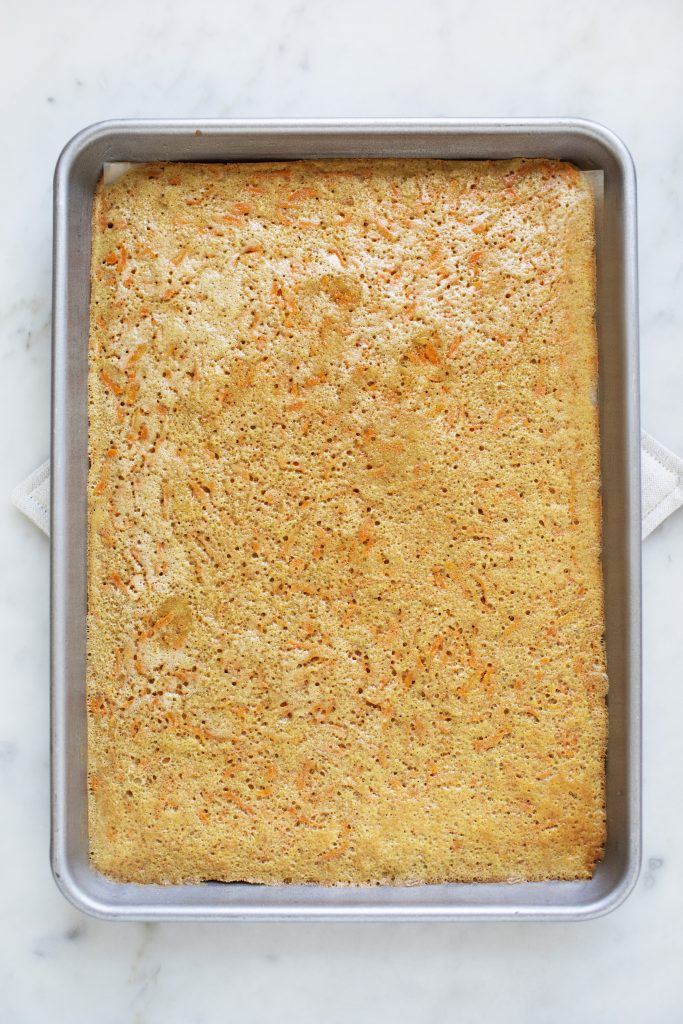 To be sure that the cake doesn't crack when you frost & roll, I highly recommend rolling the cake in a sheet of parchment paper or a clean tea towel as soon as it comes out of the oven. This trick will shape the cake, so don't skip this extra step!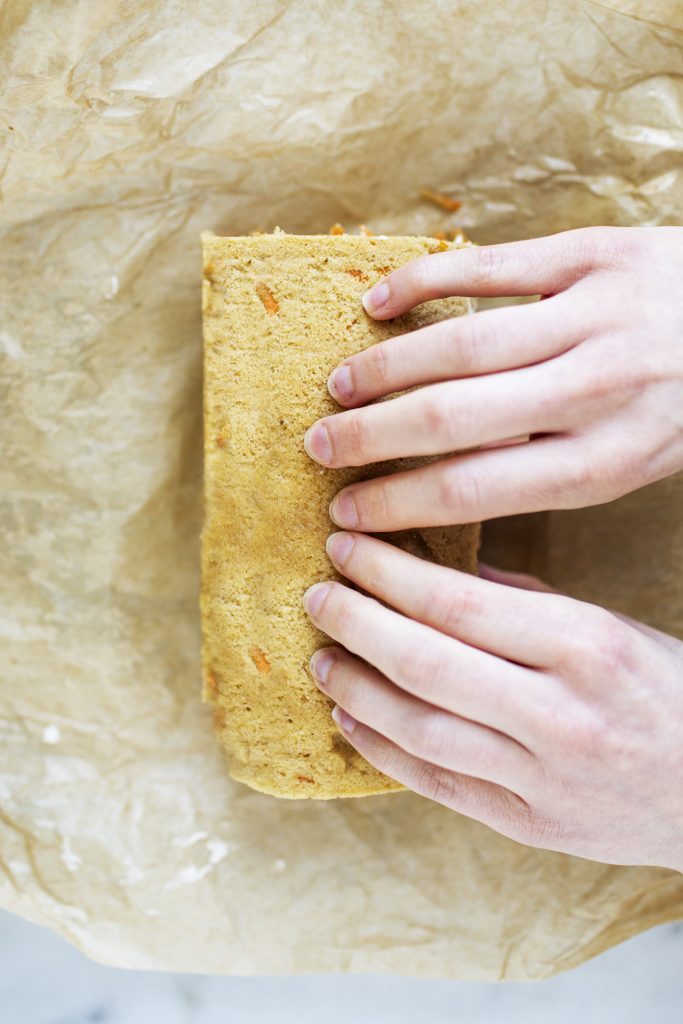 The cake layer can be made a day in advance & wrapped tightly in plastic wrap. If preparing a day or two in advance, brush the cake with simple syrup just before frosting to ensure it remains moist. The simple syrup trick is a little trick bakeries do when frosting all sorts of cakes! Now pour yourself a cup of coffee & lets dive into a slice of this beautifully spiralled carrot cake. Happy Easter!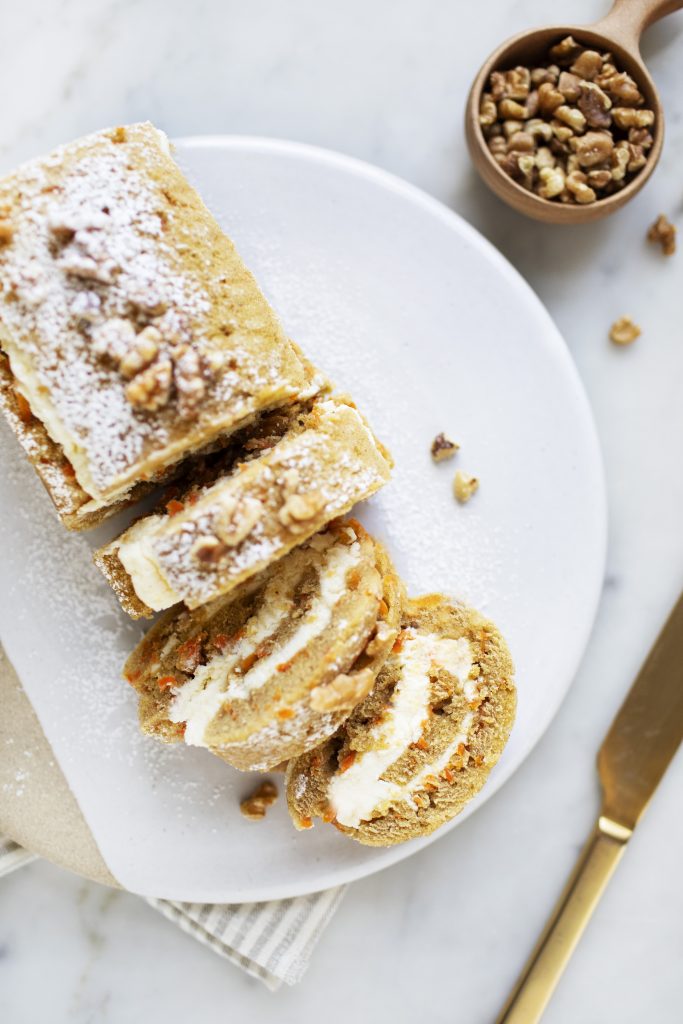 Carrot Cake Roll
Ingredients
For the cake:
3 tablespoons vegetable oil
2/3 cup turbinado sugar
3 large eggs, room temperature
1 teaspoon pure vanilla extract
1/2 teaspoon fine salt
1 teaspoon baking powder
1 teaspoon ground cinnamon
1 teaspoon ground ginger
1/2 teaspoon ground nutmeg
3/4 cups all purpose flour
1 1/2 cups grated carrots
For the frosting:
8 ounces cream cheese, cold
1/4 cup unsalted butter, room temperature
1 cup powdered sugar, or to taste
1 teaspoon vanilla extract
Chopped walnuts, for topping
Directions
For the cake:
Preheat oven to 325(f) degrees. Line a 9 by 12 inch (approximately) baking sheet with parchment paper. Set aside.
In a large mixing bowl whisk together the oil, sugar, eggs & vanilla until fluffy. Sift in the flour, salt, baking powder, cinnamon, ginger & nutmeg. Stir until batter just comes together.
Fold in the grated carrots. Transfer to prepared baking sheet & smooth flat using an offset spatula.
Bake for 12 to 15 minutes, until the cake bounces back to touch. Working fast, flip the cake onto a fresh sheet of parchment paper. Carefully roll the cake with the parchment paper & wrap in plastic. Refrigerate for 30 to 60 minutes, until chilled. As the cake cools prepare the frosting.
For the frosting:
In the bowl of a stand mixer fitted with the paddle attachment beat together the butter, sugar & vanilla extract until combined, about 2 minutes.
Add the cream cheese & continue mixing until fluffy, about 2 minutes.
Carefully unroll the chilled cake & spread the centre with a generous layer of cream cheese frosting. Leave a 1/2 inch border around the edges.
Gently roll the cake back up & wrap in plastic wrap. Refrigerate for 30 to 60 minutes, until the cake is set.
Dust with powdered sugar, sprinkle with chopped walnuts & serve!