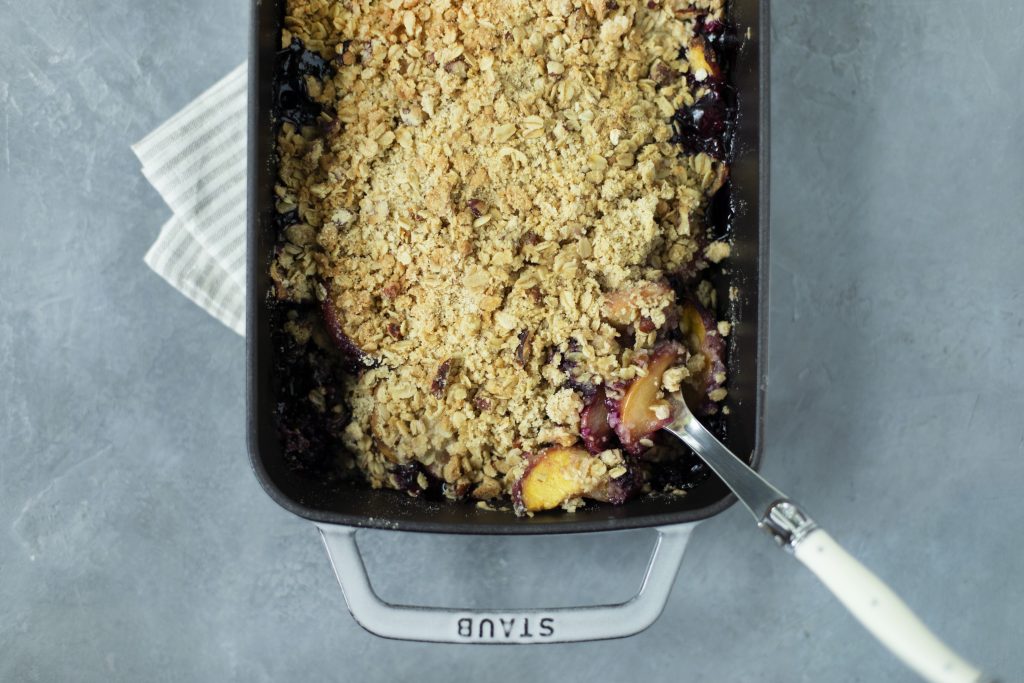 Is it really summer without a fresh fruit crisp? Some recipes are just worth turning on the oven for and this is definitely one of them! Canada's peach season is finally here and it doesn't get much better than local peaches. They are so sweet and juicy, which always result in the best desserts!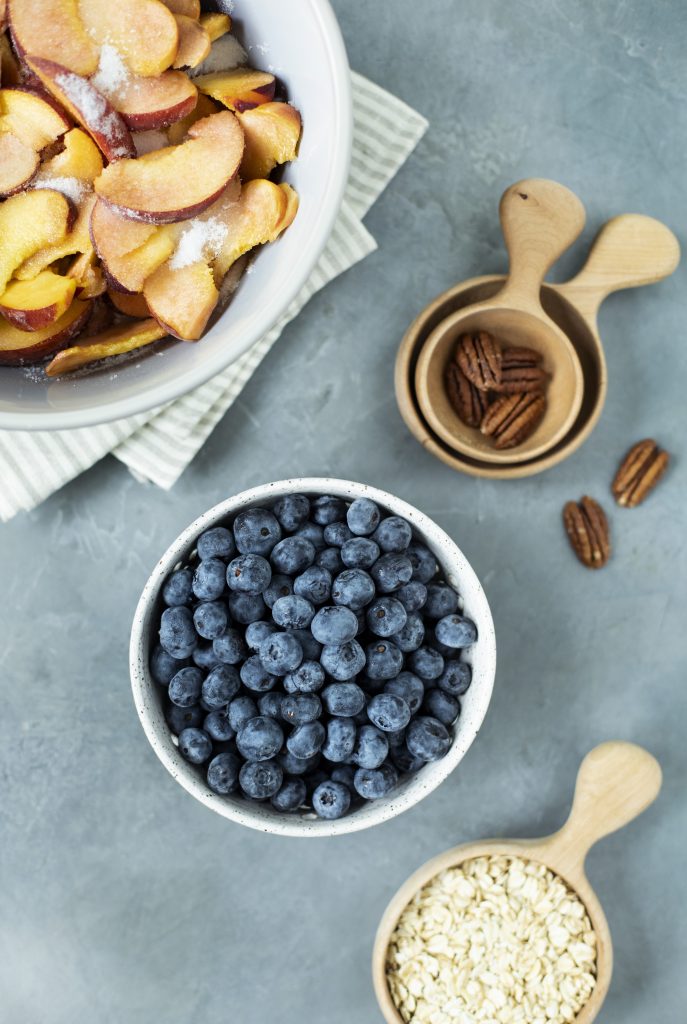 This crisp is mixed with fresh blueberries which are also in season throughout the late summer months. After all, if it grows together it goes together. I love the colours the blueberries lend to the peaches as they bake away and burst in the oven. If you are unfamiliar with the difference between a crisp and a cobbler, a crisp is traditionally made with an oat mixture and a cobbler is made with a biscuit mixture.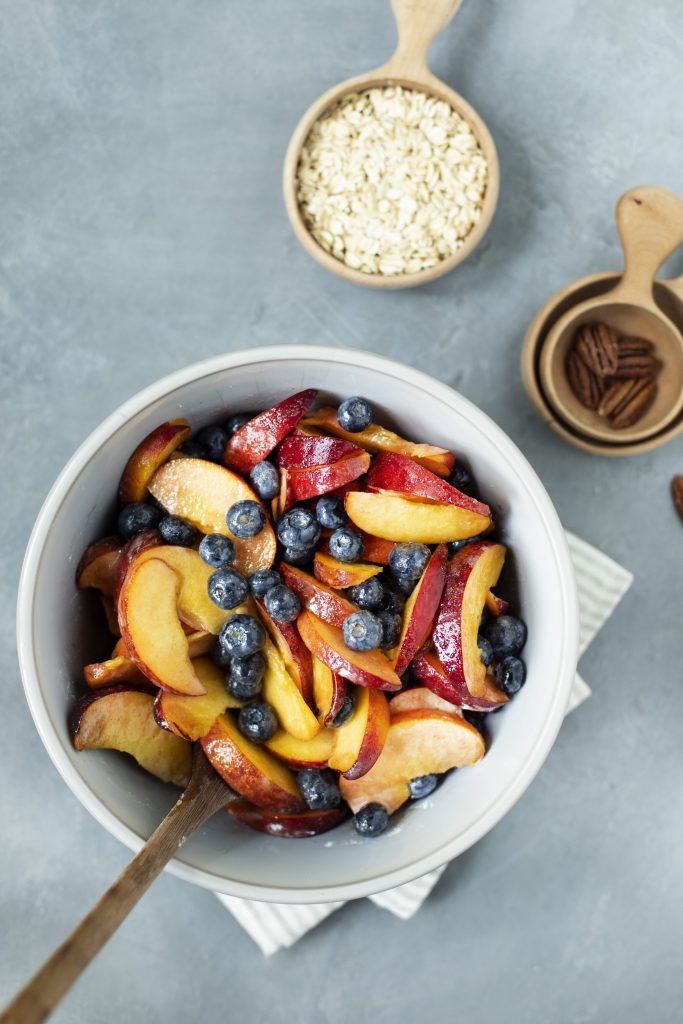 I like to incorporate nuts into my crisp toppings because they give off that perfect hint of toastiness and crunch. Either walnuts or pecans will do the trick! Because the topping is my favourite part of any crisp (I think many will agree), I promise this recipe doesn't lack in topping. The fruit is loaded with buttery oat mixture making sure you get the perfect ratio of crisp to fruit in every single bite.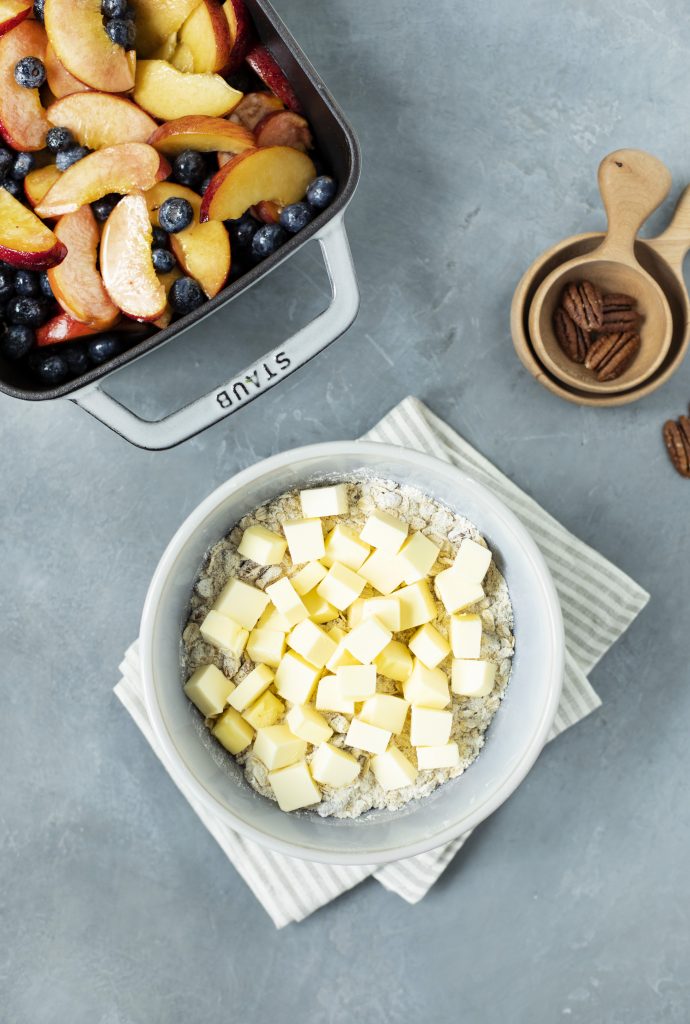 I love to serve this warm from the oven with a scoop of melted french vanilla ice cream, but this recipe can easily be prepared in advance and reheated just before serving. A perfect dessert to end your next summer barbecue.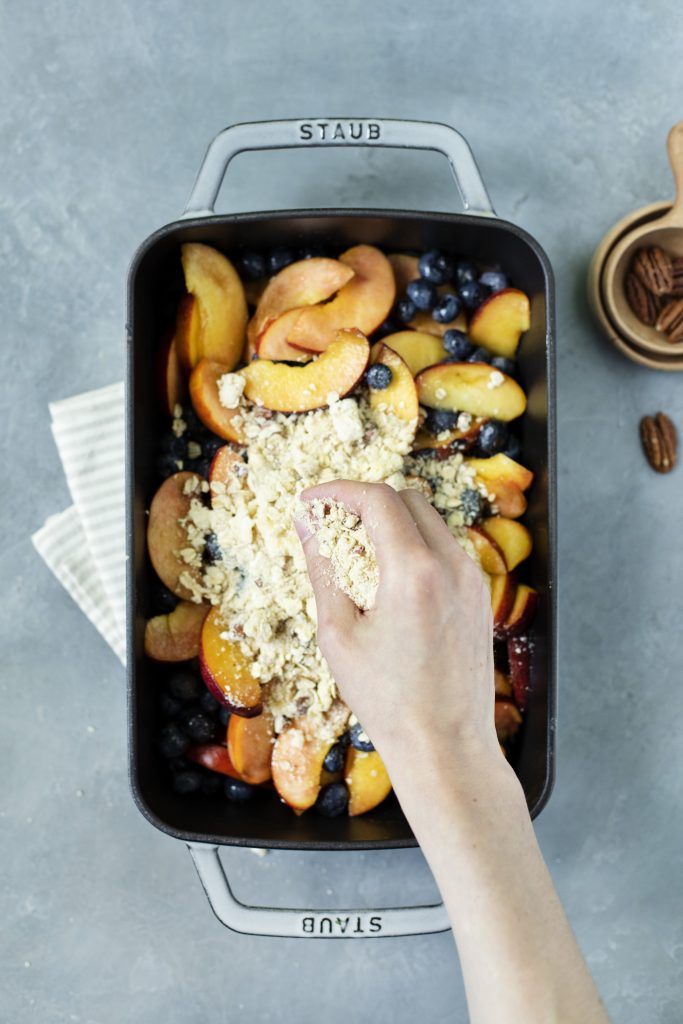 Happy summer baking, friends! xo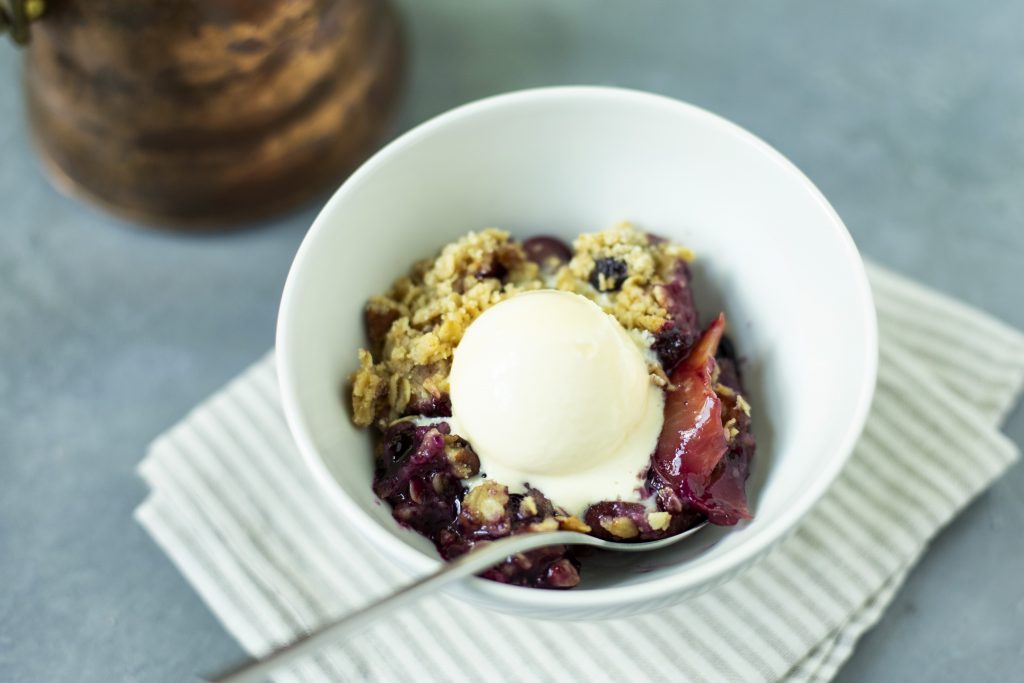 Peach + Blueberry Crisp
Prep: 15 minutes
Cook: 45 minutes
Serves: 6
Ingredients
For the fruit:
6 to 8 ripe peaches, thinly sliced
1 1/2 cups fresh blueberries
1/2 cup granulated sugar
2 tablespoons cornstarch
2 tablespoons lemon juice
1 teaspoon pure vanilla extract
1/2 teaspoon ground cinnamon
For the topping:
1 cup rolled oats
1 cup all purpose flour
1/2 cup toasted pecans or walnuts, finely chopped
1/2 cup light brown sugar, lightly packed
1/2 teaspoon ground cinnamon 
1 pinch fine salt
1/2 cup unsalted butter, cold and cubed
For serving:
Vanilla ice cream
Directions
For the fruit:
Preheat oven to 350(f) degrees and lightly butter a 9 by 12 baking dish.
In a large mixing bowl toss together the peaches, blueberries, sugar, cornstarch, lemon juice, vanilla and cinnamon. Set aside.
For the topping:
In a separate large mixing bowl stir together the oats, flour, walnuts, brown sugar, cinnamon and salt.
Add the butter and using your hands, work the butter in until mixture is crumbly.
Transfer the fruit to the prepared baking dish. Evenly scatter the crumble mixture over the fruit.
Bake for 45 minutes, until edges are bubbly and top is golden brown.
Serve warm with vanilla ice cream!