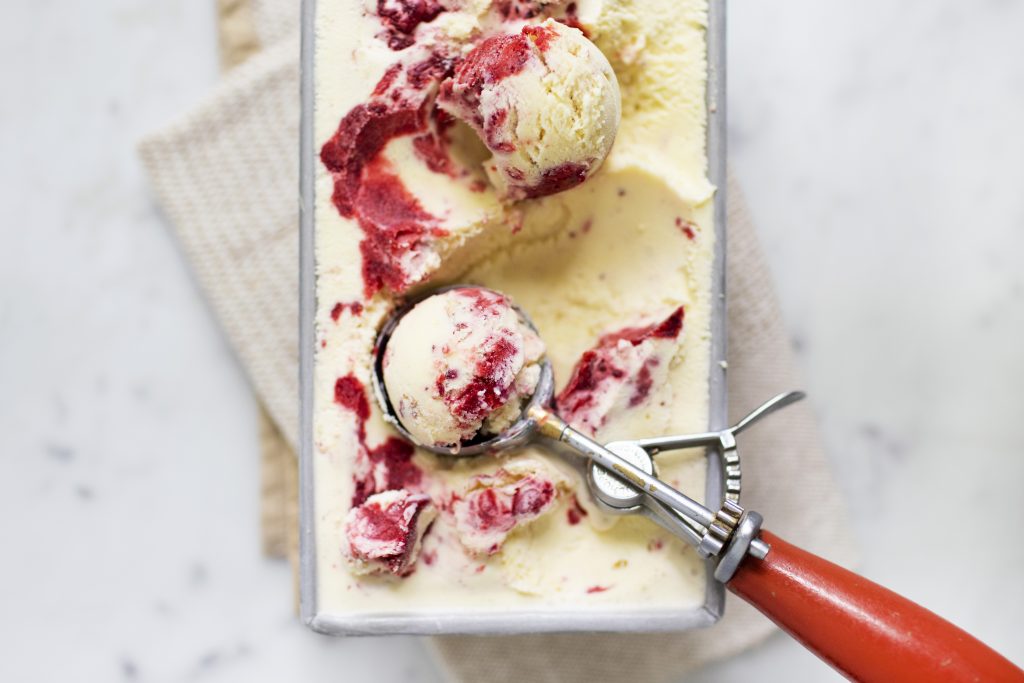 With the hot summer weather in full swing, I can't think of a better way to cool down after a long day in the garden than with a bowl of homemade ice cream! This recipe features locally roasted strawberries (hello strawberry picking season) & a creamy vanilla base. What makes this recipe a French-style ice cream compared to a traditional North American style ice cream is that it is rich in egg yolks. Also, the method of preparing the ice cream base is similar to a custard before being churned & frozen.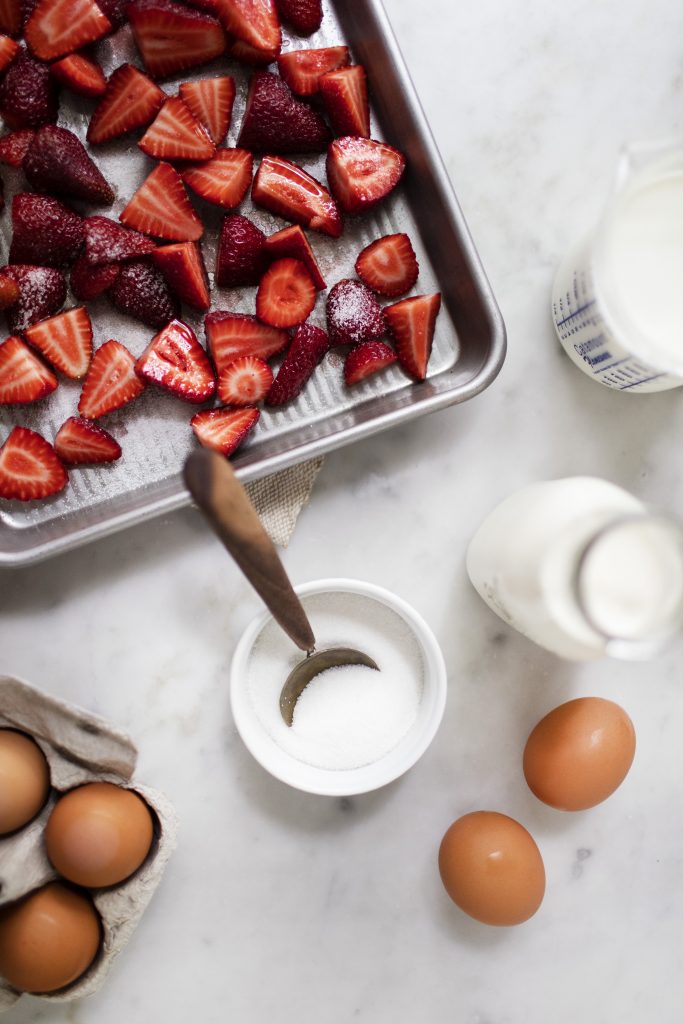 Although I love & favour the combination of strawberries & cream, this recipe will work with any summer fruit. Whatever is in season throughout the next few months or whatever produce is growing fresh in your home garden, feel free to switch it up. Just follow the same method to roasting the fruit first so you are able to swirl it throughout the ice cream.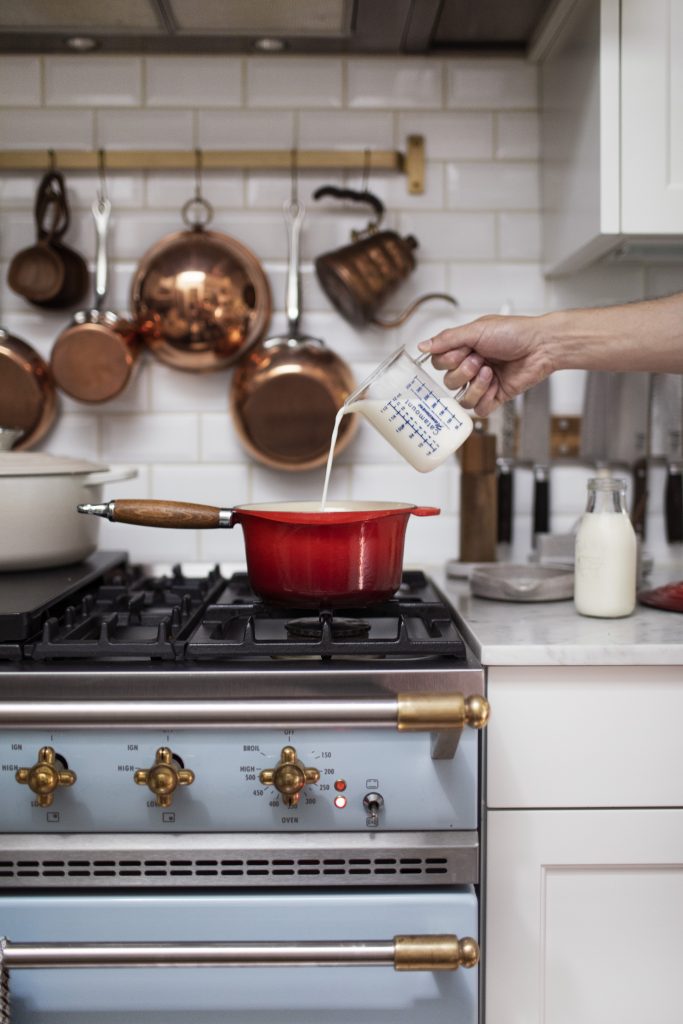 Now a quick note before getting started! This recipe does require the use of an ice cream maker, so be sure to have the ice cream bowl frozen 24 hours in advance & follow the manufacturer's methods for churning as well. Although homemade ice cream is very simple to make from scratch, it does require a bit of planning ahead & longer chill times. Do not skip the 4 hour chill time for the custard base as the ice cream will not churn properly. I promise, the end result is so worth the wait!
Cheers to summer & the best of the local berry season! Till next time.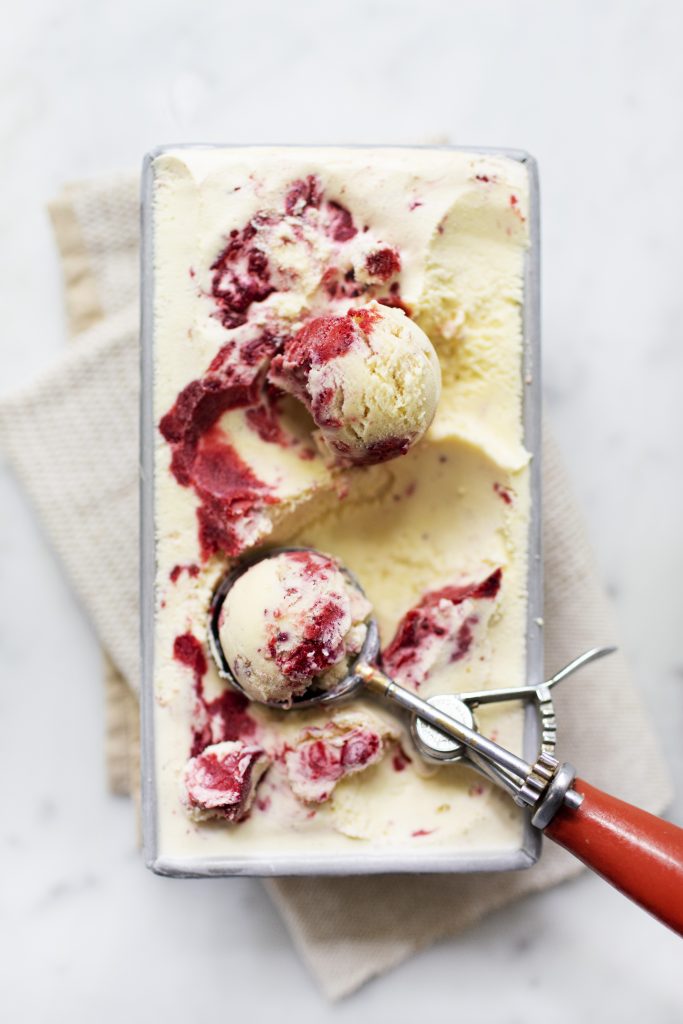 French-Style Roasted Strawberry Ice Cream
Prep Time: 8 Hours
Cook Time: 20 Minutes
Serves: 4 to 6
Ingredients:
2 cups fresh strawberries, hulled & quartered
3/4 cup sugar, divided
6 large egg yolks
2 cups whole milk
1 1/2 cups heavy cream
1 pinch salt
2 teaspoons vanilla bean paste (can substitute vanilla extract)
Directions:
Preheat oven to 350(f) degrees. Transfer strawberries to a baking sheet & sprinkle with 1/4 cup granulated sugar. Roast for 15 to 20 minutes, until softened.
Smash berries with a fork to a jam like consistency. Transfer to a bowl, cover with plastic wrap & refrigerate until ready to use.
In a large mixing bowl whisk together the egg yolks & remaining sugar until fluffy.
In a saucepan over medium heat add milk & cream. Bring to a gentle simmer but to not boil. Vigorously whisking, slowly temper in the cream mixture to the egg yolk mixture. Transfer the mixture back to the pot & heat over low until temperature reaches 175(f) degrees. It should thicken slightly & coat the back of a spoon.
Immediately remove from heat & transfer to a mixing bowl over a bowl of ice water. This will stop the custard from continuing to cook. Whisk in the salt & vanilla bean paste. Let mixture cool to room temperature & chill for a minimum of 4 hours.
Once base mixture is chilled transfer to an ice cream maker & churn for 15 to 20 minutes, until a soft serve consistency is reached. Fold in the prepared strawberries & transfer to a metal or glass loaf pan. Refrigerate until fully frozen, about 4 to 6 hours. Enjoy!