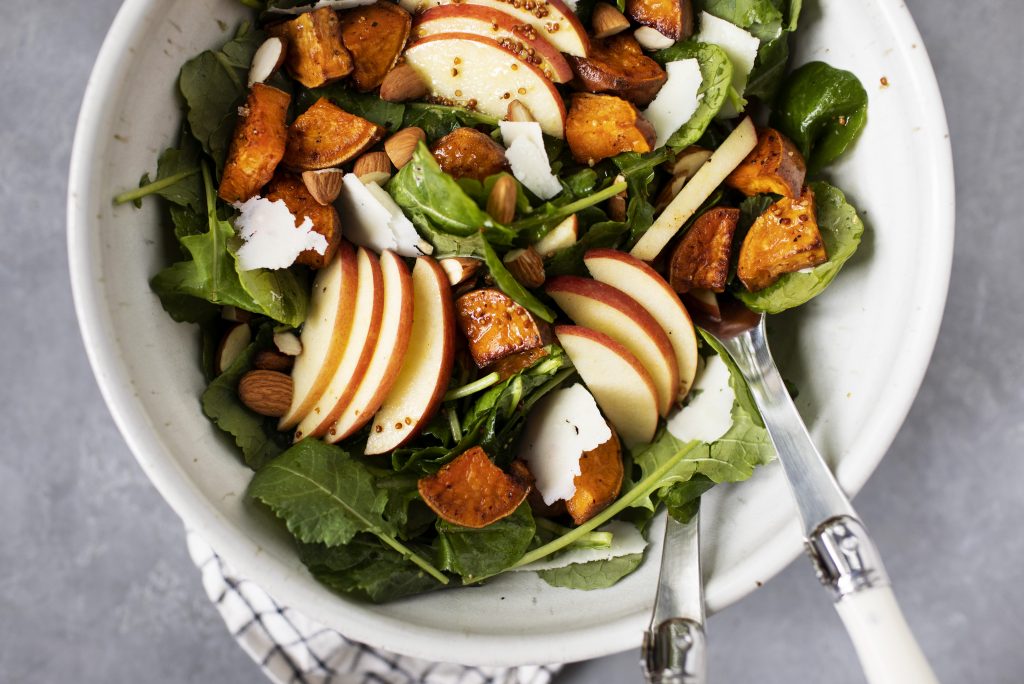 If you aren't a salad person, this fall harvest salad will be sure to change your mind! It isn't your average salad. It features roasted sweet potatoes (the not so secret ingredient) and crisp autumn apples. The sweetness is balanced out with a whole grain mustard vinaigrette and salty pecorino cheese.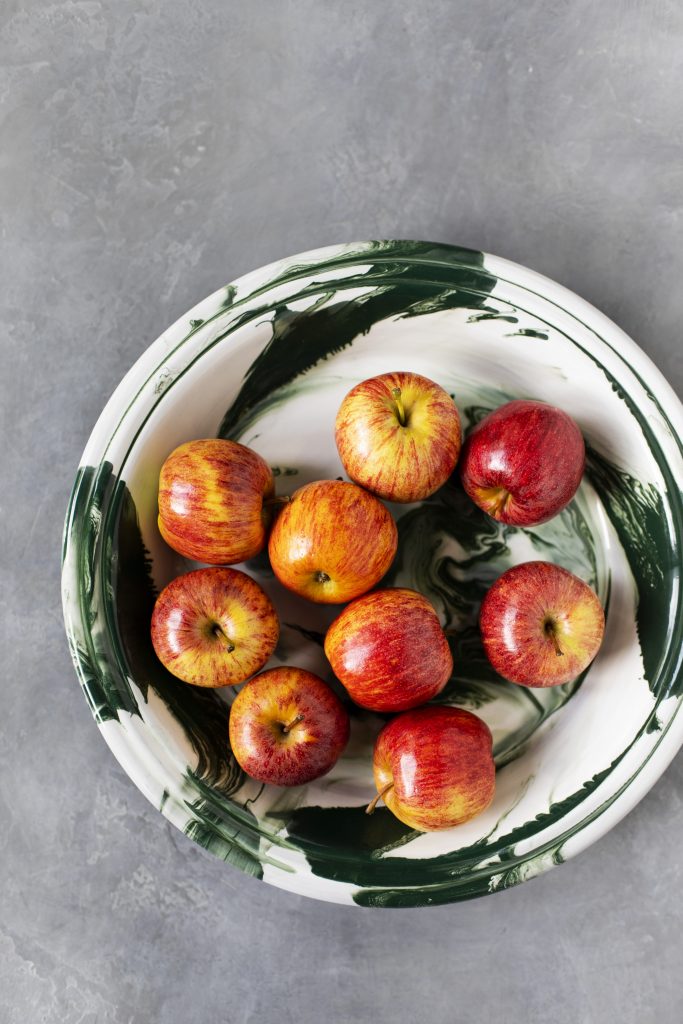 This salad is simple enough to make any night of the week and serve alongside a roasted chicken, but special enough to add to your Thanksgiving's menu too. It includes just a handful of ingredients that all compliment each other perfectly. Not to mention how pretty those colours are. Doesn't the orange, red and dark greens just give you all the autumn feels?
For the sweet potatoes I opted to keep the skins on as a lot of the nutrients are in the skin and I like the overall earthiness it brings to the dish. However, if you prefer to eat sweet potatoes without the skin, feel free to peel the potatoes before seasoning and roasting. To ensure everything is cooked evenly, dice the potatoes in equally sized cubes.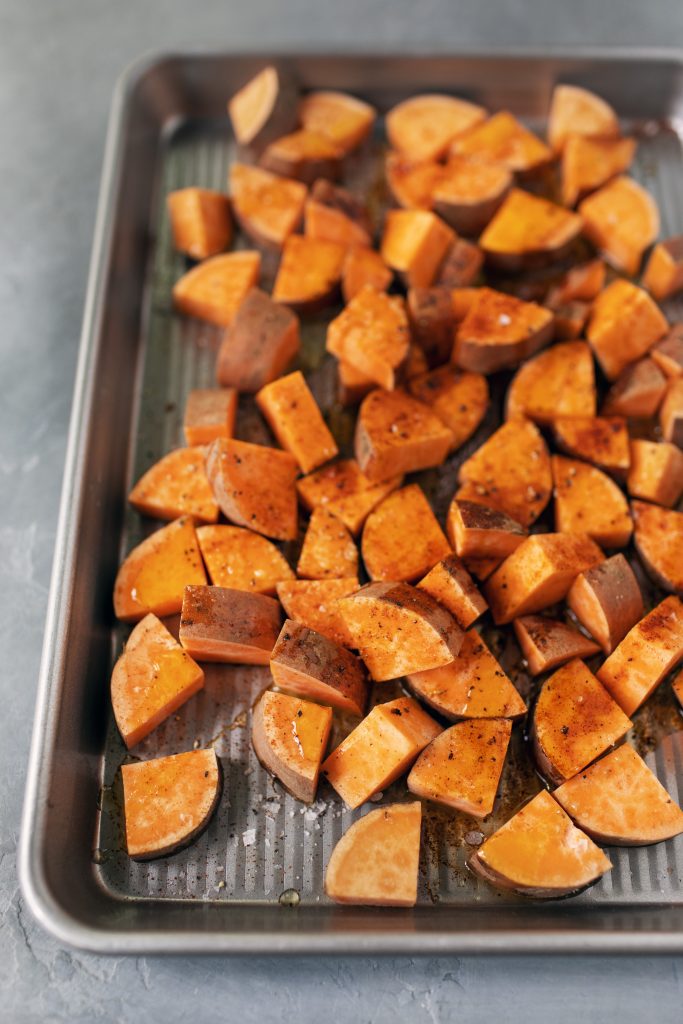 Note: If you are making this salad for a fall gathering or Thanksgiving, the dressing and roasted potatoes can be prepared a day in advance. However, do not slice the apples and dress the salad until ready to serve for maximum freshness. I personally just love the look and texture of baby kale (hearty without being too tough), but if you cannot find it the regular curly kale with stems removed will do the trick!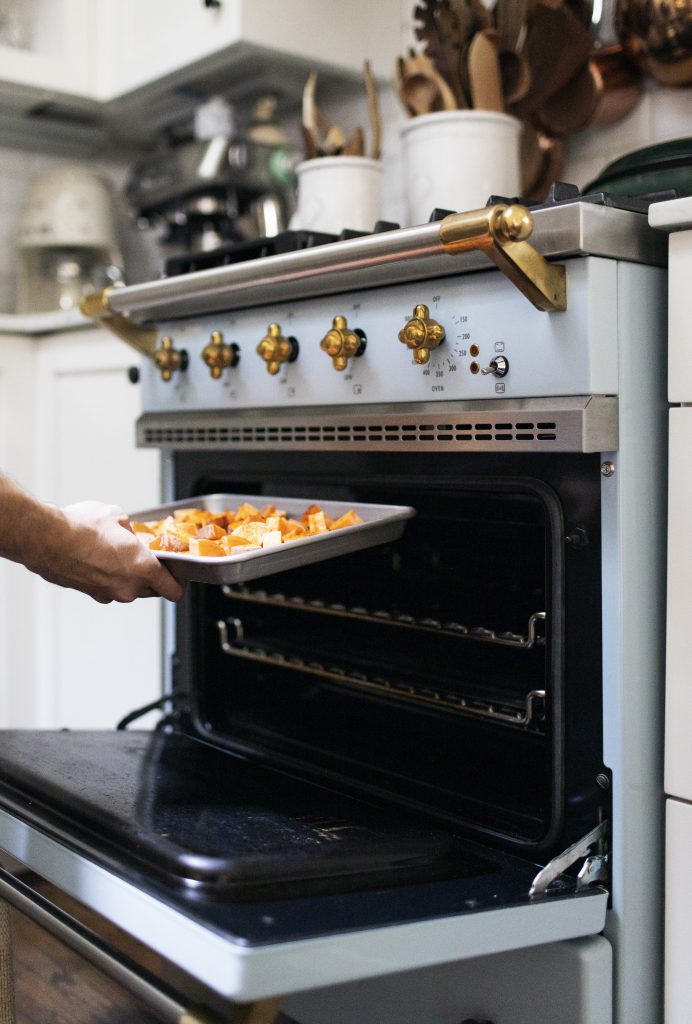 Hope you enjoy this salad over the autumn months as much as I do. Cheers to the start of fall! My most favourite time of the year.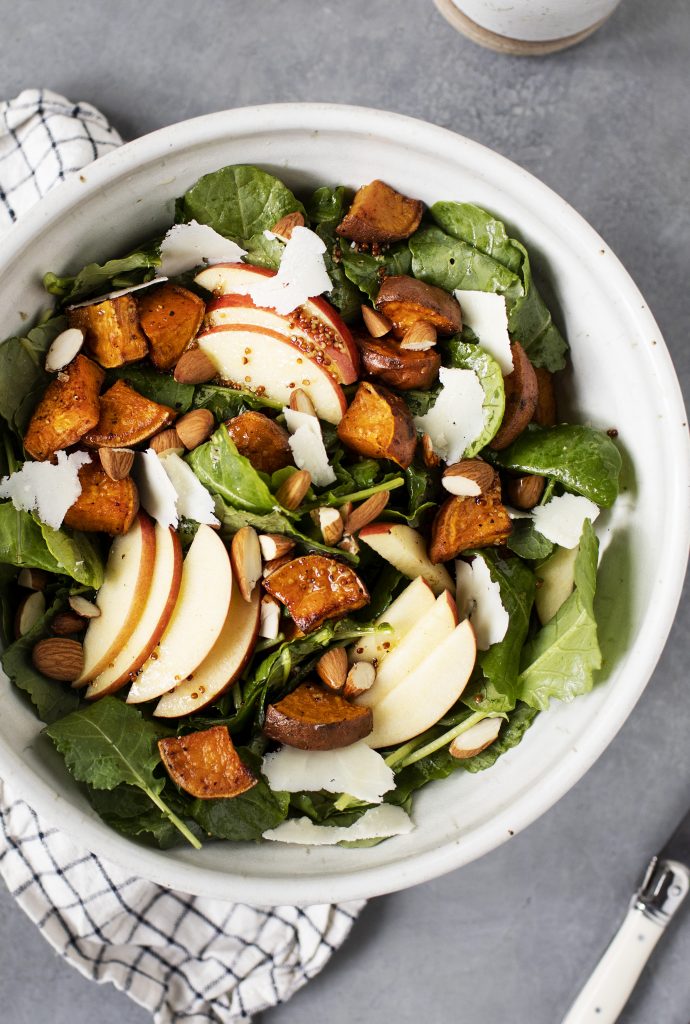 Autumn Sweet Potato & Apple Salad
Ingredients
For the salad:
2 medium sweet potatoes, cubed
2 tablespoons extra virgin olive oil
1 teaspoon smoked paprika
Salt & pepper, to taste
6 to 8 cups baby kale
1 red apple, thinly sliced
1/4 cup almonds, toasted & roughly chopped
1/2 cup freshly grated or shaved pecorino cheese
For the dressing:
3 tablespoons extra virgin olive oil
2 tablespoons apple cider vinegar
1 tablespoon whole grain mustard
1 teaspoon pure maple syrup
Salt & pepper, to taste
Directions
For the salad:
1. Preheat oven to 400(f) degrees. Line a baking sheet with parchment paper.
2. Toss sweet potatoes with olive oil, paprika, salt & pepper. Transfer to prepared baking sheet & roasted until fork tender, about 20 to 25 minutes. Rotate once halfway through. Let cool slightly
3. In a large serving bowl add the kale, apple, almonds, pecorino & sweet potatoes. Toss with prepared dressing. Season with additional salt & pepper if desired. Serve immediately.
For the dressing:
1. In a small mixing bowl whisk together all ingredients until well combined. Refrigerate until ready to use.