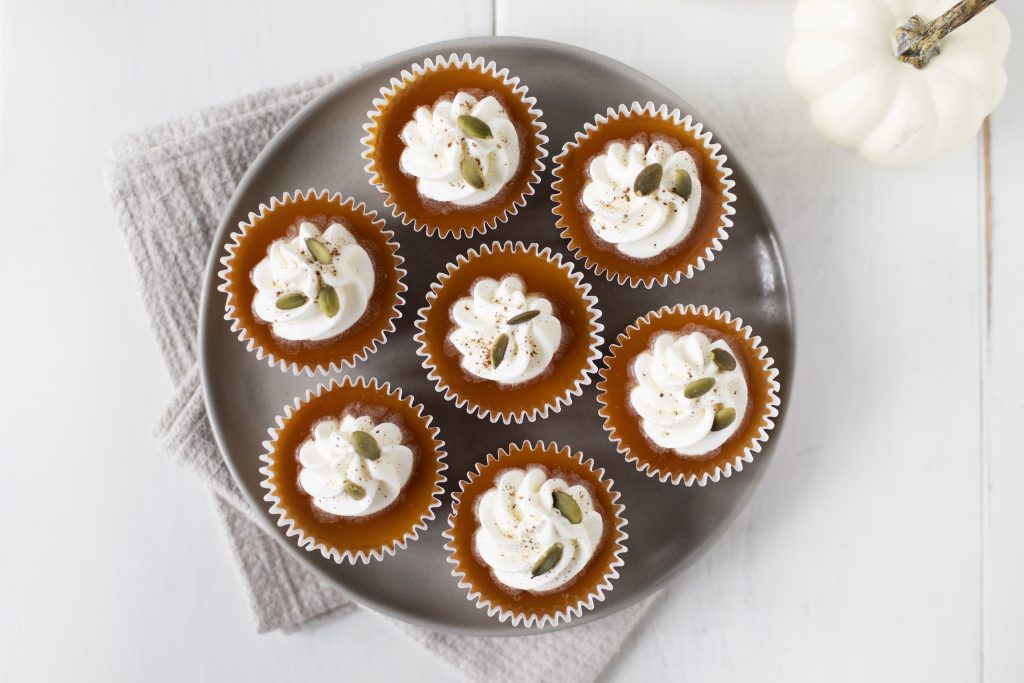 You didn't think I'd go through the fall season without sharing at least one pumpkin spice recipe did you? After all, pumpkin spice season is in full swing & I am here for it! There are not many things I won't try to incorporate a little pumpkin in this time of year, and cheesecake is a must.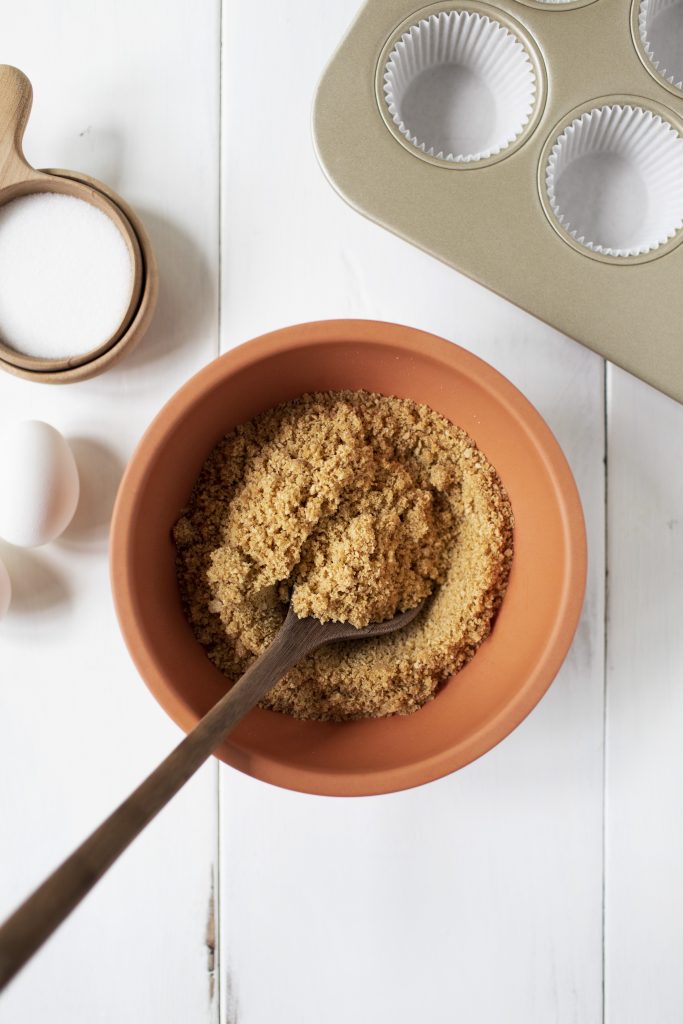 Cheesecake is certainly an intimidating dessert to make at home, but these cheesecake bites take all the stress out of baking a full cheesecake from scratch. No stressing over different oven temperatures, a spring form pan, cooling in stages & worrying about those dreaded cracks! Making them into bite size treats will ensure they come out perfect every single time. Plus, they are easy to serve & make for a wonderful autumn dessert to deliver to friends.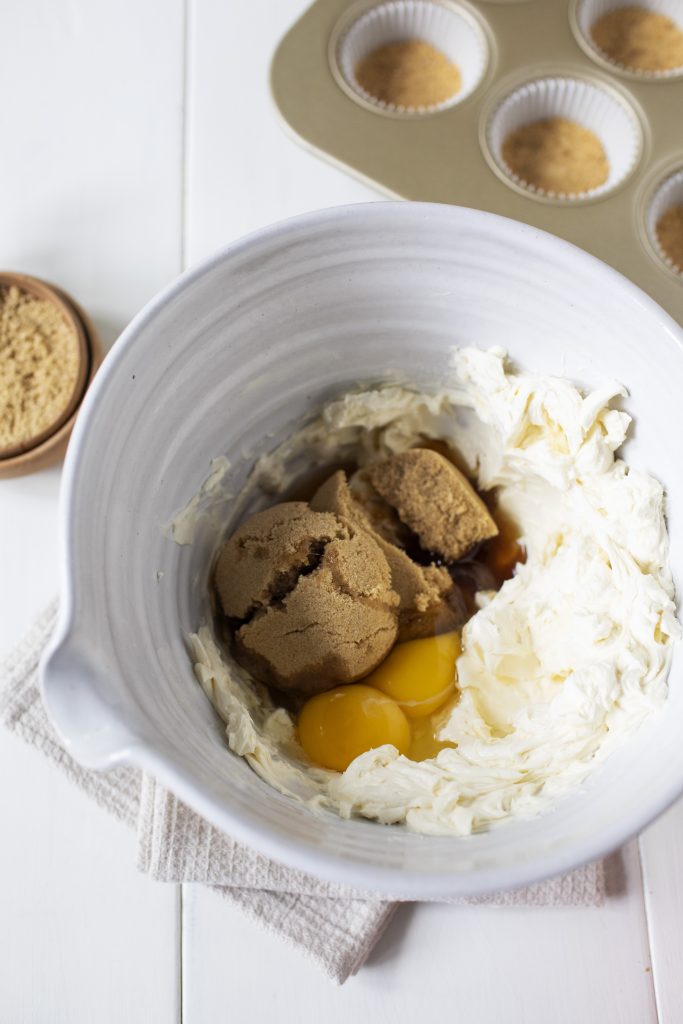 One of the key factors to ensuring the best possible cheesecake is to use ALL room temperature ingredients. A step that must not be skipped. Take the eggs & cream cheese out at least two hours before you plan to make these cheesecake bites. It will yield a much smoother batter without streaks of cream cheese.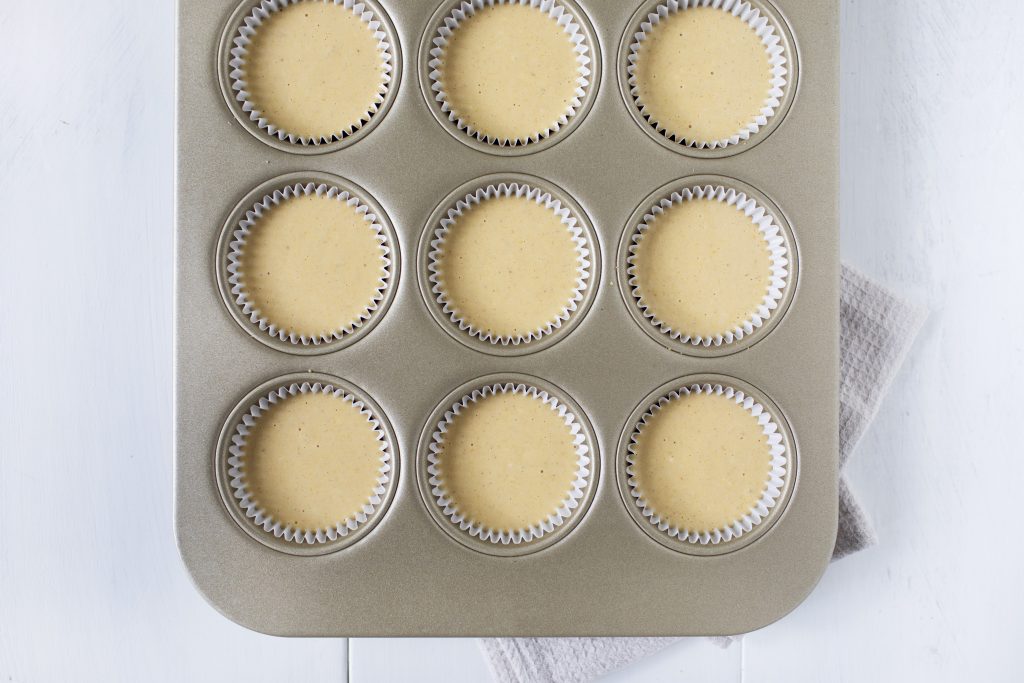 Lastly, always use full-fat boxed cream cheese. The cream cheese that comes in plastic containers is whipped & will yield a much different texture. For the caramel sauce I opted for store bought for simplicity, but if you are feeling adventurous a homemade caramel would be amazing too. These are good for up to 4 days in the refrigerator, making them my number one choice for a make-ahead dessert. Ok, let's get baking!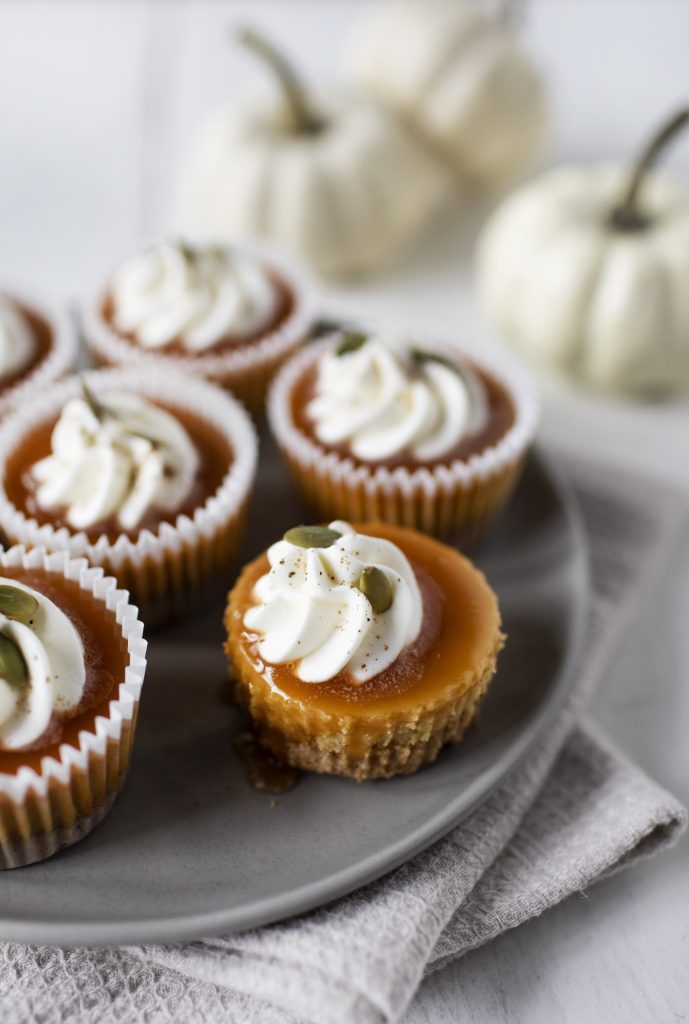 Pumpkin Cheesecake Bites
Ingredients
For the curst:
1 1/2 cups graham cracker crumbs
2 tablespoons brown sugar, packed
3 tablespoons unsalted butter, melted
For the filling:
2 8-ounce bricks full-fat plain cream cheese, room temperature
1 cup brown sugar, packed
2 large eggs, room temperature
1 egg yolk, room temperature
3 tablespoons pumpkin puree
1 teaspoon pure vanilla extract
1 tablespoon pumpkin pie spice
1 pinch fine salt
Caramel sauce, for topping
Whipped cream, for topping
Pumpkin seeds, to garnish
Directions
For the crust:
Preheat oven to 325(f) degrees. Line a 12-cup muffin pan with liners.
To a mixing bowl add the graham cracker crumbs, brown sugar & butter. Stir until combined.
Evenly divide the crust amongst the prepared muffin pan. Press down crust to shape & flatten. Refrigerate until ready to use.
For the filling:
In a large mixing bowl using electric beaters mix together the cream cheese & sugar until combined. Add the eggs & egg yolk one at a time, scraping down the edges of the bowl after each addition.
Add the pumpkin, vanilla, pumpkin pie spice & salt. Beat until smooth. Evenly divide the mixture amongst the prepared muffin pan, filling each liner roughly 3/4 of the way full. Tap pan on counter to remove any air bubbles from the batter.
Bake for 18 to 22 minutes, until the centre of the cheesecake puffs & has a slight jiggle.
Let cool completely before topping with caramel sauce, a dollop of whipped cream & a sprinkle of pumpkin seeds. Refrigerate until ready to serve.