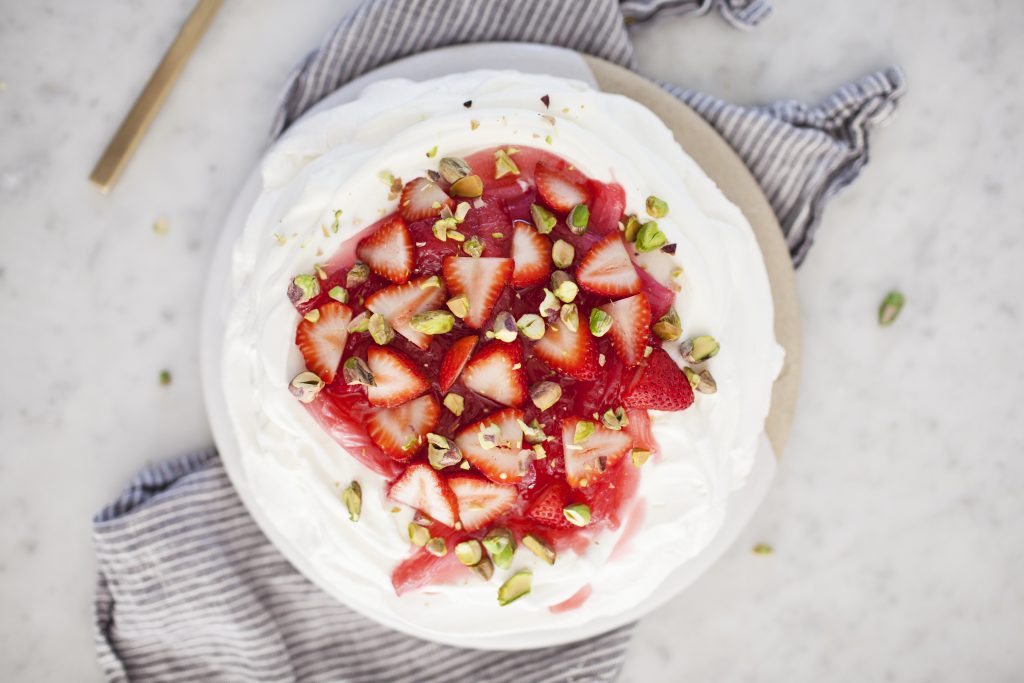 Though I am an avid lover of the Fall and Winter seasons, there is one thing I look forward to every Spring: the arrival of rhubarb.  Though many ingredients are in season during the warm months, but available year-round, rhubarb only makes an appearance in farmers' markets this time of year.  Last year we planted rhubarb in our own garden and crossed our fingers that it would blossom.  It has finally emerged from the ground and inspired me to roll out my rhubarb recipes.  I have several go-to rhubarb-based recipes, but the first one that came to mind when I pulled the fresh rhubarb from the garden was my pavlova.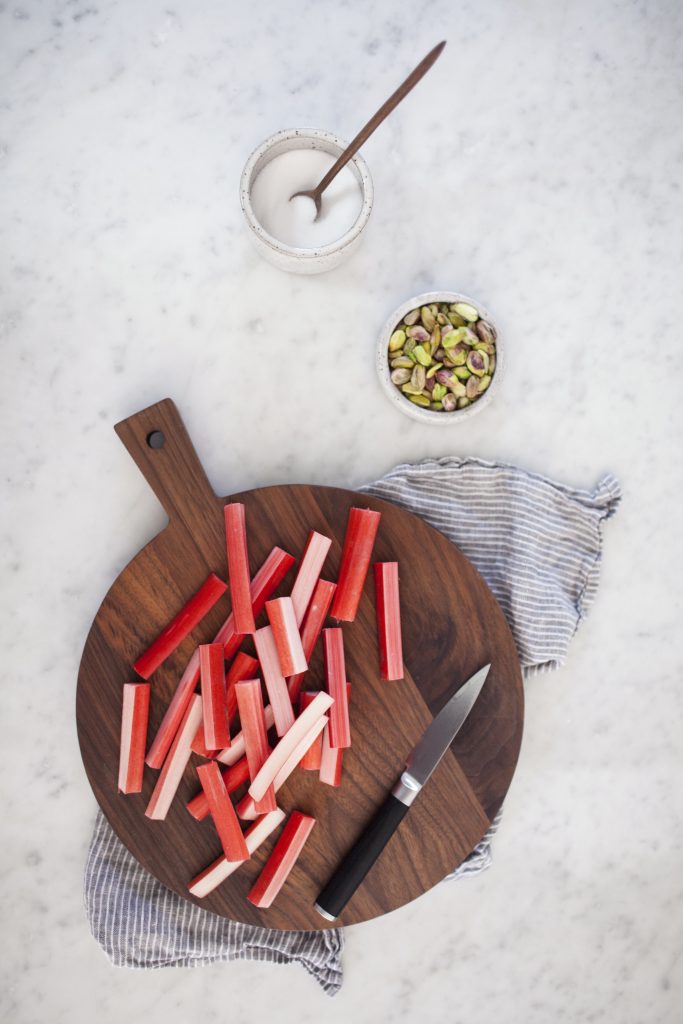 With the arrival of the warm weather we have entered BBQ season.  For me, this usually means family get-togethers with burgers, barbecued chicken, pulled pork, and sausages.  But even after a filling BBQ I find myself craving something sweet.  This is where the pavlova comes in.  It has the beauty and presentation of a cake with the lightness and airiness of a mousse.  Pavlova is a meringue based dessert with a crispy exterior & soft interior. Though it can be served in many ways, a fresh whipped cream and fruit topping really brings out its delicious flavours.  I like to include pistachios for an added crunch in every bite.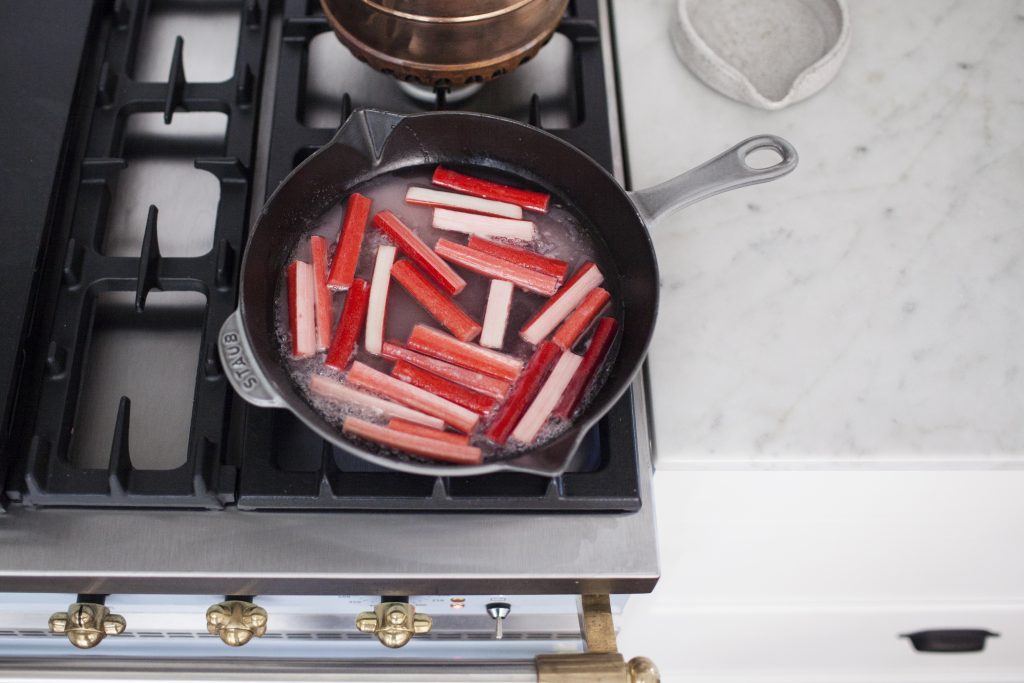 If you're craving something light and sweet after a savoury meal, consider this rhubarb pavlova.  Despite its simplicity to make, this dessert will turn heads with its elegance and leave people wanting more of the sweet-sour unique rhubarb flavour.  I am looking forward to a summer of rhubarb inspired recipes, starting with this one!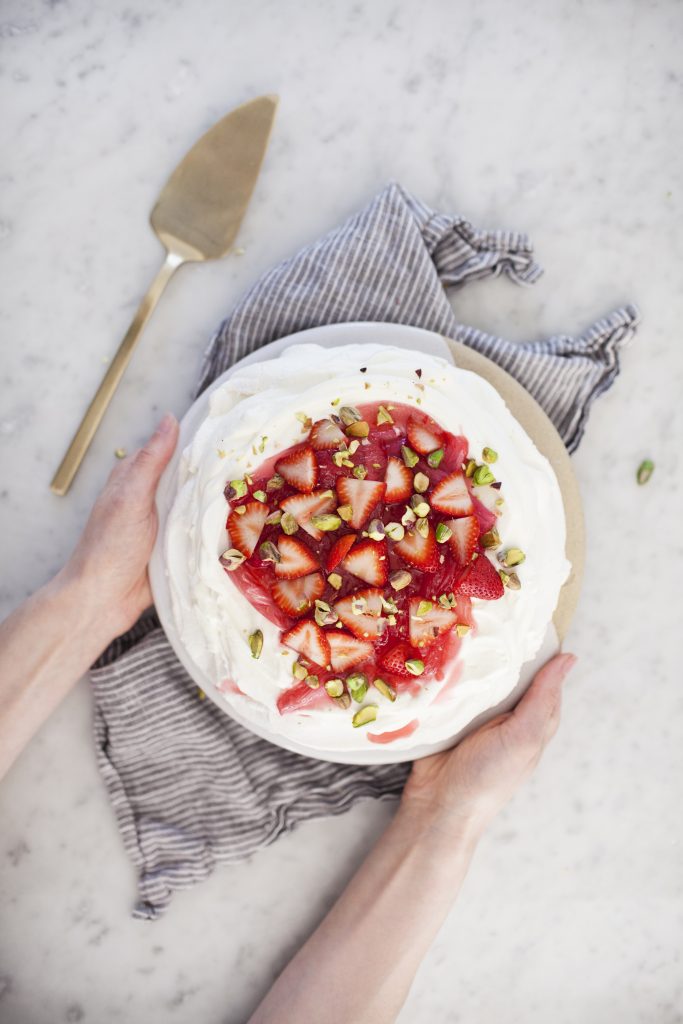 Ingredients

For the rhubarb sauce:

1 pound rhubarb, trimmed & sliced
1 pinch salt
3/4 cup sugar
1/4 cup water
2 tablespoons lemon juice
1 teaspoon vanilla extract

For the rhubarb pavlova:

4 large egg whites
1 pinch salt
1 cup sugar
1 tablespoon cornstarch
1 teaspoon vanilla extract
1 cup heavy cream
2 tablespoons sugar
1 teaspoon vanilla extract
rhubarb sauce, see recipe above
1/2 cup strawberries, thinly sliced
1/4 cup roughly chopped pistachios

Directions

For the rhubarb sauce:

In a saucepan over medium heat add the rhubarb, salt, sugar, water & lemon juice. Stir to combine.
Bring to a simmer & cook until the rhubarb softens, about 5 minutes.
Remove from heat & stir in the vanilla extract. Transfer to a bowl & let chill to room temperature. Set aside until ready to use.

For the rhubarb pavlova:

Preheat oven to 250 degrees & line a baking sheet with parchment paper. Using a pencil, draw an 8-inch circle on the parchment paper & turn sheet over. Use this as your guideline for the meringue layer.
In the bowl of a stand mixer fitted with the whisk attachment beat egg whites & salt to medium peaks.
Slowly add in the sugar, cornstarch & vanilla extract. Beat until stiff & glossy.
Transfer mixture to the inside circle on the parchment paper & spread to the outside edges. Smooth out the top creating a slight indent in the centre.
Bake for 90 minutes, turn off the oven & let stand for an additional 30 minutes. Remove from oven & transfer to desired serving plate.
Just before serving prepare the whipped cream layer. In the bowl of a stand mixer fitted with the paddle attachment add the heavy cream & whisk to soft peaks. Add the sugar & vanilla. Beat until firm ensuring not to over mix.
Using a spoon spread the top of the meringue with the whipped cream leaving a 1-inch boarder.
Finish with a layer of the rhubarb sauce spooned into the middle of the pavlova. Top with sliced strawberries & pistachios. Serve immediately.

https://french-barn.com/blog/food-wine/rhubarb-pistachio-pavlova

The French Barn - Blog