Happy Valentine's, friends! I am so excited to share these pretty in pink mini fluted cakes with you. This year, I am shaking things up a bit & creating a festive dessert that doesn't involve chocolate. The base of the cake is a vanilla pound cake spiced with ground cardamom & orange zest. The pink glaze is naturally coloured with freshly squeezed blood orange juice, which utilizes the best of winter citrus! With a touch of heart shaped sprinkles, this seasonal dessert is perfect for any Valentine's Day celebration!
To make the mini cakes I used a silicon mini fluted cake mold. Any 6 or 8 cavity mini bundt pan will do the trick, but you can find the exact mold I used here. If you are in a pinch & do not have time to locate a mini bundt pan, simply use a 12 tin cupcake tray. It won't yield the fluted cake shape, but the cakes will be just as delicious!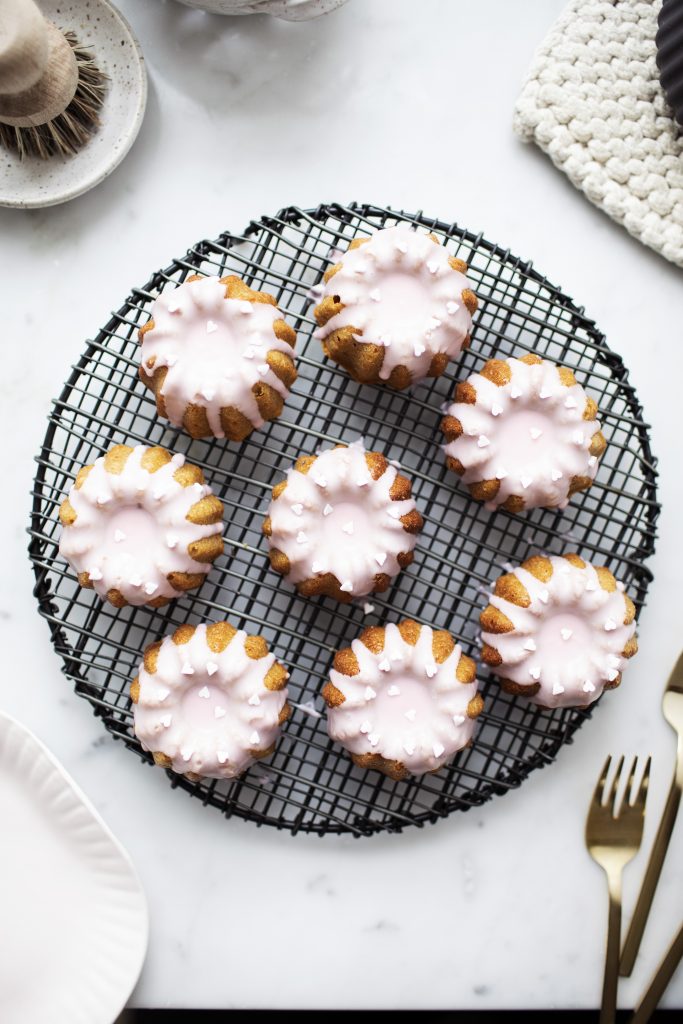 When utilizing cardamom in a dessert recipe, I find a little goes a long way. I prefer to use freshly grated cardamom as the flavour comes through so much better.
Happy baking, wish you a wonderful Valentine's!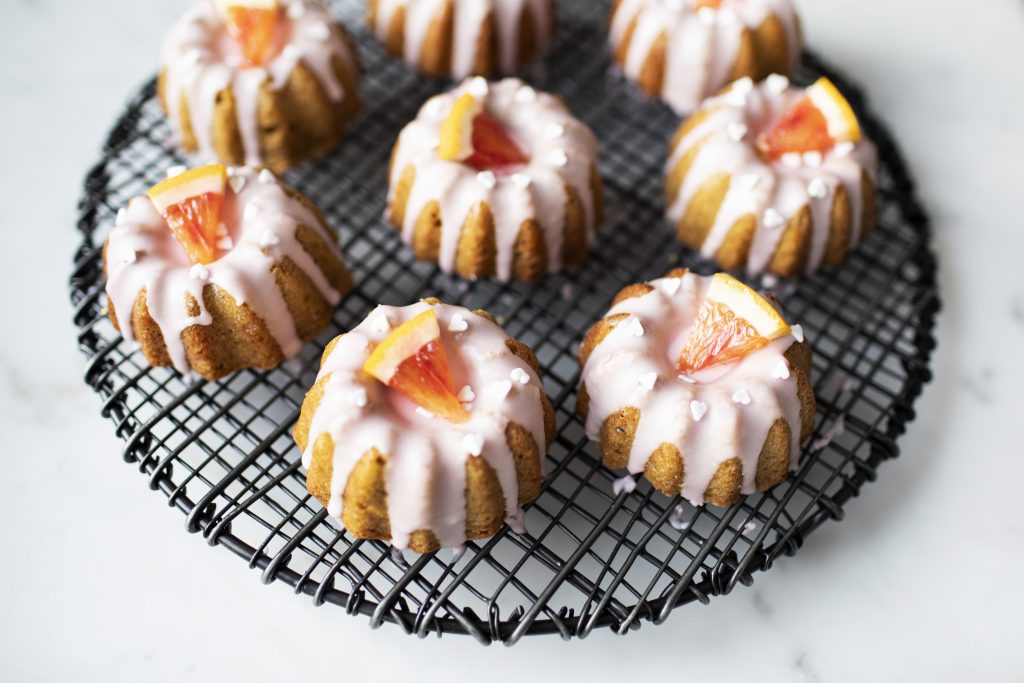 Blood Orange and Cardamom Mini Fluted Cakes
Prep time: 15 Minutes
Cook time: 20 Minutes
Serves: 8
Ingredients
For the cake:
1/2 cup unsalted butter, room temperature
1 cup brown sugar, lightly packed
2 large eggs, room temperature
1 teaspoon pure vanilla extract
2 tablespoons freshly squeezed blood orange juice
1 1/2 cups all purpose flour, sifted
1/2 teaspoon blood orange zest
1/2 teaspoon ground cardamom
1/2 teaspoon baking powder
1/4 teaspoon baking soda
1/2 teaspoon fine salt
1/2 cup whipping cream
For the glaze:
1 1/2 cups icing sugar, plus more as needed
1 tablespoon whipping cream
2 tablespoons freshly squeezed blood orange juice
Heart sprinkles, for topping
Directions
For the cake:
Preheat oven to 350 F degrees. Grease an 8 cavity mini fluted bundt pan.
In the bowl of a stand mixer fitted with the paddle attachment, cream butter & sugar until fluffy. Add the eggs one at a time, followed by the vanilla extract & orange juice.
Add the flour, orange zest, cardamom, baking powder, baking soda & salt. Beat until combined.
Turn the mixer onto low speed & slowly drizzle in the cream. Evenly divide mixture amongst prepared bundt pan, filling each cake 3/4 of the way full.
Bake for 20 minutes, or until the top bounces back to touch. Let cool slightly before removing cakes from the pan & transferring to a cooling rack. Prepare the glaze as the cakes cool.
For the glaze:
In a medium size mixing bowl whisk together the icing sugar, whipping cream & orange juice until smooth. If mixture appears too thick, add an additional teaspoon of orange juice until desired consistency is reached. If mixture appears too thin, add an additional tablespoon of icing sugar until desired consistency is reached.
Spoon mixture over the cakes & finish with heart shaped sprinkles!