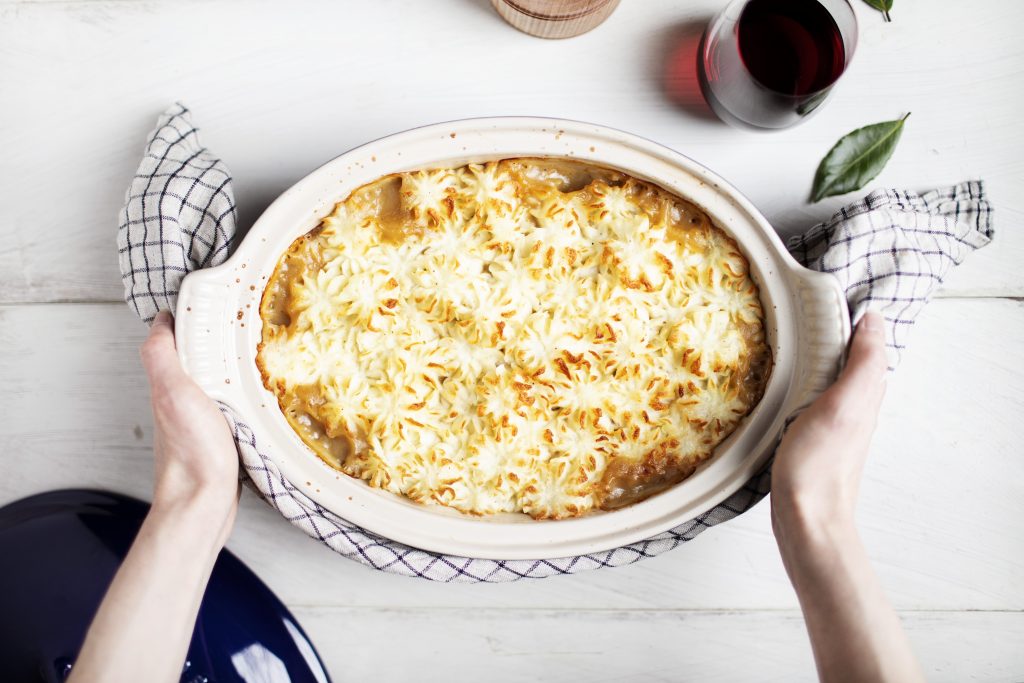 On a cold winter night, it doesn't get more comforting than this Hachis Parmentier featuring a beef & root vegetable stew as the base. Even though the holidays are over, Canada has a long winter ahead! One of my favourite things about winter is the slower nights & weekends spent in the kitchen, cooking up something a little extra special for dinner. This dish may take hours to cook & simmer away, but the end result is worth all the love that goes into making it.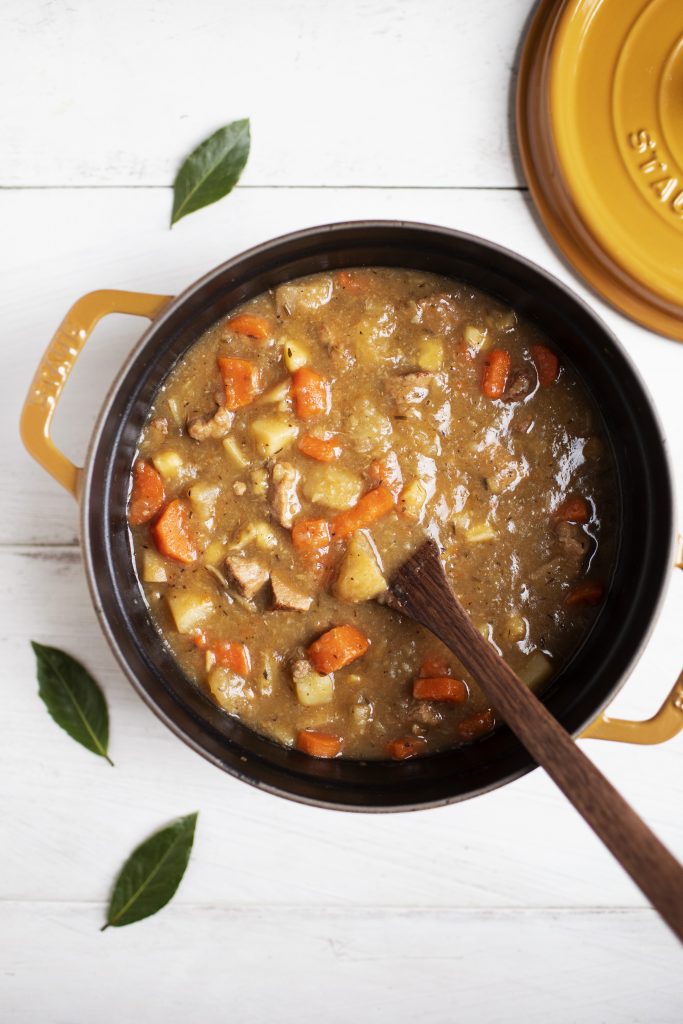 A Hachis Parmentier is the French version of a Shepherd's Pie. Although instead of using ground beef or lamb as the base, it is traditionally made with chunks of beef. It originated as a way of using leftover stew, but has evolved into a dish of its own!
For my take on the dish I created a (very) hearty stew featuring red wine, turnips, parsnips, carrots & potatoes. The carrots & parsnips yields a naturally sweet undertone to the stew. I highly recommend doubling the base recipe & enjoying it as a stew before turning it into Hachis Parmentier. The potatoes are made extra creamy so they are easy to pipe over the base, but feel free to skip the additional step of pipping & simply spread the mashed potatoes over the base with a fork before baking. Enjoy!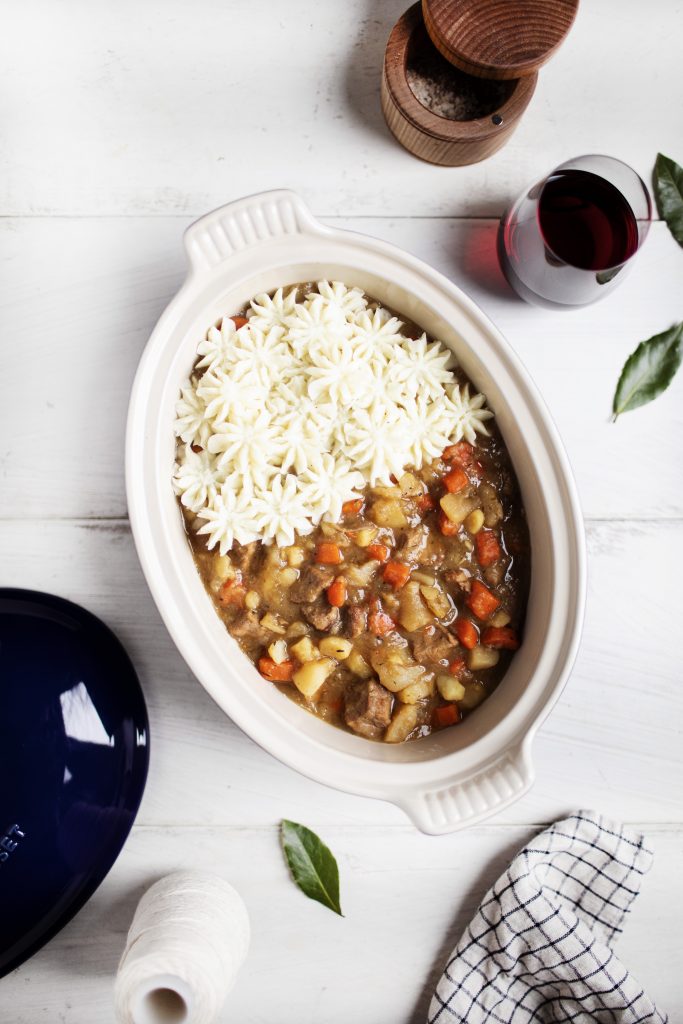 Root Vegetable Hachis Parmentier
Ingredients
For the filling:
2 tablespoons extra virgin olive oil
2 lbs stewing beef, cubed into bite size pieces
salt & cracked pepper, to taste
2 tablespoons unsalted butter
1 large onion, chopped
3 garlic cloves, minced
1 tablespoon fresh thyme, roughly chopped
1 teaspoon fresh rosemary, roughly chopped
2 fresh bay leaves
2 medium turnips, diced
2 carrots, peeled & diced
2 parsnips, peeled & diced
2 medium potatoes, peeled & diced
1 tablespoon tomato paste (optional)
1/2 cup quality dry red wine (such as pinot noir)
4 cups low sodium beef stock, storebought or homemade
1 tablespoon cornstarch
For the topping:
2 lbs potatoes, peeled & diced
1/4 cup unsalted butter
1/4 cup heavy cream
salt & pepper, to taste
1/4 teaspoon ground nutmeg
Directions
For the filling:
In a large pot over medium-high heat add the olive oil. Working in batches, sear the beef cubes on each side until browned. Season with salt & pepper. Transfer beef to a bowl & set aside until ready to use.
In the same pot add the butter, onions & garlic. Cook until the onions begin to turn translucent, about 5 minutes. Season with salt & pepper.
Add the thyme, rosemary, bay leaves, turnips, carrots, parsnips & potatoes. Cook for an additional 5 minutes, stirring occasionally.
Add the beef followed by the tomato paste, red wine & beef stock. Bring to a boil & immediately reduce to a simmer. Cover with lid & cook for 2 hours, until the beef is tender. Discard the bay leaves.
Remove a 1/4 cup of broth from the pot & whisk together with the cornstarch to create a slurry. Stir the slurry back into the pot & cook until the broth thickens, about 2 minutes. Remove from heat & transfer to a 9 by 12 inch baking dish. Set aside.
For the topping:
Place potatoes in a large pot & cover with cold water. Season generously with salt. Bring water to a boil & cook until the potatoes become fork tender, about 15 minutes.
Strain potatoes & place back in the pot. Mash in the butter, cream, salt, pepper & nutmeg until smooth.
Transfer potatoes to a large piping bag fitted with a star tip. Pipe in dollops over the filling.
Bake for 30 to 40 minutes at 375 degrees, or until the potatoes are golden brown. Serve warm.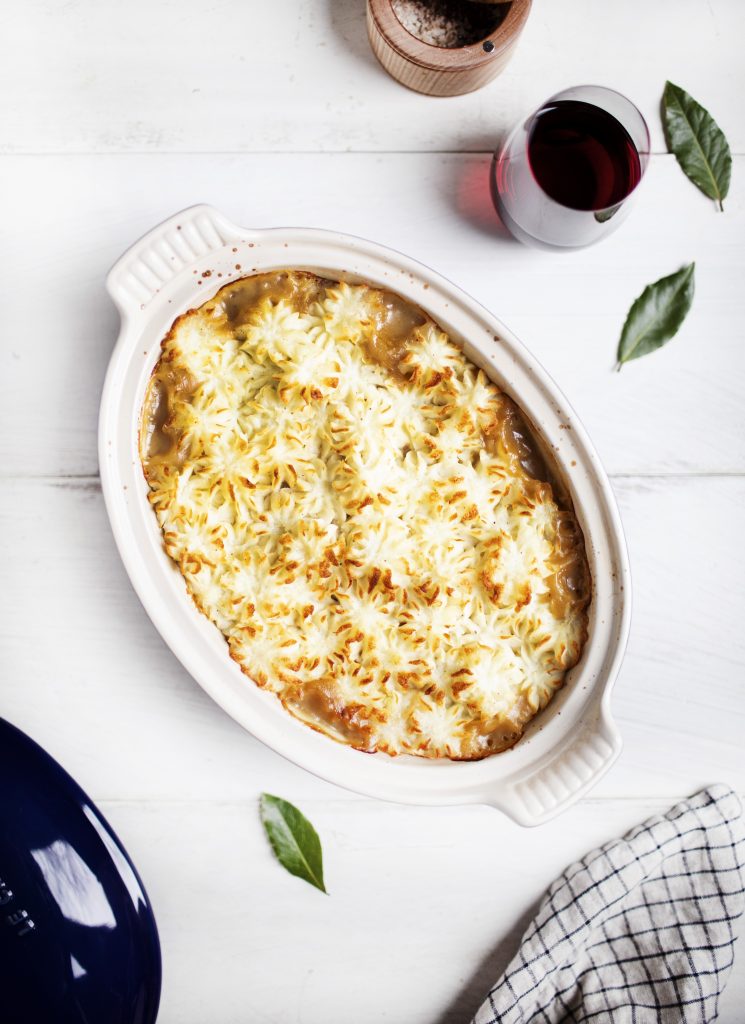 Note: For a lighter version of this recipe, try using diced chicken breast & chicken stock! The results will still be comforting & flavourful.