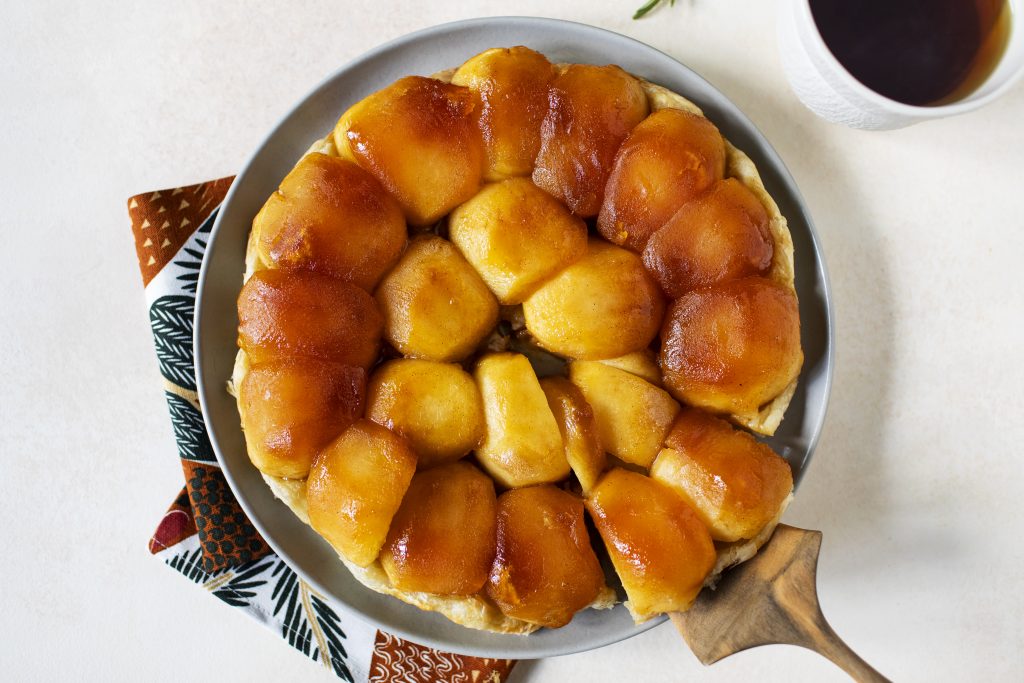 The classic Tarte Tatin originated in the Centre-Val de Loire of France & is named after the Tatin sisters who created this dessert. At the time it was the Tatin's signature dish at the Hotel Tatin, but it has now become a popular dessert for home bakers too.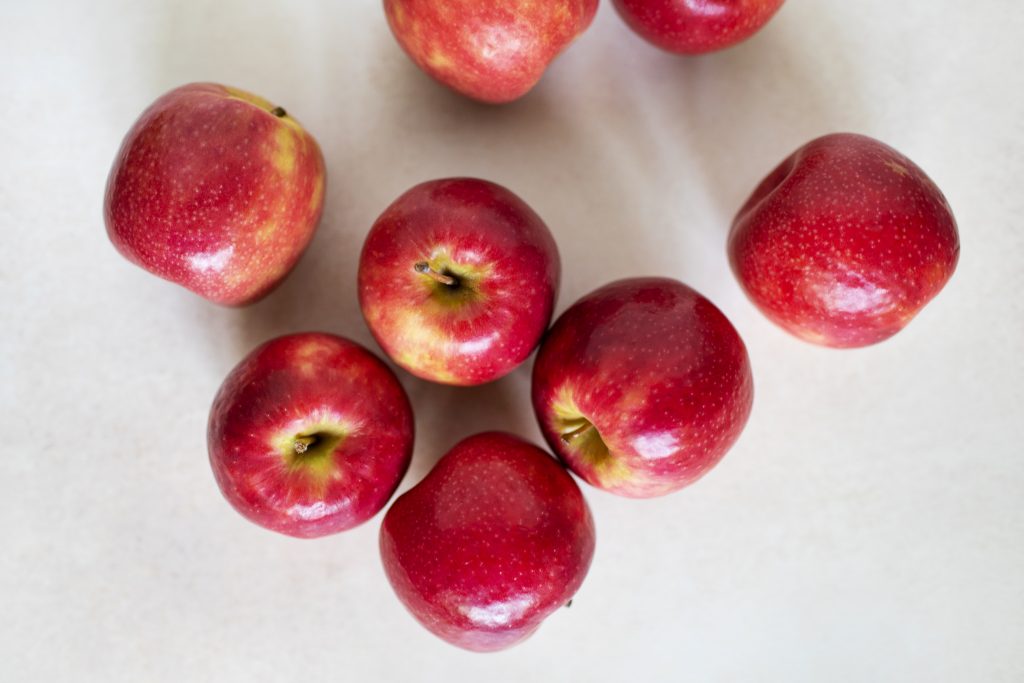 The recipe is essentially fruit that is caramelized in butter & sugar before being baked into a tart. This apple version is an autumn favourite of mine & features an earthy addition of fresh rosemary to the caramel sauce. A woodsy flavour that pairs perfectly with the autumn apples!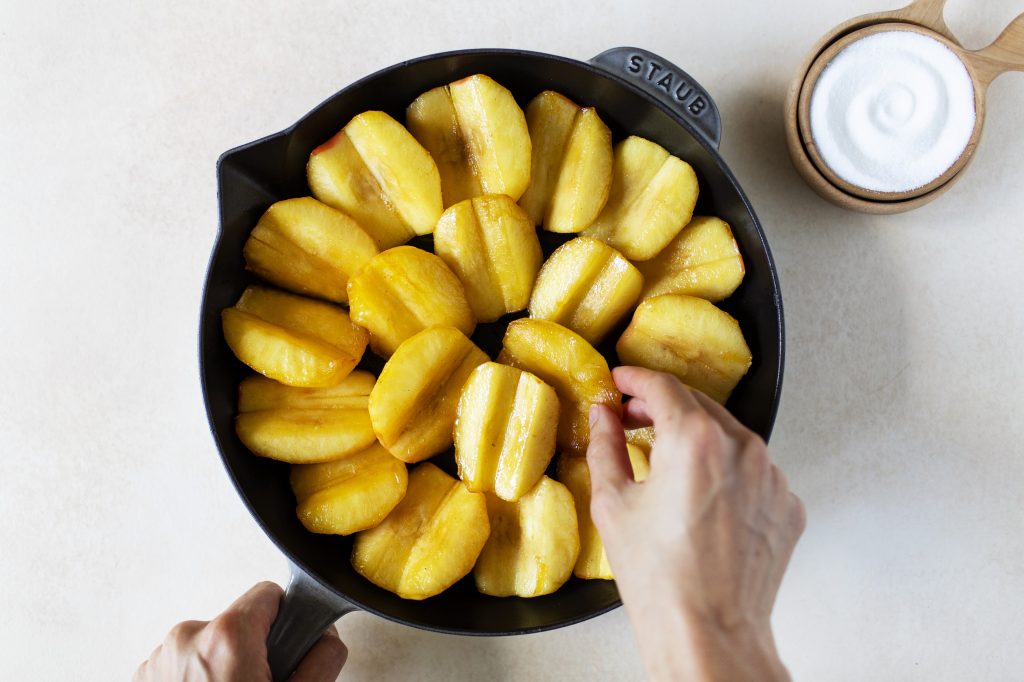 The crust is a sheet of puff pastry, which can be store-bought or homemade. Some versions use a standard pie dough as the crust, but I love the flakiness the puff pastry gives the tart.
It is important to use a very firm apple in this recipe, otherwise you risk the fruit becoming mushy & not holding its shape (similar to when baking an apple pie). I prefer to use Pink Lady apples, but granny smith or gala are great alternatives too!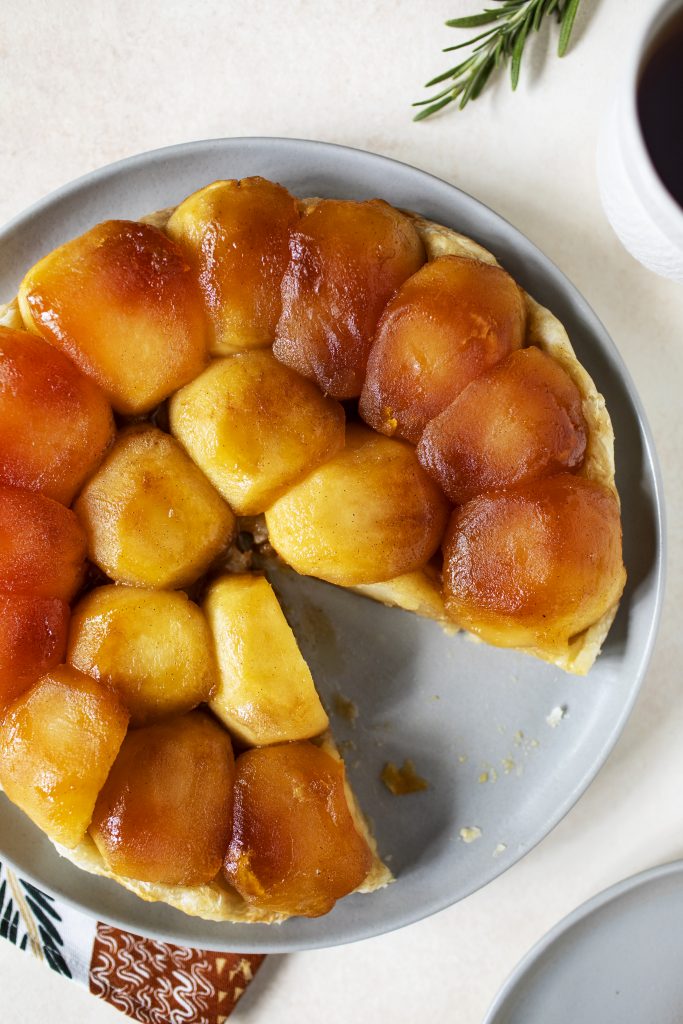 Lastly, the dish can be baked in a heavy bottom oven safe skillet or standard pie dish. Be sure to use a separate pan to make the caramel apples in, as it is much easier to assemble the apples in the clean skillet. Happy autumn baking!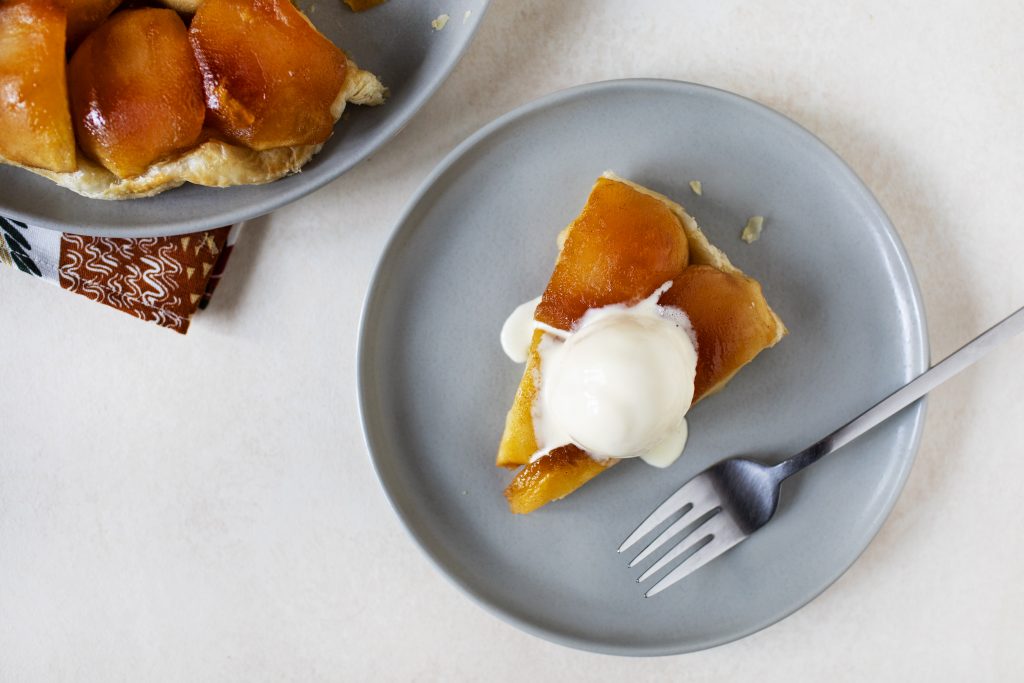 Rosemary & Apple Tarte Tatin
Ingredients:
8 medium to large pink lady apples, peeled
2 tablespoons lemon juice, freshly squeezed 
3/4 cup granulated sugar
1/4 cup unsalted butter, cold & cubed
1/2 vanilla bean, split lengthwise
2 to 3 sprigs fresh rosemary 
1 sheet frozen puff pastry, thawed
Vanilla bean ice cream, for serving (optional)
Directions:
Preheat oven to 400(f) degrees. Peel apples, slice them into thirds at the core & remove remaining seeds. Transfer to a large bowl & toss with lemon juice to prevent browning.
In a large skillet over medium heat add the sugar, but do not stir. Cook until it starts to liquefy at the edges, about 4 minutes.
Once the sugar begins to melt, whisk into a caramel sauce & remove from heat. Add the cubed butter & swirl until butter fully melts.
Place the skillet back on the stove over low heat. Add the vanilla bean, rosemary & apples. Toss the apples in the caramel & continue cooking until the apples begin to soften, about 10 minutes.
Remove from heat & let cool slightly. Transfer the cooked apples slice side up in an oven safe heavy bottom skillet, arranging them in an overlapping circular pattern.
Strain remaining caramel sauce & pour over the apples.
Roll out puff pastry to a 12-inch circle & top the apples with the pastry round, tucking under the edges.
Bake for 30 to 35 minutes, until the pastry is golden brown. Let cool for 30 minutes before flipping onto a serving plate. Slice & serve with a scoop of ice cream.