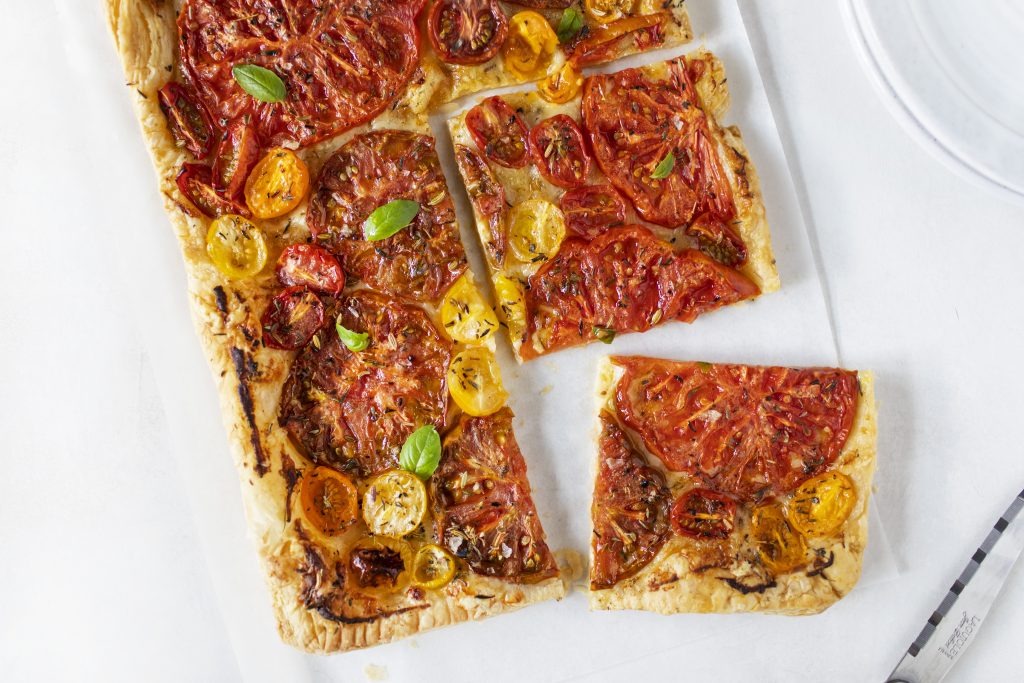 This vibrant & colourful tomato tart is so versatile for summer! It can be served straight from the oven as a seasonal & elegant appetizer for al fresco dining. Wonderful served with a crisp white wine! It can also be sliced, packed & enjoyed at room temperature for a summertime picnic.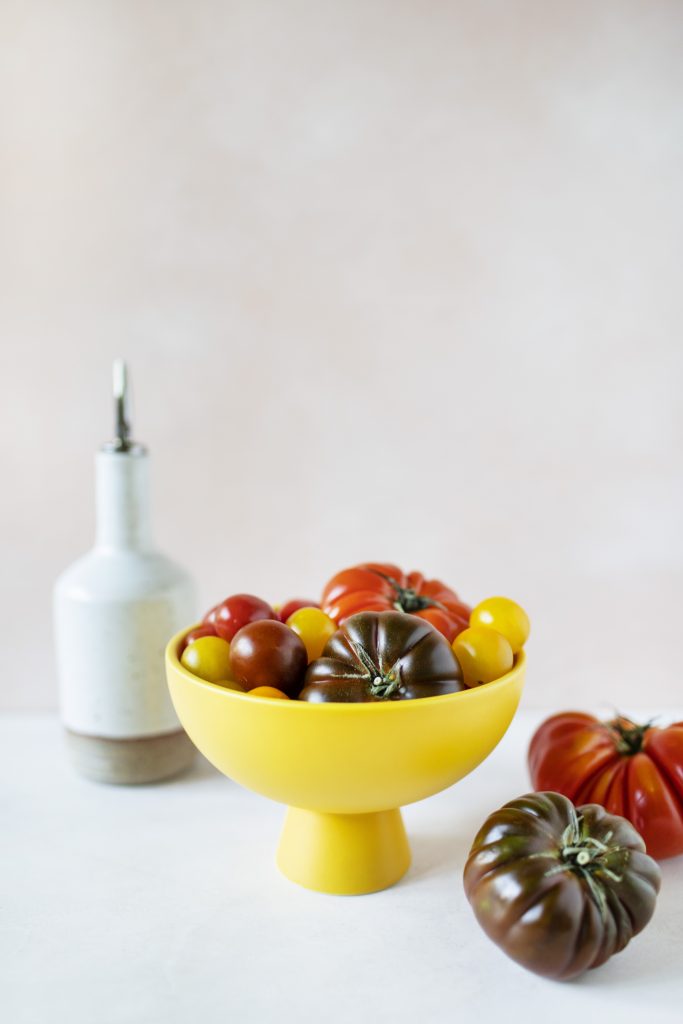 I love using a mix of heirloom beefsteak & cherry tomatoes. The various colours & sizes are equally beautiful as they are flavourful. The herb seasoning is a traditional Herbes de Provence, which is a blend of rosemary, thyme, fennel, savoury & lavender. You can find an authentic blend online (as I did) or make your own!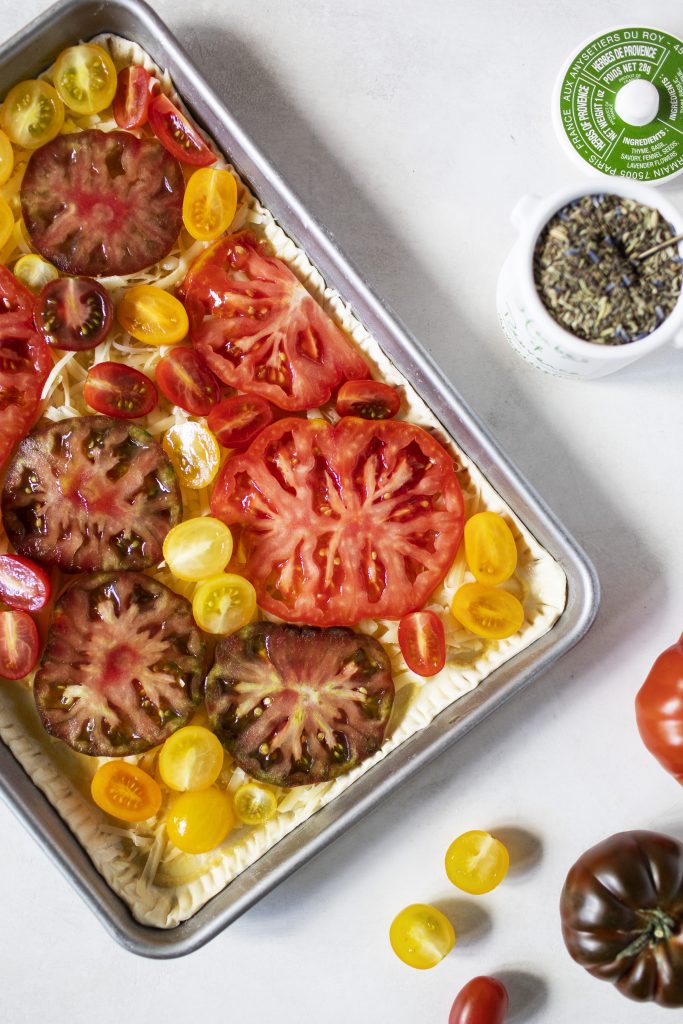 Lastly, I highly recommend using an all-butter based puff pastry (instead of shortening) which can be found in the freezer section of a specialty grocery store. Any frozen puff pastry will work, but the all-butter version yields so much more buttery flavour & maximum flakiness.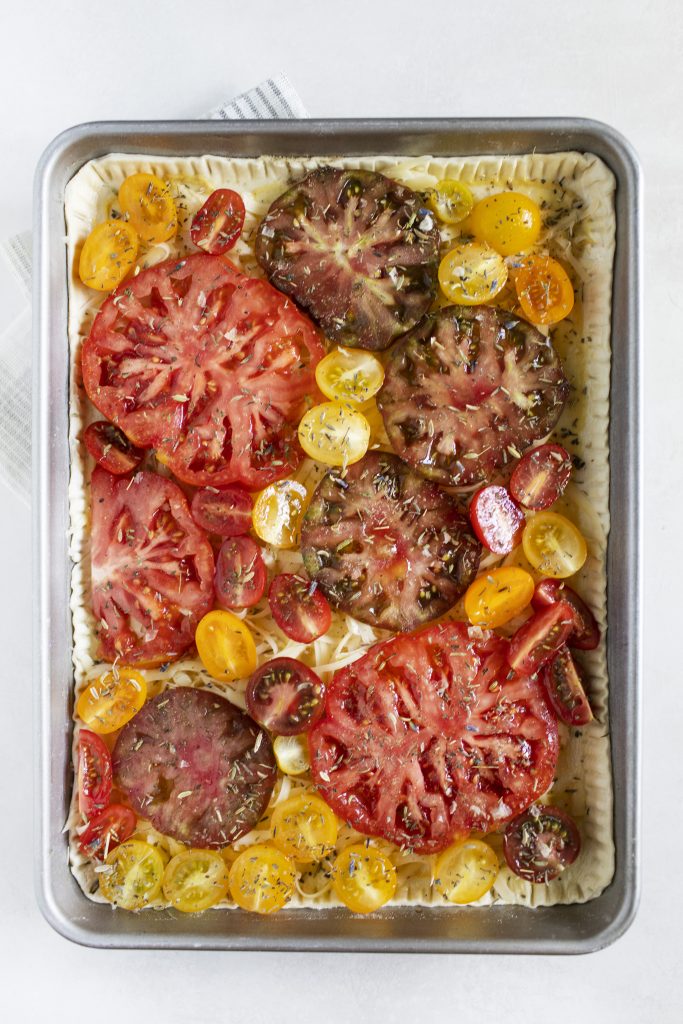 Cheers to summer & the most wonderful time of year.. sun-ripened tomato season!
Tarte à La Tomate
Ingredients:
1 sheet all-butter puff pastry, thawed
2 tablespoons dijon mustard
2 tablespoons extra virgin olive oil, divided
3/4 cup grated gruyere cheese
2 cups heirloom tomatoes (mix of beefsteak & cherry), sliced
3 teaspoons Herbes de Provence
Flaked salt & freshly ground pepper, to taste
Fresh basil, to garnish
Directions:
1. Preheat oven to 425(f) degrees. Line an 8 by 12-inch baking sheet or tart pan with parchment paper.
2. On a lightly floured surface roll out puff pastry to an 10 by 14 inch rectangle. Trim edges.
3. Brush with olive oil followed by the dijon mustard. Top with an even layer of gruyere cheese followed by the tomatoes. Arrange in single layer with the different colours scattered throughout.
4. Drizzle tomatoes with remaining olive oil. Finish with herbs, salt & pepper. Bake until the crust is puffed & golden, about 25 minutes.
5. Garnish with fresh basil & enjoy!