If you're staying in a vacation rental property during your holidays in France and you love cooking, you'll definitely want to check out the local market. Although supermarkets do hold a great deal of fascination for me when I travel, nothing beats a great farmers' market.  Here are some tips to help you make the most of the French market experience:
Location, location, location!
Before you leave, try to find out where the nearest market is located. Quite often, the market takes place only once a week and there's nothing more disappointing than finding out you missed it by a day (or a few hours as has been the case for us a few times!). Jours de Marché is a useful resource for finding your closest market.
Planning is essential
If you're like me, you'll have your vacation well-planned long before you leave. This is especially important during the summer in France where you'll often find yourself up against (sometimes lengthy) summer closures, closures for no specific reason ("fermeture exceptionnelle") or "summer hours" at markets or stores. So just as you do for other holiday activities like tours, museum and gallery visits, plan your meals. If you're hoping to check out some local restaurants during your stay, book those in advance, and if you plan on cooking in your vacation rental, sit down with a calendar and figure out exactly how much food you need to buy (it's probably much less than you think and definitely less than you will want to buy!)
Shop small, shop often
When shopping at the local markets, do as the French do and buy smaller quantities of food (especially fruits and vegetables) a few times a week.  When you look around a market and all the produce, meat, bread and dairy looks so tempting, it's easy to go overboard, but try to keep in mind how many meals you are actually preparing (see: Planning is essential) and shop accordingly.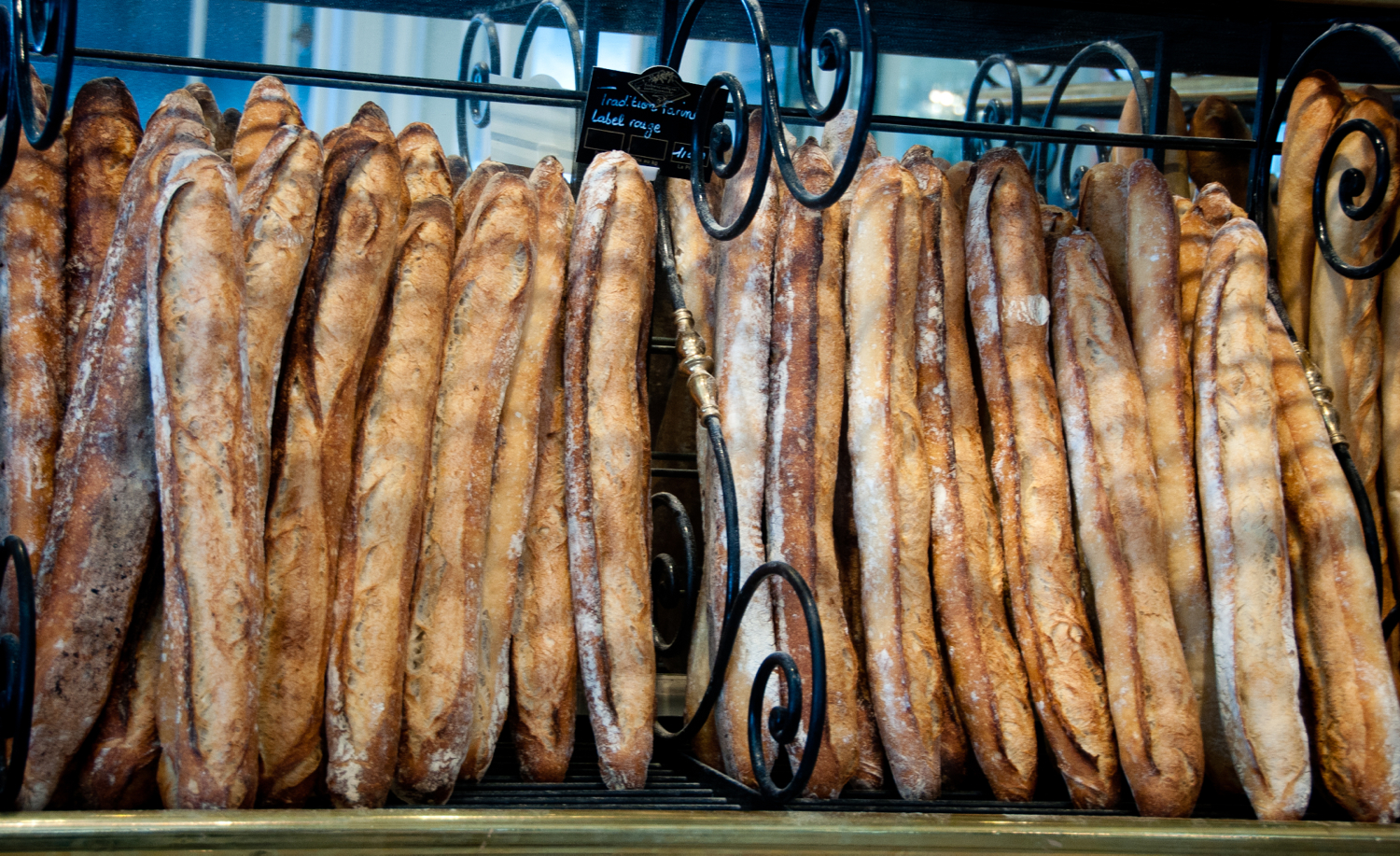 Market etiquette
Market day in France is part of the French way of life. There are a few basic rules to stick to if you want to blend in with the locals.
Don't forget to bring a bag or basket. While your purchases will most likely come bagged or wrapped, it's useful to have a large reusable shopping bag or basket to carry them in. Many markets will sell baskets that make fun (albeit bulky, trust me, I know!) souvenirs in case you forget.
Get there early. If you are at the market to shop and you want to experience it in a more leisurely fashion (and really have time to scope out the offerings), try to arrive early in the morning as opposed to mid-morning when the market will be busier and more difficult to navigate. I like to try to check out all the stands before I buy anything (and keep my eye on the busiest ones as they likely have the best goods!) so arriving early is a must. I mean, if you're finished shopping early, you can just go to a café and enjoy a coffee and croissant as you watch the world go by. Best entertainment ever!
Be patient. For many people, market day is more than just the day in the week when they shop. It's a time for socializing and catching up on local gossip. Be prepared as locals chat with vendors (quite often about whatever they are buying – they might well be a lengthy discussion comparing these strawberries to those strawberries) and don't be in a hurry. Transactions (and making your way through the market) will take as long as they take, there's no way to hurry them along.
Look for the queue. Each stand will have its own queue, make sure you look for it and join the end instead of stepping up to the front immediately. It will give you some time to contemplate your purchases and practice your French in your head!
Learn some lingo. As well as the obligatory "Bonjour Madame/ Monsieur" and "Merci, bonne journée", the most important phrase I learned in my first year living in Paris was "C'est pour aujourd'hui/ demain" when I was chatting with the cheesemonger or when I was buying avocadoes or melons at the market. Trust your vendor to know what will be ready to eat and when – they are rarely wrong!
Ask before you touch! Nowadays, many produce vendors will allow you to choose your own from the stand (usually signaled by the presence of colourful plastic bags adorning the stands) but a polite "Je peux?" with a hand gesture indicating you choosing your own produce will never be out of place. If in doubt, hang back and watch what other people do!
Think metric! If you're only buying a small amount of something, it's useful to know what you need in grams.
Enjoy!
Treat the market as you would any other experience on your holiday – something to be savoured and enjoyed. It's not "just shopping" it's a way of life. Buying smaller quantities of fresh, local produce every couple of days is definitely something my time in France allows me to do, and something I strive to do more of here in Toronto. Shopping often, shopping locally, preparing simple, good food from-scratch and truly slowing down to appreciate it more – what could be better?