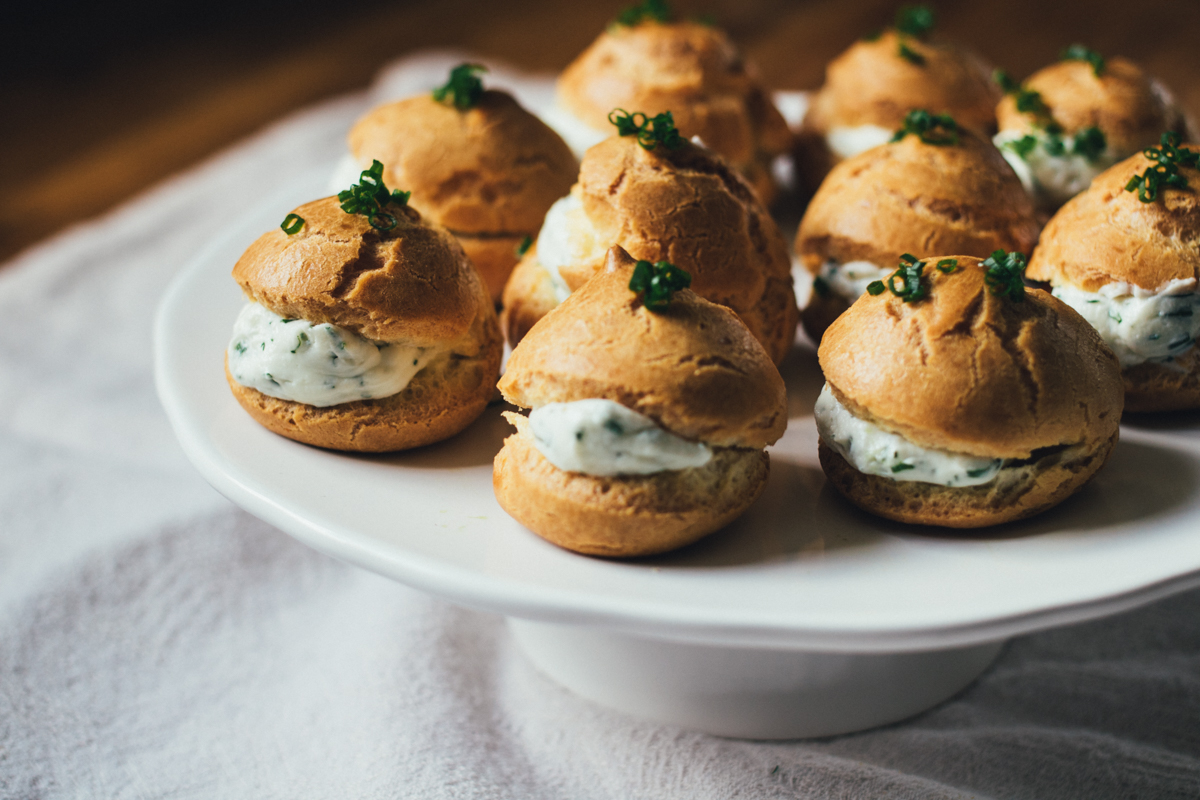 Chives are the first sign of green that I usually see in the garden. Their perky green tips peek out of the ground as soon as the snow melts, letting us know that spring is finally here. While it takes a little while for them to grow big enough to harvest, I always associate those first spring days with chives and other fresh herbs that are soon to come from the garden. There's still some time to go before I can harvest anything from my Toronto garden, but it doesn't stop me from getting excited about spring and incorporating fresh herbs wherever I can.
Today's herb-filled appetizer is perfect for the spring holidays and relatively simple to make. I did a little twist on gougères, which are savoury choux pastry puffs, commonly made with the addition of grated cheese. Instead of adding cheese to the pastry, I decided to whip up some ricotta and soft-ripened goat's cheese, mix in some fresh herbs, and use the mixture to fill the hollow little puffs instead. They are super cute and are light and airy bites of tangy cheese, fresh herbs, and soft buttery pastry.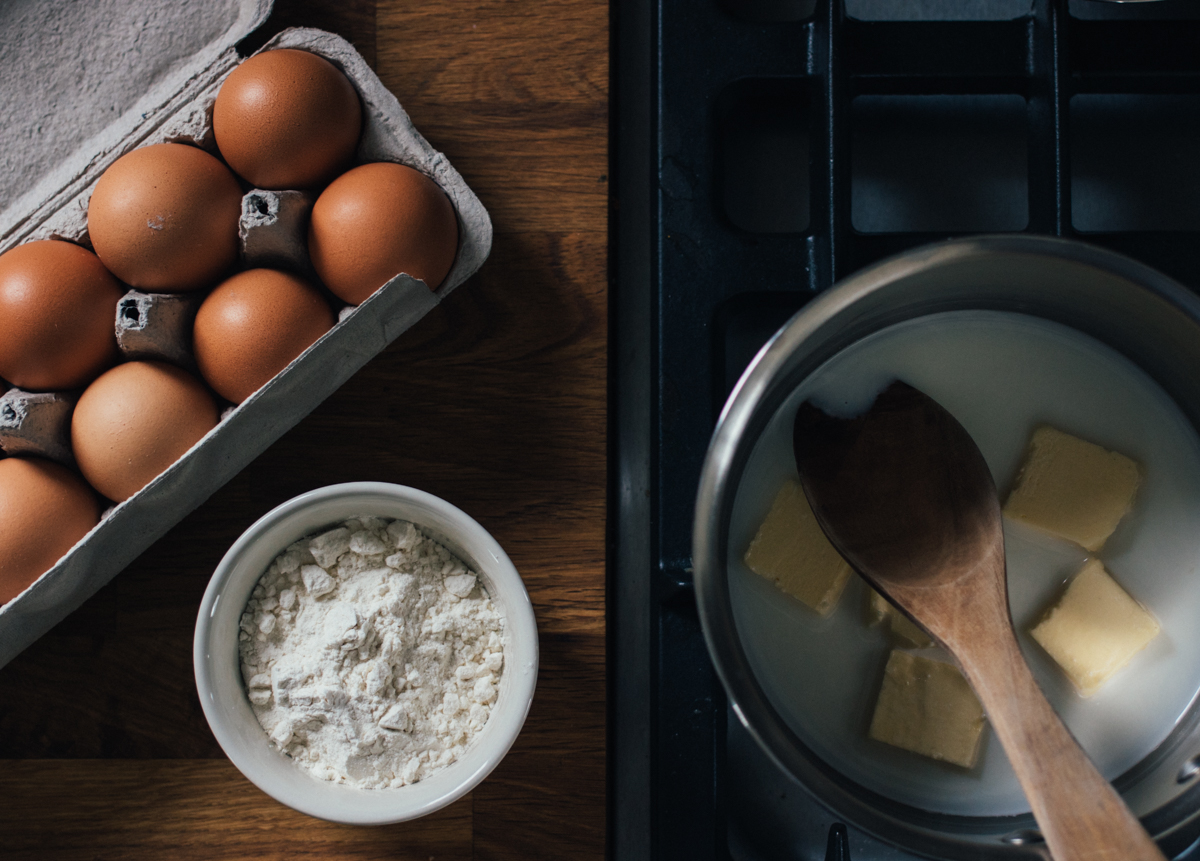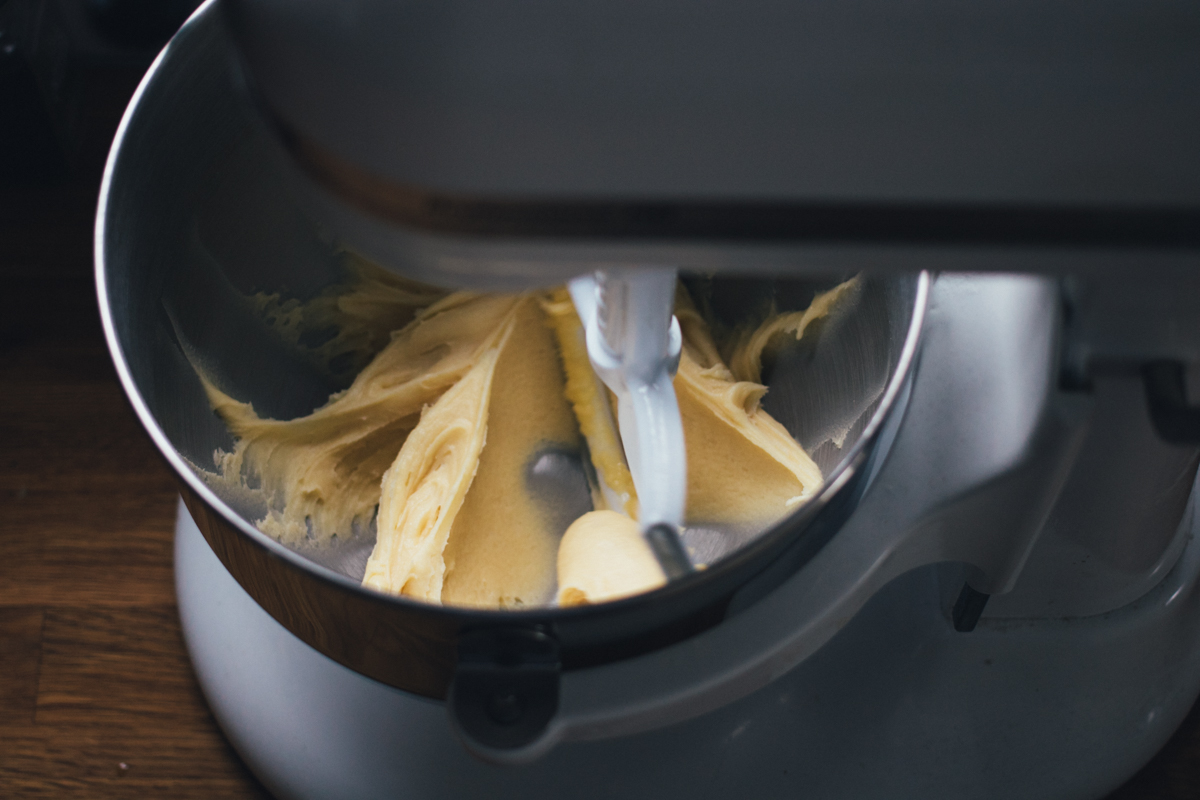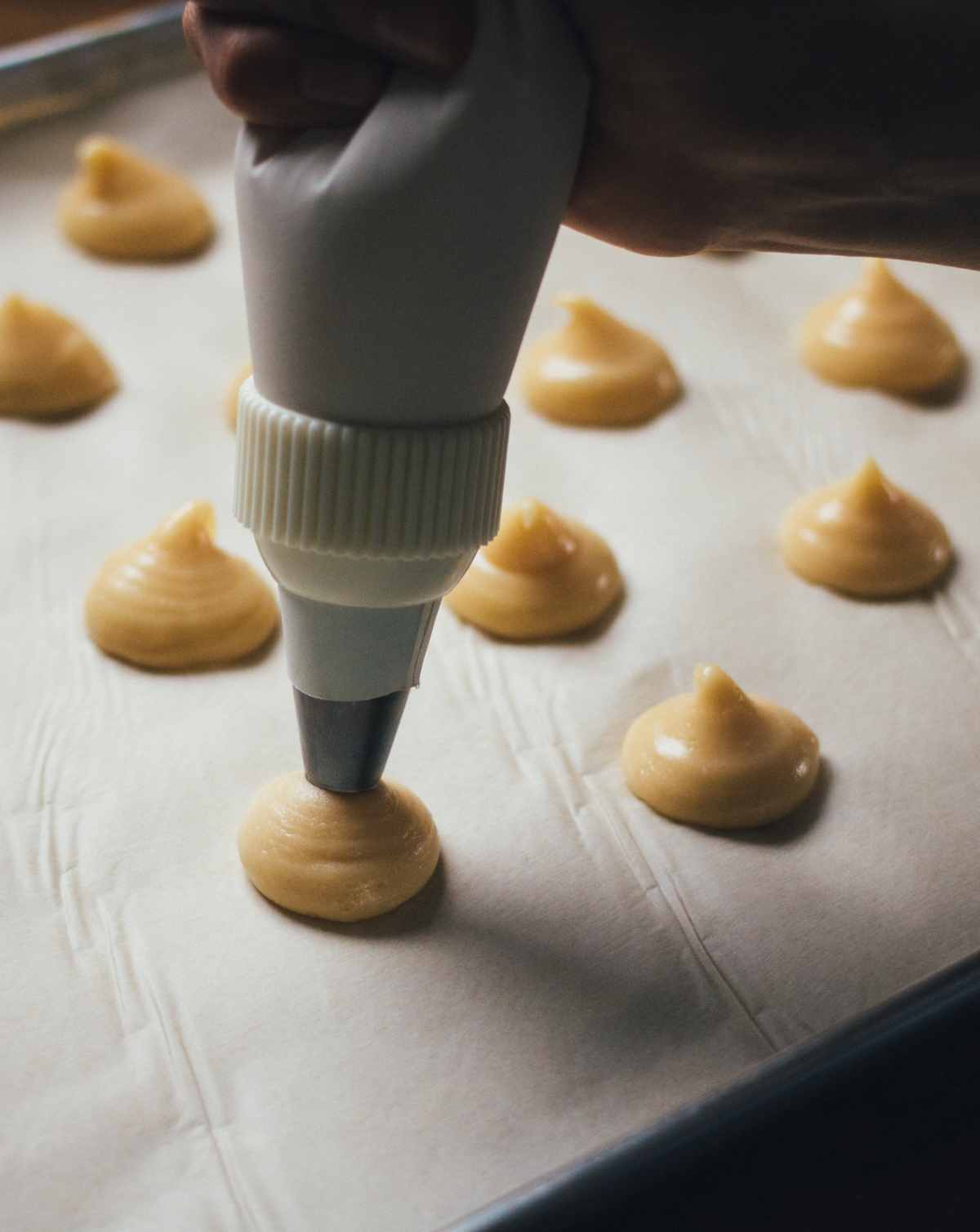 Choux pastry (pâte à choux) used to intimidate me, not because it was difficult by any means, but because it was made quite differently from the pastry I was used to making. Unlike pie or tart pastry dough, which is usually kept as cold as possible, choux pastry dough is cooked on the stove top before the eggs are mixed in. There is some magic that happens when the flour is cooked, allowing for a relatively high proportion of liquid to be absorbed by the dough. When the puffs are finally baked, the liquid generates steam, which is what makes them rise so dramatically and forms the hollow centre. Choux pastry is used in many French desserts as well, so it's totally worth learning how to make. Once you're a pro at gougères, making eclairs, profiteroles, French crullers, beignets, and many others will be a breeze.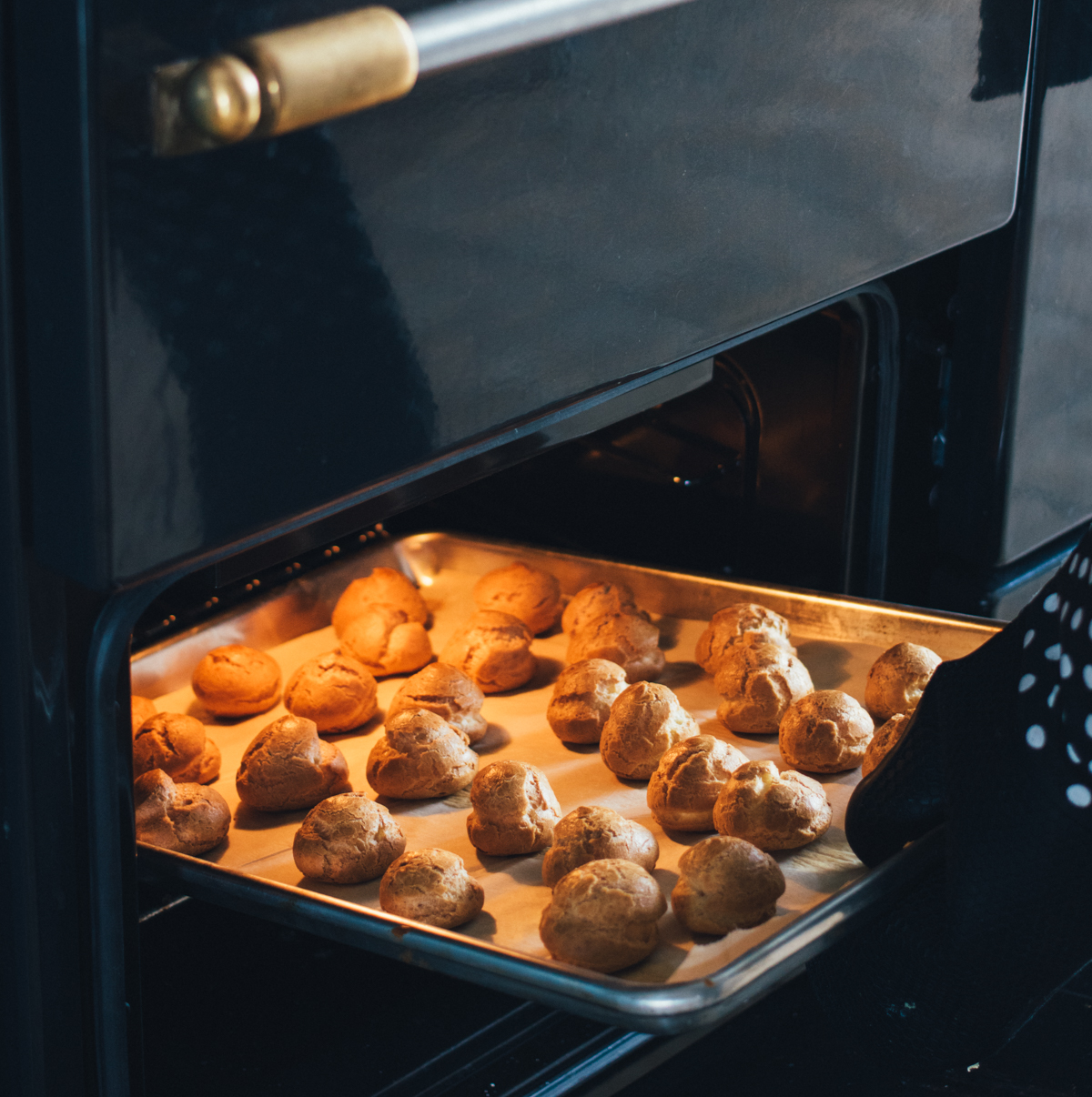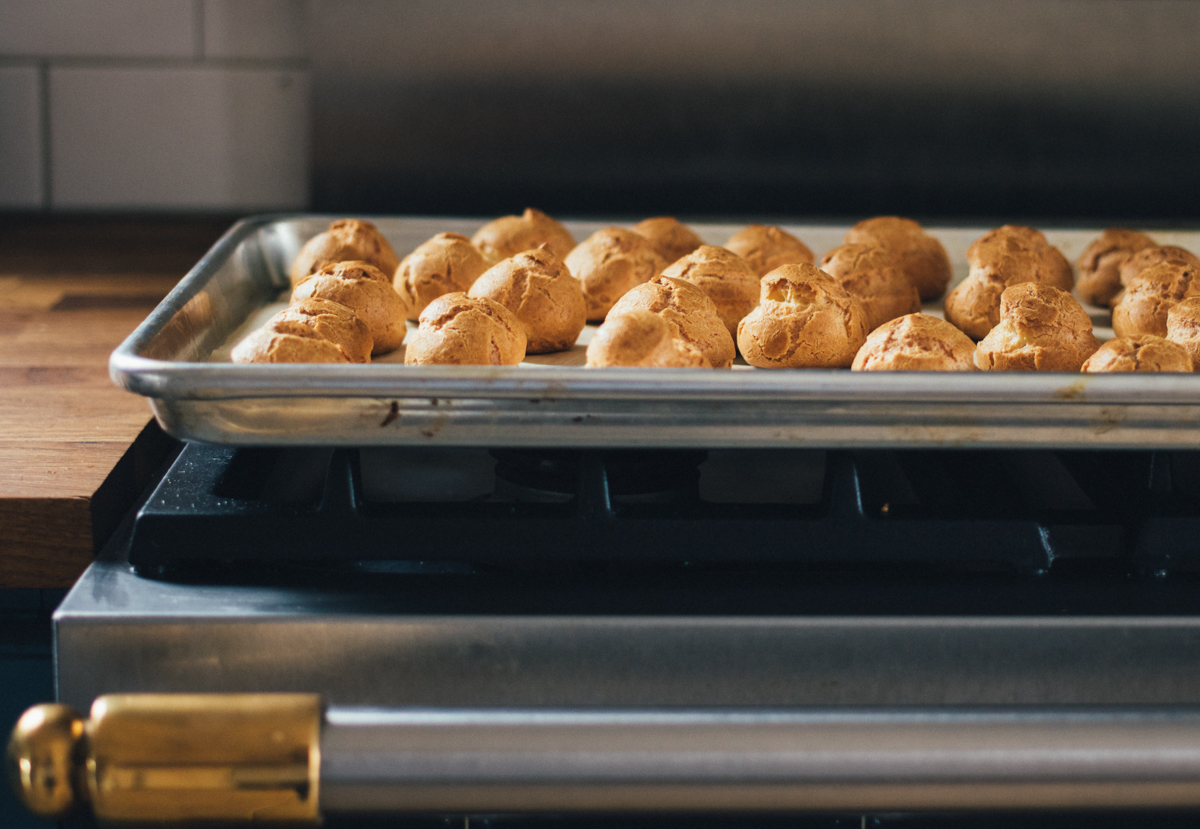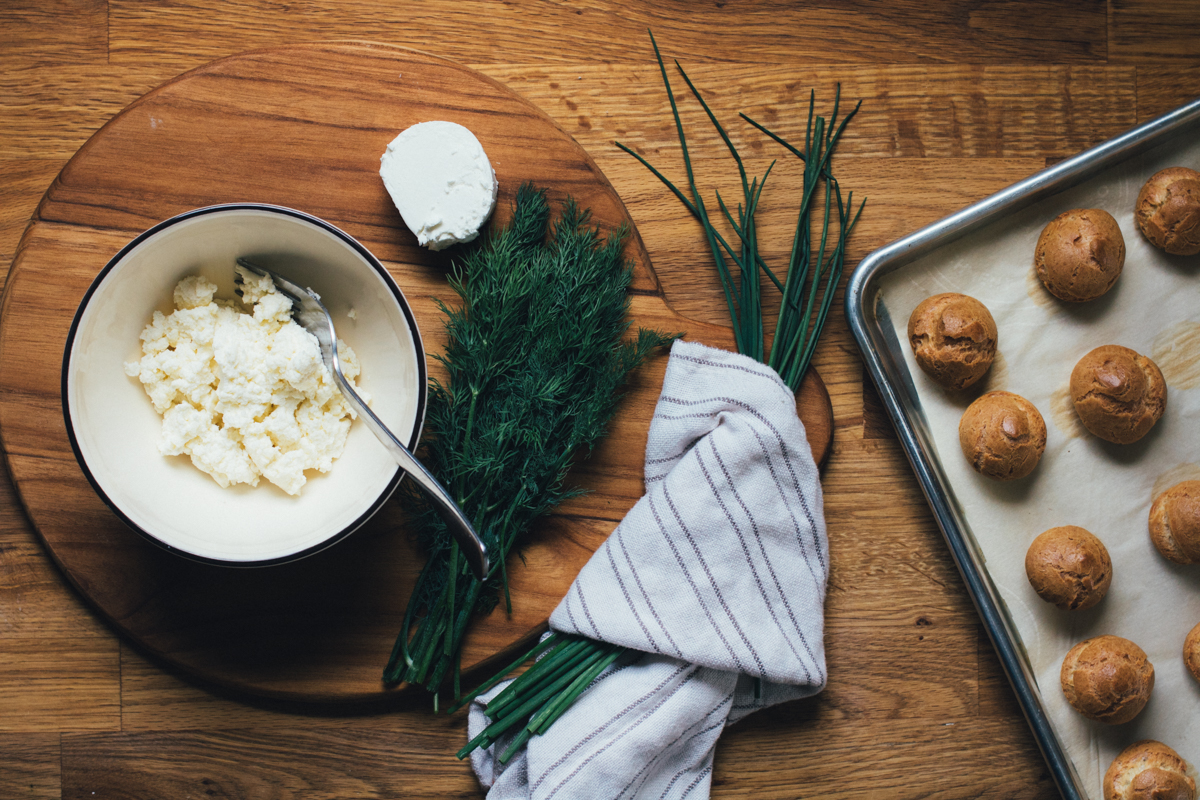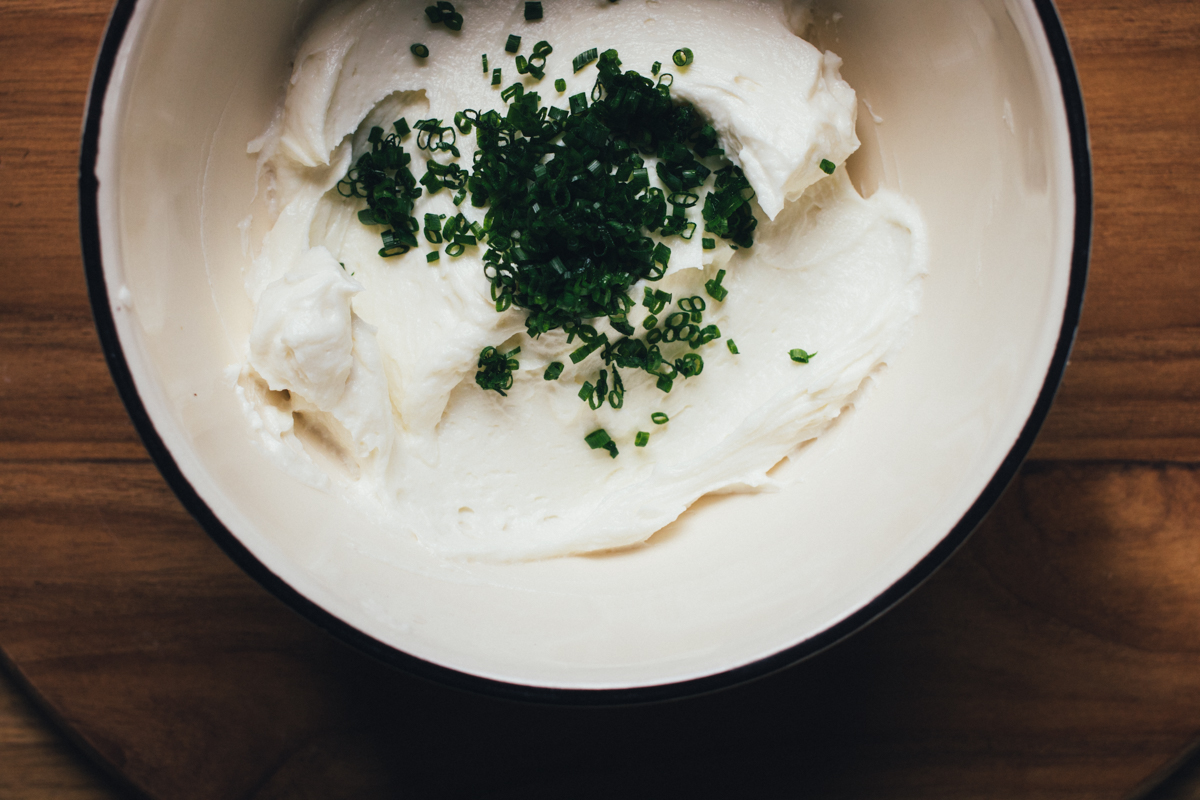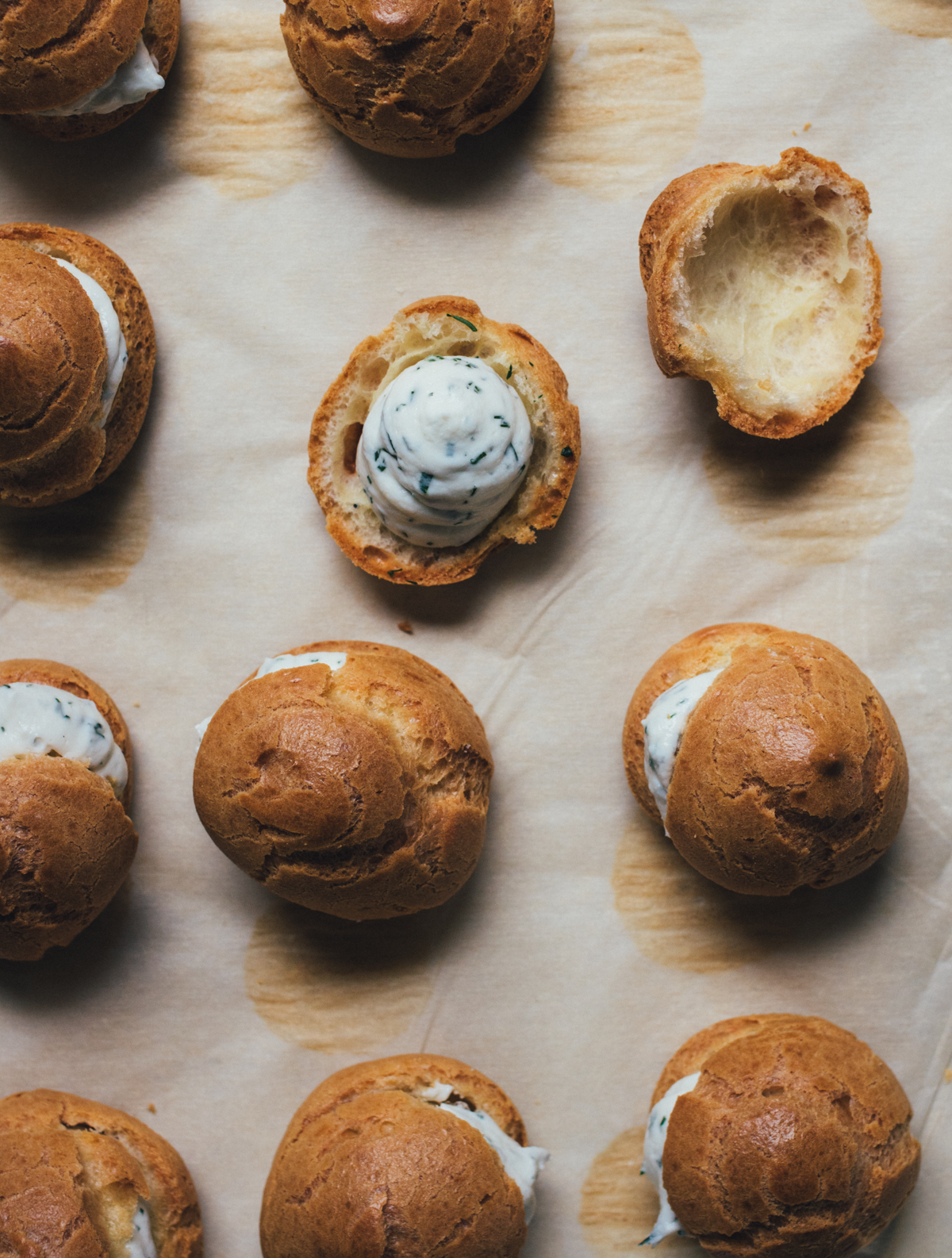 Ingredients
Gougères

1/4 cup of water
1/4 cup of whole milk
1/4 cup (1/2 stick) of unsalted butter, cut into pieces
1/4 teaspoon salt
1/2 cup all-purpose flour
2 large eggs

Chèvre and Herb filling

1-1/3 cup full-fat ricotta
2/3 cup soft goat's cheese
2 Tbsp. finely chopped chives, plus more for garnish
2 Tbsp. finely chopped dill
salt and pepper, to taste
Directions
Preheat the oven to 400°F.
Place the water, milk, salt, and butter in a small pot and heat on high until it boils.
Bring the heat down to low, add in the flour, and mix with a wooden spoon until all the liquid is incorporated.
Continue mixing, while cooking over low heat for a few more minutes. The batter should be smooth and almost shiny when it's ready.
Transfer the batter to a stand mixer fitted with a paddle attachment and mix for a few minutes to let it cool and release any steam.
Add the eggs in, one at a time, waiting until the first egg is fully incorporated before adding the second.
Line a baking sheet with parchment paper.
Use a teaspoon or a piping bag to drop little 1-inch dollops of dough onto the baking sheet, spaced about 1 inch apart. If using a piping bag, use a wet finger to press down on the tips.
Bake for 25 - 30 minutes, until the gougères are golden. In the meantime start preparing the filling.
Combine the ricotta and goat's cheese in the bowl of a food processor and process until smooth.
Mix in the chopped herbs by hand (do not process).
Taste the mixture and season with salt and pepper. Set aside.
When the gougères are finished and cooled, slice them in half.
Spoon or pipe about 1 Tbsp. of the filling into the bottom halves, and cover with the top half.
Garnish with chives and serve right away.
Notes
The gougères and filling can be made up to one day in advance. Store the gougères at room temperature in an air-tight container, and store the filling separately in the fridge.
https://french-barn.com/blog/food-wine/desserts/whipped-goats-cheese-gougeres
The French Barn - Blog