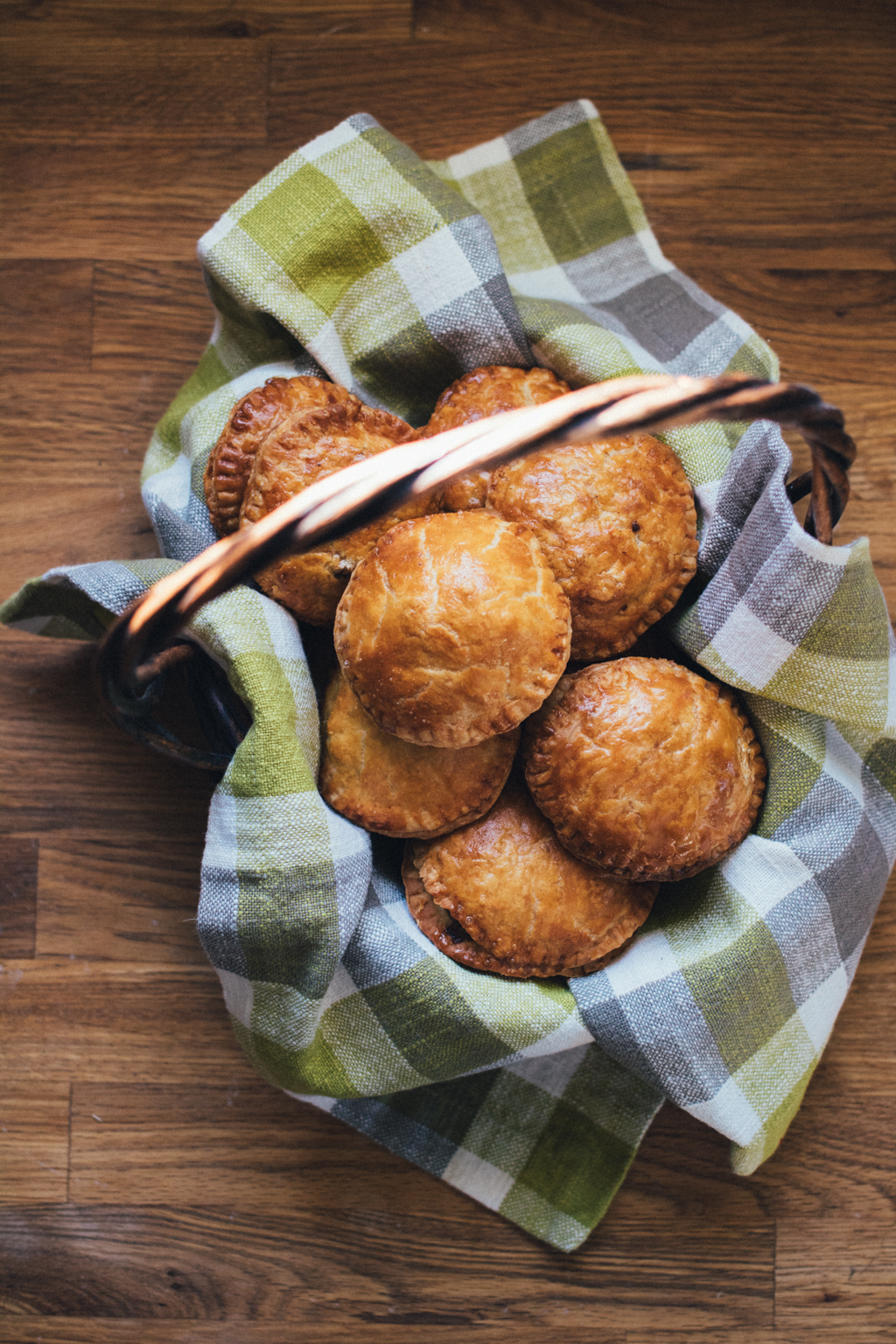 I've seriously embraced making comfort food this winter, learning to bake a decent loaf of sourdough bread, making pies and pastries, and ensuring an ongoing supply of chicken or beef broth for soups and stews of all kinds. While my inner gardener is always looking forward to spring, I try to be mindful of the pleasures of winter. Cranking up the oven for a few hours to bake bread warms up the kitchen, slowly simmering soup on the stove for a day fills your house with a wonderful smell and some much needed humidity, and spending some quiet time baking savoury pastries is the best therapy for getting through the cold season.
While I'm obviously super excited that it's already March, it seems like there's still a little bit more winter in our Canadian forecast before it takes a warmer turn, so the baking continues. Today I'm sharing a hand pie recipe, perfect for early spring gatherings, and inspired by the French-Canadian classic, tourtière.
Tourtière is traditionally made as a deep dish pie, with chopped meat (incl. game meats), potatoes, herbs, and spices. It's rich and satisfying, often served during the winter holidays, but I decided to try to a lighter and more portable version, with the upcoming spring holidays in mind.
I used ground beef vs. chopped meat to simplify the process and make the filling a little bit leaner and lighter for spring. You can use your choice of ground meat, perhaps replacing the beef with a blend of pork and poultry or adding a little bit of ground lamb or venison to the beef if you want to add some more traditional gamey flavour. Potatoes are starchy and help bind the filling, and fresh chillies are always welcome for an extra kick. The hand pies can be made in advance, they keep well for a few days in the fridge and can be reheated in the oven. They're pretty great with a side of blended vegetable soup, or on their own as an appetizer.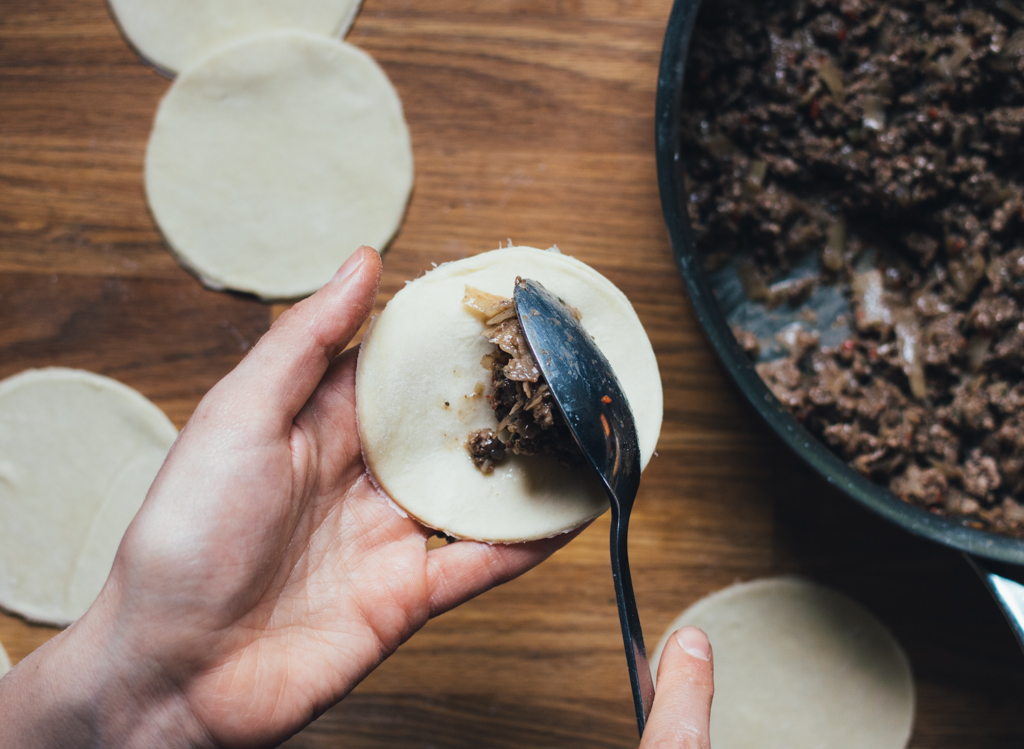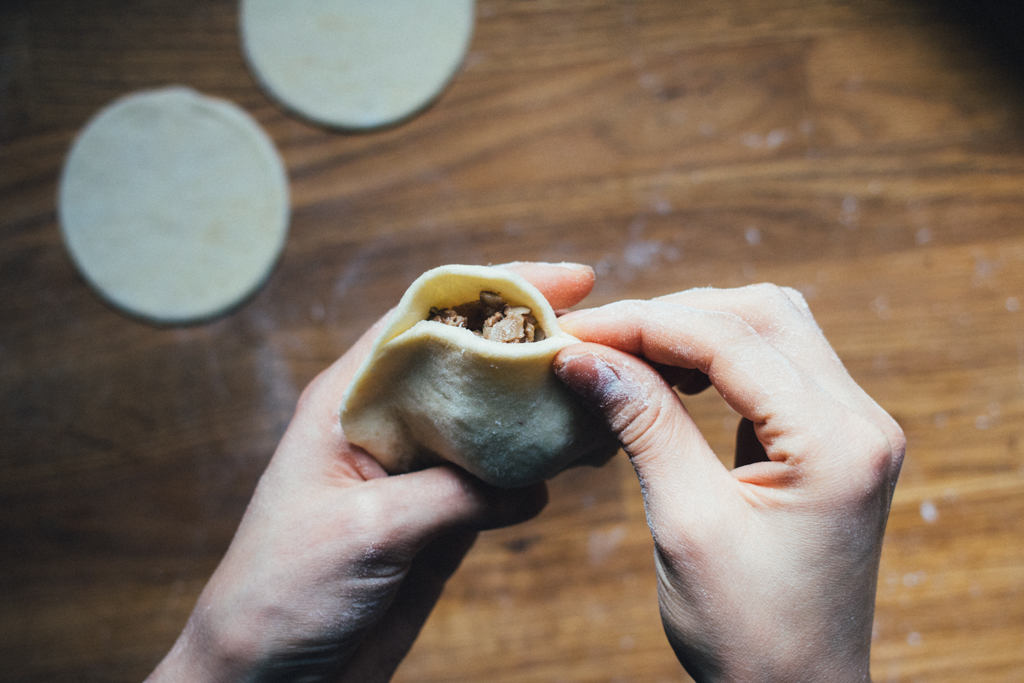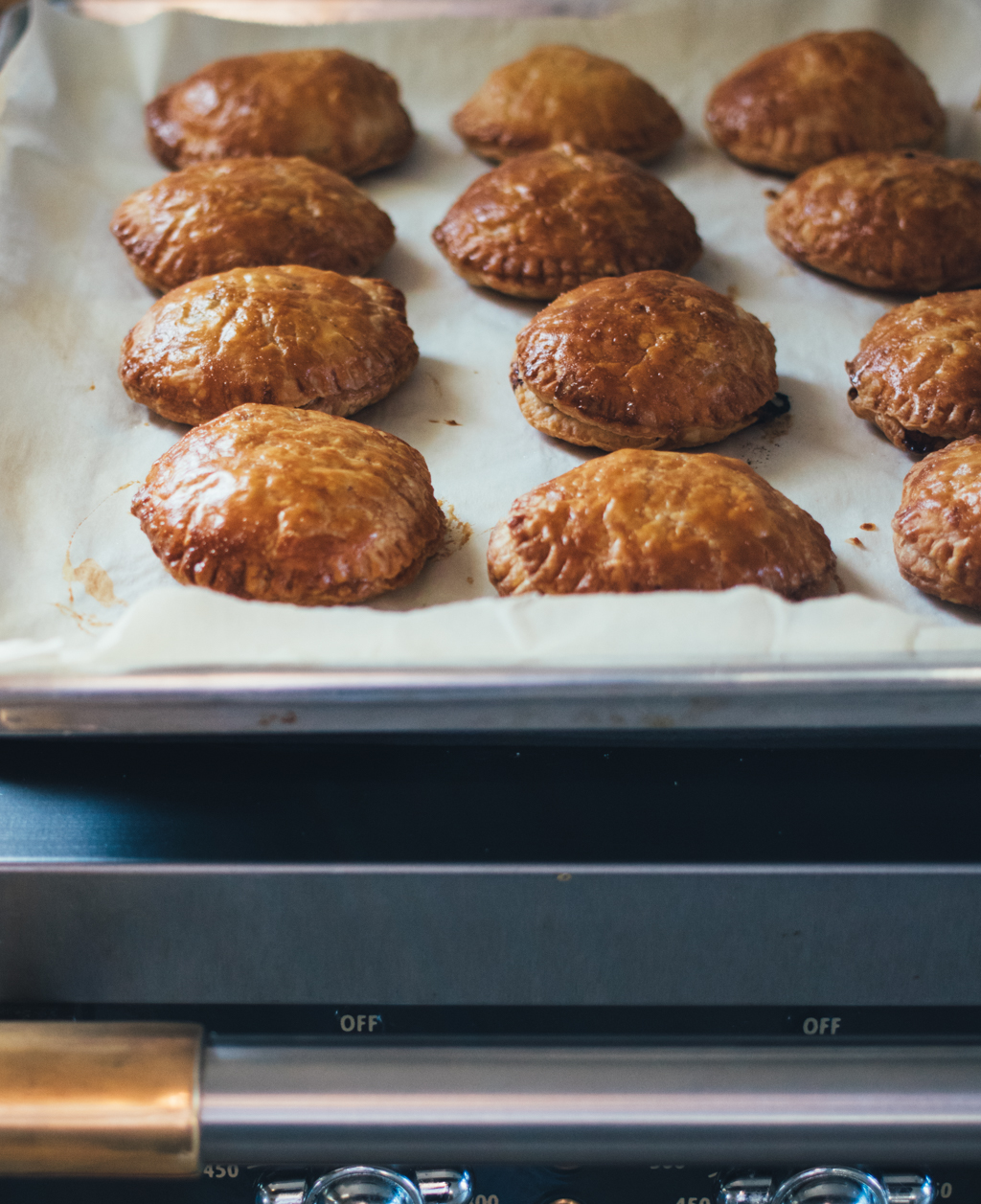 Ingredients
Filling

2 Tbsp. light olive or vegetable oil
1 small onion, finely diced
2 cloves of garlic, minced
1 - 2 small hot chilies, seeds removed, and finely chopped
a few pinches of allspice, or more to taste
400g of lean ground beef
1 small-medium potato, coarsely grated
salt and pepper, to taste

Pies

flour for rolling out the dough
1 egg, lightly beaten
Directions
Warm up some light olive or vegetable oil in a large skillet over low-medium heat. Add the diced onion and sauce for 5 - 7 minutes, until soft and translucent.
Add the garlic, chilies, and allspice and sauté for a few more minutes.
Add the ground beef, increase the heat to medium, and cook for 5 minutes, until browned, using a flat wooden spatula to break it up as it cooks.
Add the grated potato, season with salt and pepper, cover and cook for another 10 or so minutes, stirring occasionally, until the potatoes and beef are cooked through. Taste and adjust salt and spices, if necessary.
Set the beef filling aside to cool completely and start preparing the pastry. You can make the filling in advance and refrigerate it until you're ready to make a pies.
Preheat the oven to 375°F
Dust your counter or surface with flour and roll out the dough until it's 1-2mm thin, adding more flour to the surface as necessary.
Use the rim of a glass to cut out 3" circles, dipping the glass in flour in between cuts to prevent it from sticking to the dough.
Set the circles aside, collect the dough scraps, give them a few kneads to bring the dough together, and roll them out again. Repeat the cutting and collecting/rolling out scraps until all of the dough is used up.
Place a spoonful of dough on one of the circles, place another circle on top, and use your fingers to pinch it shut. Add as much filling as you can manage, without overflowing, and don't worry if it's not sticking too well. The next step will ensure that the pie gets sealed.
Place the pie down and use a flour-dusted fork to seal the perimeter.
Repeat with all of the pies and place them on a parchment-lined baking sheet. Brush them with the egg mixture, and bake for 30 - 40 minutes, until the pies are puffy, golden, and cooked through (you can check the inner temperature with an instant-read thermometer. It should be 160°F - 170°F).
Let them cool slightly before serving and refrigerate any leftover pies for up to 3 days. Reheat them in the oven, as necessary.
https://french-barn.com/blog/food-wine/tourtiere-hand-pies
The French Barn - Blog