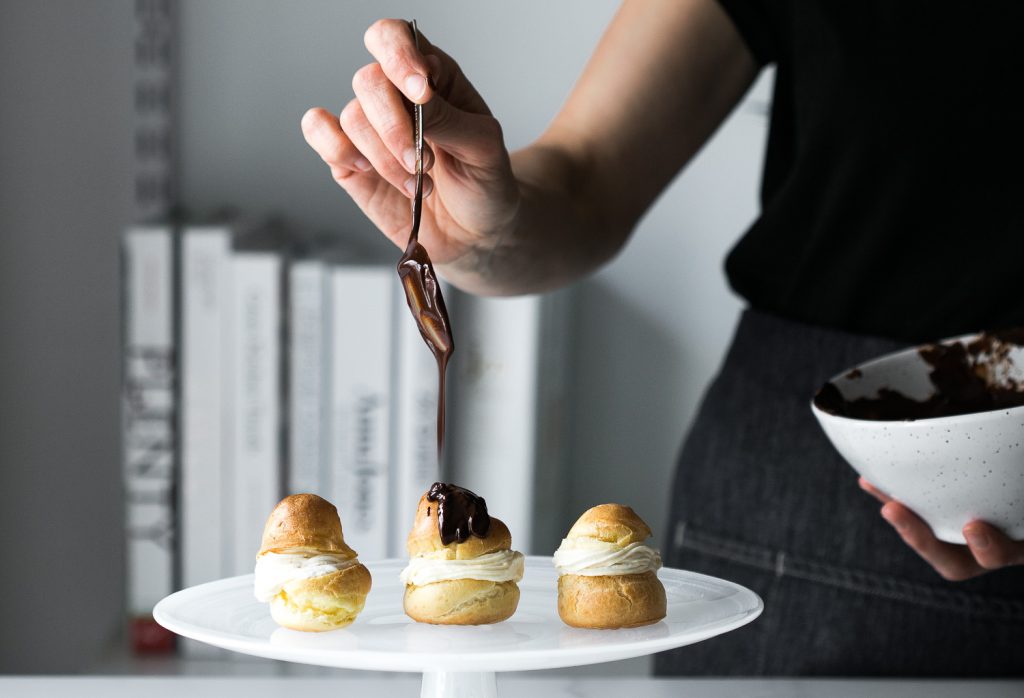 Nothing says I love you like a sweet treat from a loved one's home kitchen. With Valentine's day around the corner, seasonal Choux à la Crème are a surefire way to show a special someone just how much you love them while also ticking off the essential V-day holiday chocolate box.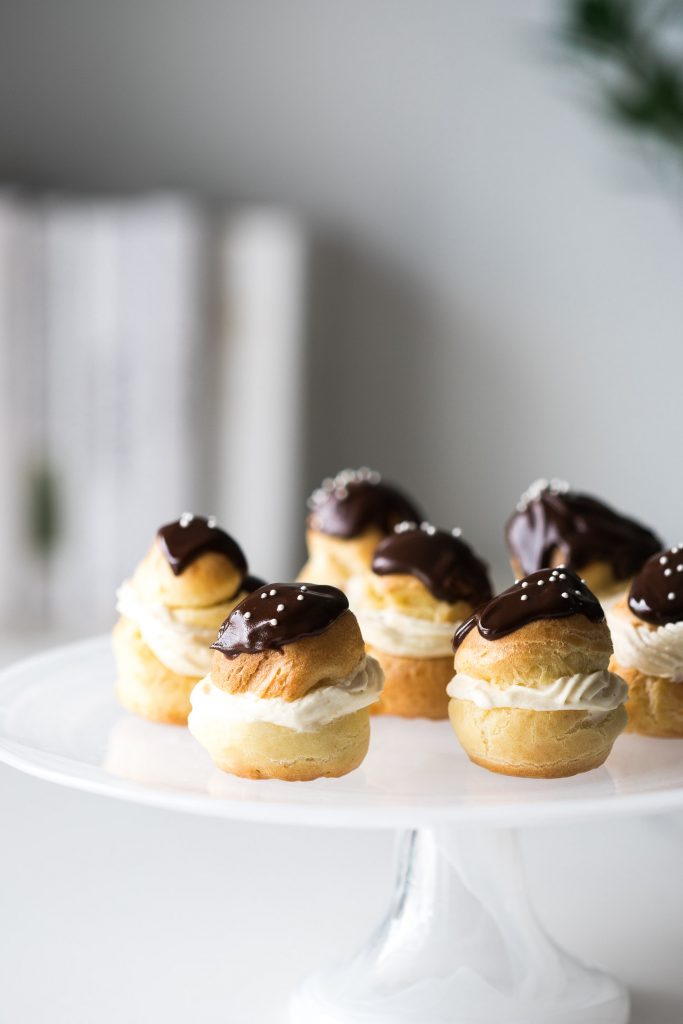 Choux à la Crème, also known as pâte à choux (or cream puffs, in english), are tiny little puff balls of pastry that typically get filled with a chantilly cream, pastry cream, or ganache and then topped with a chocolate glaze. These cream puffs, in particular, are split and filled with fragrant blood orange whipped cream, then topped with dark chocolate ganache and a few sprinkles for good measure (an A-plus decorating tip I got from Amy Ho). It's Valentine's Day, after all.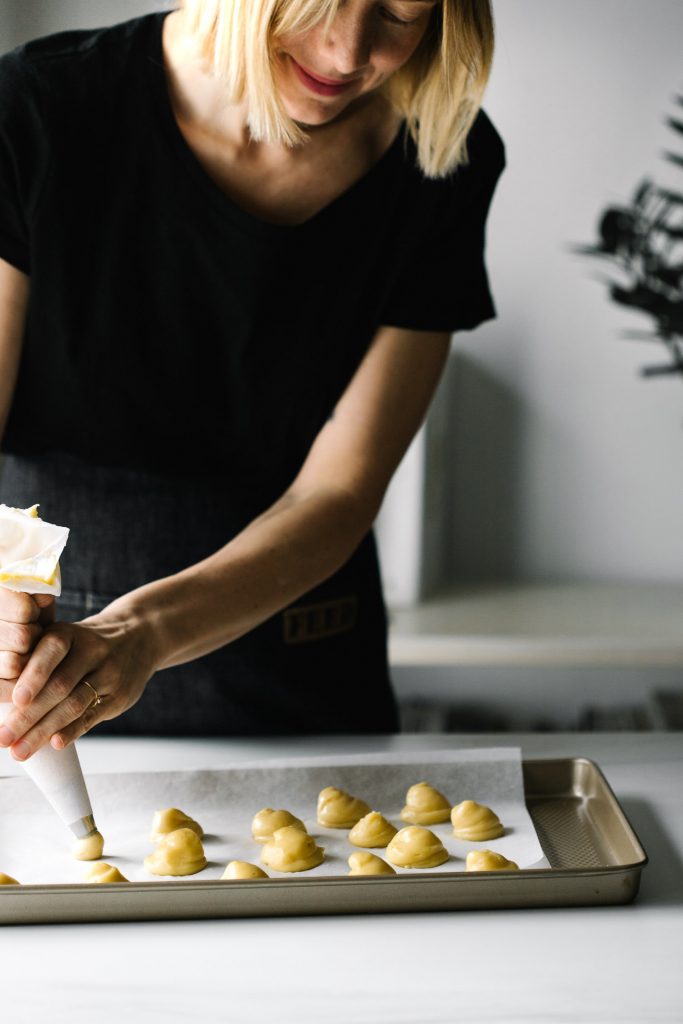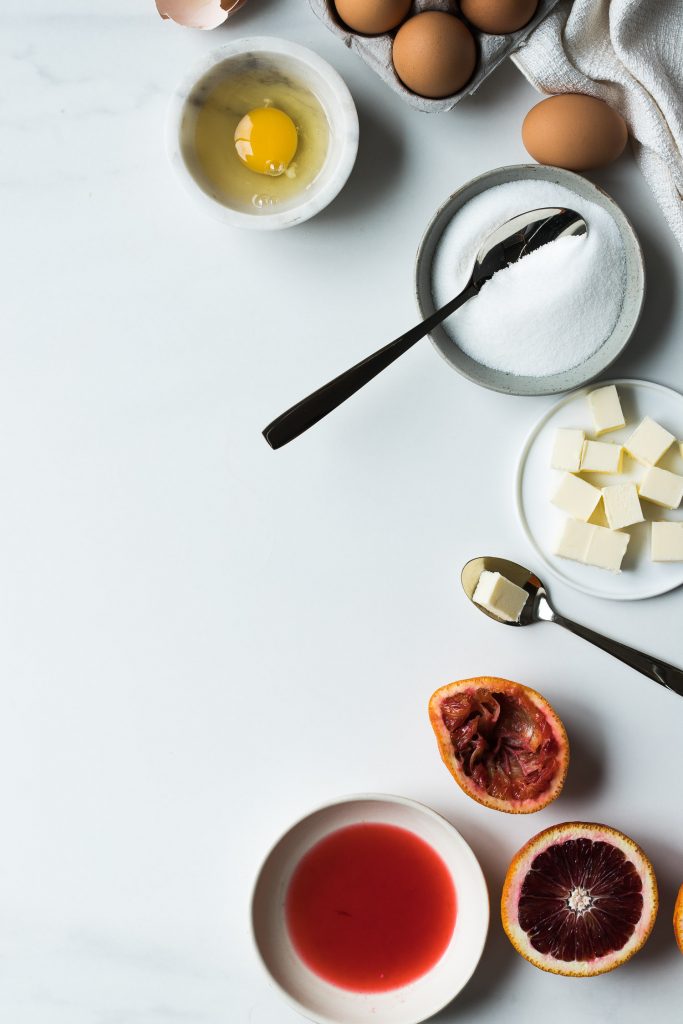 Despite its presentation, choux pastry itself is actually quite easy to work with (so long as you use a scale). In fact, each step of this recipe fits neatly into either the easy or easy – moderate category, meaning even beginners can make these impressive desserts. Your piping skills might need some practice (mine still do, despite making these in culinary school and beyond), but you'll eventually get the hang of it. And in the meantime, the cream puffs are still totally delicious to eat. If you really want to dive deep into choux piping, but aren't sure where to start, I highly recommend good old youtube videos.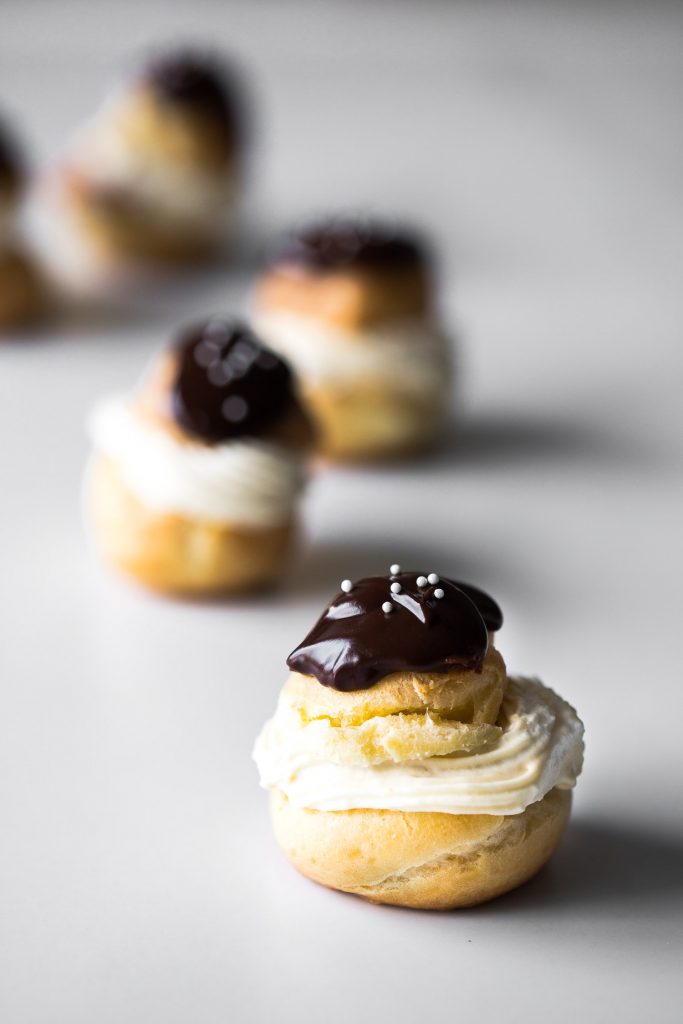 Keep in mind that while each part of the recipe does take a bit of time, if you make your blood orange curd the day before, you can have the choux puffs baked, stuffed, and topped the next morning. Happy Valentine's Day, everyone! Sweetness awaits.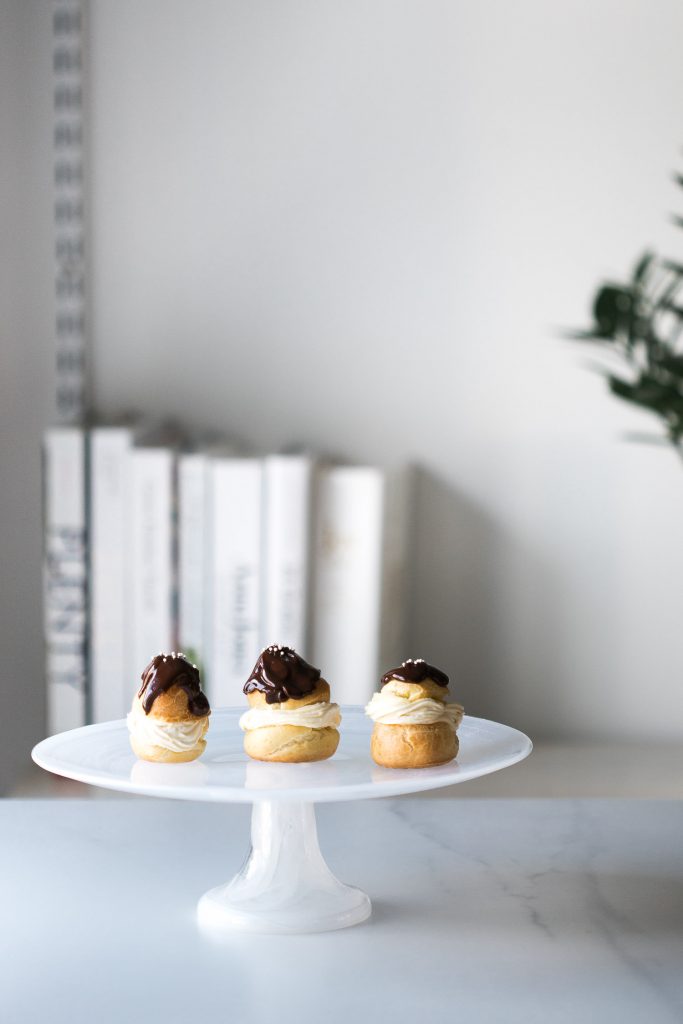 Choux à la Crème with Blood Orange Whipped Cream
Notes: It's really important to use a scale with this recipe. The volume measurements are listed to give you an idea of how much you might need of each ingredient. But a scale is imperative. A slight difference in the weight of one ingredients can cause a big problem for choux. Practice patience and don't open the oven door while the choux is baking; it may cause your choux to deflate.
Lightly beat each egg separately, one at a time, before incorporating them into the dough.
Pro tip: Start by making the Blood Orange Curd at least a day before you want to make the choux pastries. It needs time to cool and thicken.
For the Choux à la Crème
Ingredients
125 mL (½ cup) whole milk
125 mL (½ cup) water
85 g (6 tablespoons) butter
1 tbsp sugar
⅛ tsp salt
166g (5¾ oz) all-purpose flour
4 large (204g) eggs, divided and lightly beaten (see notes)
1 quantity blood orange whipped cream (see below)
Sprinkles for topping, optional
Method
Preheat oven to 375 degrees F and prepare two baking trays with parchment paper.
Bring milk, water, butter, sugar, and salt to a gentle boil. Remove from heat and add in the flour in one go. Immediately stir the mixture together, returning it back to medium heat.
Continue stirring the dough until all flour is incorporated and the dough pulls away from sides of the pan and forms a ball.
Transfer choux dough to the bowl of a stand mixer fitted with a paddle attachment. Mix on low for a couple of minutes to cool the dough down.
Turn the speed up to medium low and add eggs in one at a time, making sure each egg is completely incorporated before continuing. You may need to use a spatula to get any straggly bits.
Once the final egg has been added, mix on medium speed for one minute. The dough should be smooth, sticky, and pipe-able.
Transfer mixture into piping bag fitted with a round tip. Pipe immediately into golfball-size shapes choux mounds (similar in shape to golf balls) an inch or two apart onto the baking sheets. With a damp finger, flatten any pointed tops so that they don't burn.
Bake for 30 minutes, or until the choux pastries puff up and turn golden brown.
Cool on a wire rack, then using a serrated knife, cut in half
Pipe or spoon blood orange whipped cream into each cream puff.
Drizzle chocolate ganache (see below) overtop each puff and top with few festive sprinkles, if using.
For the Blood Orange Whipped Cream
Notes: Adding blood orange juice directly to the whipped cream will cause it to split. But if you make a curd out of it, it will fold seamlessly into freshly whipped cream.

Ingredients
2 cups 35% whipping cream
1 cup blood orange curd (see below)
Method
Add curd to a large bowl and set aside.
Pour whipping cream into a cold bowl and whisk on high speed until medium to stiff peaks form being careful not to over beat, about 1 minute.
Carefully add cream to the curd bowl and gently fold until combined.
Transfer to a piping bag fitted with an open star tip, optional.
For the Blood Orange Curd
Notes: Curd can be made a week or two in advance and stored in the fridge until ready to use. Leftover curd will last in a sealed container in the fridge for up to 2 weeks or in the freezer for a few months.

Ingredients
3 large blood oranges
14g (1 tbsp) fresh lemon juice, optional (it adds a bit of tartness)
6 large egg yolks
155g (¾ cup) sugar
110g (½ cup) butter, cut into small pieces
Method
Zest oranges with a microplane grater, then juice the oranges and set both the zest and the juice aside.
Add lemon juice, if using, to a measuring cup that measures at least half a cup, fill the remaining space in the measuring cup with blood orange juice until you reach half a cup.
Set up a double boiler: Pour an inch or two of water into a medium saucepan and bring it to a simmer over medium-high heat.
In a medium heat-proof bowl (one that sits comfortably over the simmering saucepan), whisk together the blood orange juice, zest, egg.
Transfer bowl over saucepan and stir constantly using a spoon or silicone spatula. After approximately 10 minutes, the curd will thicken significantly. It's ready when it coats the back of the spoon. You should be able to run a finger across the back of the spoon and have it hold a trail in the curd. If the eggs start to scramble, take the bowl off the saucepan and turn the heat down.
Once the curd is sufficiently thickened, remove it from the heat and stir in the butter.
Strain curd through a fine mesh sieve seated over a bowl. This filters out any zest or eggs that may have inadvertently scrambled.
Cool to room temperature, then transfer to a sealable container and store in the fridge until cold.
For the Dark Chocolate Ganache

Ingredients
4 oz dark chocolate (chopped or chocolate chips)
125 ml (½ cup) whipping cream
Method

Place chocolate in a medium bowl.
In a small pot over medium heat, bring heavy cream to a simmer, stirring occasionally. Pour hot cream overtop chocolate, swirling to coat. Let stand for a minute, then whisk until smooth. Drizzle over cream puffs immediately.