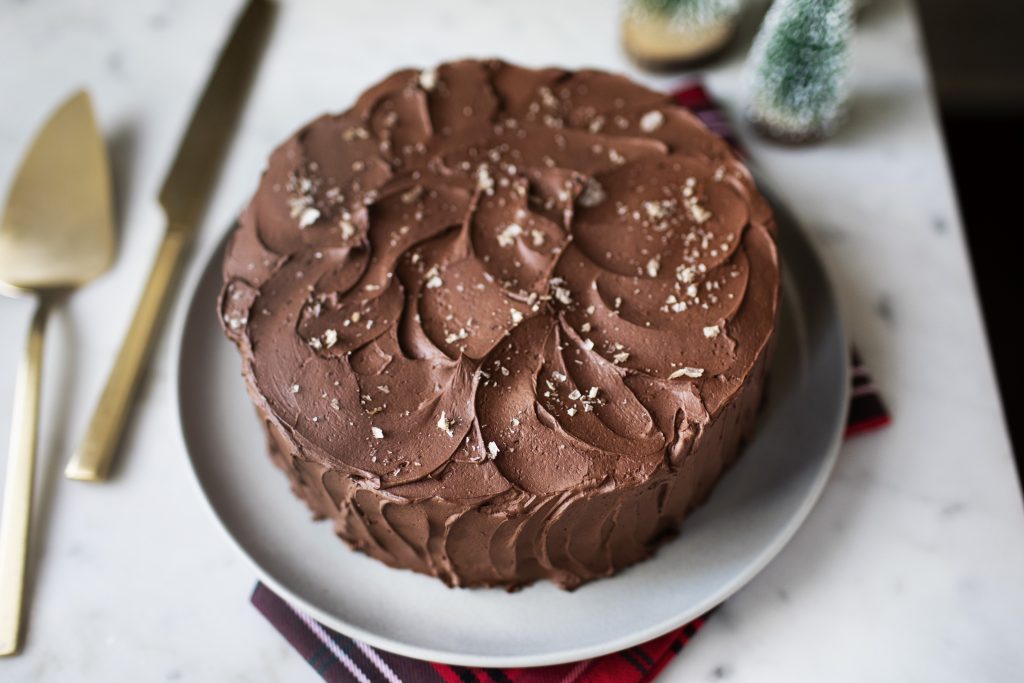 Happy holidays!
Who is ready to dive head first into this decadent chocolate fudge cake? It features a dark chocolate ganache frosting & a sprinkle of smoked sea salt flakes. This chocolate cake is what all chocolate cake dreams are made of. A mature take on a classic childhood favourite.
Although the holidays are my favourite season to bake up a storm of fancy desserts, this year I have been focusing on simplified recipes. This cake is simple to make, while remaining elegant. A cake you would be proud to present at the table of any holiday gathering. Finished with effortless swirls of frosting.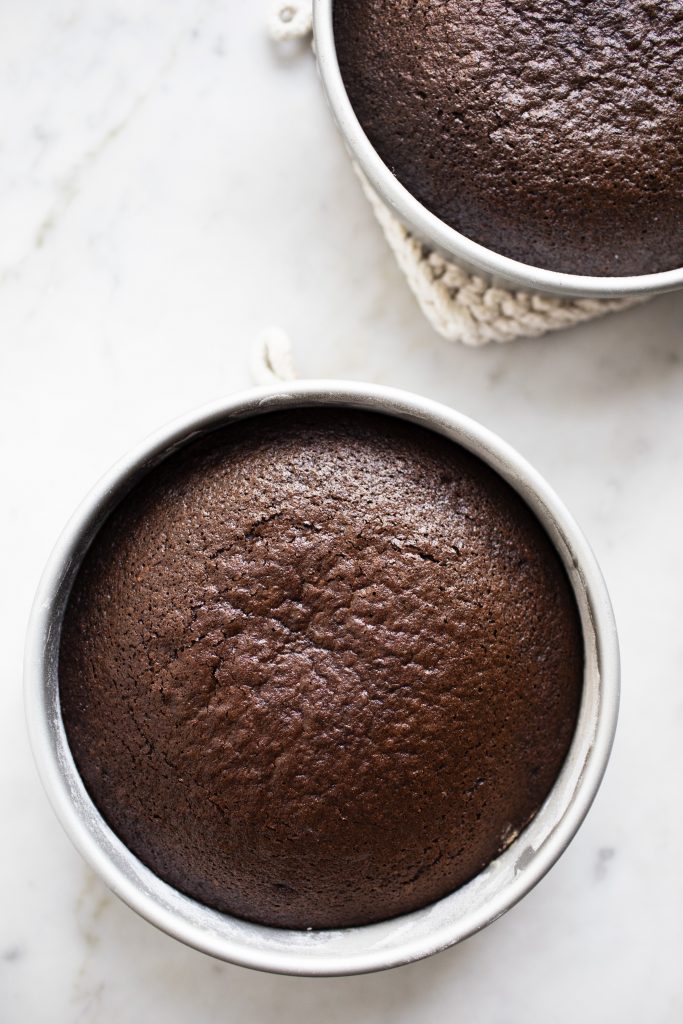 The frosting is a traditional ganache using a blend of quality dark chocolate & heavy cream. No buttercream or powdered sugar, just pure chocolate goodness. That being said, it is important to use a quality chocolate in this recipe. Something with a percentage of 70% or above.
Now time to light a fire, watch the snow fall outside & have a slice of this chocolate cake! Hope you have a wonderful Christmas & a Happy New Year! Cheers.
Chocolate Fudge Cake with Smoked Sea Salt
Ingredients
For the cake:
2 cups granulated sugar
1 cup vegetable oil
1 teaspoon pure vanilla extract
3/4 cup dutch-process cocoa powder
1 teaspoon instant espresso powder
2 large eggs, room temperature
1 cup full-fat sour cream
2 cups all purpose flour
2 teaspoons baking soda
1 teaspoon salt
1 cup boiling water
For the ganache:
12 ounces quality dark chocolate, roughly chopped
1 1/2 cups heavy cream
Maldon's Crystal Smoked Sea Salt, for topping
Directions
For the cake:
Preheat the oven to 350F degrees. Grease, flour & line two 8-inch round cake pans with parchment paper. Set aside.
In a large mixing bowl whisk together the sugar, oil, vanilla, cocoa powder, espresso powder, eggs & sour cream until smooth.
Sift in the flour, baking soda & salt. Stir until just combined.
Add the water & gently whisk in until silky smooth.
Evenly divide batter amongst prepared cake pans. Bake for 25 to 30 minutes, until the top bounces back to touch. Let cool completely before removing from pans.
Frost cake in a swirling motion with the ganache. To create effortless swirls, use an offset spatula or the back of a spoon. Sprinkle the top with smoked sea salt. Serve at room temperature.
For the ganache:
In a saucepan over medium heat bring cream to a gentle simmer. Remove from heat.
Place chocolate in a large mixing bowl & add the cream. Whisk gently until the chocolate fully melts into the cream.
Cover with plastic wrap & chill for 30 minutes. Using an electric hand mixer, beat the ganache until fluffy, about 2 minutes.