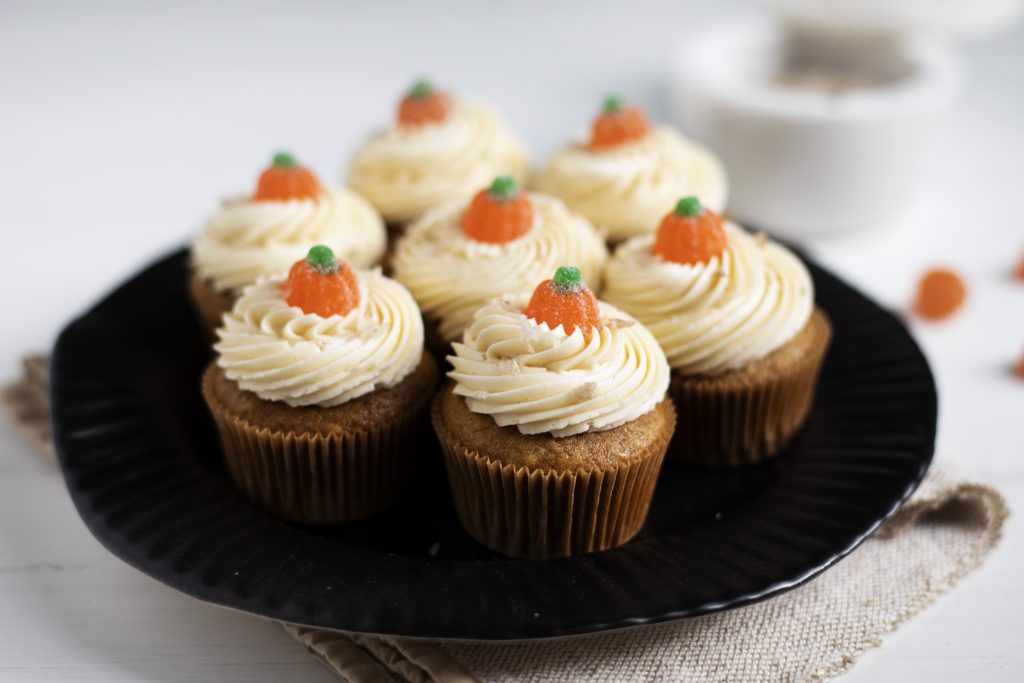 Because it isn't October without a little pumpkin spice (or in my case a lot of pumpkin spice), this recipe celebrates my favourite seasonal ingredient: pumpkin! The coziest pumpkin spiced cupcake topped with a salted caramel buttercream & a candied pumpkin. This combination is a sweet & salty lovers dream. It even includes a pinch of my favourite smoked flaked salt as the "sprinkles", which is optional but highly recommended.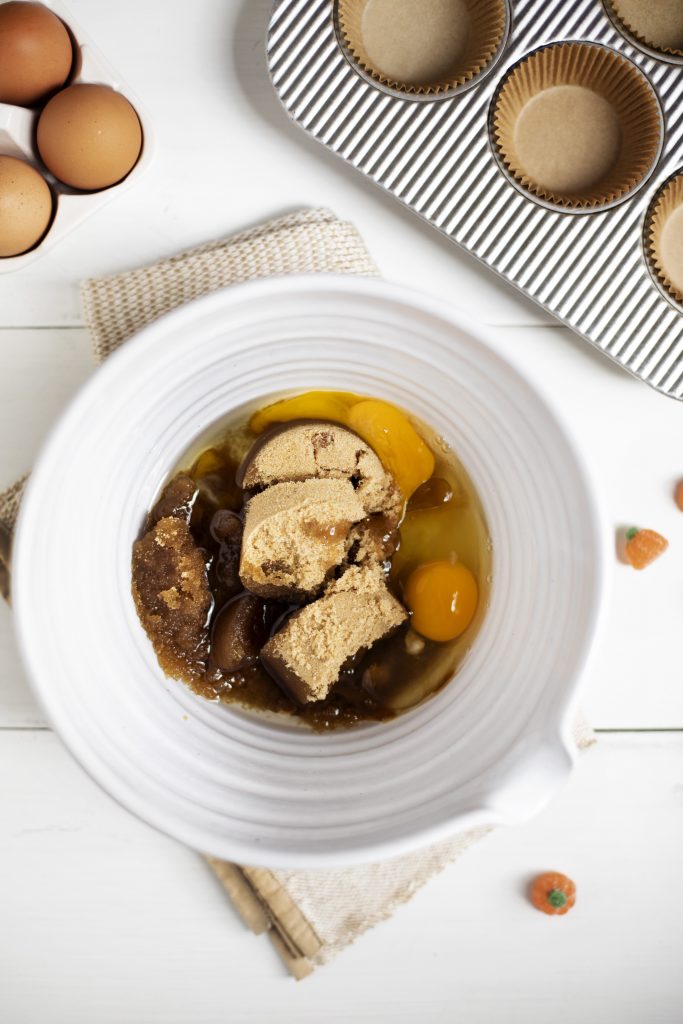 If you are looking for a Halloween night activity at home, bake & decorate a batch of these cupcakes! They are as fun to make as they are to eat. You can use canned or homemade pumpkin puree, but be sure not to use canned pumpkin pie filling as it contains other ingredients.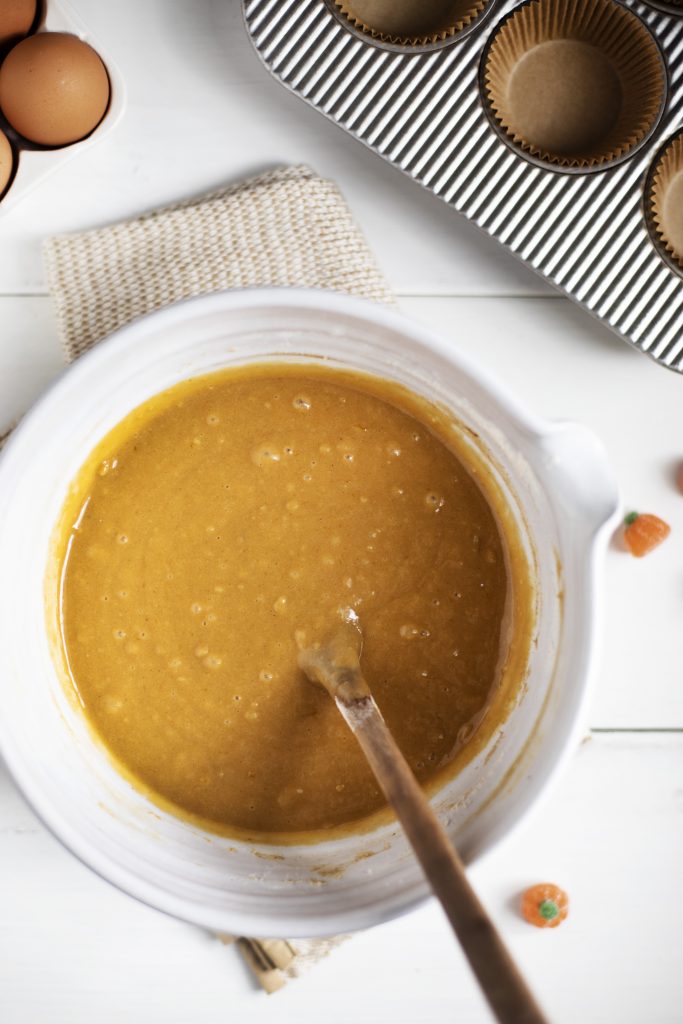 For the salted caramel buttercream, there are a few routes you can take to achieve the perfect salted caramel that works for you! You can simply use a store bought salted caramel sauce, you can transform regular caramel sauce into salted caramel by adding a 1/2 teaspoon of sea salt per cup of caramel or you can make your own salted caramel from scratch.
Although caramel sauce can be a bit tricky to make from scratch (as the sugar can go from caramalized sugar to burnt sugar quickly), once you master it you will not be able to stop making it. I love gifting jars of my homemade salted caramel sauce too. Just be sure to follow the steps closely & use a candy thermometer to track the temperature. Click here for my go to salted caramel. The leftovers are amazing over apple pie or vanilla ice cream. Happy Halloween!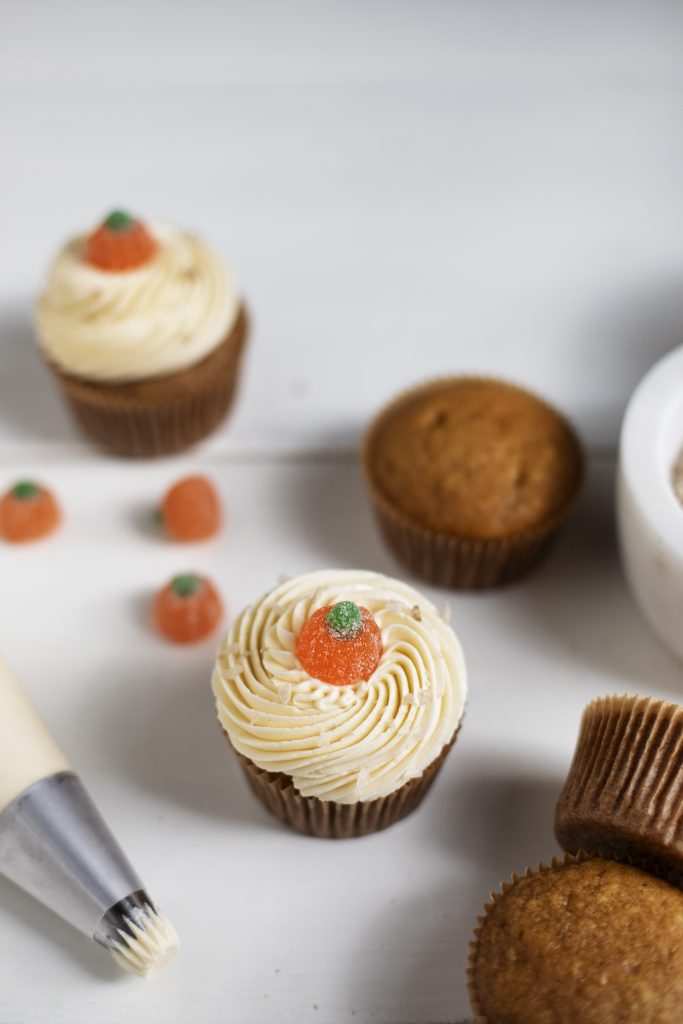 Pumpkin Cupcakes with Salted Caramel Buttercream
For the pumpkin cupcakes:
1 1/2 cups light brown sugar, packed
2 large eggs, room temperature
1 cup fresh or canned pumpkin puree
1/2 cup vegetable oil
1 teaspoon pure vanilla extract
1/2 cup whole milk
1 3/4 cups all purpose flour
1 teaspoon baking soda
1/2 teaspoon salt
1 teaspoon ground cinnamon
1 teaspoon ground ginger
1/4 teaspoon ground nutmeg
For the salted caramel buttercream:
2 cups unsalted butter, room temperature
5 cups powdered sugar, or to taste
1 teaspoon pure vanilla extract
1/4 cup salted caramel, store bought or homemade
1/2 cup whipping cream (optional)
Pumpkin candies, for topping
Flaked salt, for topping
For the pumpkin cupcakes:
Preheat oven to 350(F) degrees. Line 18 cupcake tins with cupcake liners.
In a large mixing bowl whisk together the brown sugar, eggs, pumpkin, oil, vanilla & milk.
In a separate mixing bowl sift together the flour, baking soda, salt, cinnamon, ginger & nutmeg. Add the flour mixture to the pumpkin mixture & stir until a smooth batter is formed, about 60 seconds.
Evenly divide the batter amongst the prepared cupcake tins & bake for 20 to 22 minutes, until the top bounces back to touch. Let cool completely before frosting.
For the salted caramel buttercream:
In the bowl of a stand mixer fitted with the paddle attachment beat together the butter, sugar, vanilla & salted caramel until fluffy, about 5 minutes.
Add the whipping cream & beat until just incorporated, about 60 seconds.
Transfer frosting to a piping bag fitted with a star tip attachment & pipe swirls onto each cupcake. Top with a candied pumpkin & a pinch of flaked salt. Enjoy!