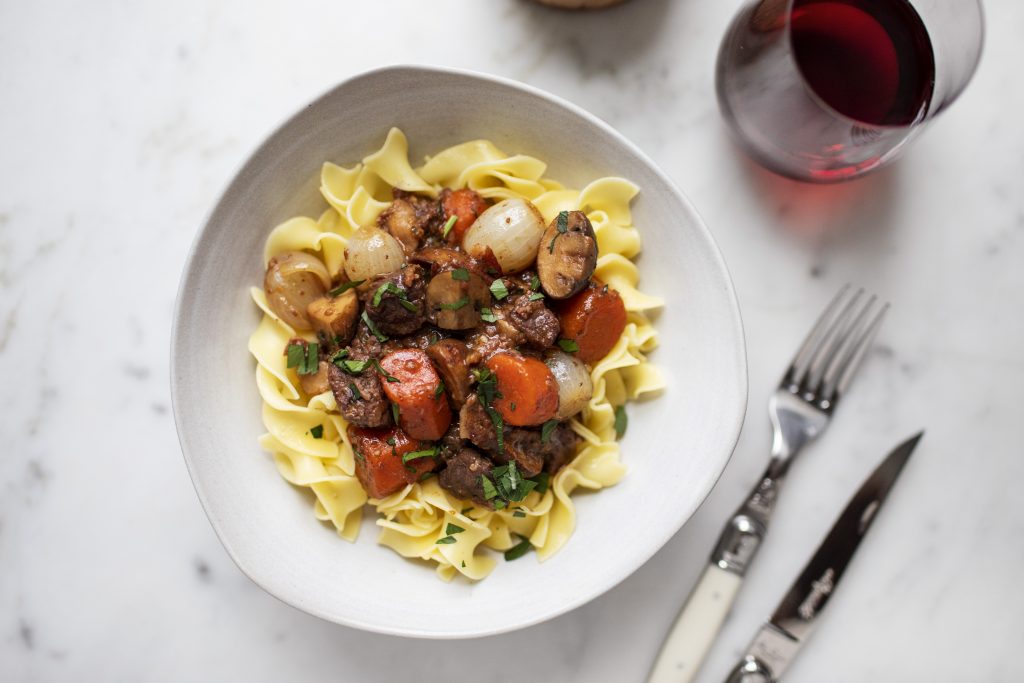 With the cold & snowy January weather upon us, there is nothing more comforting than a hearty winter stew. This recipe is a simplified twist on Julia Child's classic Beef Bourguignon. It features bison as the stewing meat (although the same quantity of stewing beef works too if you have trouble locating fresh bison) & is made all in one pot.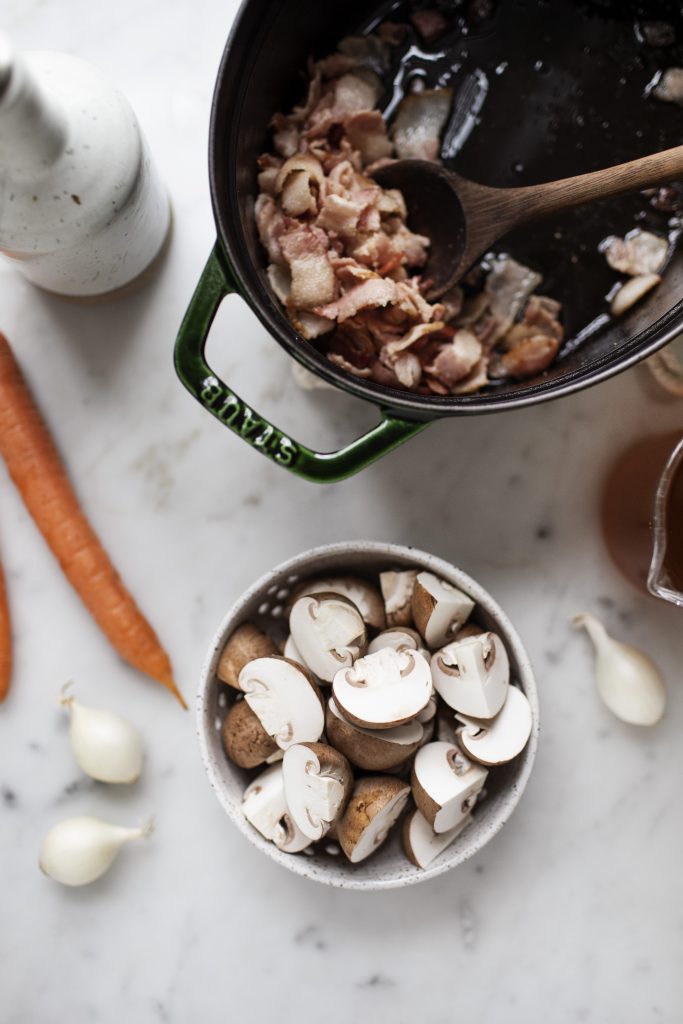 Cooking up this dish is the perfect winter day spent in the kitchen. You can prepare this recipe either on the stove top for a slightly quicker version (my preference) or slow cook it in the oven on low heat. Depending on the cooking method of choice, this recipe is great for both a weeknight meal or a cozy Sunday supper.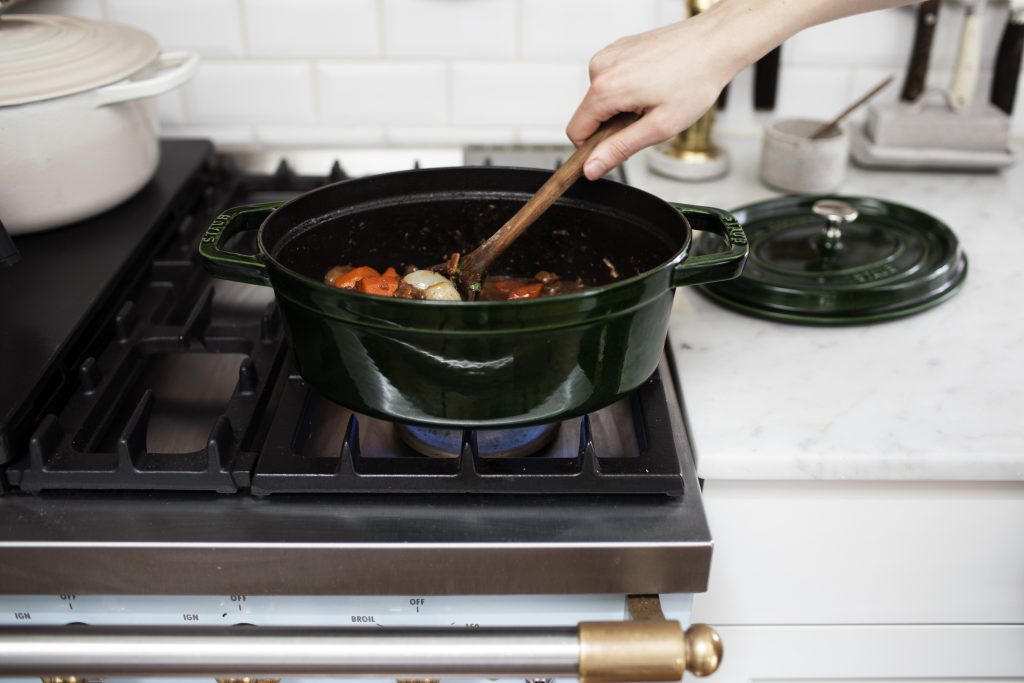 The red wine brings a lot of flavour to the base, so be sure to use a dry red wine. Also, always use a low sodium beef stock so you can control the amount of salt in the final dish. Serve this bison bourguignon as is, over egg noodles, polenta or mashed potatoes. Just don't forget the red wine.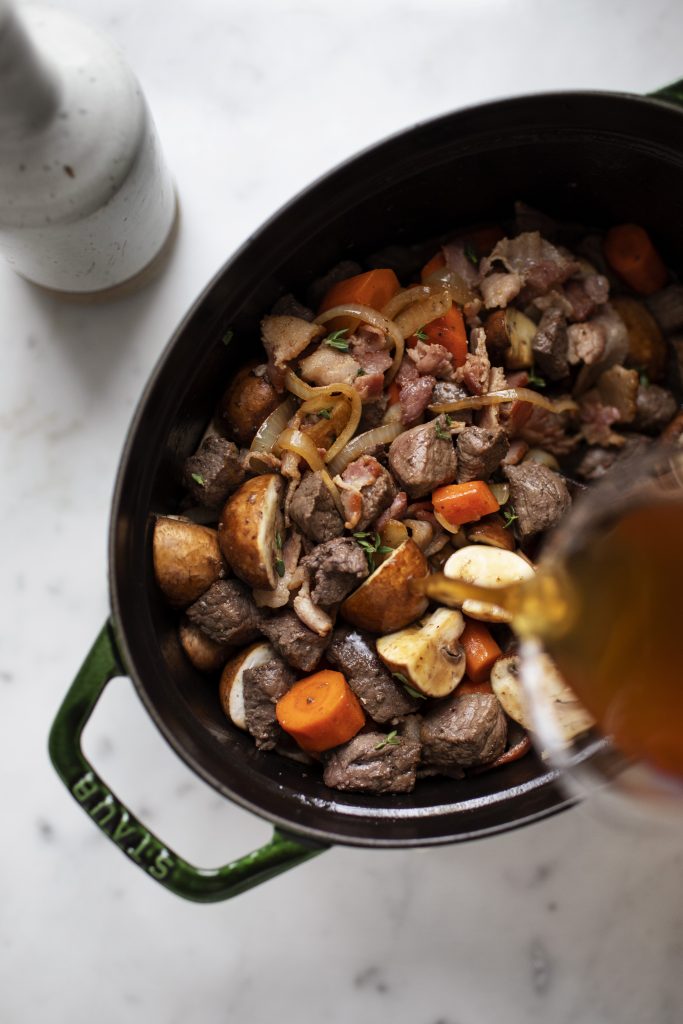 Cheers!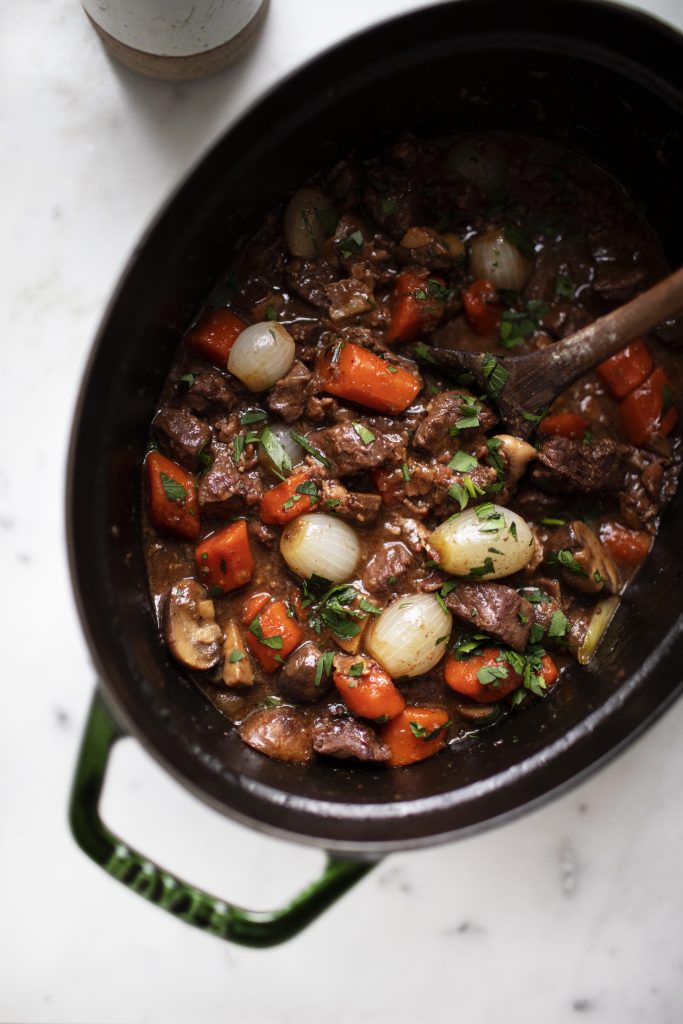 Bison Bourguignon
Serves: 4
Prep Time: 30 minutes
Cook Time: 2 hours
Ingredients:
1/2 lbs double smoked bacon, sliced
2 lbs fresh bison stewing meat, cubed
Salt & pepper, to taste
2 tablespoons unsalted butter
3 cloves of garlic, sliced
4 carrots, peeled & chopped
1 medium cooking onion, sliced
2 cups cremini mushrooms, halved
3 sprigs of fresh thyme
3 sprigs of fresh parsely, plus more to garnish
1 bay leaf
2 cups quality pinot noir
2 1/2 cups no or low sodium beef stock
1 tablespoon tomato paste
15 pearl onions, peeled & whole
2 tablespoons all purpose flour
1 pound egg noodles, cooked to al dente
Directions:
To a dutch oven over medium heat add the bacon. Cook until the bacon is cooked throughout, but not crispy. Remove using a slotted spoon. Set aside.
To the same dutch oven add the bison cubes in single layer batches. Sear the bison on each side until browned. Season with salt & pepper. Remove using a slotted spoon. Set aside.
Add the butter followed by the garlic, carrots, onion & mushrooms. Cook until softened, about 5 minutes.
Add the meats back to the pot followed by the thyme, parsley, bay leaf, red wine, stock & tomato paste. Bring to a boil & reduce to a gentle simmer. Cover with lid.
Cook until the bison is tender, about 1 1/2 hours. Create a slurry with the flour & add back to the pot. Add the pearl onions.
Simmer for an additional 15 minutes with the lid on. Remove lid & continue simmering until stew has thickened, about 10 minutes. Season with additional salt & pepper if desired.
Place egg noodles on desired serving dish & top with the stew. Garnish with fresh parsley & serve!