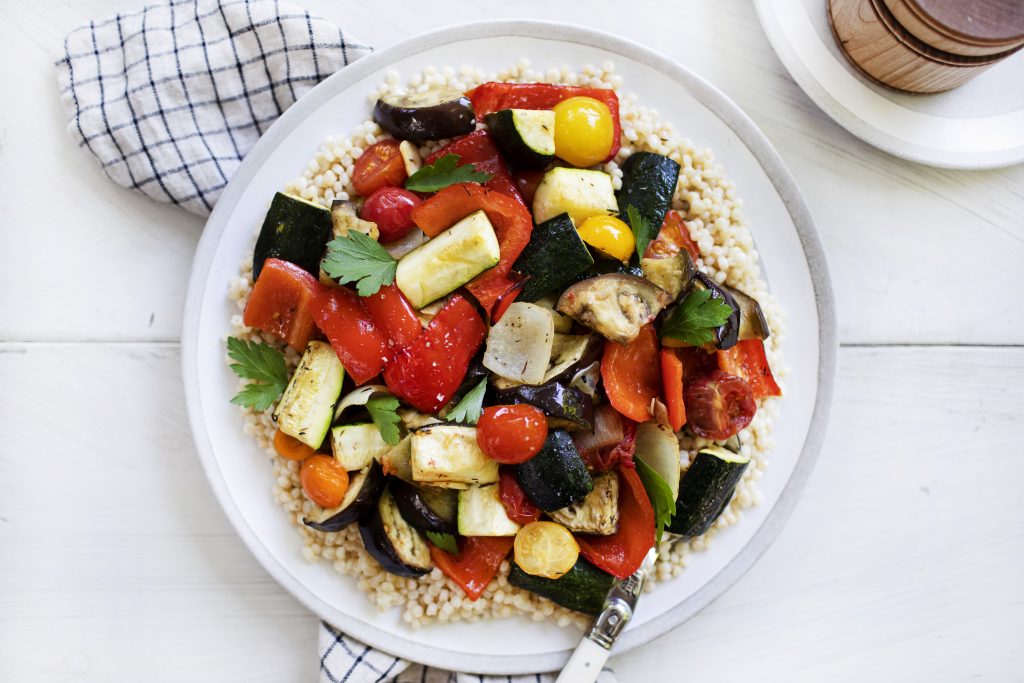 Hello summer! The season to enjoy endless dinners & drinks on the patio. Something about eating outdoors just makes things taste that much better. This recipe is what summer dreams are made of. It is a roasted twist on traditional ratatouille featuring all the garden produce the season has to offer. This version is a much more effortless approach to an otherwise intimidating recipe. Think chunky vegetables tossed with flavour & roasted in a big pan.
The ratatouille is a great side dish to serve alongside grilled chicken or steak. It features an abundance of fresh vegetables traditionally found in ratatouille such as zucchini, tomatoes, eggplant, peppers & onions. It can be served both hot or cold. If you prefer the cold route, let it sit overnight in the refrigerator to maximize the flavour. When ready to serve, I serve it over a bed of pearl couscous flavoured with a hint of citrus for brightness & freshness.
Pearl couscous, also known as Israeli couscous, is similar to regular couscous, but is much larger in size. It also offers a more chewy texture & is toasted before cooking. It is a favourite in our house! However, if you are unable to find this variety of couscous, regular couscous or quinoa will do the trick.
Crank up that oven & let's get roasting!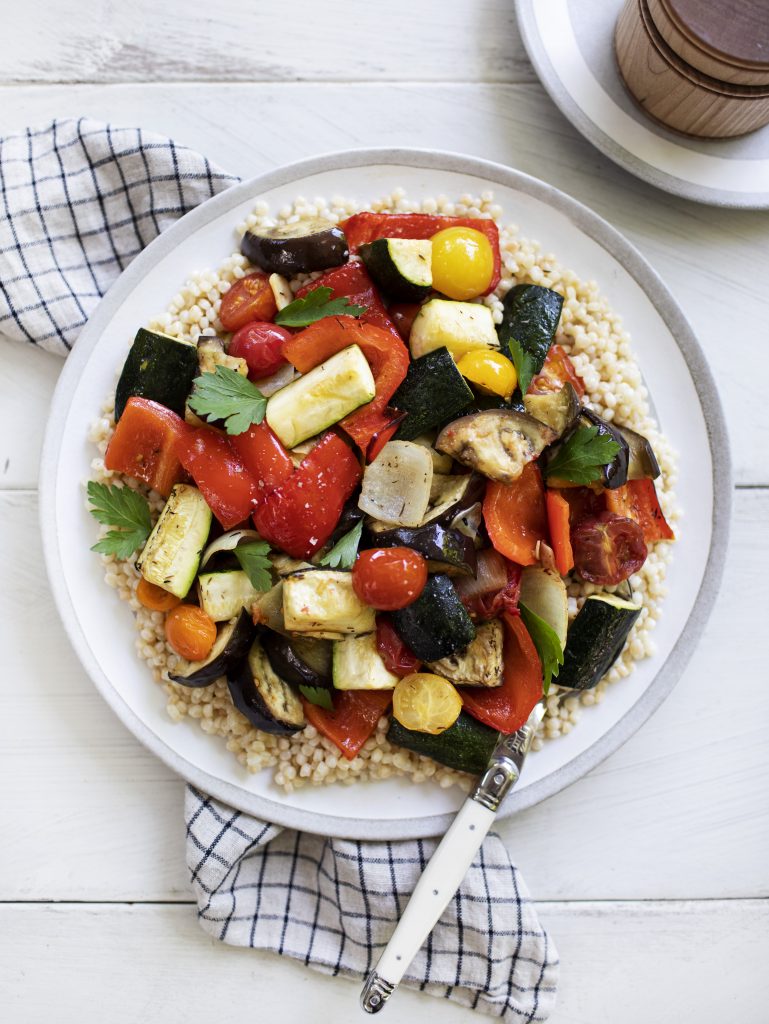 Roasted Ratatouille with Pearl Couscous
Ingredients
For the roasted ratatouille:
2 medium zucchini, diced into 1-inch cubes
1 skinny eggplant, diced into 1-inch cubes*
2 red bell peppers, diced into 1-inch cubes
1 medium onion, quartered
1/4 cup extra virgin olive oil
1 tablespoon balsamic vinegar
2 cloves of garlic, thinly sliced
1 teaspoon fresh thyme, roughly chopped
Salt & pepper, to taste
1 cup cherry tomatoes, halved
Fresh parsley, to garnish
For the pearl couscous:
2 tablespoons + 2 tablespoons extra virgin olive oil
1 cup pearl couscous
1 1/2 cups water
1/2 teaspoon fine salt
1 tablespoon lemon juice, freshly squeezed
Pepper, to taste
Directions
For the roasted ratatouille:
Preheat oven to 400 degrees.
In a large mixing bowl add the zucchini, eggplant, red pepper & onion. Toss to coat with olive oil, balsamic vinegar, garlic, thyme, salt & pepper.
Transfer to a large baking sheet or roasting pan. Roast for 20 minutes.
Add the tomatoes & rotate vegetables. Roast for an additional 15 minutes, until vegetables are cooked throughout.
Serve over the pearl couscous.
For the pearl couscous:
In a large saucepan over medium heat add 2 tablespoons olive oil & couscous. Stir constantly until couscous is toasted, about 3 minutes.
Add the water & salt. Bring to a boil & reduce to a simmer.
Cover with lid & cook for 15 minutes. Strain any excess water.
Transfer to a medium mixing bowl to let cool slightly. Toss with remaining olive oil, lemon juice, salt & pepper. Set aside until ready to serve.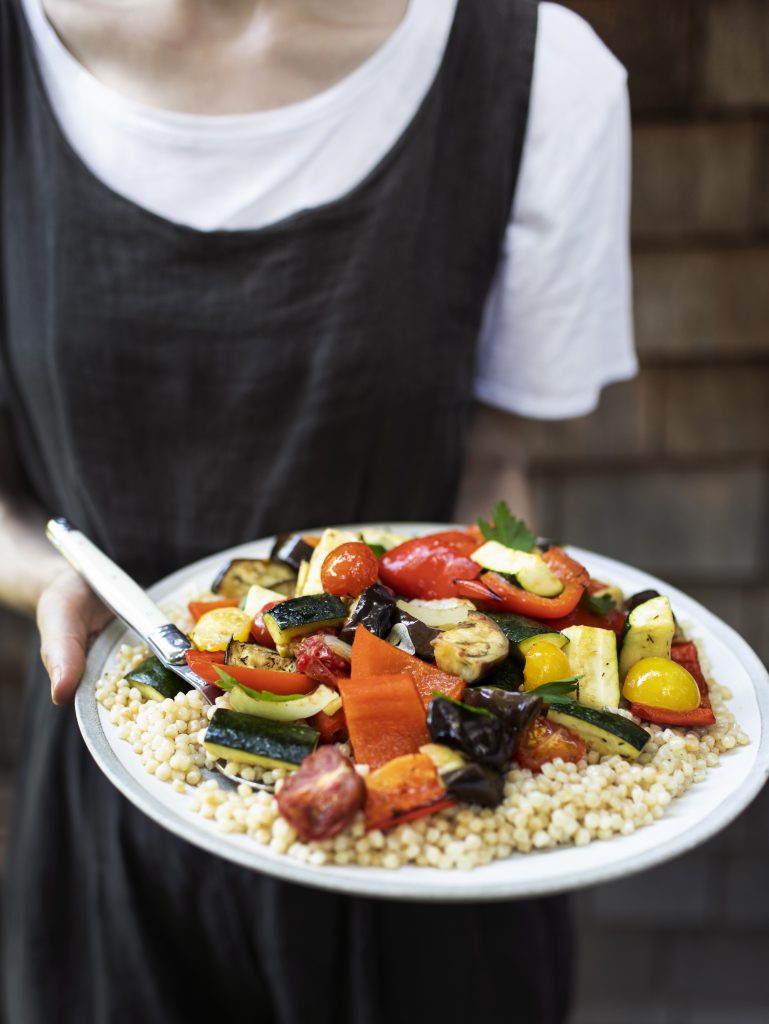 *For the eggplant, be sure to salt the flesh before roasting to achieve the correct texture. Simply dice into desired size pieces & sprinkle each side with salt. Transfer to a tea towel & let stand for 30 minutes at room temperature. This is a very important step that cannot be skipped.