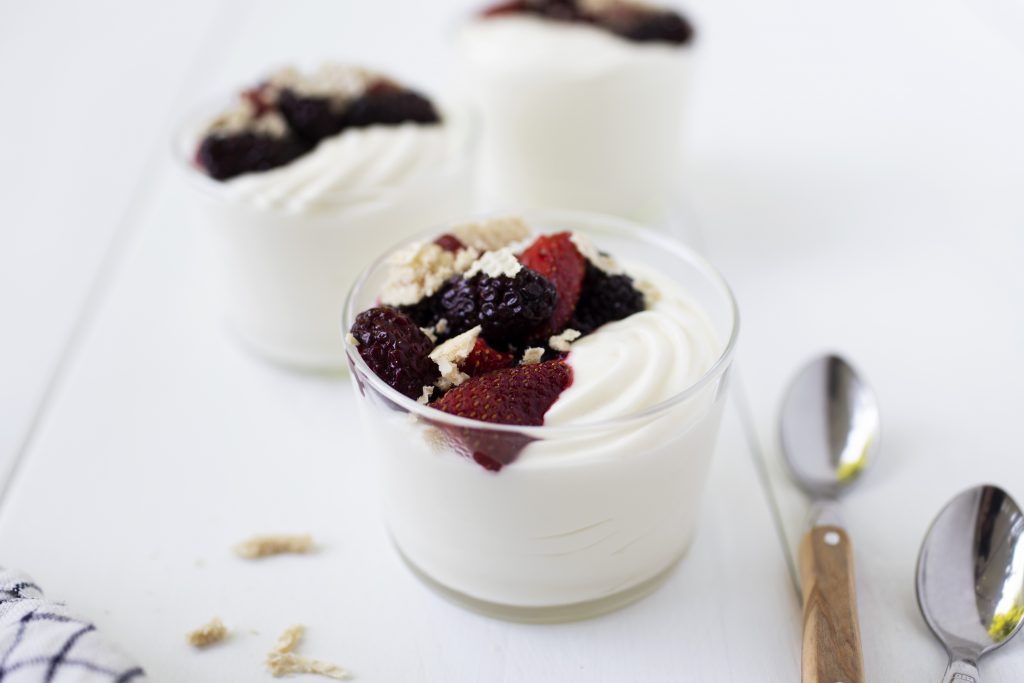 July marks the start of Ontario's summer berry season! Arguably the best part of summer living in the Niagara Region, surrounded by endless pick-your-own-fruit farms. To celebrate, I am keeping things light & simple with this white chocolate mousse. It is topped with roasted fresh mixed berries & crushed wafer. I think this is the perfect treat to enjoy after a summertime supper party.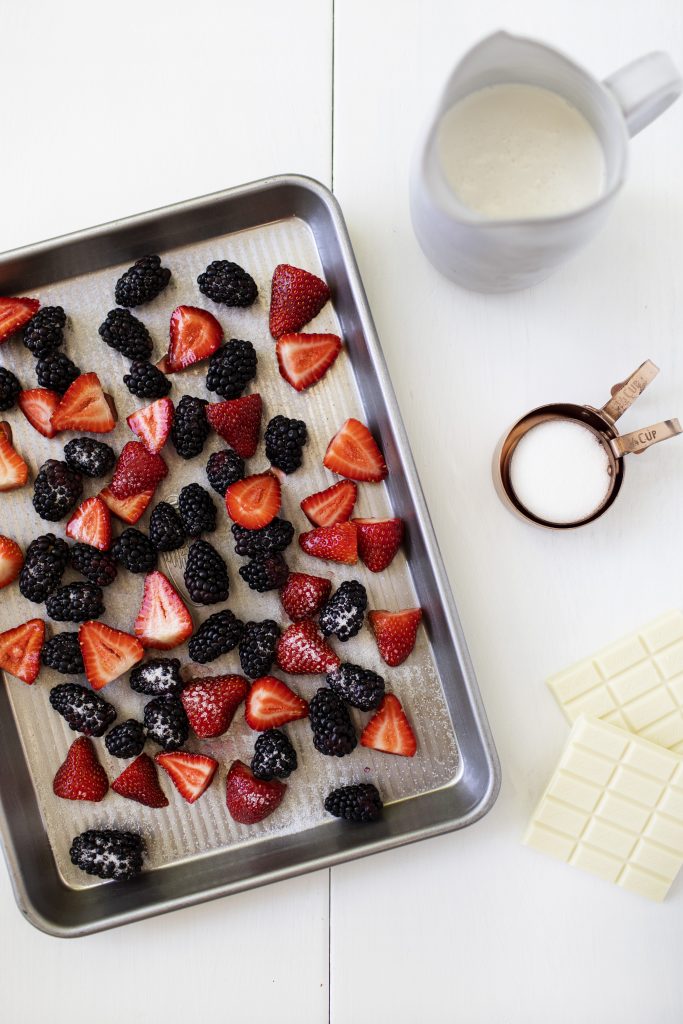 The mousse is so light & airy, as it features no eggs. Just be sure to cool the melted white chocolate before you mix it into the cold cream so the mixture doesn't seize. If you are using an electric mixer to whip the cream, switch to a hand whisk once it is time to add the white chocolate. This will eliminate the risk of over beating the cream. The mixture can be spooned into clear tumbler or wine glasses, but if you want to go the extra mile pipe it using a star tip.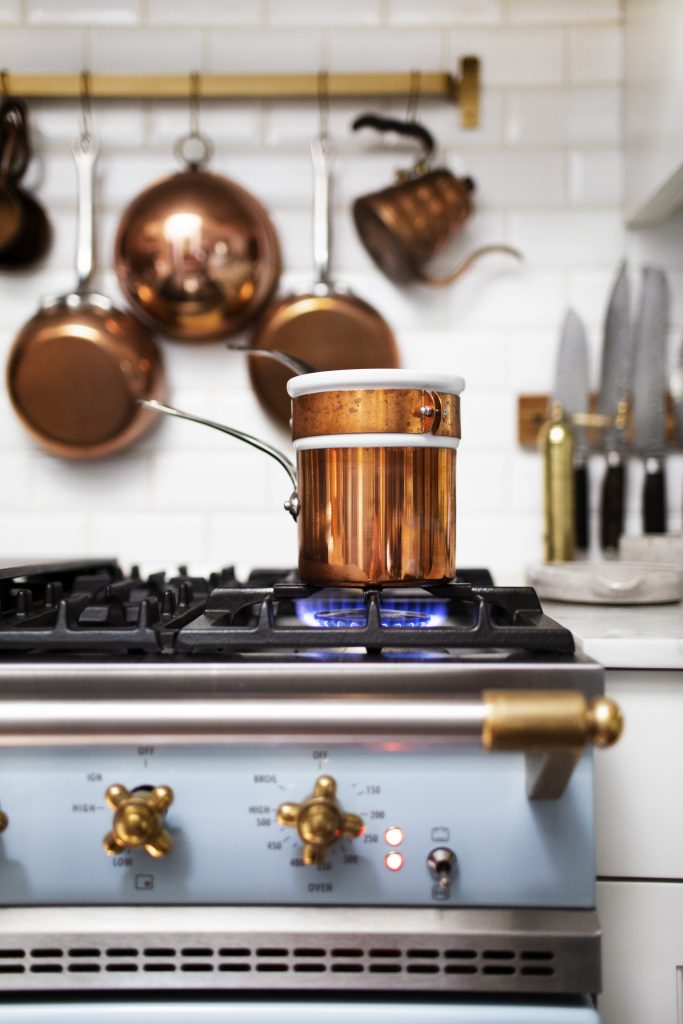 Lastly, feel free to use whichever berries you have on hand! I chose a mix of blackberries & strawberries, but any equal quantity of blackberries, strawberries, blueberries & raspberries works. The additional step of roasting them really brings out the juices & sweetness. Enjoy!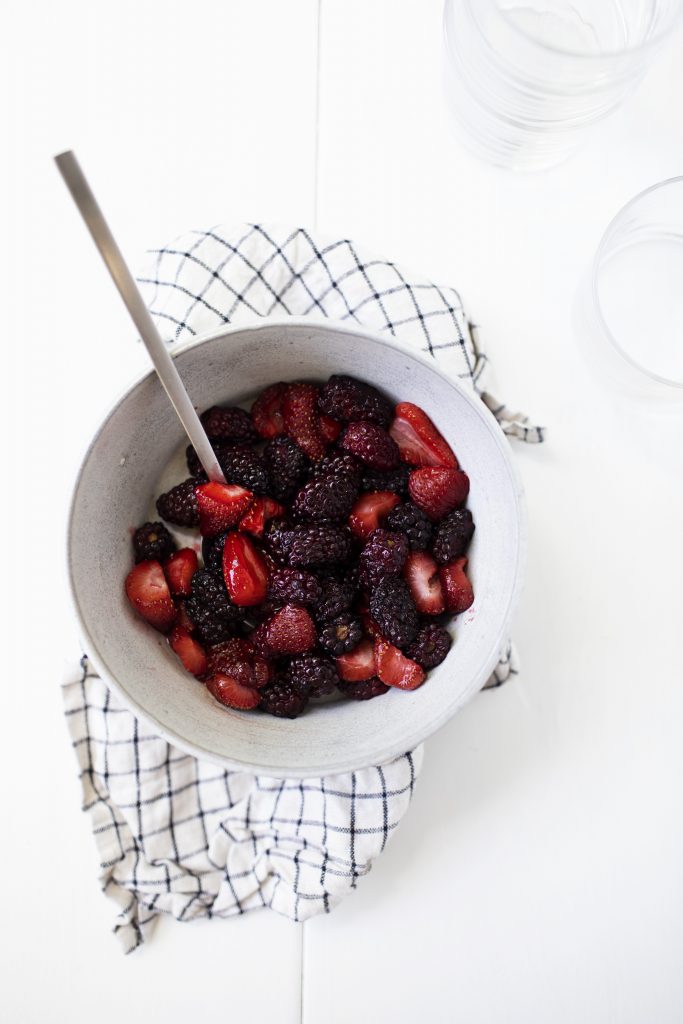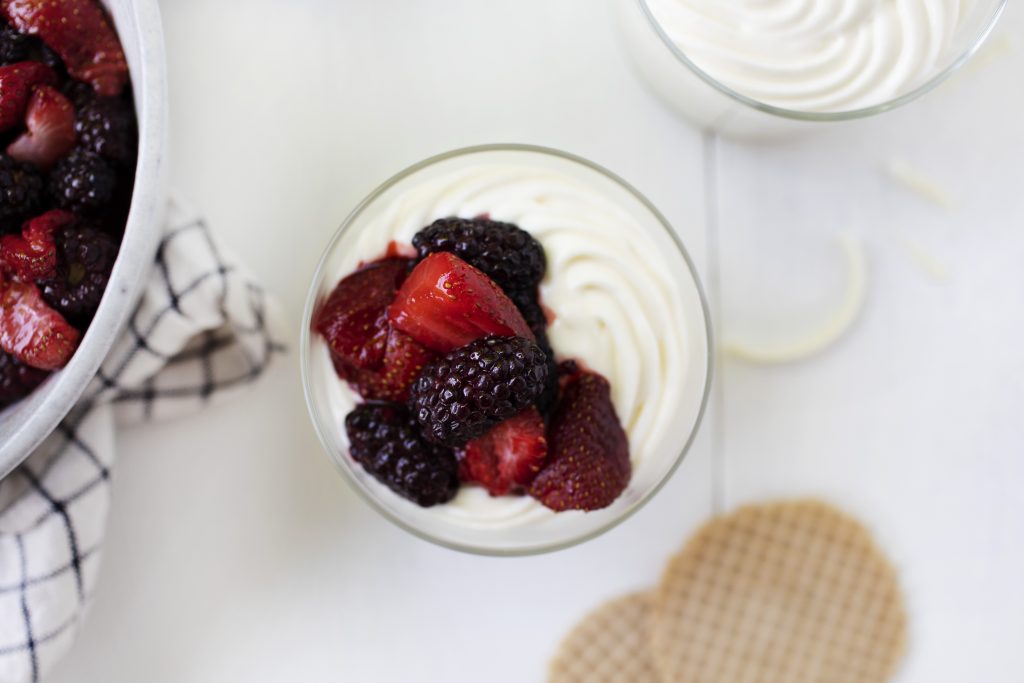 Roasted Berry & White Chocolate Mousse
Ingredients
2 cups fresh mixed berries (blackberries, strawberries or blueberries)
2 tablespoons granulated sugar
1 1/2 cups whipping cream, cold
2 tablespoons powdered sugar
1 teaspoon pure vanilla extract
1 pinch fine salt
200 grams quality white chocolate, roughly chopped
Crushed vanilla wafer, for topping
Directions
Preheat oven to 375 degrees.
Transfer berries to a baking sheet & sprinkle evenly with sugar. Roast for 15 to 20 minutes, until the berries begin to burst. Set aside to cool.
Over low heat using a double broiler, add the white chocolate. Stir until chocolate is fully melted. Transfer to a bowl & let cool slightly.
In a large mixing bowl add the whipping cream, powdered sugar, vanilla & salt. Whisk until medium peaks are formed.
Drizzle in the cooled white chocolate & whisk until stiff peaks are formed. Transfer mixture to a piping bag.
Pipe mousse amongst 4 glasses, top with a spoonful of roasted berries. Let chill in the fridge until ready to serve.
Once ready to serve, top with a sprinkle of crushed wafer & enjoy!