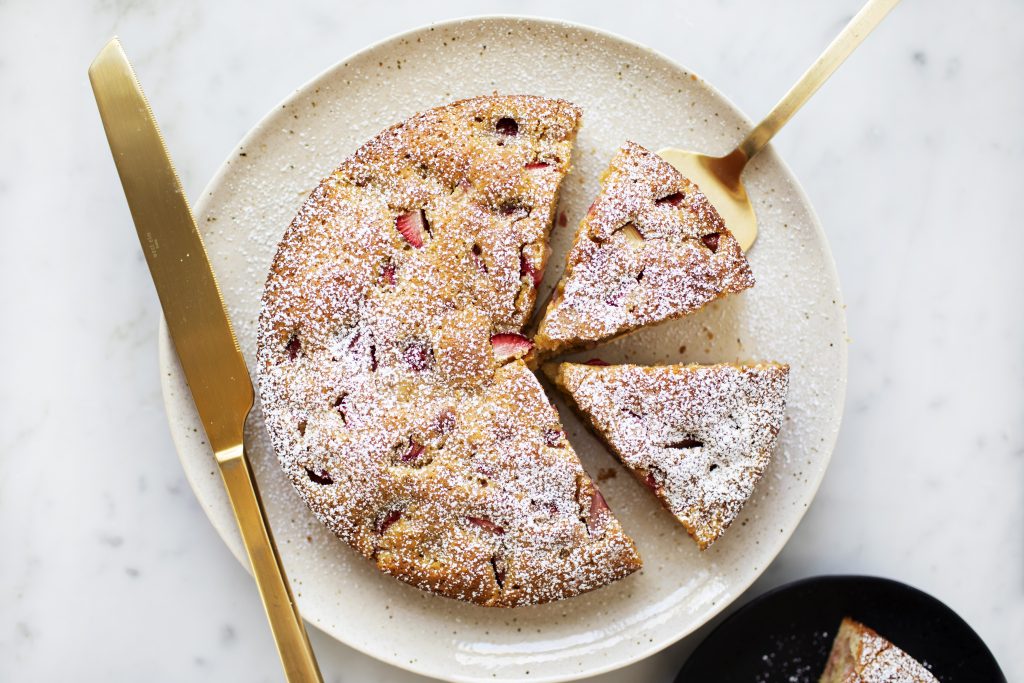 Hello May! We are entering (arguably) one of the most beautiful seasons of the year in Ontario: Cherry Blossom & Magnolia season. Although everything may look a little different this year, it has encouraged me to slow down & stop to enjoy the little things. Watching the tree flowers bloom outside my window, taking slow afternoons to brew a cup of pour over coffee & of course bake up a storm!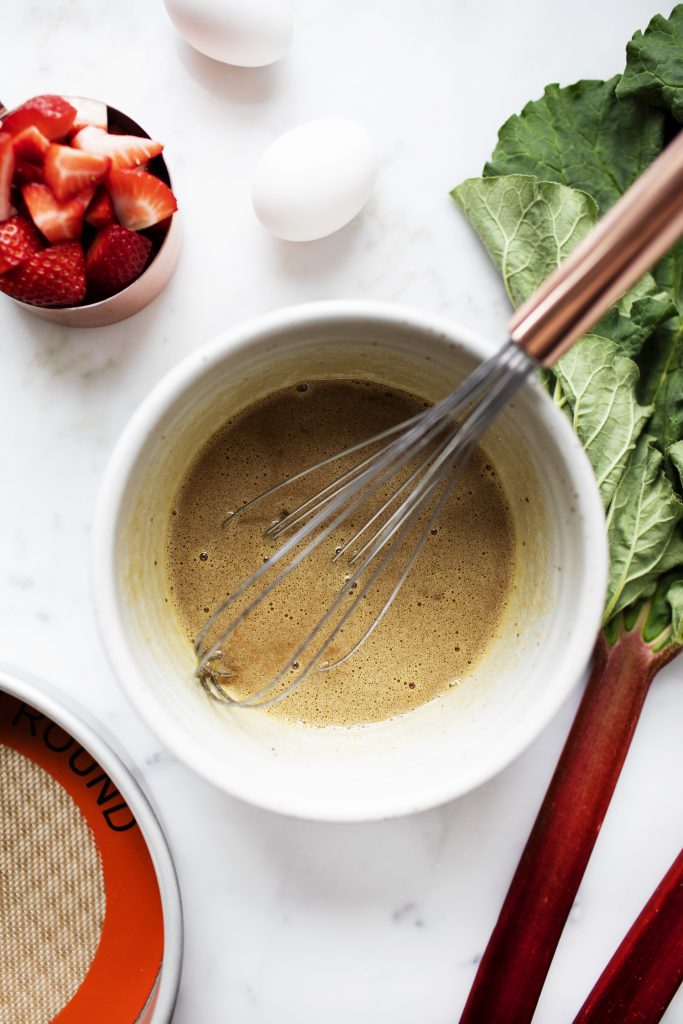 This recipe is inspired by a classic fall dessert; the French Apple Cake. It is a very simple coffee cake that is typically loaded with crisp apples & flavoured with spiced rum. When I saw the first few stalks of rhubarb were ready to be picked from my garden, I knew I had to make a spring version of this favourite dessert.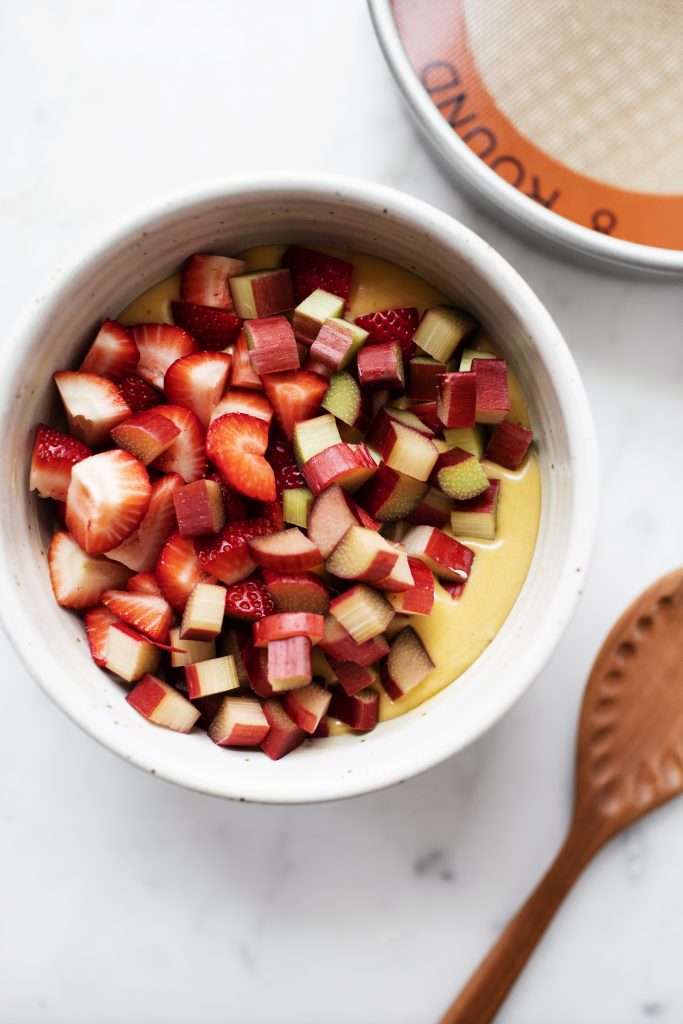 The rhubarb gives the cake a hint of tartness, while the strawberries yield the sweetness. The cake itself is light, moist & loaded with flavour. It utilizes basic pantry ingredients you likely have on hand. If you don't have spiced rum, try using whiskey or bourbon.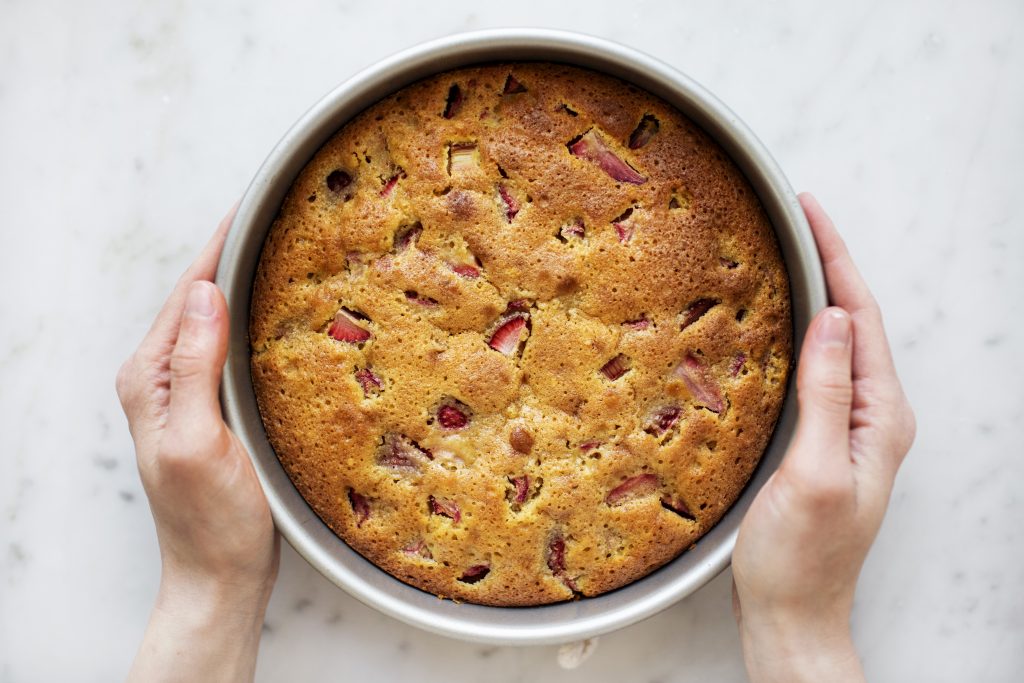 I can't wait to make this all season long as the rhubarb continues to grow new. This cake is so delicious on its own, it does not require any frosting or glazing. Just a little dusting of powdered sugar before serving! It yields one 8-inch round cake, but is very freezer friendly as well. Simply portion it off for an afternoon coffee break & wrap it in plastic wrap.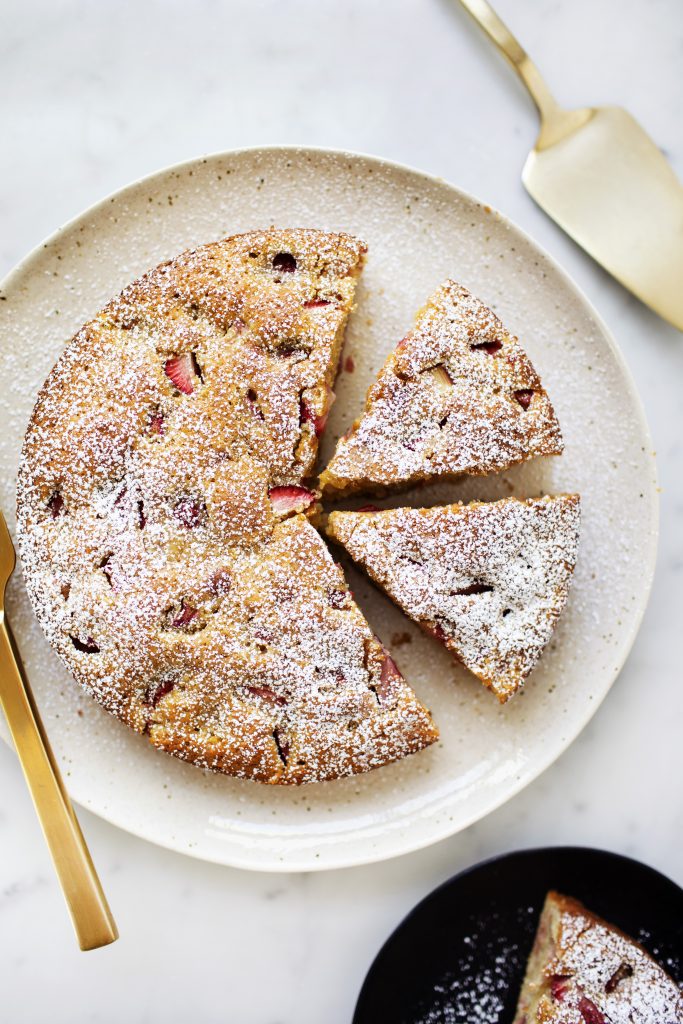 Ingredients
1 cup all-purpose flour
1 teaspoon baking powder
1/4 teaspoon fine salt
1/4 teaspoon ground nutmeg
2 large eggs, room temperature
1/2 cup unsalted butter, melted
3/4 cup light brown sugar, packed
1/4 cup spiced rum
1 teaspoon pure vanilla extract
1 1/2 cups diced fresh strawberries
1 cup diced fresh rhubarb
Powdered sugar, for dusting
Directions
Preheat oven to 350 degrees F. Grease an 8-inch round cake pan. Set aside.
In a medium mixing bowl sift together the flour, baking powder, salt & nutmeg.
In a large mixing bowl whisk the eggs until fluffy. Add the melted butter, brown sugar, rum & vanilla extract. Whisk until well blended.
Add the flour mixture & stir until just combined. Fold in the strawberries & rhubarb.
Transfer batter to the prepared cake pan & bake until the cake bounces back to touch, about 35 minutes. Let cool to room temperature before removing from the pan.
Dust with powdered sugar & serve!