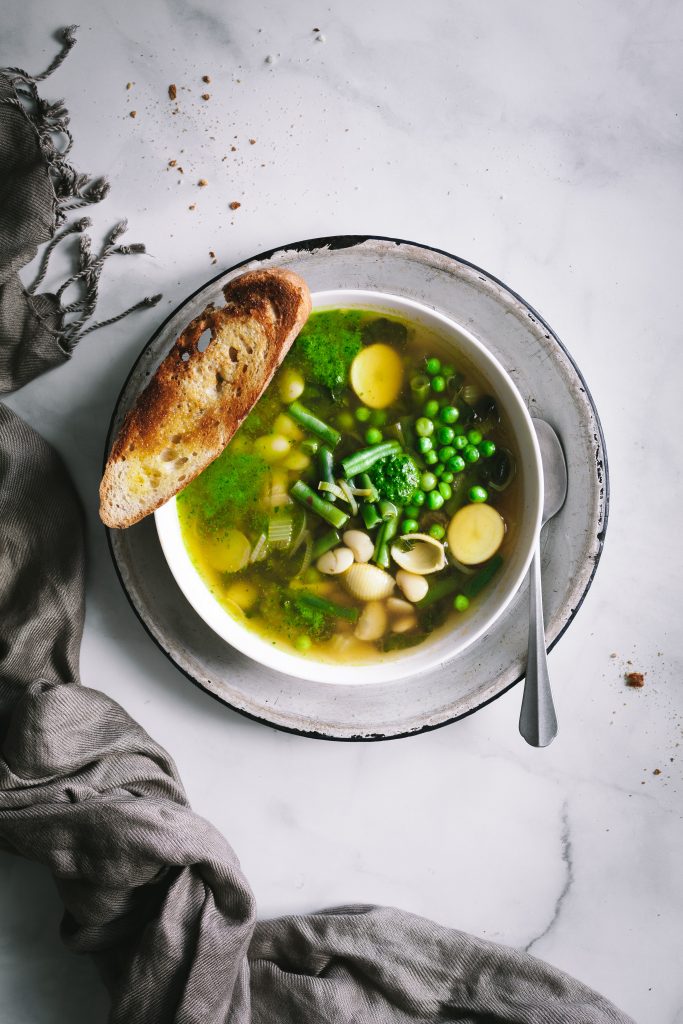 Early March denotes the changing of seasonal tides, the time when we're all too tempted to believe the old saying, 'spring is just around the corner'. And while spring's arrival is inevitable, here we are with snow on the ground and only a few curious buds emerging in expectation of next season. In British Columbia, the air is still very cold and, despite my growing urge to pick fresh berries, I'll have to rein in the anticipation of warmer weather with a few more bowls of soup.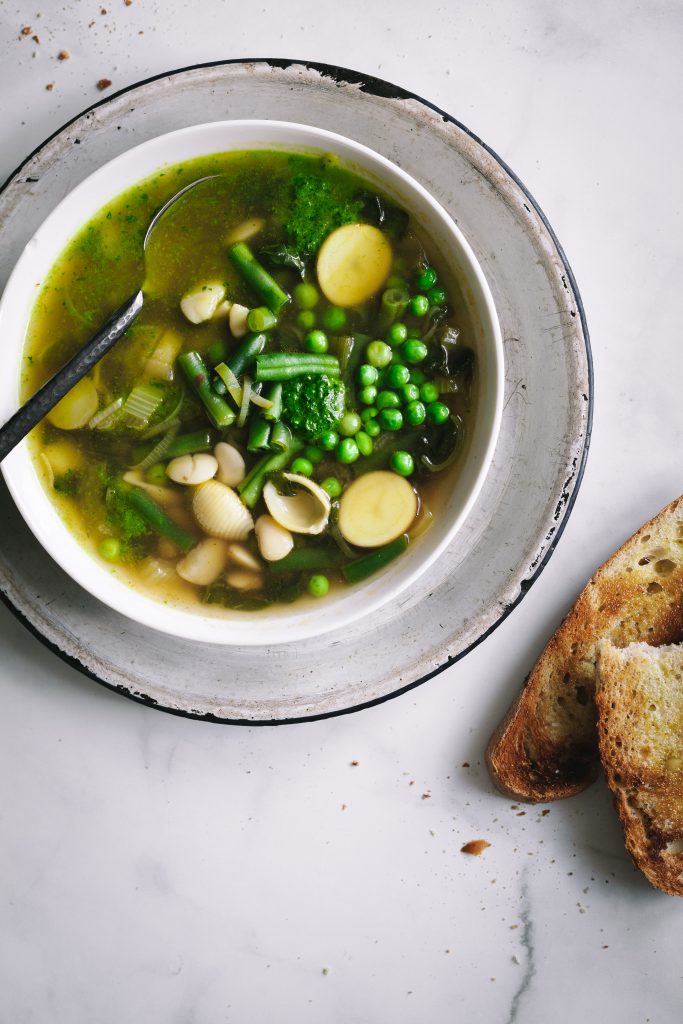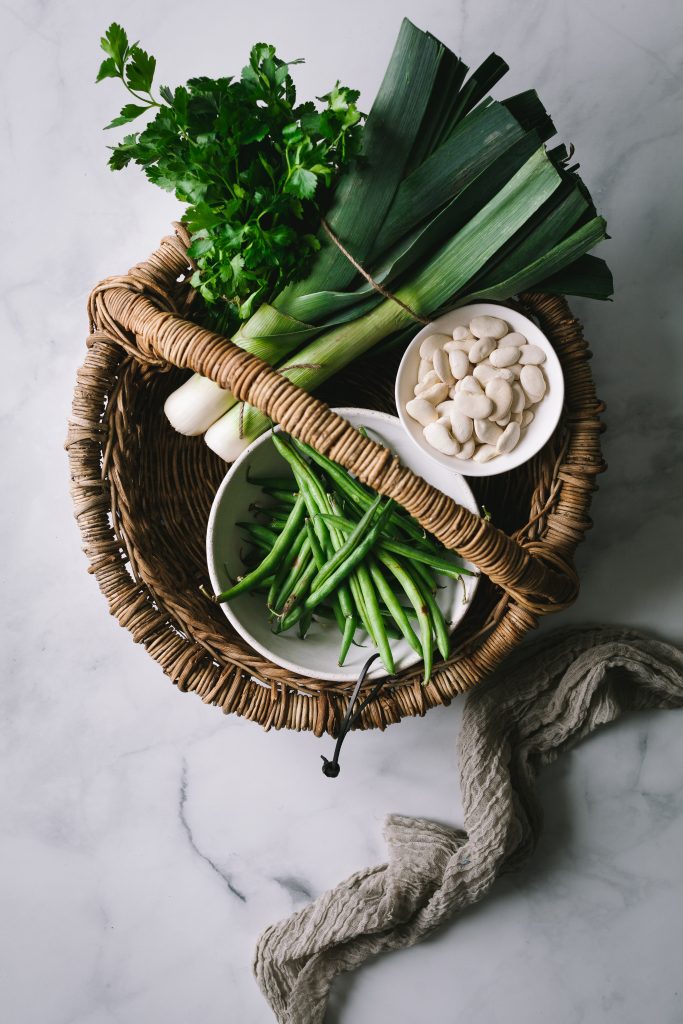 Provençal soup, also known as Soupe au Pistou, is a broth-based vegetable soup originating from Provence, a southern region in France which shares a border with Italy. Undeniably, the region's cuisine is very much influenced by its neighbour. Pistou can be likened to Italian pesto, however, traditionally it does not contain pine nuts or cheese and may even contain roasted tomatoes (made popular by Julia Child, I reckon). There are many variations of pistou and, moreover, Provençal soup; the ingredients differ depending on who you ask and perhaps the time of year.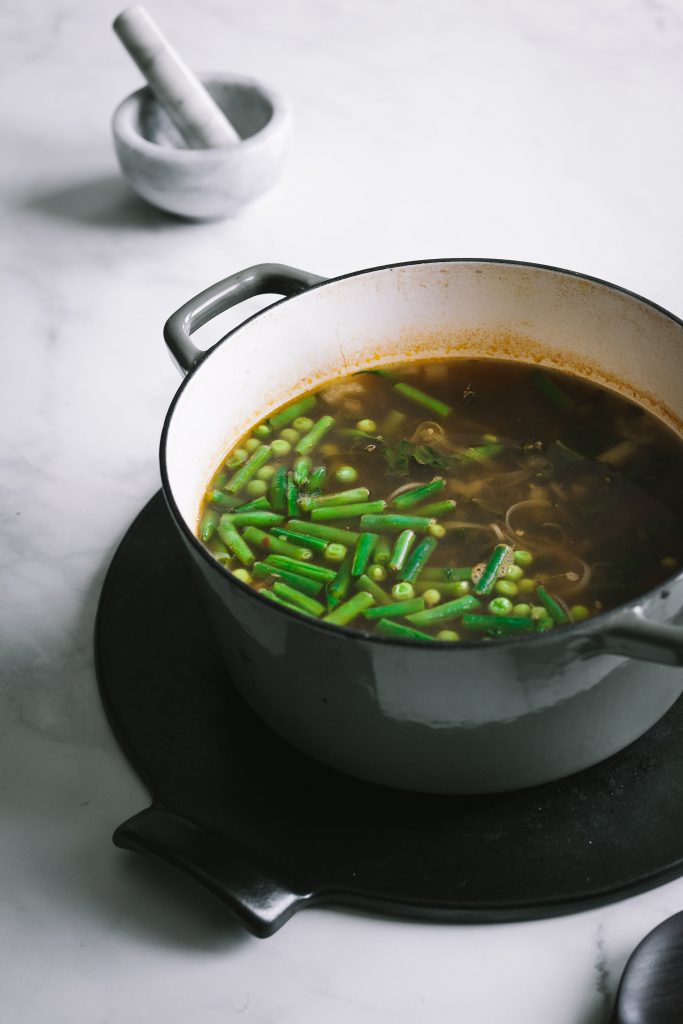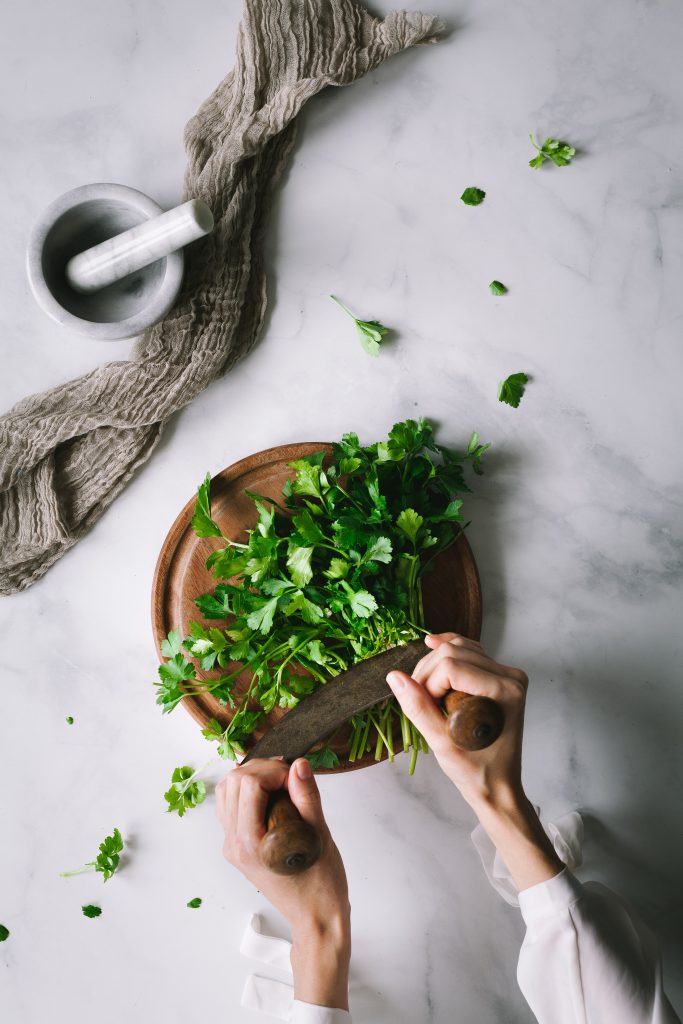 Because it's still winter, this pistou recipe, while still in line with the regional blueprint, uses parsley and spinach instead of basil. Moreover, this soup is brimming with nourishing winter greens and bright spring vegetables like peas and haricots verts; it's the hit of vibrant colour and fresh aromatics our eyes and tastebuds have been craving after the long cold days of winter. A slice of fresh baguette toasted and brushed with olive oil finishes this dish perfectly.
This version of Provençal soup will both enliven the senses with its beautiful colour and flavour, yet still provide comfort during these remaining few weeks of winter. I hope you love it!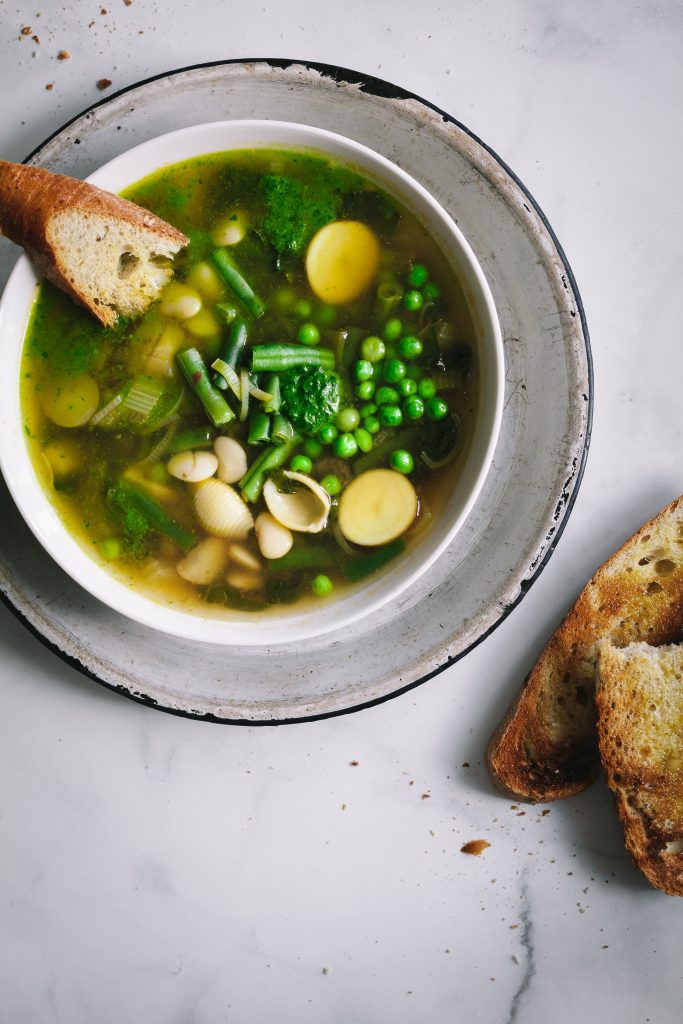 ---
Winter Provençal Soup [Soupe Au Pistou]
Cook's notes
The key to a good soupe au pistou/provençal soup is to include lots of seasonal vegetables; Zucchini, for example, is a popular addition during the summer months. If you prefer, exchange the lima beans for either cannellini beans, navy beans, or flageolet blanc if you can source them. Additionally, if you prefer to include gruyère in your pistou, season the soup lightly to prevent it from becoming overly salty. Short on time? The pistou can be made a day in advance and kept covered in the fridge until ready to use.
INGREDIENTS
For the Soup
2 tablespoons olive oil
2 medium leeks (~100 grams), thinly sliced, washed (white and light green parts only)
1 celery stalk, diced
2 cloves garlic, diced
3 sprigs of fresh thyme, tied in a small bouquet garni
2 tablespoons white cooking wine
185 grams (~ 1 ½ cups) small-medium sized new potatoes cut into ¼" slices
100 grams (~1 ½ cups packed) swiss chard, stems and leaves chopped
8 cups vegetable broth
120 grams (~1 cup) green beans, trimmed and cut into 1-inch pieces
120 grams (~1 cup) frozen shelled peas
75 grams (1 cup) medium pasta shells
120 grams (3/4 cup) lima beans, cooked
Salt & pepper to taste
For the Parsley Spinach Pistou
30 grams (1 cup packed) flat-leaf parsley
75 grams (1 ½ cups packed) fresh spinach
1 clove garlic
1/3 cup extra-virgin olive oil
heaping ¼ teaspoon sea salt
Optional: ¼ cup nutritional yeast or grated gruyère
To Serve
Fresh baguette slices, toasted and brushed with olive oil
METHOD
Prepare the soup
Heat the olive oil in a large heavy pot over medium heat. Cook the leeks, celery, garlic, and thyme sprigs until browned (about 5-10 minutes). Deglaze the pan with cooking wine making sure to scrape the caramelization from the bottom of the pot.
Stir in the chopped chard and potatoes and cook for about 5 minutes more. Next, add the vegetable stock and bring to a boil. Reduce the heat to simmer and then add the pasta shells, green beans and peas.
Simmer uncovered for 10-12 minutes, or until the pasta is al dente and the vegetables are cooked.  While the soups is simmering, prepare the pistou.
Prepare the Pistou
In a food processor, purée the parsley, spinach, garlic, olive oil, salt (and gruyère/nutritional yeast if using). Stop the machine and scrape down the sides to ensure everything purées evenly. Set aside.
Assembly
Remove the thyme sprigs from the soup and stir in the lima beans. Remove from heat, portion the soup into bowls and top each with a good dollop of pistou. Serve with toasted baguette slices brushed with olive oil.