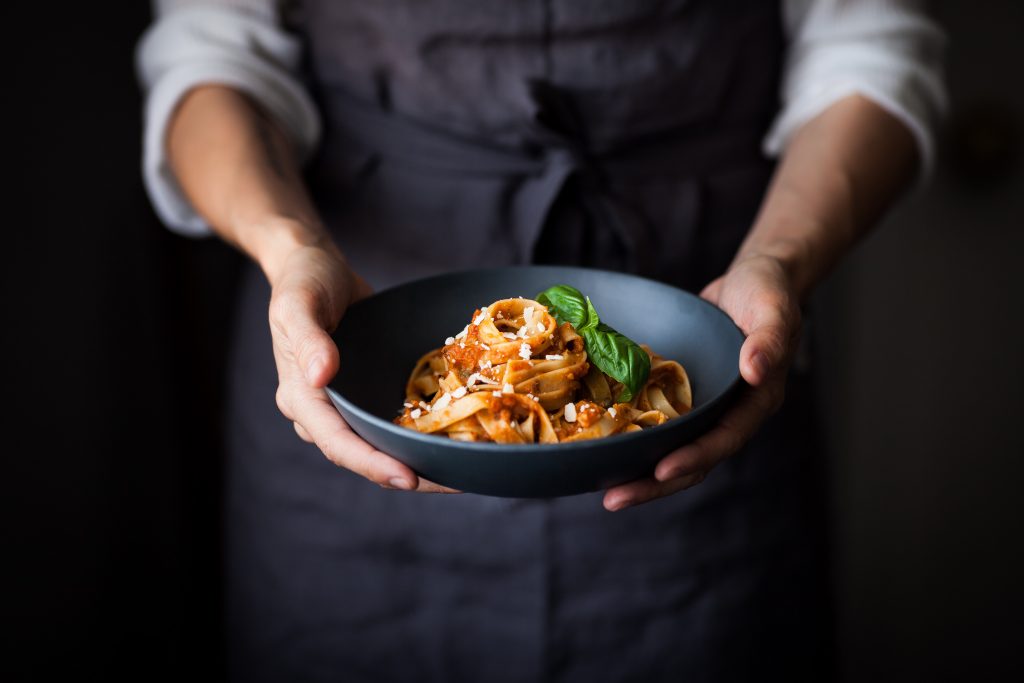 Summer is just around the corner, and with it, all the fresh seasonal produce you could ever want. I look forward to this time of year when the farmers markets are bustling with activity and brimming with juicy melons, melt-in-your-mouth berries, and weighty tomatoes at every turn.
While I can eat the aforementioned delights by the crate, let's not overlooked the humble (and quite fetching) aubergine. These deep purple ovoid fruits become widely available in the summer months – they're incredibly versatile with a texture and flavour all their own.
Aubergines, as many Europeans call them, actually go by a few names. In Asia they're referred to as 'brinjals', however, in North America and Australia they're more commonly known as 'eggplants'. [If you're at all curious where the name 'eggplant' comes from, well, in the past, these plants mostly produced white, egg-shaped fruit. Their cultivation led to the purple varieties we're used to seeing today.]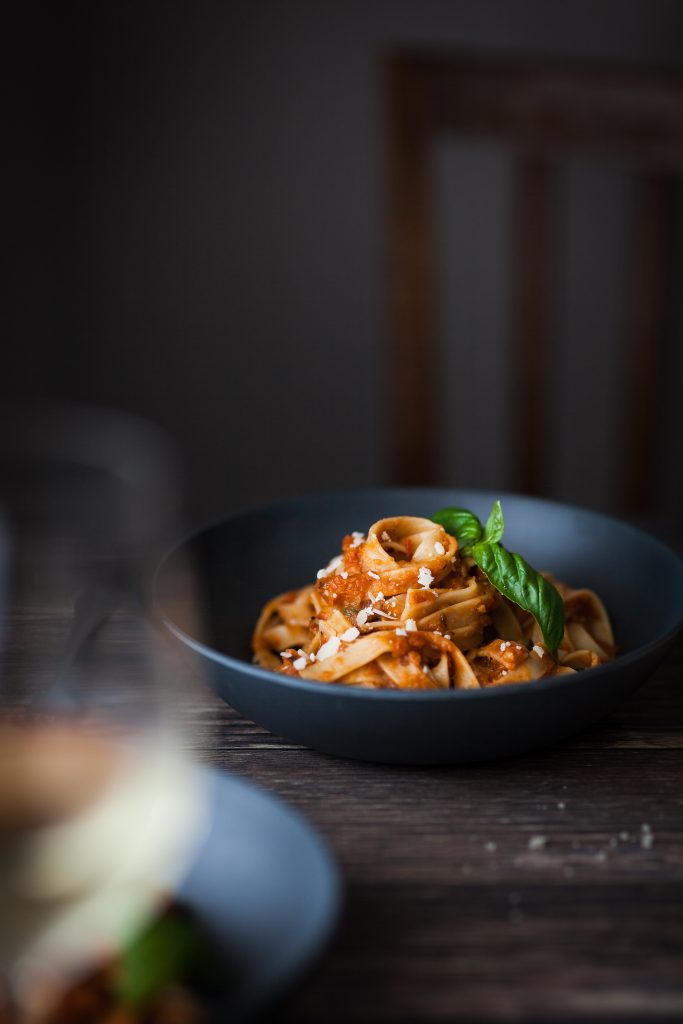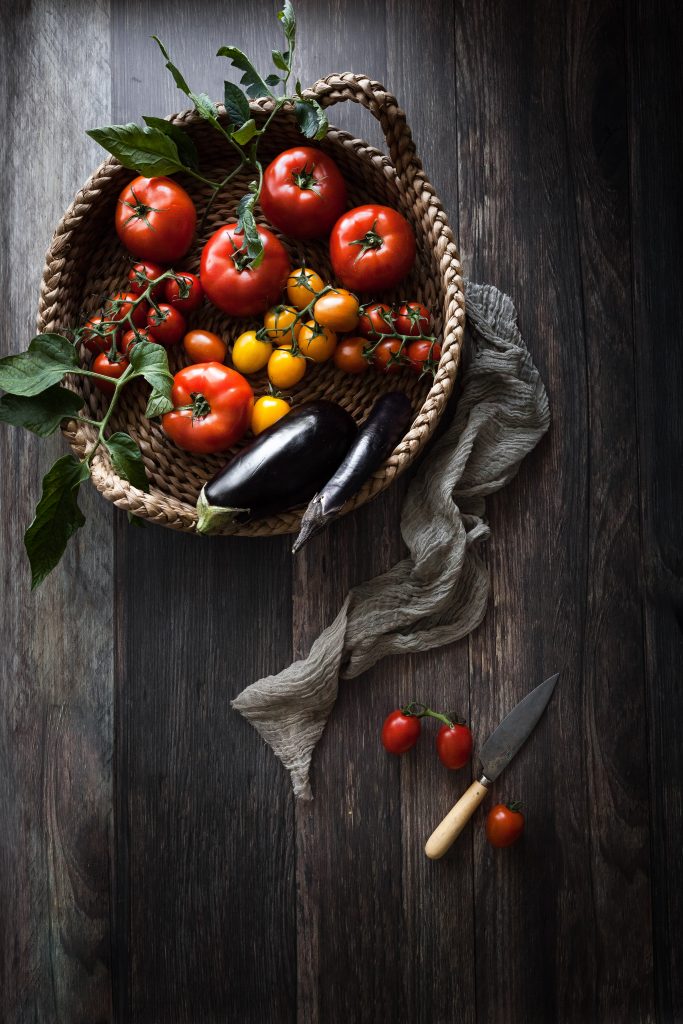 This roasted eggplant and sun dried tomato tagliatelle is a simple and satisfying meal – it's laden with fresh vegetables and, best of all, it makes the house smell amazing while it's cooking. The sauce is made from one and a half pounds of ripe tomatoes simmered down, and studded with their sun dried counterparts.
Moreover, roasted eggplant adds both a meatiness and mellow-smoky-caramelized flavour to the sauce. Paired with briny capers and fresh basil, this is a perfect pasta for a weeknight dinner – it's satisfying yet considerably light.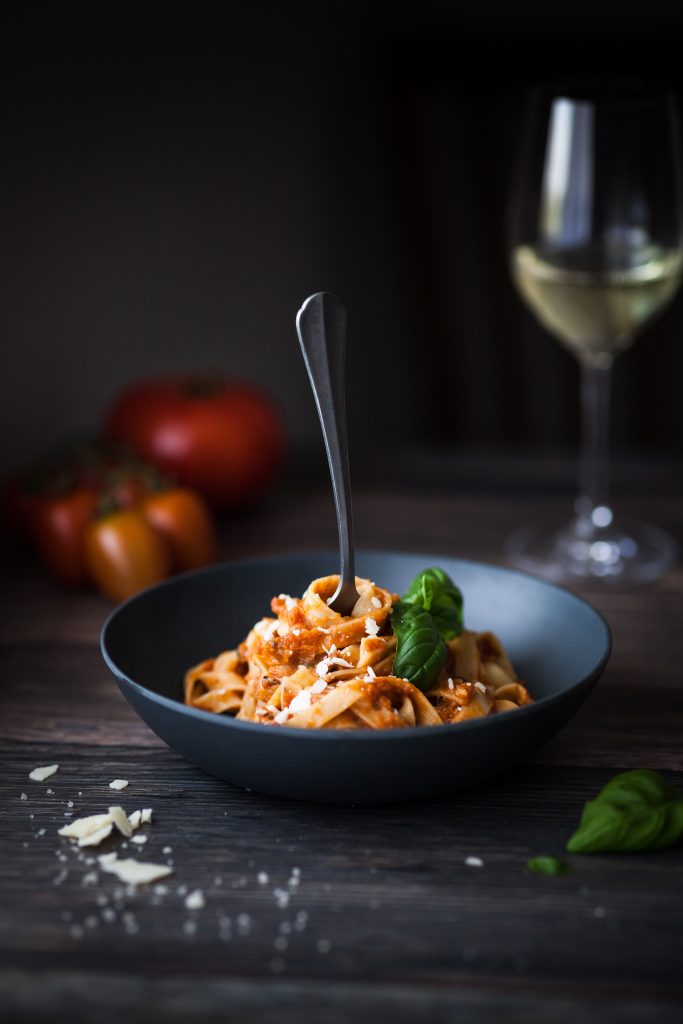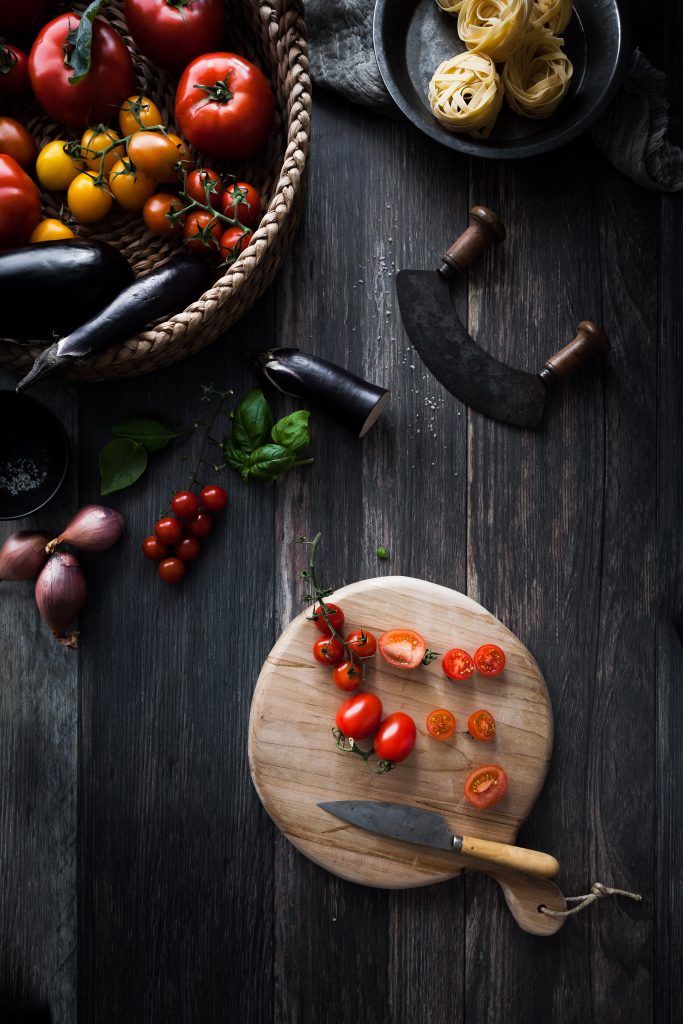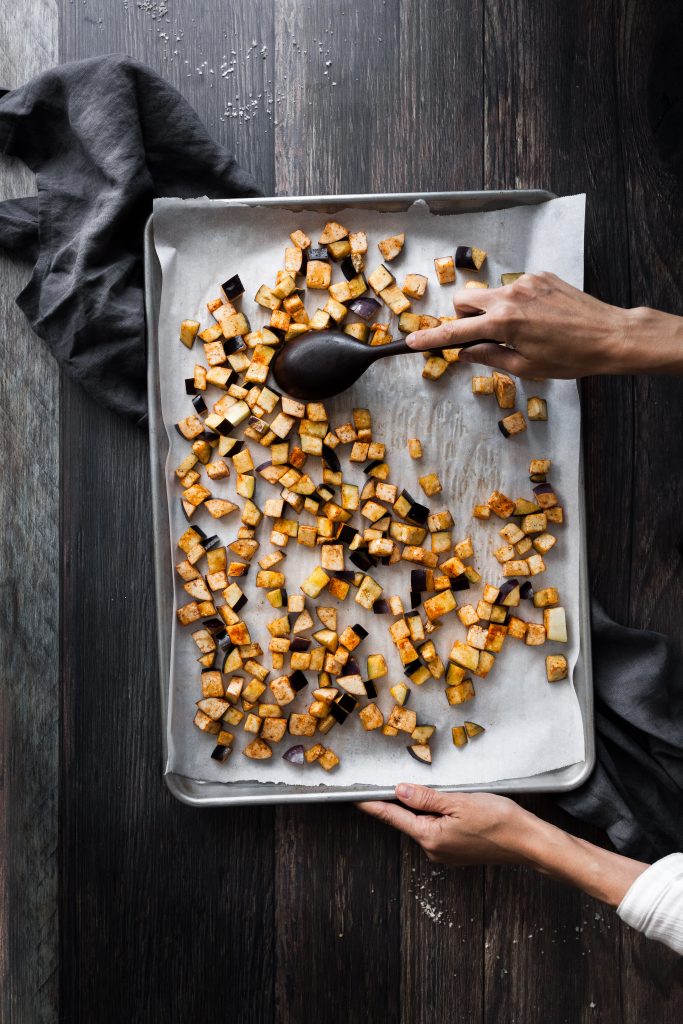 For best flavour and texture, be sure to source ripe tomatoes and eggplant; unripe eggplant has a hard skin which isn't that pleasant to eat even after cooking. Alternatively, if your eggplant isn't ripe, you could peel/cut the skin off, however, it develops a nice flavour from roasting so I recommend sticking with ripe eggplant for this recipe. So, how do you to tell if you're eggplant is ripe? Gently squeeze the skin; if it springs back, it's ready. If it leaves an indent, it's not.
Finally, you will need to use a food processor to blend the sauce, however, an immersion blender could also be used if your skillet/sauce pan is deep enough (you don't want sauce splattering all over the place).
I hope you give this roasted aubergine and sun dried tomato tagliatelle a go.
Enjoy your summer!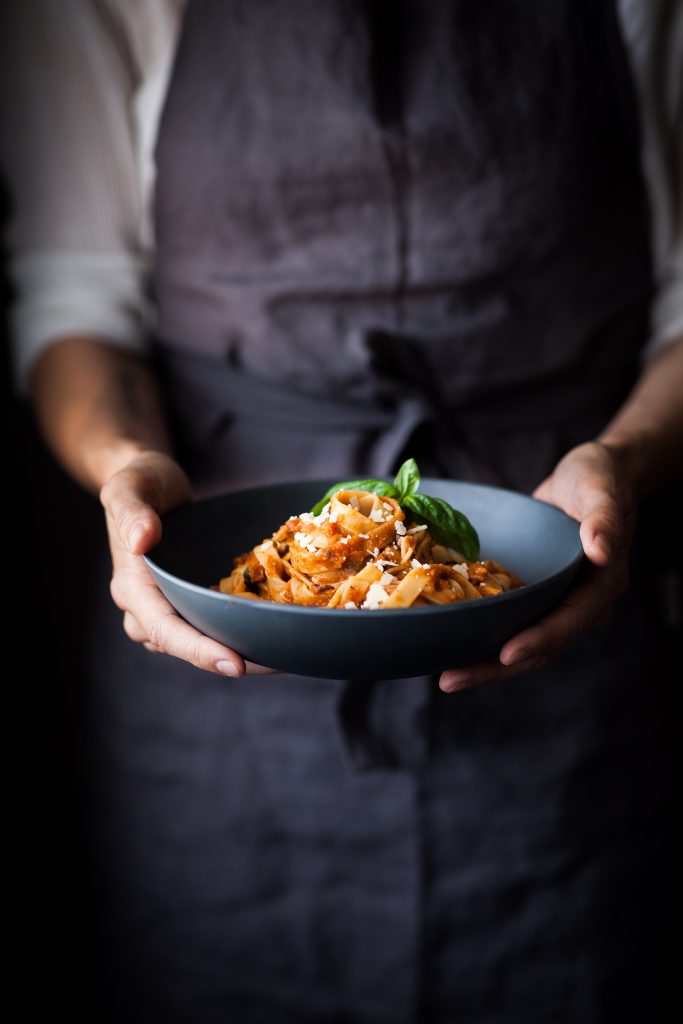 Roasted Aubergine & Sun Dried Tomato Tagliatelle
Enjoy the much anticipated flavours of summer with this simple, vegetable focused pasta dish. Tagliatelle noodles are tossed in an aromatic and flavourful fresh tomato sauce elevated by the addition roasted eggplant. Moreover, briny capers and fresh basil bring this dish together for an easy and satisfying meal any day of the week. Be sure to source ripe tomatoes and eggplant for best flavour and texture.
Prep Time | 10 minutes
Cook Time | 45 min
Serves| 2-3
INGREDIENTS
1 lb aubergine/eggplant, chopped into ½ cubes (~1 large eggplant)
3 tablespoons olive oil
½ teaspoon smoked paprika
1 ½ lbs ripe mixed tomatoes, chopped
1 shallot, chopped
3 cloves garlic, chopped
2 tablespoons (~40g) oil packed sun dried tomatoes, chopped
Good splash of red wine
1 teaspoon organic cane sugar
200 g Tagliatelle noodles
1 tablespoon capers
fresh basil for garnish
fresh grated Parmesan cheese (optional)
DIRECTIONS
Preheat the oven to 400'F. In a large bowl, combine the chopped eggplant, smoked paprika, olive oil, and season with salt and pepper. Stir until evenly coated, then arrange on a large parchment lined baking sheet. Roast for 30 minutes, turning halfway through.
Meanwhile, heat some olive oil in a large skillet, then add the shallot and garlic and cook until fragrant (about 2-3 minutes). Add the chopped tomatoes, sun dried tomatoes, sugar and red wine. Cook, stirring frequently, until the tomatoes are softened and the sauce has reduced and thickened (about 10-15 minutes). Season with salt and pepper.
Transfer the sauce to a food processor and add approx ¾ of the roasted eggplant. Pulse until roughly combined, but not pureed (you want it a little chunky).
Transfer the sauce back to the skillet and stir in the capers and remaining eggplant. Heat through, stirring occasionally.
Cook the pasta per package directions. Drain and toss it in the pan with the sauce. Serve with chopped basil and grated parmesan (optional).
Cook's Notes | parmesan is entirely optional; I find the flavours superb on their own between the smokiness of the eggplant, the depth of the sun dried tomatoes and the briny capers. Fettuccine or spaghetti noodles are a good alternatives to tagliatelle, however, you can use any noodle you prefer.