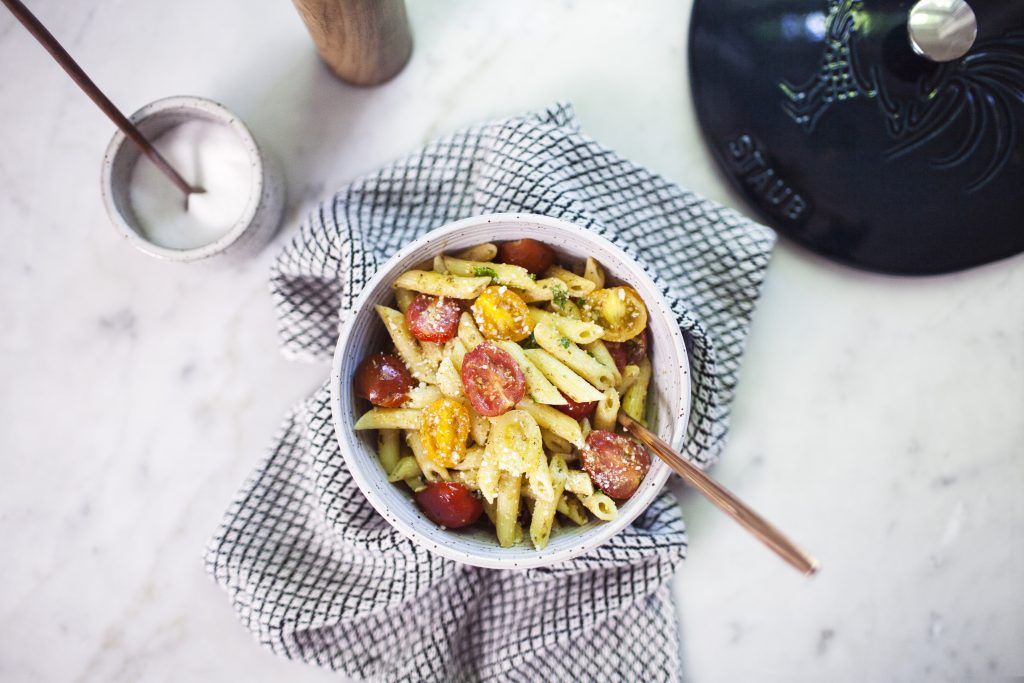 When it comes to summer cooking, I find myself inspired to cook more simple dishes. Dishes that are inspired by what is vibrant in my garden! With the heat, less time is spent fussing in the kitchen & more time is spent enjoying the sunshine outdoors. While I love making a large batch of tomato sauce in the colder months, using a fresh cherry tomatoes based sauce is one of my favourite pasta-based dishes throughout the season.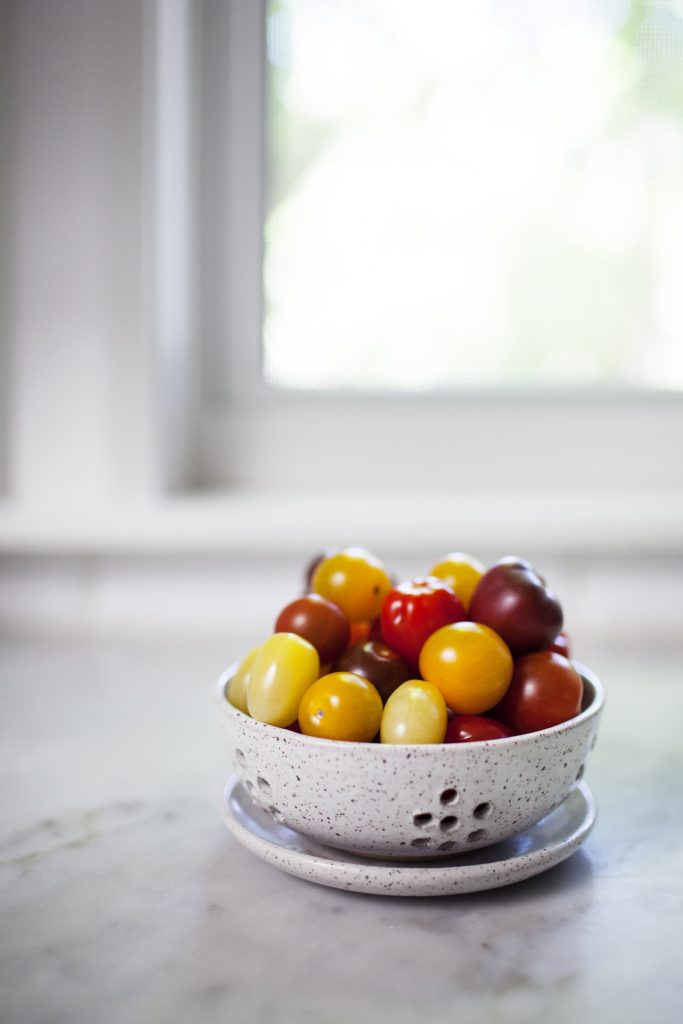 There is something about a sun-ripened tomato. So naturally juicy & sweet, they are just perfect enjoyed on their own. This recipe will take you from a weeknight meal to a weekend of entertaining. It is fresh, colourful & uses only a handful of ingredients. Simple enough to make throughout the week, but elegant enough to prepare for guests.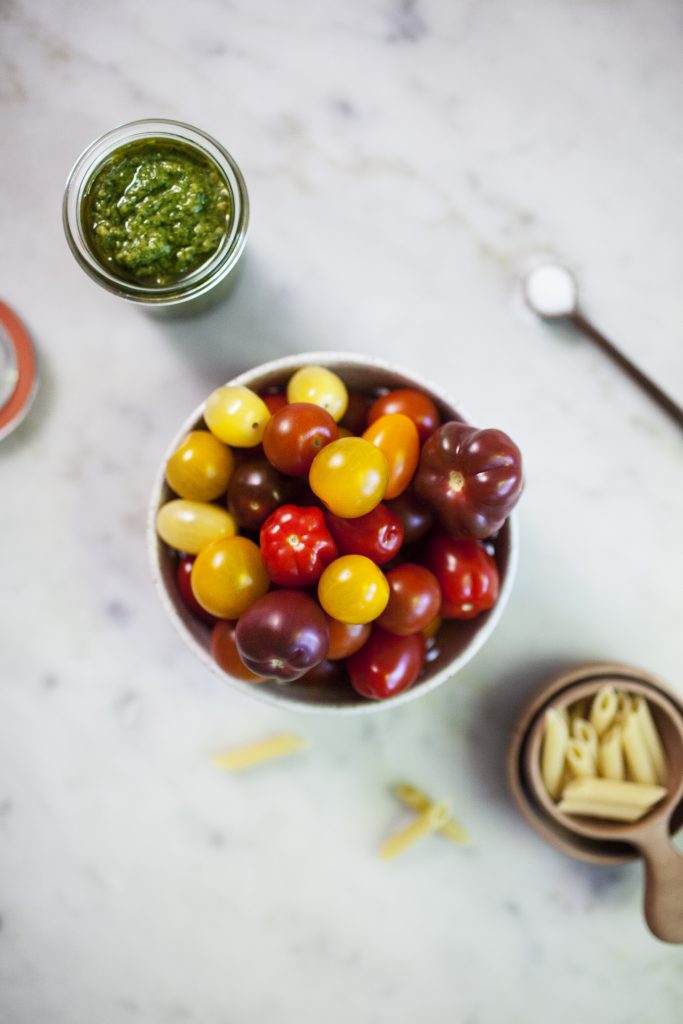 For the sauce I use a homemade pistou, which is very similar to pesto. A mix of fresh herbs, garlic & olive oil, the main difference is that a pistou does not contain pine nuts. A fresh herb-based sauce that can be enjoyed mixed with pasta or spread over bread. While some traditional pistous do not include parmesan either, I think a little bit of parmesan adds the perfect hint of nuttiness. I recommend using a quality extra virgin olive oil (not regular olive oil), as it is the ingredient that binds the pistou sauce together. Regular olive oil does not offer the flavour that extra virgin olive oil offers.
(Above: Lacanche Cormatin Range in Delft Blue)
You can prepare the pistou in advance & enjoy it throughout the week. When ready to prepare this pasta dish just simply toss is all together & enjoy along side a glass of chilled white wine. Cheers!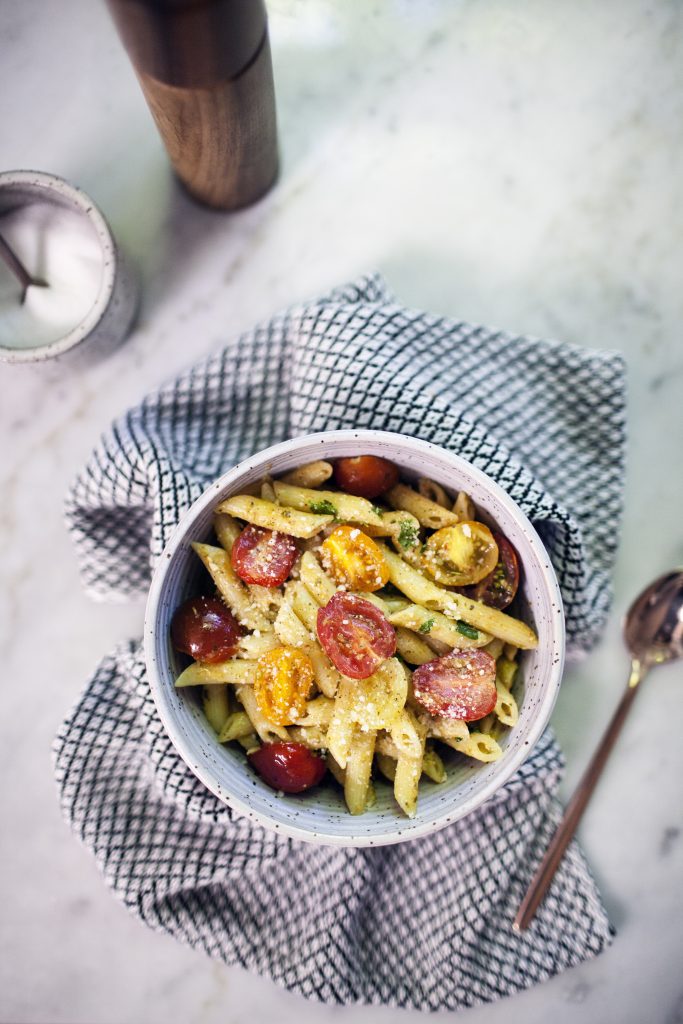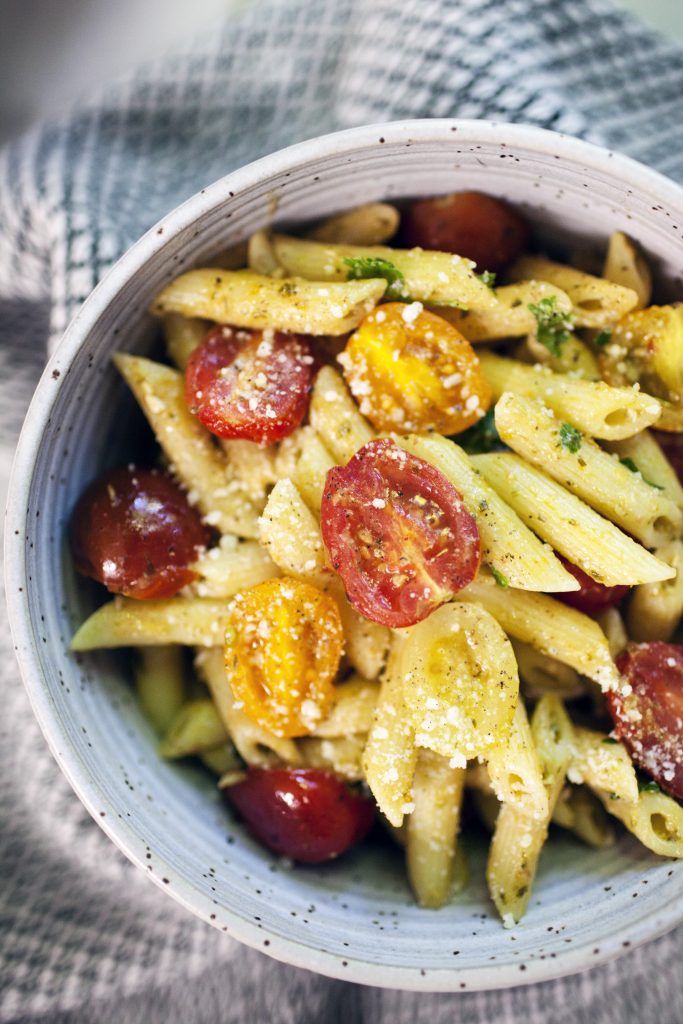 Ingredients
For the pistou:

2 cups fresh basil, packed
1 cup fresh parsley, packed
1/2 cup freshly grated parmesan (optional)
3 garlic cloves, minced
1/3 cup extra virgin olive oil
salt & pepper, to taste

For the penne:

1 pound penne pasta (1 box)
1/2 cup fresh pistou (see recipe above)
3 cups heirloom cherry tomatoes, halved
salt & pepper, to taste
freshly grated parmesan, for serving
Directions
For the pistou:

In a food processor add the basil, parsely, parmesan & garlic. Pulse 2-3 times.
On low speed drizzle in the olive oil. Puree until smooth.
Season with salt & pepper to taste. Transfer to a lidded glass jar & refrigerate for up to a week.

For the penne:

In a large pot of boiling salted water cook the penne until aldente. Strain & place back in the pot over low heat.
Add the pistou & toss to coat. Season with salt & pepper.
Add the tomatoes & stir until evenly incorporated. Cook for 2-3 minutes, until the tomatoes just begin to break down.
Transfer to desired serving bowl & sprinkle generously with parmesan.
https://french-barn.com/blog/food-wine/entrees/summer-heirloom-tomato-and-pistou-penne
The French Barn - Blog