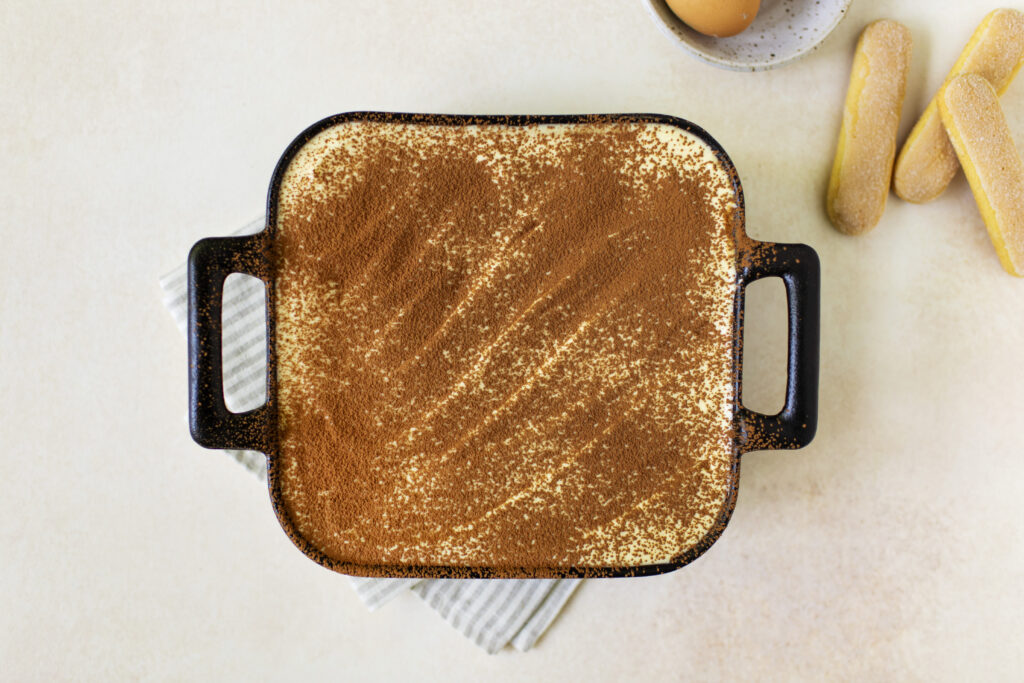 One of my favourite make ahead no-bake desserts to serve during the summer months is a Classic Tiramisu. It is the perfect end to dining alfresco!
Tiramisu is a popular Italian dessert flavoured with espresso. Think layers of espresso soaked lady fingers with a creamy mascarpone filling. I like to include a little amaretto in the espresso too, but the alcohol can simply be omitted.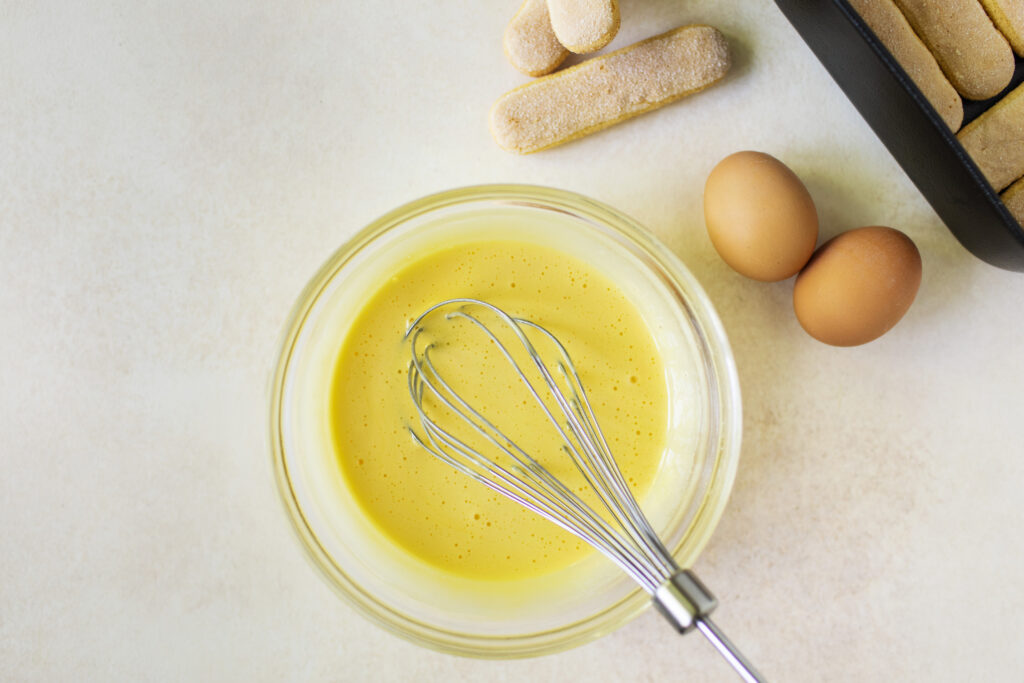 Because this dessert features only a hand full of ingredients, it is important to use the highest quality ingredients available. Italian mascarpone cheese & good strong espresso!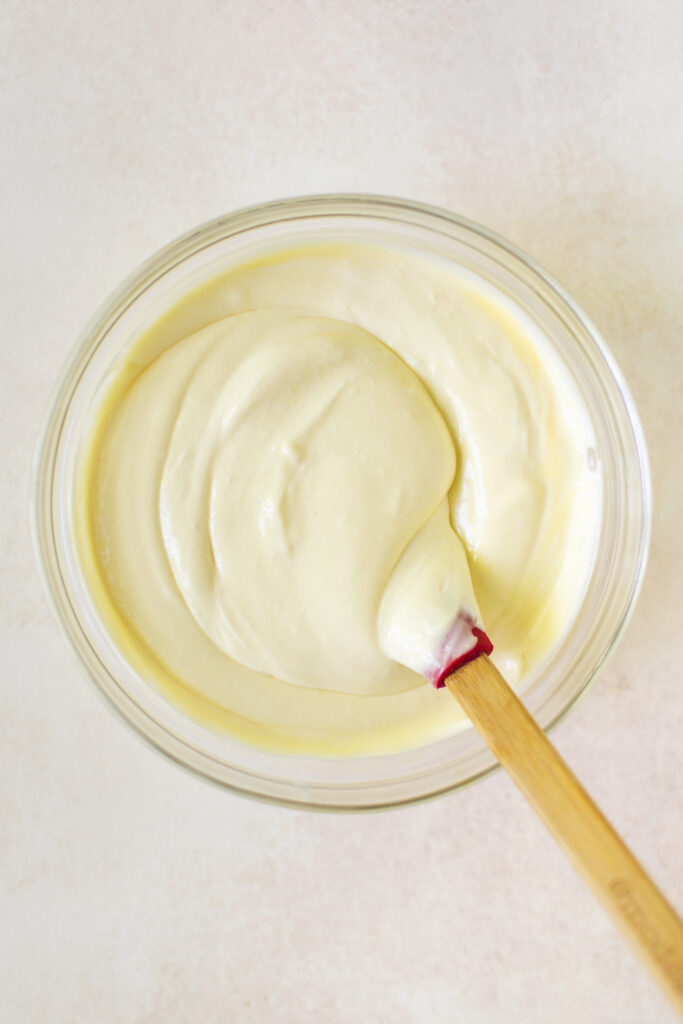 This dessert can be made up to 24 hours in advance & is best served once it has set for a minimum of 4 to 6 hours. Allowing it to chill in the fridge once assembled will ensure the lady fingers really softened & soak into that creamy filling!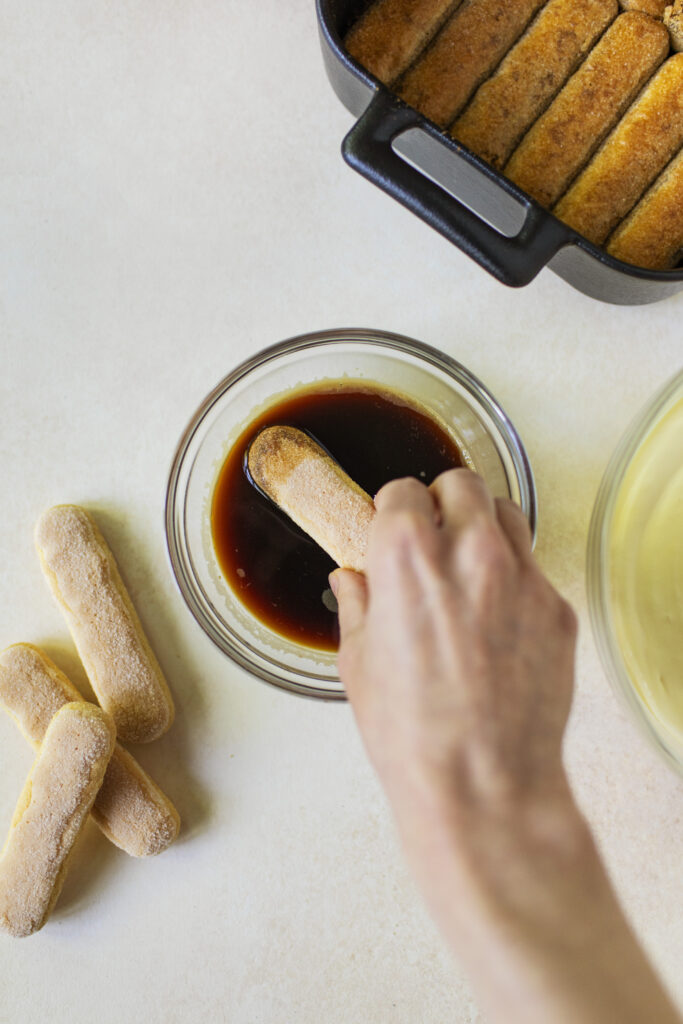 In my version, the egg yolks are first whisked over a double boiler with sugar until they are warm to touch. This ensures they are safest to eat rather than including raw egg yolks in the filling. Just be sure to continuously whisk the egg yolks during this step so they do not cook.
Cheers & have a wonderful Summer!
Classic Tiramisù
Ingredients
For the filling:
4 large egg yolks
1/2 cup granulated sugar, divided 
3/4 cup heavy cream
1 cup mascarpone cheese
2 teaspoons vanilla
1 pinch salt
To assemble:
1 1/2 cups espresso
3 tablespoons amaretto  
26 lady fingers
3 tablespoons cocoa powder
Directions
For the filling:
In a medium heat-safe glass bowl whisk together the egg yolks & 1/4 cup of sugar. Transfer to a double boiler over low heat & continuously whisk until warm to touch. Remove from heat & let cool to room temperature.
Once the egg yolks have cooled, whisk until mixture is pale & fluffy. It should triple in volume.
In a separate large mixing bowl whisk the cream & remaining sugar to medium peaks. Add the mascarpone & vanilla, whisk until well combined.
Fold in the egg yolk mixture & set aside until ready to assemble.
To assemble:
Whisk together the espresso & amaretto. Dust an 8 by 8-inch square baking dish with a tablespoon of cocoa powder.
Dip the lady fingers in the espresso, but do not soak. Line the baking sheet with the lady fingers, about 12 to 13 per layer.
Top with half the filling & smooth to flatten using an offset spatula. Dust with a tablespoon of cocoa powder & repeat, finishing with a final layer of cocoa powder.
Cover & refrigerate for 4 to 6 hours. Slice & serve!