Because you can't have turkey without stuffing, today I am sharing the recipe for an upscaled version of a classic. Canadian Thanksgiving is just around the corner, so it is time to roll up our sleeves & get our menu in order!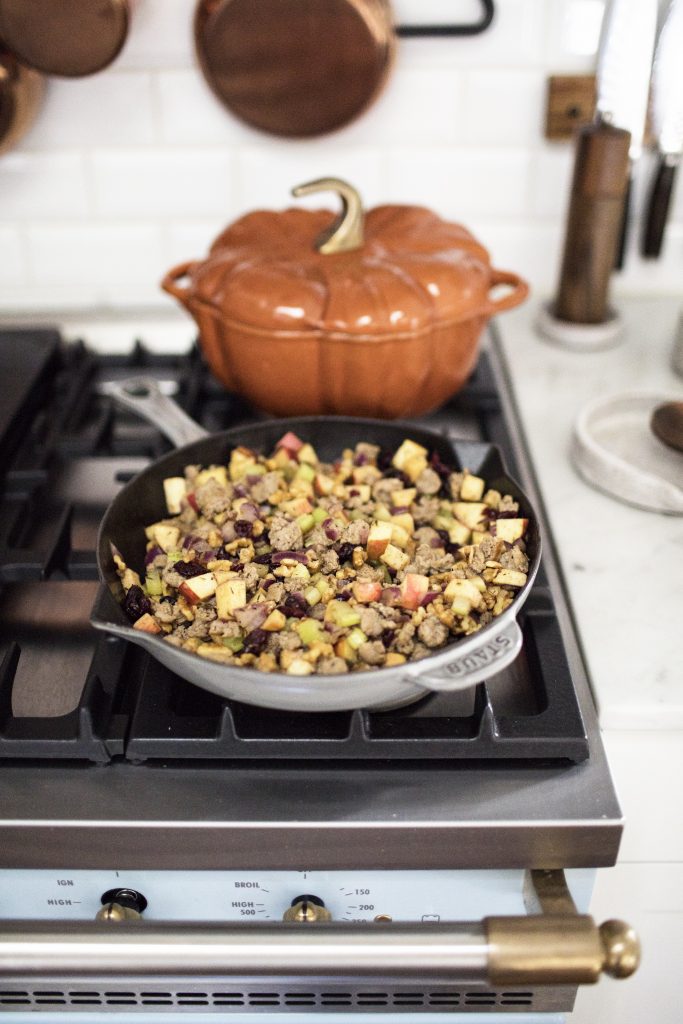 Growing up, the stuffing I knew & loved only contained a few ingredients (bread, onion, celery & stock). As I got older & the stuffing became my job, I decided it was time to experiment with additional ingredients & flavours!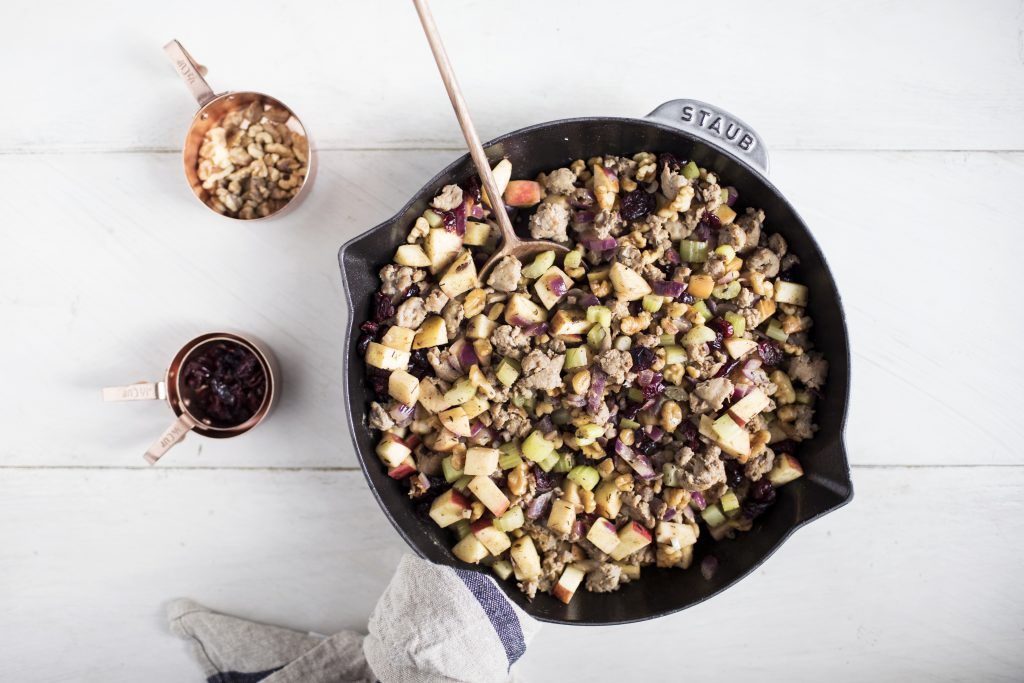 The first thing I fell in love with was incorporating sausage into the mix. Sausage brings so much flavour overall. To stick with the classic turkey theme, I like to use a turkey-based sausage. It pairs perfectly with the sage & thyme.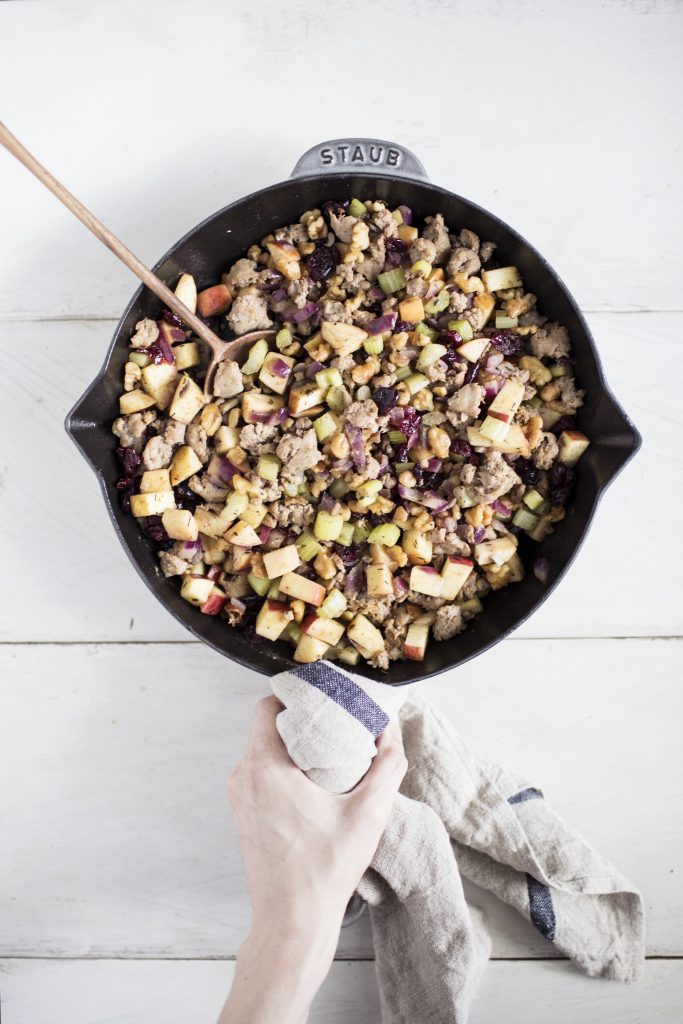 Secondly, I like to incorporate other fall flavours cues, such as fresh apples & sweet cranberries. Each bite of this stuffing brings you a little mix of sweet & savoury, one of the best combinations in my opinion! Plus, it is like having the cranberry sauce already mixed into the dish. Drizzle it with a little (or a lot) of gravy & this dish will become your favourite part of Thanksgiving dinner!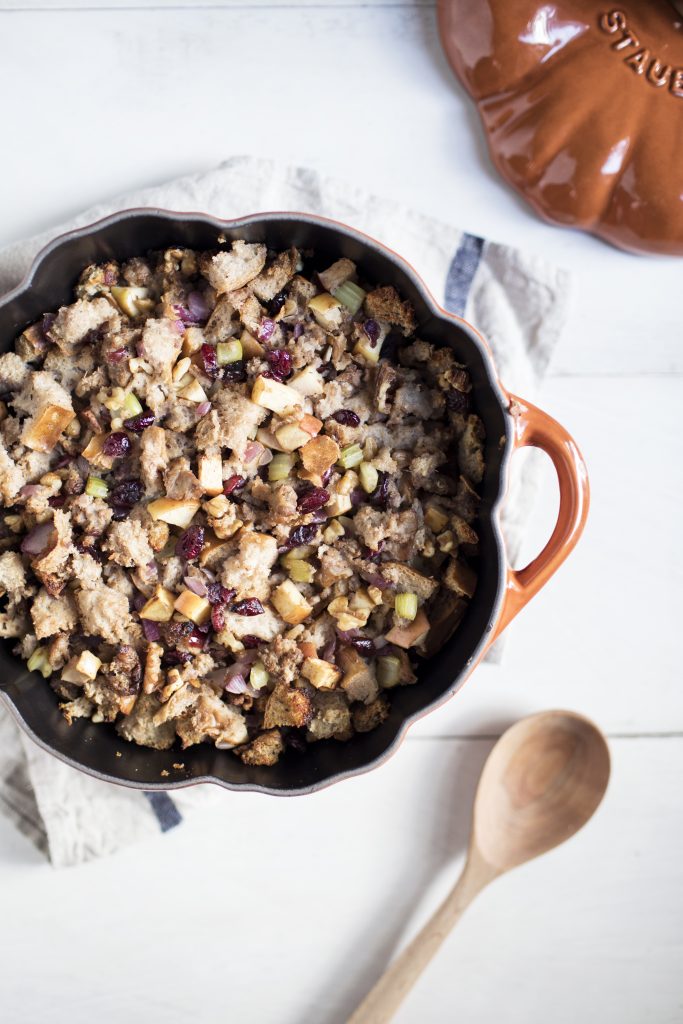 Ingredients
1 pound ground turkey sausage
2 tablespoons unsalted butter
3 cloves of garlic, minced
1 medium red onion, diced
2 sticks of celery, diced
3 teaspoons dried sage
1 teaspoon dried thyme
salt & pepper, to taste
2 cups diced apples
3/4 cups dried cranberries
3/4 cups chopped walnuts
8 cups cubed french bread
1 egg, whisked
3 cups low sodium turkey stock
Directions
Preheat the oven to 350 degrees.
In a skillet over medium heat, add the ground sausage. Cook until golden brown. Using a slotted spoon, remove from skillet & set aside in a bowl until ready to use.
In the same pan add the butter, garlic, red onion & celery. Cook until the vegetables soften, about 8 minutes.
Add the sage, thyme, salt, pepper, apples, cranberries & walnuts. Stir to combine. Cook for an additional 2 minutes & remove from heat. Let cool to room temperature.
In a large mixing bowl add the cubed bread followed by the sausage mixture. Toss with the egg & turkey stock. Season with additional salt & pepper.
Transfer to desired baking dish & bake for 40-45 minutes. Serve warm.
https://french-barn.com/blog/food-wine/classics/apple-cranberry-sausage-stuffing
The French Barn - Blog