Along with winter comes a desire for chocolate. A seasonal pick-me-up from the cold and blustery weather this time of year! And, of course, what would the holidays be without some kind of chocolate indulgence?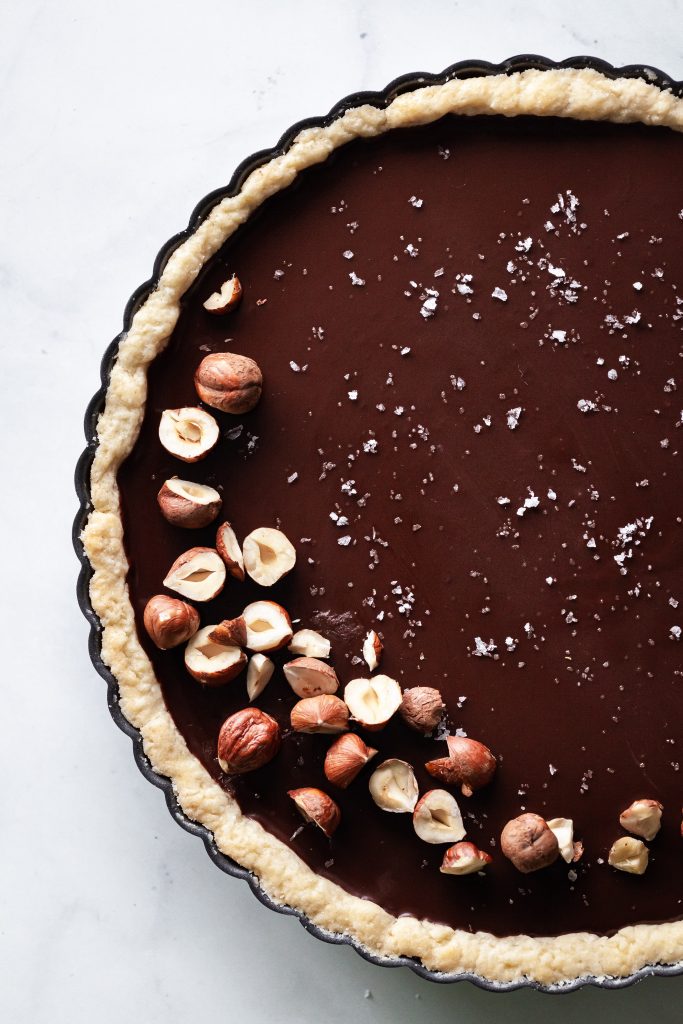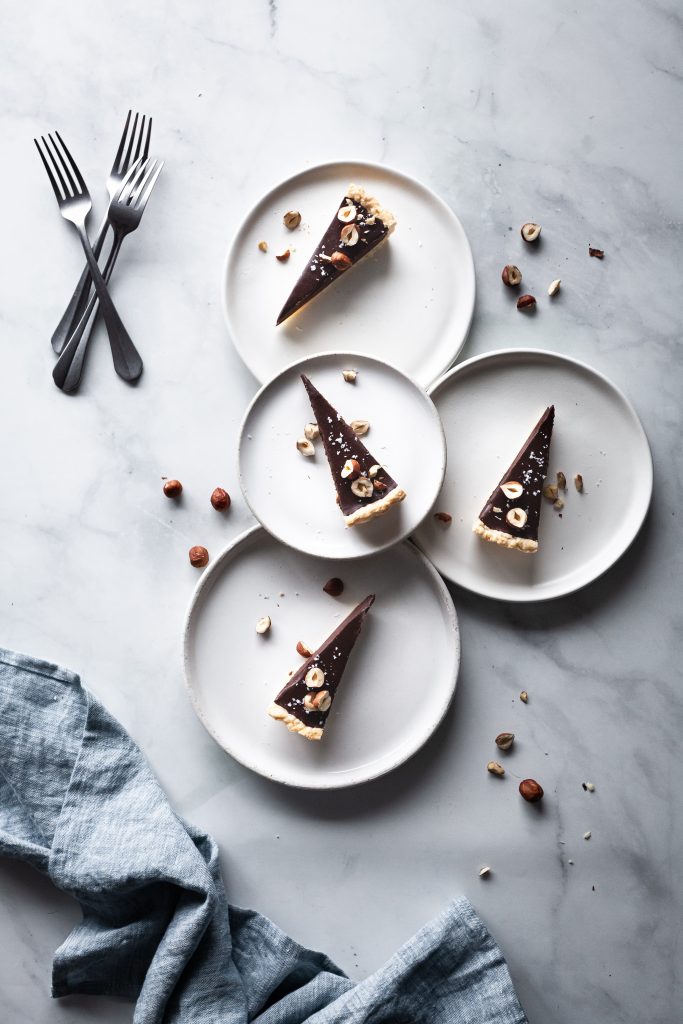 Salted Chocolate Ganache Tart
Today, I'm sharing a classic French chocolate ganache tart, traditionally called "tarte au chocolat". It sounds fancy and complicated, but it's quite an easy dessert to prepare. This salted chocolate ganache tart is very rich, smooth, pleasantly salty, and severely chocolatey; a small slice is all you need!
What is Ganache
Ganache is simply a mixture of heavy cream and chocolate. Hot cream and chopped chocolate are mixed together into a smooth, glossy liquid. Ganache can be used as a glaze or frosting for cakes, made into truffles, or used as a sauce or filling. It's quite versatile in the dessert realm.
As you may have guessed, the components of ganache make it quite rich. For example, this 9″ tart will serve about 10-12 people and provide that much needed chocolate fix without a very large piece.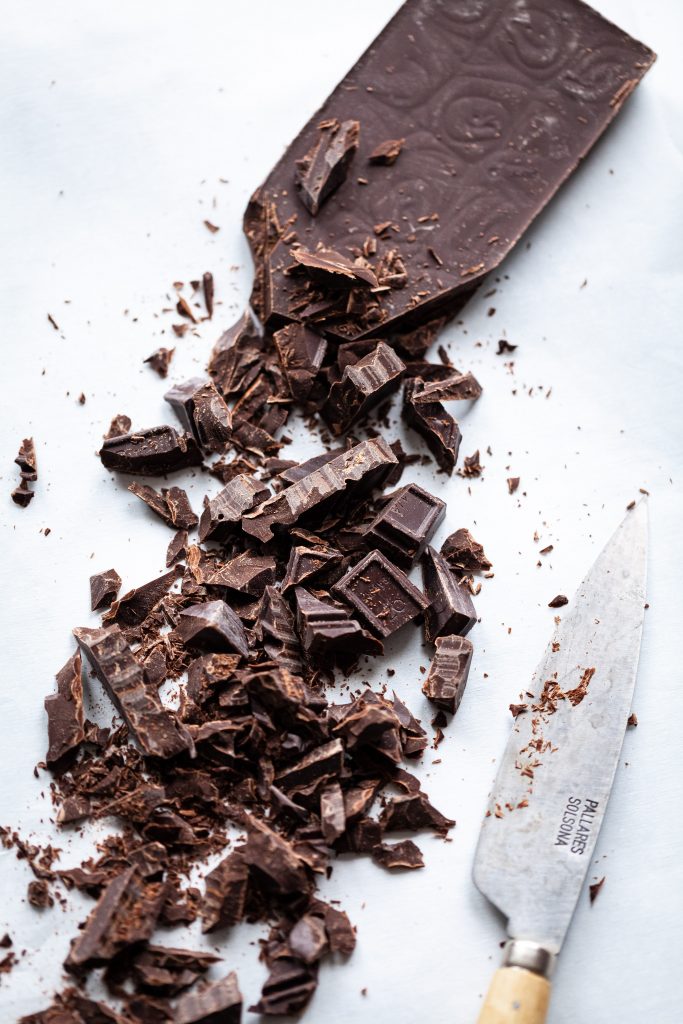 Making this recipe Dairy-free
During the holidays, we often have to entertain for those with dietary preferences or restrictions. This recipe can easily be made dairy-free by making a few small substitutions:
For heavy cream, use full fat coconut milk in equal measure-it makes a fantastic ganache that tastes very similar to the cream version. I've made dairy-free ganache more times than I can remember, so don't hesitate to give it a go. And no, it's doesn't taste of coconut.
For butter, use either cold coconut oil or a cold dairy-free butter alternative in equal measure. Most butter alternatives contain sodium, so omit the salt measure from the dry ingredients.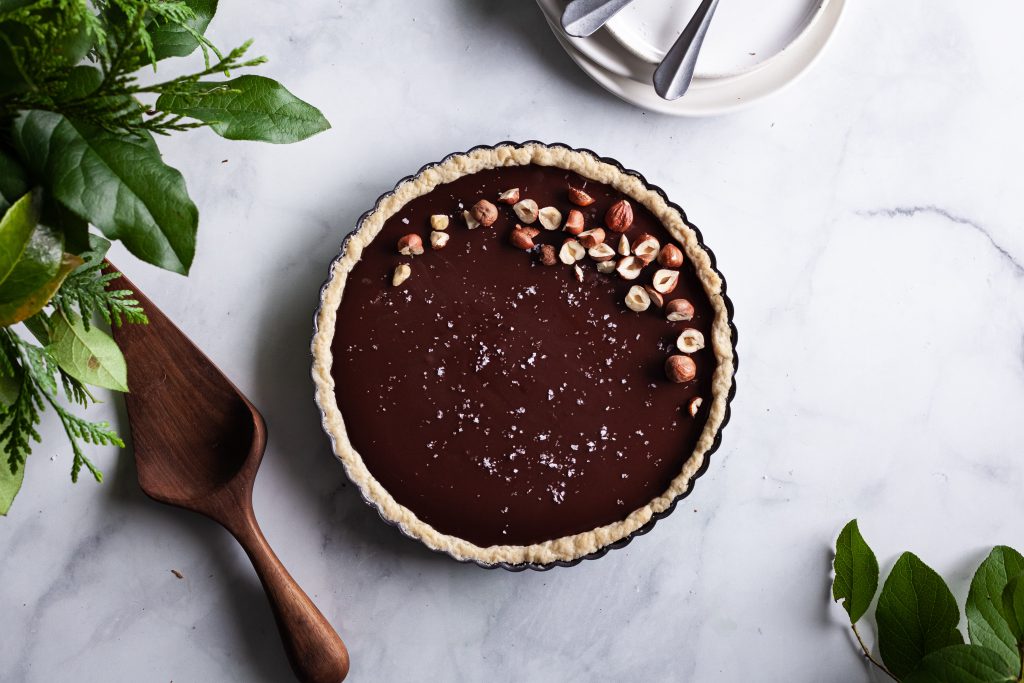 Keys to Making this Salted Chocolate Ganache Tart
Don't Stretch the Pastry – when placing the tart dough in the pan, don't stretch it. If you've rolled the dough with a 1″ overhang you will have plenty of dough to line your tart pan. Stretched dough is more prone to shrinkage during baking.
Keep the Pastry Cold – this ensures that your shell won't shrink too much in the oven and helps make rolling and transferring the dough much easier.
Gently Heat the Cream – you want to heat the cream slowly over medium and stir it often. When the cream just starts to bubble, it's ready to pour over the chocolate. Overheated cream will have a burnt taste which won't be that pleasant and it can burn very quickly if not watched!
Use Good Quality Chocolate – source a good quality semi-sweet dark chocolate for this recipe. However, with quality comes a higher price point. That being said, chocolate is a matter of personal taste and preference, so choose something you like…sometimes the best chocolate is simply the one that fits your budget and tastes good.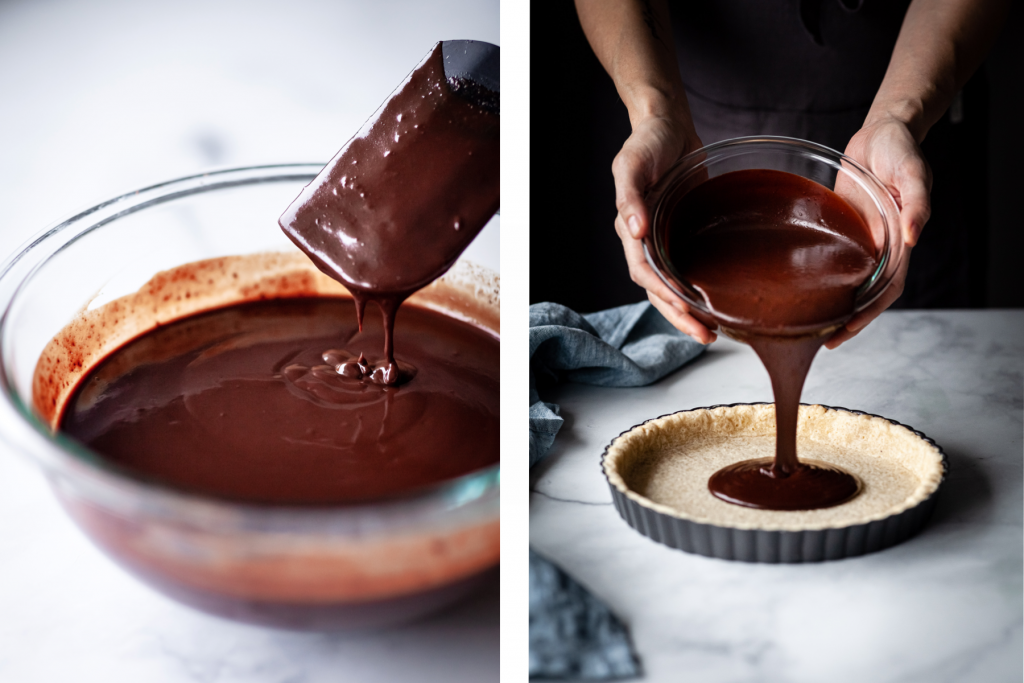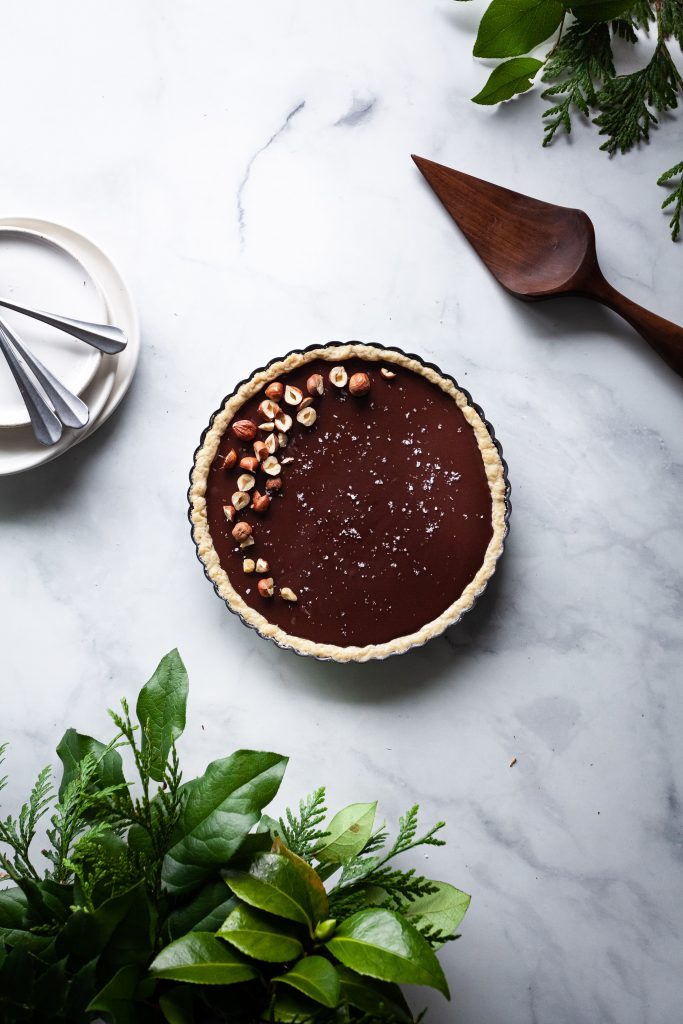 ---
Wishing you a safe and happy holiday season.
Joyeux Noël to you and yours!
---
Salted Chocolate Ganache Tart
This classic salted chocolate ganache tart is a rich, indulgent and easy to prepare dessert for the holidays. Semi-sweet dark chocolate is melted into a smooth and glossy ganache, poured into a baked tart shell and topped with flaky sea salt. This recipe can easily be made dairy-free (see notes below). This tart will happily serve a small crowd of 10-12 ppl.
Makes | 1- 9″ tart
Prep Time | 60 minutes
Bake Time | 20 minutes
Cooling Time | 2 hours
INGREDIENTS
Tart Shell
1 ¼ cup all-purpose flour
3 tbsp granulated sugar
¼ tsp sea salt
½ cup cold unsalted butter, cut into pieces
3 tbsp cold water
Ganache Filling
12 ounces semi-sweet dark chocolate, roughly chopped
1 ¼ cups heavy cream
1 tsp vanilla extract
½ tsp sea salt
Topping
Flaked sea salt
Roasted hazelnuts, chopped
DIRECTIONS
Prepare the Tart Shell
In a medium bowl, sift together the flour, sugar and salt. Using a pastry blender, cut in the cold butter until pea sized pieces form. Add the cold water and, using your hands, gently knead the dough until it comes together into a ball. If the dough is dry and not sticking to itself, add an additional tablespoon of water.
Form the dough into a flat 6″ disc, cover with reusable beeswax wraps (or cling wrap) and place in the fridge for 30 minutes.
On a lightly floured surface, roll the chilled dough into a 12" round. Carefully transfer the dough into a 9" tart pan with a removable bottom. Press the dough evenly into the fluted edges and trim off any excess. Cover and place back in the fridge for 30 minutes.
Blind bake the shell: Preheat the oven to 350'F. Place the chilled tart pan on a baking sheet. Prick the dough with the tines of a fork. Line the inside of the shell with parchment paper and fill with pie weights (or dried beans).
Bake in the preheated oven for 22-25 minutes, or until the edges turn a light golden brown. Remove the weights and transfer the tart pan to a wire rack to cool completely.
Prepare the Ganache
In a large glass mixing bowl, add the chopped chocolate pieces. Set aside. In a small saucepan, gently heat the cream until just before simmering. Carefully add the hot cream, vanilla and sea salt to the chocolate and stir gently until all the chocolate is melted and the mixture is smooth and glossy.
Pour the ganache into the cooled tart shell and allow to set for 1-2 hours in the fridge, or until the chocolate has lost its sheen and it does not move when gently shaken. Store the tart in the fridge until ready to garnish and serve.
Salt the Top
Sprinkle flaked sea salt over the top of the chocolate ganache. Add chopped roasted hazelnuts for presentation. Remove the tart pan ring and place on a serving dish. Allow to sit at room temperature for 15 minutes before slicing.
Notes | To make this recipe dairy-free, use an equal measure of full fat coconut milk in exchange for heavy cream. For butter, use an equal measure of coconut oil or a dairy-free butter alternative. If using dairy-free butter, omit the salt measure from the tart dry ingredients. Tart dough can be prepared a day in advance and kept covered in the fridge until ready to bake. This tart can also be made a day in advance and kept covered in the fridge until ready to serve. Portions can be covered and frozen for up to 1 month – defrost in the fridge prior to serving.